Following the impact of Coronavirus, a lot of people are wondering how their favourite Theme Parks and Attractions will reopen. Here we try to answer these concerns with the steps that we believe may be taken following the outbreak of COVID-19.
Phased reopening
It is likely that there will be a phased reopening of Attractions. Zoos will most likely be the first set of attractions to reopen as the majority of the staff are already in place as they continue to feed and care for the animals. All attractions will require a thorough clean and staff will need to be retrained on new protocols before they reopen to the public. We also anticipate that Theme Parks and Attractions will install hand sanitizer stations at strategic locations throughout the park.
Health and Safety Measures

In a similar manner to airports, Security Checkpoints may be introduced at Theme Parks and Attractions in order to conduct a series of health and safety checks for visitors. It is highly likely that temperature checks will be introduced in order to meet health guidelines and make visitors feel safe. Some attractions may also require visitors and employees to wear face masks. Social distancing will be implemented at Theme Parks and Attractions, at least for the immediate future. Additional employees may also be required to help guide visitors and maintain orderly queues. It is possible that like other countries around the world a QR health code may need to be presented in order to gain entrance to the attraction. Both Google and Apple are in the process of developing these apps.
Implementation of Virtual Queues
Major Theme Parks across the world such as Disney and Universal have been experimenting with Virtual queues for some time now but following COVID-19 we believe that these will become the norm in the majority of Theme Parks across the world including the UK. A number of companies in the Theme Park industry have been busy developing virtual queuing systems and they are seeing an increase in sales of this technology. A virtual queue functions just like a single physical queue except that places in the line are kept by a computer system rather than guests physically standing there. With virtual queues, people will get more enjoyment from their day in the park, riding other rides, eating, drinking, and shopping, all while keeping their place in the virtual queue line.
The Impact of Virtual Queues
From the Attractions perspective, there are both positives and negatives of Virtual Queues but if they are running on a reduced capacity then they are an ideal solution. Attractions benefit from virtual queue lines because rather than standing in line, guests have more time available for shopping and relaxing at food and beverage locations, increasing the park's income. The negatives to virtual queuing are that queues are people eaters, they take people off the "streets" at Theme Parks, easing demand for other attractions, restaurants, and shops, making those locations more accessible to others. If physical queues are eliminated then the Theme Parks overall guest capacity is reduced. If the government impose restrictions on the park's capacity as we suspect that they will then initially this will not be a major problem but as these restrictions are lifted, this will cause some issues. In order to overcome this, parks will be forced to develop more attractions, restaurants and shops to entertain the additional people who would have been waiting in lines.
Regular queue lines provide a consistent flow of guests, but a negative of virtual queues is that you could potentially lose this consistent flow of guests arriving at the rides loading point. Ride operators are then faced with the decision as to whether they hold off dispatching the ride to wait for stragglers. This could really compromise the ride capacity and also lead to overcrowding when latecomers eventually arrive at the attraction.
Tickets and Payments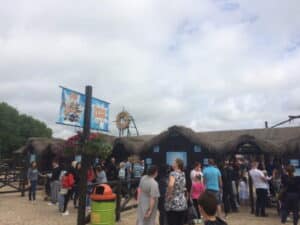 It is possible that alternatives to Ticket booths will be introduced such as mobile and online payment options. As in Supermarkets, only contactless payments will be accepted for shopping and dining to allow for non-contact service. It is highly likely that when theme parks do initially reopen the attendance will be restricted based on government guidelines. We would anticipate that this will be around 50% normal capacity to prevent overcrowding and allow for social distancing. We anticipate that this will be increased on a gradual basis over time. In order to avoid overcrowding and meet these guidelines, major theme parks and attractions may limit admission to pre-booked tickets or those staying on-site only.
Daily Shows and Activities
Any theme park activity that draws large crowds will have to be suspended or severely modified. No doubt Parks Daily Show schedules will be impacted by the requirement to maintain social distancing. This will also affect parades, fireworks shows and theatrical productions. It may also be sometime before attractions like 4D cinemas and walkthrough experiences can reopen.
Ride Safety
Keeping rides and attractions clean during the post-COVID-19 era will be one of the biggest challenges for Theme Parks, leading to changes in routine. Disinfecting seats and restraints after every ride cycle may be introduced. Theme parks may also have to step up their overnight deep cleaning procedures. Ride operators may need to wear PPE in order to allow the safe inspection of lap bars and safety restraints while keeping their distance from visitors. These additional safety measures are likely to significantly reduce rider throughput and attraction dispatch times.
Reduction in Ride Capacity
Preshows on The Wicker Man and Hex help set up the backstory of the attractions. One change we may see is that theme parks may have to sacrifice some storytelling to ensure social distancing post-COVID-19. It is possible that Preshow rooms may be used to help to reduce crowding in queues and space out riders waiting in lines.
For the near future, filling all of the seats on a ride or attraction will become a thing of the past. Ride operators will be focussed on limiting the number of riders to enforce social distancing. It is likely that guests will only be loaded onto every other row to help maintain social distancing rules.
Theme Park Puzzles
If you are looking for some entertainment whilst waiting for your favourite Theme Parks and Attractions to re-open, why not try our Theme Park Puzzles and Roller Coaster Quiz. Zoos and attractions are also offering a number of activities to help keep you entertained, these include popular Virtual Zoo Days and Free to Download Interactive Apps. Search for your favourite Theme Parks and Attractions on Facebook to see what's on offer and be sure to Like our Facebook Page to stay informed.
A Return to Normality
In time things will return to normal and some of the changes forced upon our Attractions may actually prove to be a positive step forward. Hand sanitizer stations, additional cleaning methods and contactless payments are positive changes that will hopefully remain in place for the long term. The biggest and most positive potential change for guests is the introduction of Virtual Queue lines.
Thanks for taking the time to read this article, please feel free to leave your comments below.
Stay Safe – Dan
How Will Theme Parks Reopen?
was last modified:
August 24th, 2020
by