A £250 million indoor waterpark is coming to the UK, with swim-up bars, mineral baths, and botanical gardens. When this new attraction opens in 2025 it will be a very strong contender for the number 1 position in our Top 10 UK Waterparks listings.
Therme Manchester
Scheduled to open in 2025, Therme Manchester has been billed as "the UK's first city-based wellbeing resort," and plans to build it in the northern English city have just been approved. The ambitious project, estimated to cost around £250 million, will cover 28 acres, which is the size of 19 football pitches.
The park is set to combine hundreds of water-based activities with wellbeing treatments, art, nature, and technology to create a unique experience never before seen in the UK. The waterpark will also have a family zone featuring 35 waterslides, a wave pool, indoor and outdoor pools, steam rooms, and palm tree relaxation areas.
Construction is Underway
Work has begun on a £250million waterpark for Britain's first all-season indoor beach which will feature 35 slides, swim-up bars, water lagoons and an adult-only section.
The waterpark was originally set to open in 2023 but the date was pushed back following revised plans that were submitted in the summer of 2022.

35 Water Slides!!
This will be a Water Park on an epic scale featuring 25 indoor and outdoor pools, more than 35 water slides, 30 saunas and steam rooms, and more than 1,500 palm trees. The Therme Group development, which is still on track to open in 2023, will feature rooftop beehives and a rose-shaped botanical garden that covers 10,000 square metres.
Therme Manchester's family area, known as 'Galaxy', will house water slides, indoor and outdoor pools, steam rooms, relaxation areas and a wave pool. There will also be an area for adults called 'Palm' with warm water lagoons, botanical gardens, swim-up bars, therapeutic mineral pools and luxury steam rooms and saunas.
A Fantastic Visitor Experience
Therme Manchester's natural environment, with thousands of plants and trees, will be created by world-leading designers, artists, architects and engineers to achieve the highest levels of experience, quality and sustainability. Combined with hundreds of activities for all, visitors will have an experience far beyond anything offered in a hotel, gym or holiday resort, at a fraction of the cost.
The central focus of the project is a two-acre wellbeing garden in the shape of a Rose, the national flower of England. This bio-diverse garden for all seasons will be an evolving work of art, with petal-shaped terraces and beautiful pools and water features. It will act as a focal point for socialising, learning and discovery.
A Perfect Tropical Environment
A large family zone will include waterslides, a wave pool, indoor and outdoor pools, steam rooms, exotic palm tree relaxation areas and dozens of other fun, relaxing and healthy activities, all in a perfect tropical environment.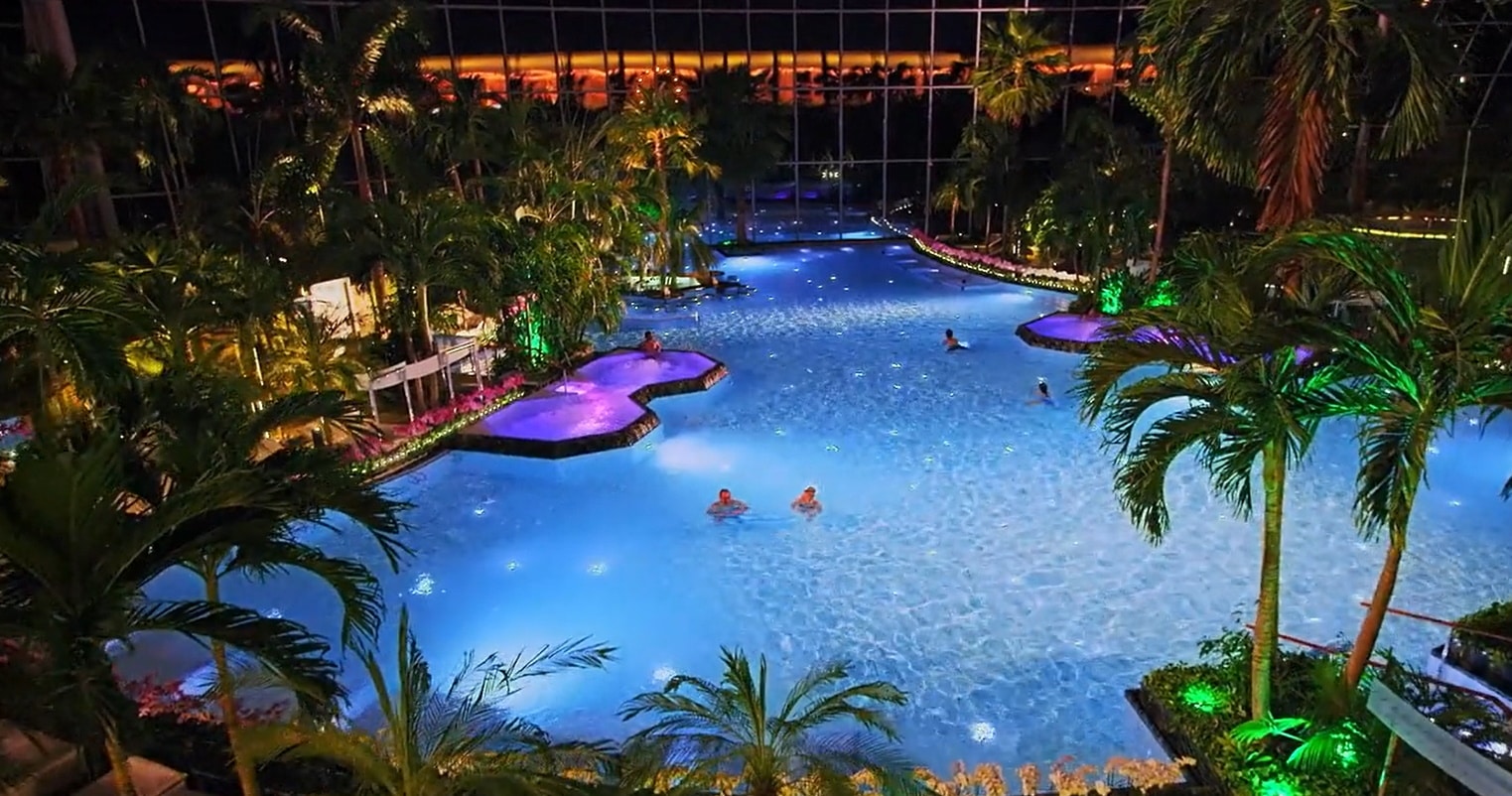 A dedicated adults' area will have warm-water lagoons among spectacular botanical gardens, swim-up bars, therapeutic mineral baths and beautifully designed steam rooms and saunas. Daily programming will include water-based fitness classes, and beautiful gardens will surround the area, creating spaces for yoga, Pilates and other activities.
Therme Manchester Official Website
Where is this Amazing Attraction?
Therme Waterpark will form part of a £250 million project set across 28 acres in Manchester. Located opposite the Trafford Centre near The Legoland Discovery Centre and SEALIFE Manchester, it will have a wellbeing focus, with mineral baths, steam rooms, saunas, water-based fitness classes, and yoga, pilates and other fitness classes in the botanical gardens. It is also set to have various bars, cafés, and restaurants offering healthy food options.
After receiving planning approval to build Therme Manchester, Therme Group announced plans to develop the concept in other cities in the UK, including London, Scotland and Wales.
Elysium Another Awesome New UK Waterpark
Another contender for the number one position in our Top 10 UK Waterparks listings is Elysium Waterpark which if given the go-ahead will be the largest in the UK, stretching 75 acres across Poole and the New Forest.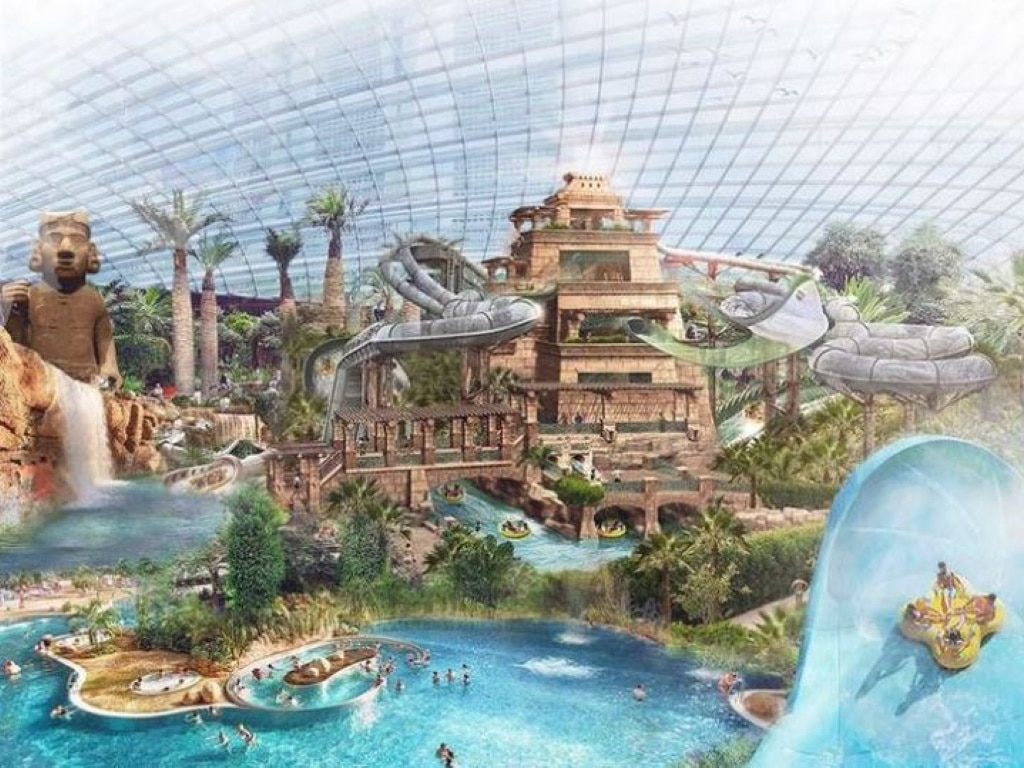 What Other Waterparks are there in the UK?
Water Parks offer a fantastic family day out and there are a wealth of Waterparks located across the UK. Click Here to see the full listing. The majority of the modern UK Waterparks have indoor sections making them a great day out all year round.
Manchester's Epic new Indoor Waterpark
was last modified:
August 18th, 2023
by