On the side of a building in Manchester's northern quarter is a new mural featuring Alton Towers – The Curse at Alton Manor.
Emily Alton – the Child from the Original Haunted House
The image which features Emily Alton may look relatively inconspicuous during the daytime but use the slider below to reveal how it is transformed at night.
Slide
Image at Night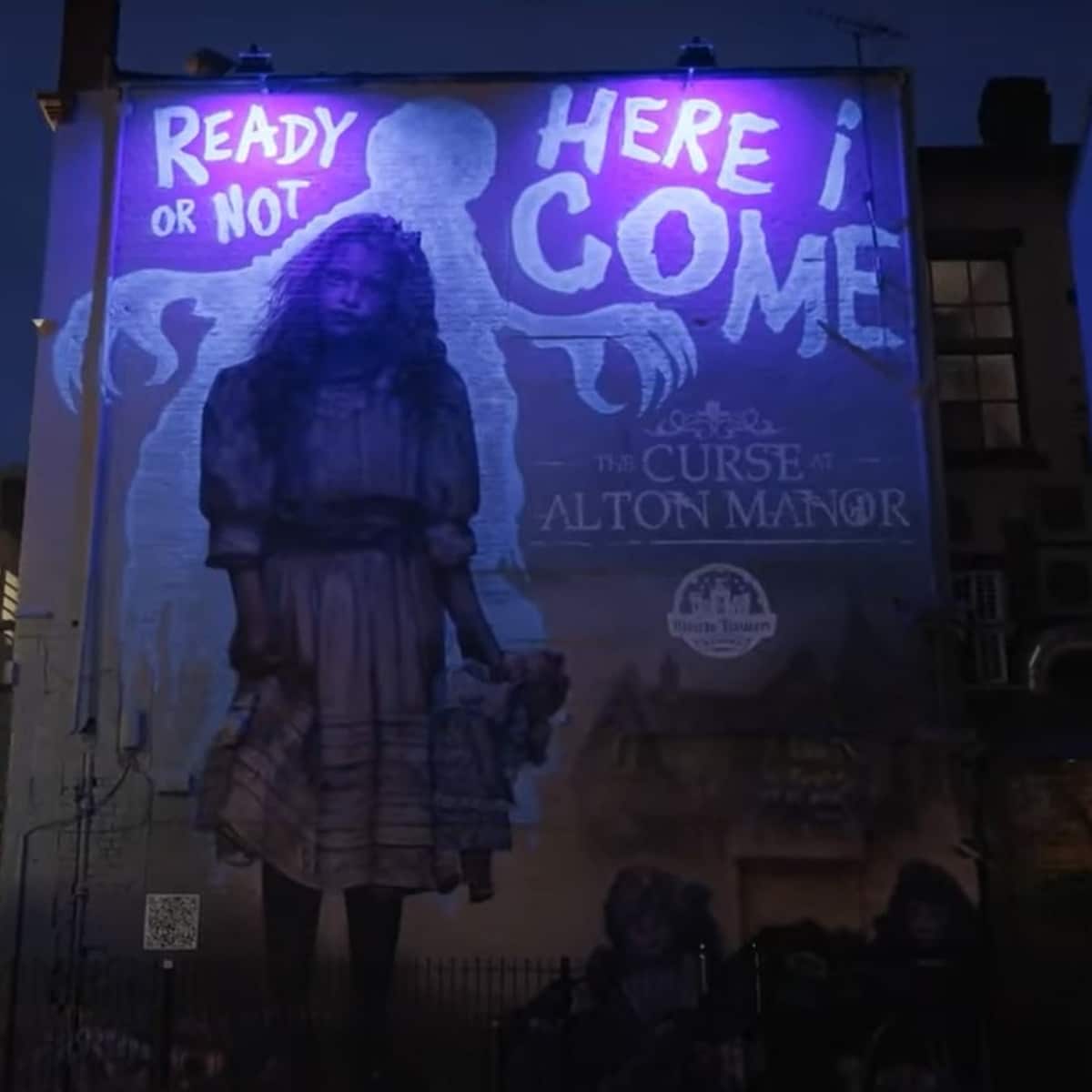 Image During the Day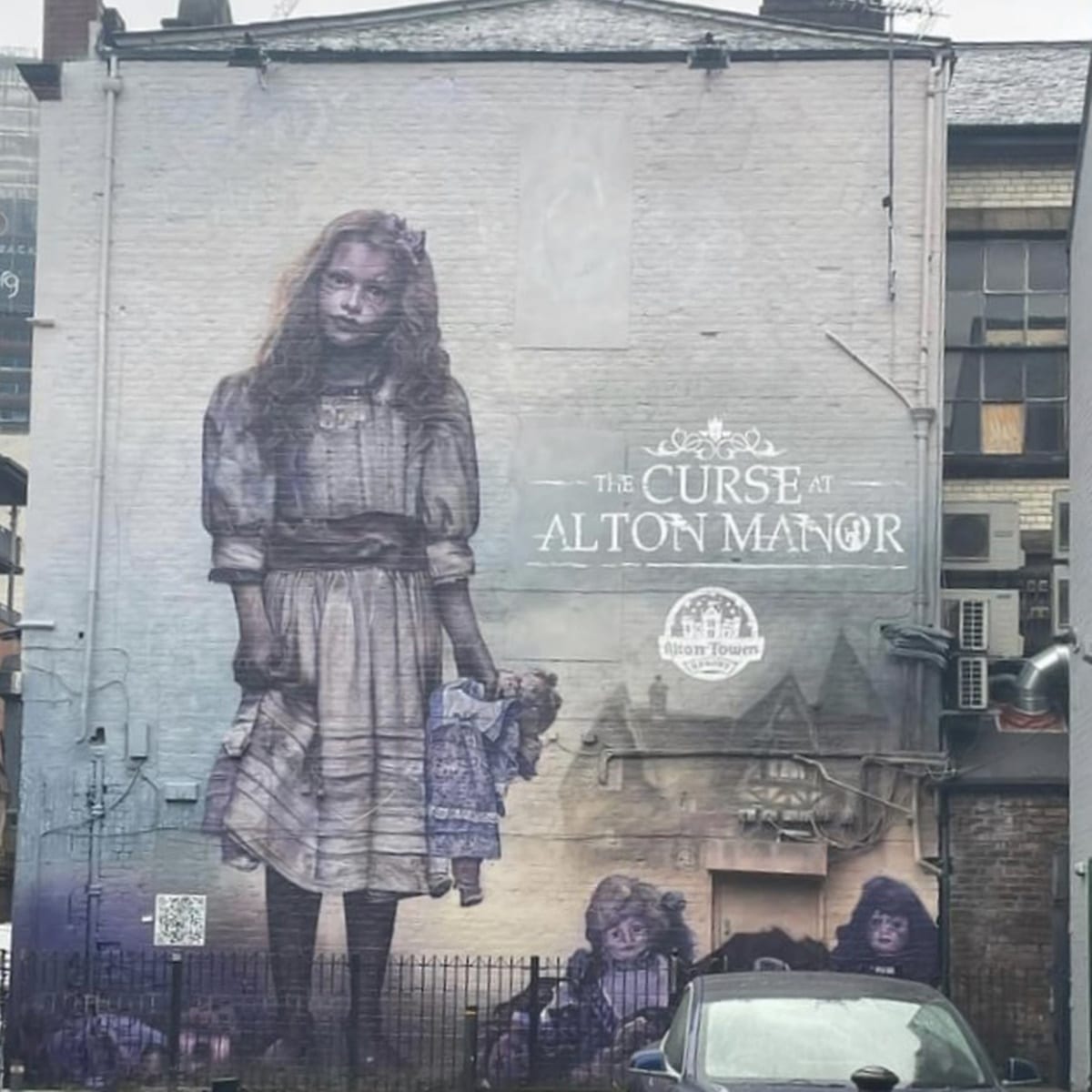 The Curse at Alton Manor Manchester Mural
Where Can You See the Mural?
The mural can be found in Manchesters Northern Quarter on the corner of High Street and Thomas Street. Use the What3 Words location ///gasp.stand.stump or view the location on Google Maps.
Short Breaks at Alton Towers Resort
This new attraction is being muted as one of the best dark rides in the UK. Book a short break at Alton Towers Resort and experience it for yourself.

The World's First-Ever Haunted Dolls House
Whenever Alton Towers launch a new ride or attraction there are always some clever marketing tactics deployed to help promote it. Again, this was the case with The Curse at Alton Manor, the Manchester Mural is not the only unique piece of marketing material.
A couple of weeks prior to the ride launch, unsuspecting members of the public were given a hair-raising experience as they braved the world's first-ever haunted doll's house.
The mysterious attraction appeared on London's Isle of Dogs as Alton Towers Resort revealed that its eerie new dark ride The Curse at Alton Manor would begin spooking visitors from March 18th 2023.
Waves of adults and brave youngsters formed at the pop-up as those who dared cross its threshold were confronted by a series of supernatural clues and teasers of what awaits when the immersive dark ride opens. The experience culminated in the first sighting of Emily Alton – the child from the original haunted house, whose demonic exploits inspired the ride.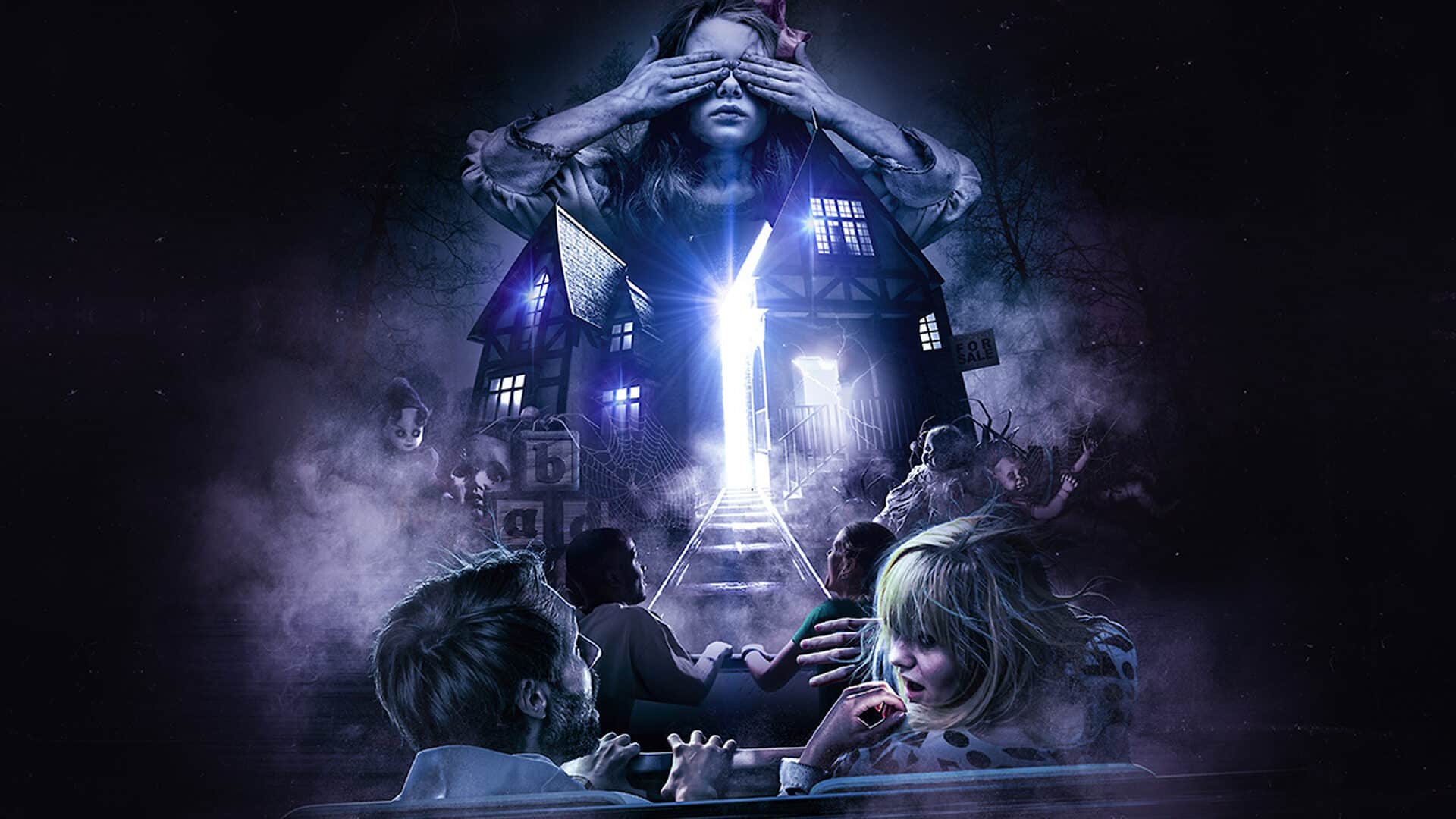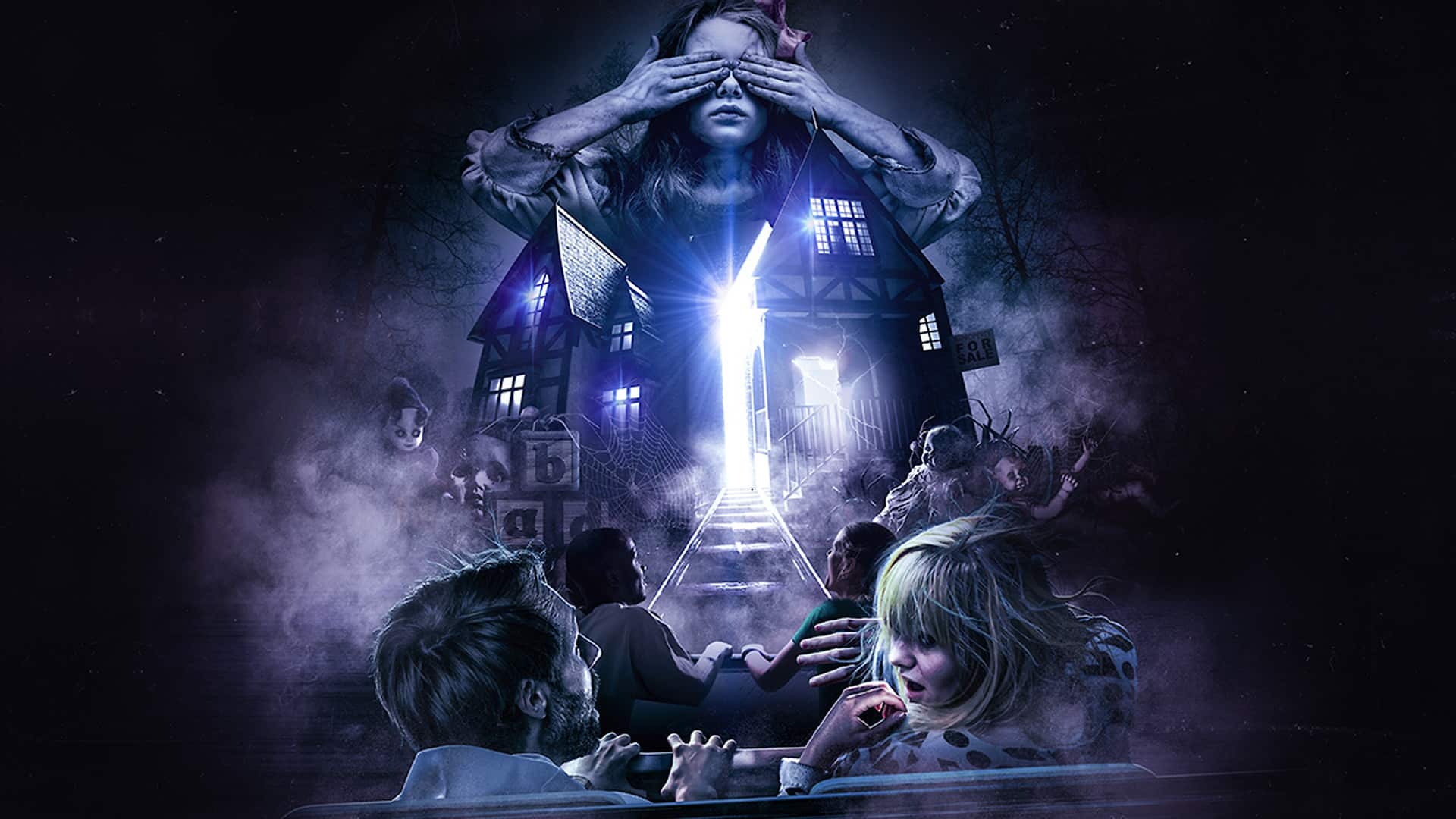 The Curse at Alton Manor features special effects that are a first for a UK theme park – from twisted projection mapping technology that transports riders into Emily's own dollhouse, to mirrors that play tricks by blurring the line between reality and Emily's demonic world.
Pay a visit to Alton Towers Resort and uncover the secrets of Emily Alton's transformation from a once sweet and curious child to a vessel of evil.

World Class Attractions
Alton Towers Resort is renowned for providing world-class attractions for guests of all ages, including Wicker Man, the UK's first wooden rollercoaster to be built in over 20 years, Oblivion, the world's first vertical drop rollercoaster and The Smiler, the world's first 14 loop rollercoaster, to name a few. The Staffordshire-based theme park continues to welcome millions of guests from across the globe, delivering memorable and unique experiences and events each season.
The Curse at Alton Manor Mural
was last modified:
November 30th, 2023
by