In 1980, 28-year-old Geoff Chutter came across Canadas first water park in the western province of British Columbia. He was sent there on a work assignment, and he was immediately intrigued. "It had some basic component that I thought was hugely fun," says Geoff.
Fast forward 40 years, and Geoff Chutter's business "Whitewater West" is the world's largest designer and manufacturer of water parks.
More fun than being an Accountant
Geoff had no previous experience of working in the world of giant water slides and swimming pools, but he thought it would be more fun than continuing to work as an accountant. So he decided to build his own. Geoff had previously spent five years employed by the auditing firm KPMG Canada, until one day he found himself "mortgaged to the underside of the nostrils", and the owner of a brand new water park. Geoff had one clear purpose, to create places where families unite and make joyful lasting memories.
Constructing his own Water Park
In 1980, Geoff Chutter's uncle, Philip Chutter, had done some mechanical consulting work on a project and brought his nephew up one weekend to see the place. The younger Chutter quickly decided that his first business venture would be to build and operate a waterslide park.
Geoff quit his day job as an accountant and took a leap of faith. Chutter and his uncle assembled $1 million worth of land and raised $1.5 million. He found 18 acres of land in the city of Penticton, British Columbia, and constructed his very own water park. When he opened that first park back in 1980, Geoff says it was "very much house is on the line, savings on the line – modest as they were". He adds: "In reflection, the only thing more naïve than myself was the Royal Bank of Canada who provided the money."
At the time, the water parks industry was in its infancy, with the first modern attraction opening in Florida in 1977. This meant that Geoff couldn't simply buy in slides, or even follow some already drawn up plans. Instead, they had to do most of the manufacturing themselves, and the expertise they developed quickly turned into a secondary business.
A Stroke of Luck
During the Water Park's inaugural summer, something fortuitous happened. Four separate businessmen came by and said 'I'd like to do that in my home town. How do you do it?'.
Happy to demonstrate his skills, Geoff signed contracts to build four new parks, three in Canada and one in Washington State, USA.
A Change of Direction
Launching the new endeavour he eased the stress with the thought that if he failed, he always had accounting to fall back on. But riding that first wave of success, he says that he has "frankly never looked back".
In 1983, three years after his own Water Park opened, he sold it, diversifying from park ownership and operations to focus on water slide and pool design, engineering, manufacturing, and delivery. In 1987, the company added wave-generating technology for wave pools when it acquired with a North Vancouver company that had developed the technology.
Business is Booming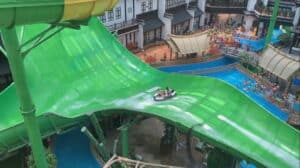 The water parks industry has boomed over the decades, to stay ahead of the curve in an industry always seeking bigger thrills and fresh experiences, Geoff says that the company focuses on innovation. Teams of designers, architects and engineers work at its headquarters in Vancouver, alongside artists and sculptors, to create a new generation of popular water slides and attractions.
The Big Boys in the Water Park Industry
Over the years, the company has continued to diversify, largely through acquisitions. Today, with annual sales of £116m, the firm works with everyone from hotels, to amusement park behemoths like Disney, for whom it designed the vast Typhoon Lagoon wave pool in Orlando, Florida.
It diversified its markets as well. WhiteWater West doesn't build just land-based waterslide parks – it has also built water-play features for 32 cruise ships, including all the Disney cruise ships.
Whitewater has 600 employees around the world, and projects across six continents, from Russia to India, Brazil to the US, and Australia to South Africa.
"We're the big boys in the industry – we're the gorillas in the living room, for sure," says Geoff.
How do they Achieve this Success?
They achieve their success by standing alongside their customers from concept to completion of award-winning attractions, from slides to water rides and everything in between. They help to inspire their clients by unleashing their creativity to realise their ambitions, crafting solutions which make each park unique.
One way that WhiteWater manages to stay ahead of the curve is investing in research, development and innovation. The company even employs a professional "playologist" who advises them on how to design features that appeal to the inner child.
Geoff's Company, Whitewater West are dedicated to making products that operators can count on because they understand the importance of reliability and efficiency on the bottom line.
A World Wide Operation
Whitewater West has 21 offices and bureaus around the world. It does some of the manufacturing in India, Bahrain, Tennessee, Ontario and the Philippines.
On occasions, he says the company was warned by sceptics that water parks just wouldn't work in some countries. In Japan, for example, where Whitewater opened its first overseas project in 1988, there were concerns that Japanese women would be too worried about sun exposure to embrace a water park.
"Yet to this day our number one attendance day was 68,000 in a park in Tokyo, completely blowing up that theory," he says.
Ninety-eight per cent of the company's business is outside of Canada, with China providing the biggest market, about 40% of sales.
The business was also told that modesty concerns would get in the way of any success in the Middle East, but Geoff says that women-only events at a park in Dubai are a hit.
Japanese kaizen
WhiteWater's manufacturing process is based on the Japanese "kaizen" – continuous improvement – approach, something Chutter picked up from a book about the Toyota Motor Corp. Once all the components are built, WhiteWater typically sends a supervising team to assist with the assembly.
An Impressive Stewardship
David Sangree, president of consulting firm Hotel & Leisure Advisors, says that Geoff's stewardship of Whitewater has been "impressive".
Turning his attention to the wider water park industry, Mr Sangree says that it is expected to only continue to grow, especially in Africa and parts of Asia where the market is not fully developed.
People love to spend time with their children and water parks are certainly a fun destination.
Putting Smiles on Families Faces
As market leaders, Whitewater West put their success down to their attitude, in all their years they have never once forgotten why we're here – to help parks solve problems, create immersive experiences, and delight guests all over the world.
Geoff Chutter says seeing their child's eyes light up with excitement is what brings parents back to a park.
"How good would it be to spend your life putting smiles on families' faces?"
It does sound a whole lot more enjoyable than being an accountant!
Top 10 UK Waterparks
If you enjoyed reading this article and fancy a day out at a waterpark, take a look at the Top 10 UK Waterparks.
The World's largest Water Park Manufacturer
was last modified:
May 23rd, 2022
by