You've probably already seen the news that Nemesis at Alton Towers will be closing on 6th November 2022 but here's a chance to be on the final ride.
Nemesis at Alton Towers
Back in the 1990s, most designers were building big, plain roller coasters. John Wardley wanted to create something cleverer, better, and more dramatic. He decided to make Nemesis, at Alton Towers, Europe's first inverted roller coaster, with a truly thrilling storyline to go with it. For most people, the scariest bit of Nemesis is when you do the first drop and see the jagged rocks right under your feet. Then, immediately after, you're spun upside-down with the soles of your feet facing the sky.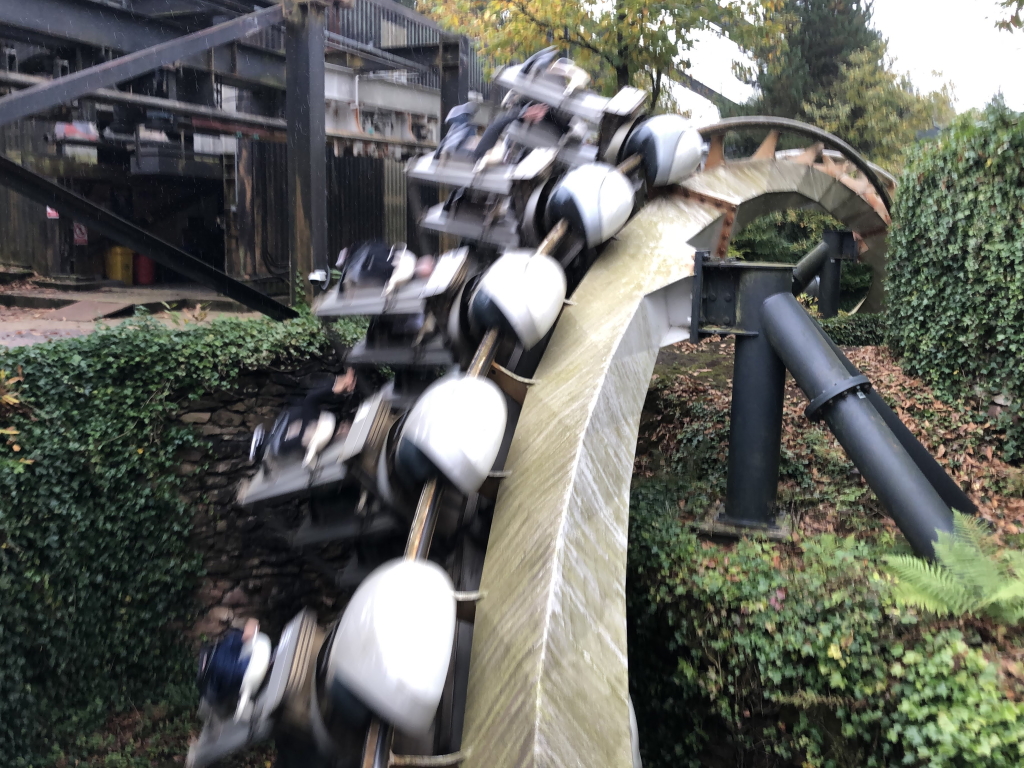 Be The Last to Ride Nemesis
Alton Towers has launched a last-ride ballot to find the final riders for Nemesis before it closes at the end of play on 6th November 2022 for renovation work. The 14 winners, (plus 1 guest for each winner), will be randomly selected to enjoy the last ride of Nemeses and receive a VIP Alton Towers experience that includes:
⭐ Theme park tickets, including complimentary access to the Fireworks.
⭐ 1-day Gold Fastrack Pass.
⭐ Meet & Greet with Nemesis creator John Wardley.
⭐ Souvenir goodie bag including a limited edition photo.
⭐ A seat on the final ride with its creator, John Wardley.
⭐ Winners and guests must be available to stay in the park until at least 10:30pm on 6th November 2022 to take part in the last ride of Nemesis.
⭐ The ballot closes at 5.00pm on 28th October 2022.
⭐ Winners, or as they're known to The Phalanx; specimens, will be selected at random.
⭐ Terms and Conditions Apply
Nemesis Facts
When did the original ride launch and who designed it?
The original Nemesis ride launched in 1994 and was designed by John Wardley.
How many tonnes of steel did it take to contain Nemesis?
It took 250 tonnes of steel to be bent and twisted around the creature to hold it down.
Whereabouts is Nemesis contained at Alton Towers?
Nemesis is contained in The Forbidden Valley

Click Here to read our dedicated page to get all the stats and facts on Nemesis at Alton Towers Resort.
Creating my own Nemesis – John Wardley
The local authorities do not allow the rides at Alton Towers to go above treetop height, so if they couldn't go high, they had to go low and dig a huge hole. When designing the ride, John Wardley realised that it would be fun to conceive the site as an excavated area where this hideous monster had been lurking for millennia with the twisting serpentine track representing its tentacles. Not only was it Europe's first inverted roller coaster, but it was also the first time anyone had designed a roller coaster as a creature. The creative team developed how the creature should look, what colour to paint the track, what signage and music to have, and the entire experience.
Purchase a copy of John Wardley's book on Amazon – 'Creating my own Nemesis'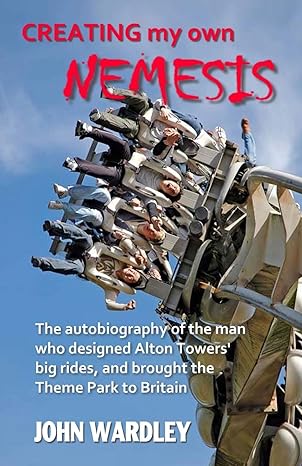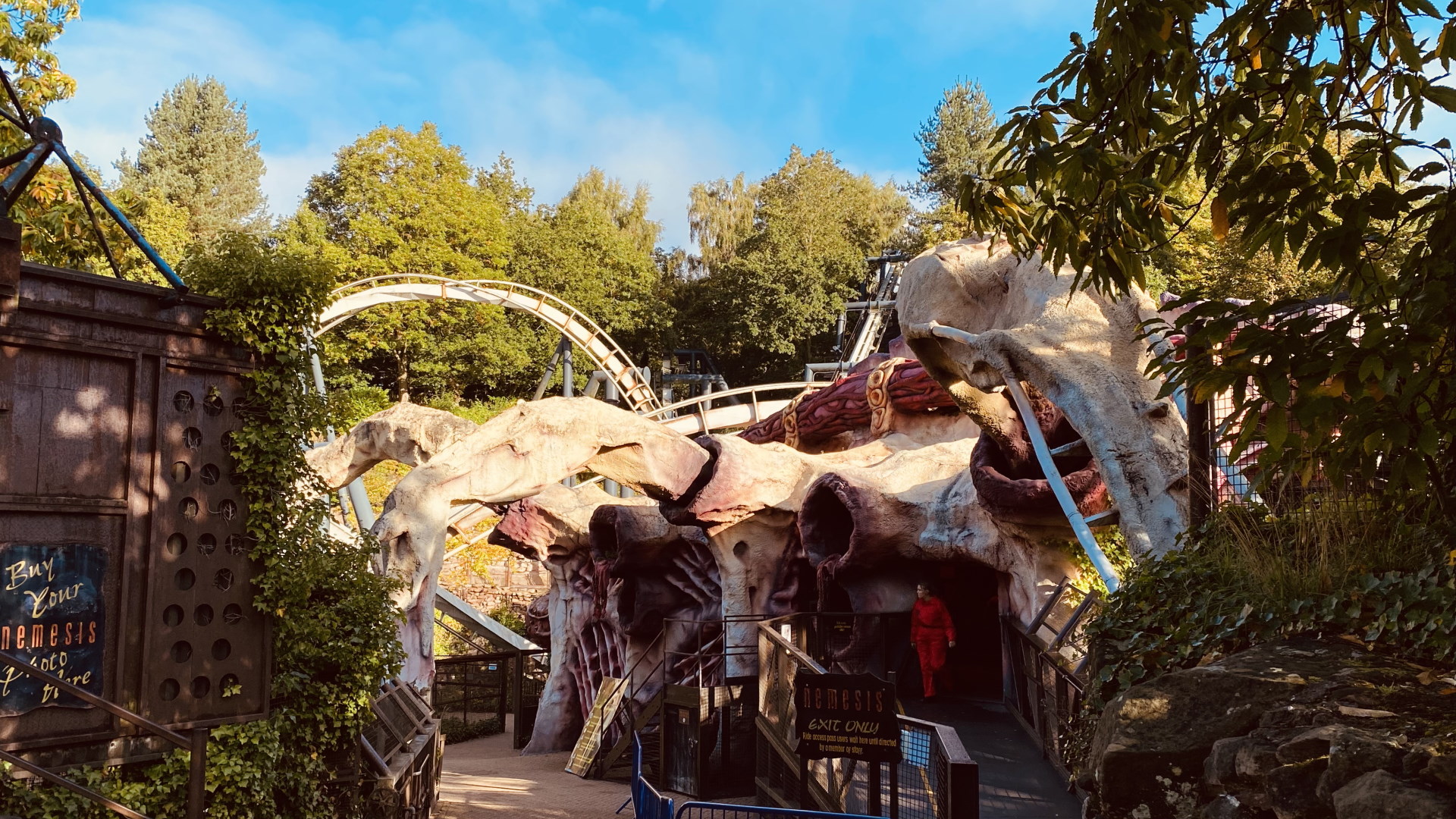 Who are The Phalanx?
Nemesis portrays the story of an alien creature being disturbed, getting angry and trying to rip its way out of the ground. The ride is themed around the concept of keeping the creature under control. The ride's storyline states that, after being disturbed during maintenance, the monster that lay dormant was unleashed, wreaking havoc on the surrounding area. The Phalanx immediately launched their extreme security division to pin down and disable it. It took 250 tonnes of steel to be bent and twisted around the creature to hold it down.
Travelling to Alton Towers Resort
Alton Towers is located in the beautiful Staffordshire countryside. There are a number of ways to get to Alton Towers. If you are travelling by car, Alton Towers Resort is between the M1 and the M6. When driving to any of Alton Towers Resorts Attractions use the postcode ST10 4DB. Please follow the signs for the final part of your journey, as your Sat Nav may attempt to take you down a local farm track, especially if you're coming down the B5417.
Please drive with care when you're in the area. There are many walkers, cyclists and horse riders, and the roads can be very narrow in places.
Travelling by Train
The nearest train station to Alton Towers is Uttoxeter, which is accessible from a large number of UK train stations including London, Birmingham and Newcastle upon Tyne, where trains depart every hour. Search for your train tickets using Raileasy. From Uttoxeter, the remainder of the journey can be made by taxi or bus (there is one daily bus service which takes approximately 40 minutes). Visitors also catch trains to Alton Towers via Stoke-on-Trent (four bus departures daily) and Nottingham and Derby (both one bus service daily).
Nearby Accommodation
There are lots of places to stay in the Peak District. Alton Towers is surrounded by beautiful countryside.  The theme park offers on-site accommodation. If you only planning on visiting the park for one day and would like to explore some of the other attractions in the area then take a look at some of the wonderful self-catering cottages available from Snaptrip.

Attractions Near Me Offers
For the best deals and Discount Days Out visit our Offers page Attractions Near Me
Also, like our Facebook page for notifications of any new offers Facebook.com/AttractionsNearMe
EXPIRED: Be The Last To Ride Nemesis at Alton Towers!
was last modified:
October 22nd, 2023
by