Nestled in picturesque countryside, North Yorkshire Water Park offers a range of fun-filled activities suitable for the whole family to enjoy!
Unforgettable Adventures
Adventure Awaits at North Yorkshire Water Park, one of Scarborough's most exciting destinations. Create unforgettable adventures and challenge yourself at one of the largest natural water sports lakes in North Yorkshire.
Activities at North Yorkshire Water Park
Activities on offer include Wakeboarding, Stand Up Paddle Boarding, Kayaking, Open Water Swimming and Pedalos. For the thrill-seekers amongst you, there is the much-loved AquaPark and the zipline and climbing tower. You will have a whale of a time no matter whether you are a seasoned enthusiast or just want to try something new.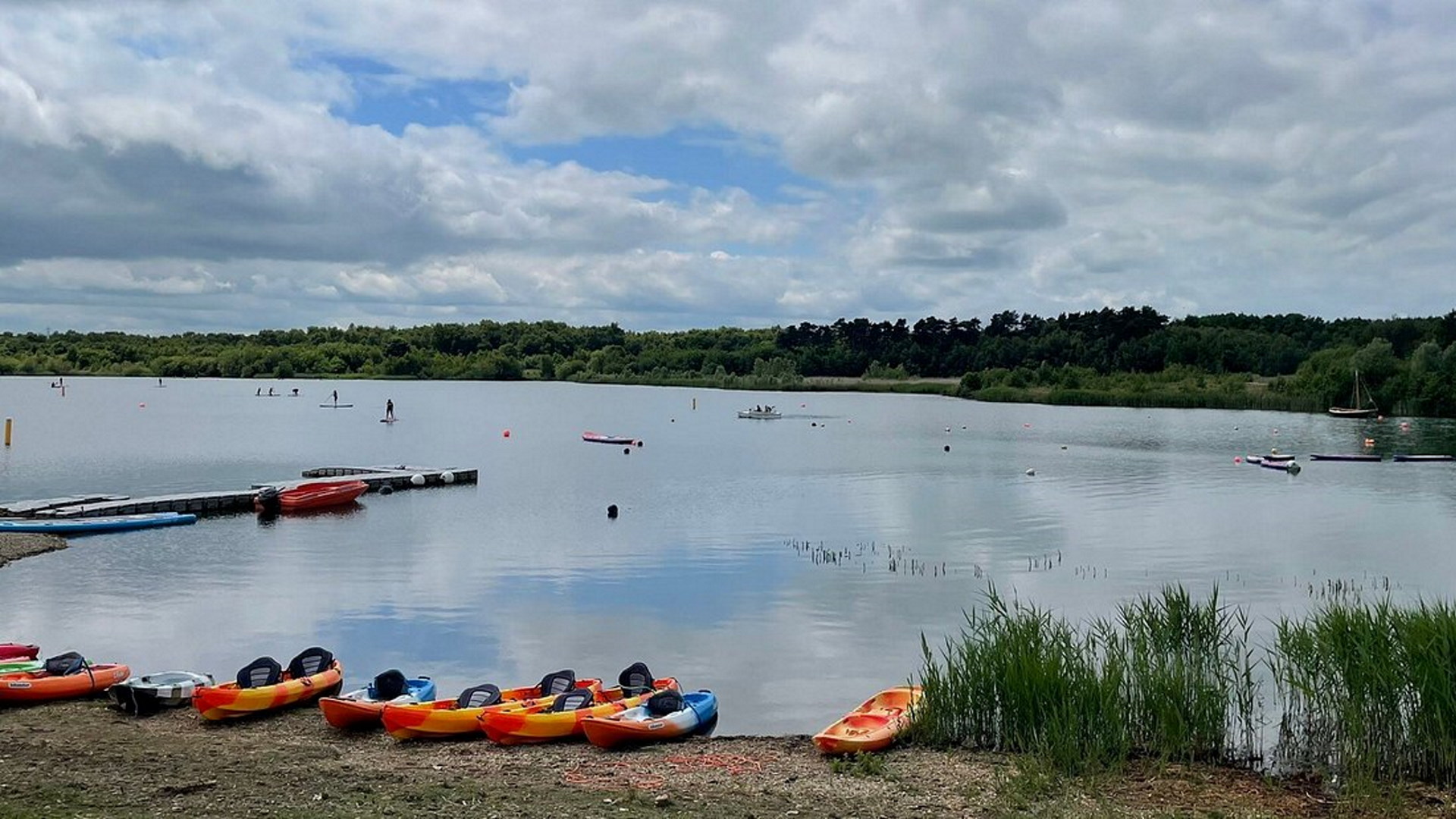 Aqua Parks
North Yorkshire Waterpark offers multiple different-sized aqua parks to cater for all ages.
Get ready for "Wipeout" inflatable water park featuring slides, swings, stepping stones, rockers, jumps and Balance beams. The "Warrior" offers climbing walls, huge slides, trampolines, balance bars, rockers, rollers and jumps.
Children aged 3 – 7 years old, children can enjoy all the fun of the Aqua Parks in a safe environment on the "Splash Kingdom".
Zipline and Climbing Wall
Race your friends on a breath-taking 250m long descent across the lakes from a 13-metre-high tower, while taking in the views of the North Yorkshire's rolling landscape.
Fly across the lake on our 250-metre line and take in the stunning views!
On the side of the zip tower is a 12-metre high climbing wall which gives the opportunity for 6 climbers at a time to challenge themselves on a variety of routes. Each route is designed to allow the climber to challenge their own abilities, the colour-coded mini jugs, incuts, slopers, pockets, and pinchers are positioned for easy, intermediate or hard ascents.
Wakeboarding
The 240m line extends across the lake with wakeboarders riding on a short, wide board being towed by a cable and motorised pulley system. The System 2 Wake Park enables visitors to learn to wakeboard with trained instructors and more experienced wakeboarders to practice their jumps and tricks on the 2 Little Kickers, 15m Pipe, Big Kicker and Incline.
Paddle Boarding and Kayaking
Challenge yourself to improve your balance and strength and try stand-up paddle boarding, including Giant boards that can hold up to 8 people at a time!
Paddle your way around the beautiful lake on either a single or tandem kayak.
Miniature Ships
The electrically powered miniature ships are great fun for children and adults alike. Holding a crew of up to four, the whole family can explore the lake and enjoy an adventure afloat. Become a Captain of a Ferry, Lifeboat or even a Royal Navy ship.
Or why not enjoy a relaxing trip on the lake and take in the stunning countryside views on a pedalo.
North Yorkshire Water Park Offers
We regularly feature some great offers for North Yorkshire Water Park, Click Here for details.
Food and Drink
Situated overlooking the Water Sports Lake and offering views area of the Aqua Parks and Wake Boarding is the on-site Café.
Travelling to North Yorkshire Water Park
If you're travelling by car, North Yorkshire Water Park is easy to find located just off the A170 Pickering to Scarborough Road.
Nearby Accommodation
There are loads of places to stay in Scarborough, if you are looking for accommodation then try Hotels.com or Travelodge.
If you only planning on visiting the water park for one day and would like to explore some of the other attractions in the area then take a look at the self-catering cottages near North Yorkshire Water Park available from Snaptrip.
Attractions Near Me Offers
For the best deals and Discount Days Out visit our Offers page Attractions Near Me
Also like our Facebook page for notification of any new offers Facebook.com/AttractionsNearMe
North Yorkshire Water Park
was last modified:
October 23rd, 2023
by
Dan
Related Listings
At the Heart of the Lincolnshire Coast is Lincolnshire Aquapark, one of the World's Biggest Aquaparks! Have a great time taking on a number of inflatable obstacles with your friends and family. Inflatable Assault Course Stretching the entire length of the lake, if you want laughs, giggles and some of the most fun ever then Lincolnshire Aquapark is the
Read more…