Journey beneath the sea at SEA LIFE Blackpool. There are over 2000 Amazing Creatures at Blackpool SEA LIFE centre ranging from starfish to sharks and stingrays. You'll be able to get closer to them than ever before.
Many of the creatures at SEA LIFE Blackpool are on the endangered list, have been rescued and cannot be released into the wild or have been born and bred as part of their conservation projects.
SEA LIFE Blackpool Exhibits and Attractions:
There are a wide range of exhibits and attractions on offer at SEA LIFE Blackpool.
Quayside
The Quayside area displays some ocean giants such as Stingrays, Rays, Pollock, Brill and Dogfish.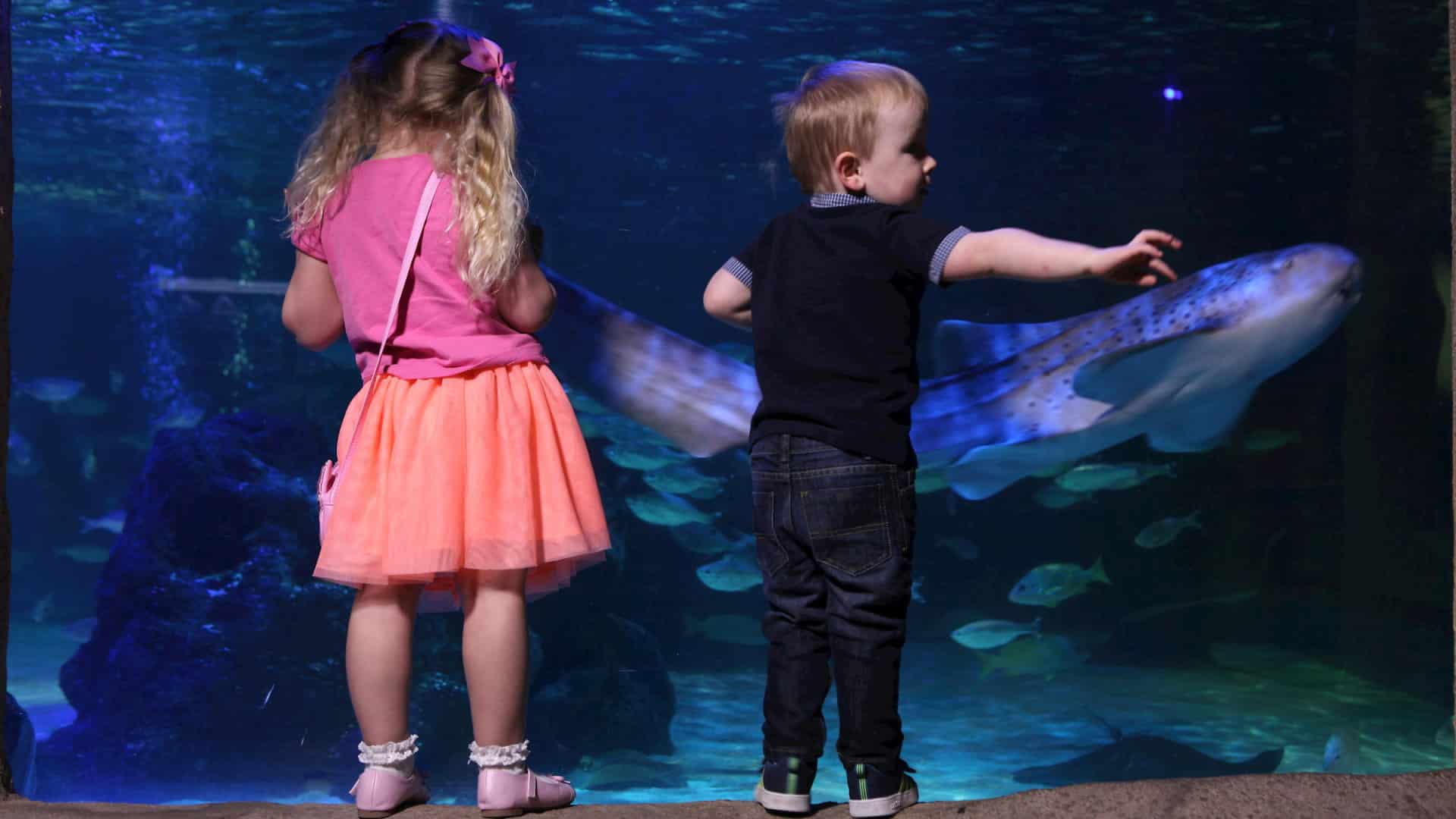 Rockpool
Start your visit at the Rockpools where you can see and touch both tropical and native creatures such as Starfish, Crabs, Anemones and Cleaner Shrimp.
Atlantic Depths
Continue your journey of discovery as you explore the native shorelines of the North West. Take a look into what inhabits our oceans waters. Get up close to creatures such as Anemones, Starfish, Crabs, Place, Lobster and Octopus.
Stingray Adventure
Visit the mysterious and graceful world of the stingrays. Meet the beautiful Honeycomb Whiptail Rays, Cownose Rays, Blue Spotted Stingrays and Zebra Sharks as you explore the tropical reef through underwater tunnels. Be careful not to get wet as you venture through their underwater world. A close-up and memorable experience you will not want to miss.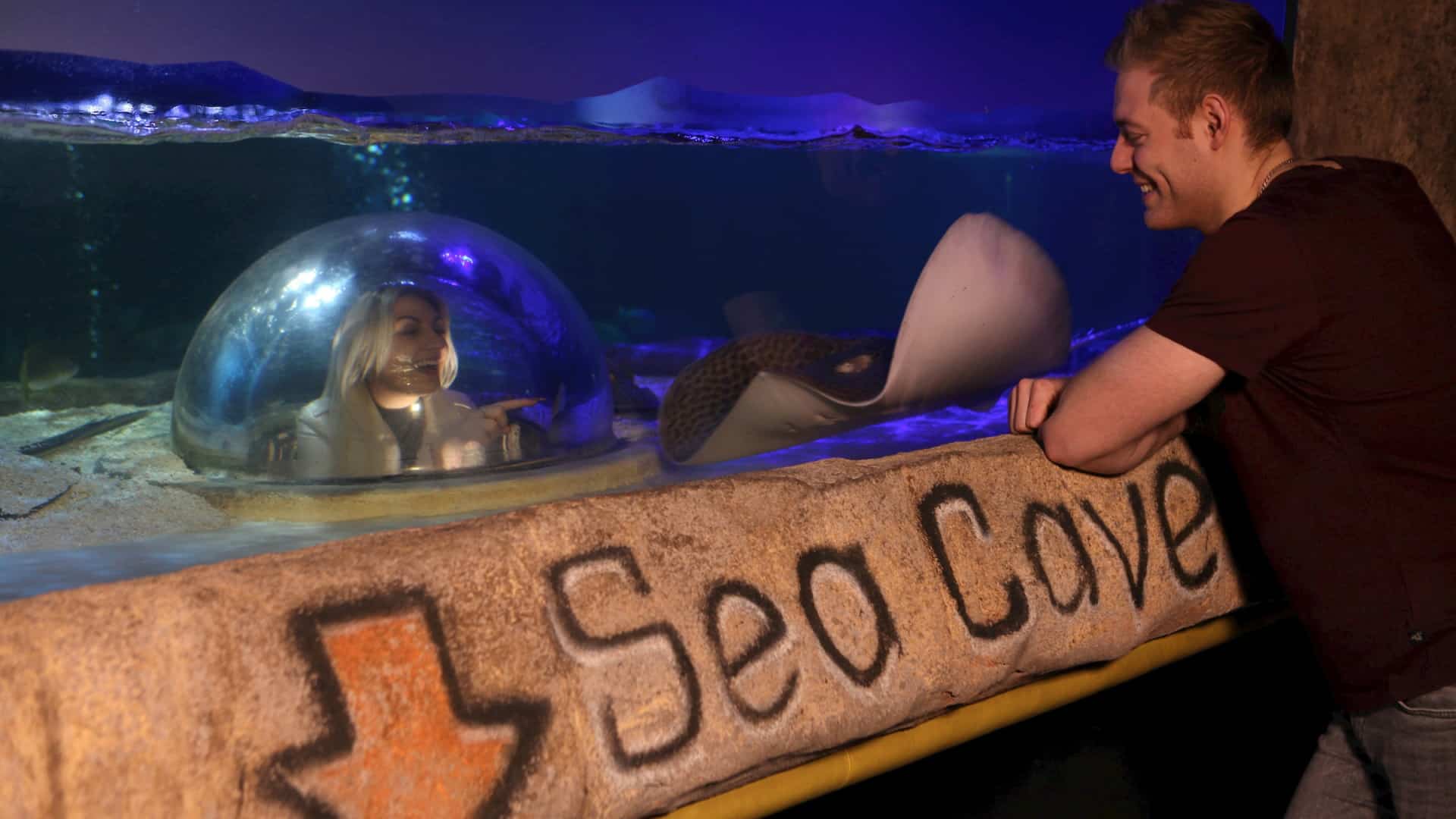 Kingdom of the Seahorse
SEA LIFE Blackpool breeds many types of endangered Seahorses. You can see them all along with Lion Fish, Unicorn Fish, Clown Fish and Regal Tangs in the Kingdom of the Seahorse.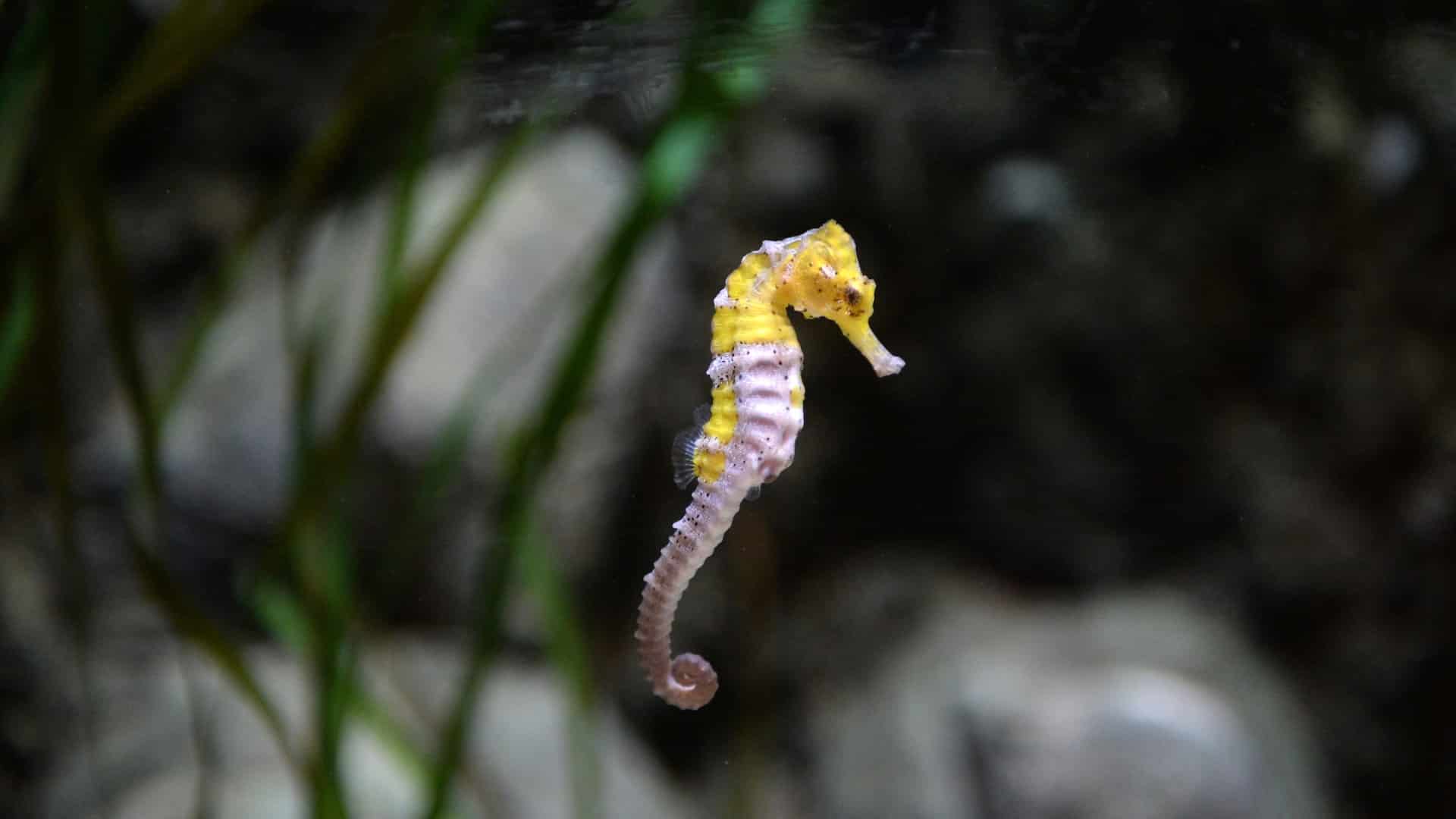 Sea Stars
Sea Stars features an eye-catching array of starfish from across the world's oceans. Guests can get up close and personal with a variety of species, including the Brittle Star, Chocolate Knobbed, Common Starfish, Spine Star, Goose Foot Star, Red Knobbed and Sun-Star, which can have up to twelve arms.
The starfish are housed in a range of impressive displays creating an ocean of dazzling stars. Giant windows ensure fantastic visibility, giving visitors a close-up view.
Visitors can also discover little-known facts about these underwater invertebrates which have been around for over 450 million years, such as their ability to regenerate lost limbs, project their stomachs to eat and the ability of some species to reproduce asexually.
Submarine Explorer
Take a submarine ride to the depths of the ocean to see some of the deeps beautiful creatures. UFO-like Jellyfish, Puffa Fish, Eels and Tangs are just some of the amazing discoveries you will make in this area.
Rainforest Adventure
Rainforest Adventure is a jungle-themed area filled with exciting walkthroughs, but beware, not all the creatures here are friendly. In the depths of the rainforest, you will meet, Turtles, Chameleons, Piranha, Poison Dart Frogs and Tomato Frogs.
Shark Mission
Take a mission into the virtual world of sharks. The state-of-the-art technology brings to life the special abilities and fascinating behaviour of the ancient ocean creature. Challenge your fears and knowledge of the plight of the world's most misunderstood ocean predators with Shark Mission at SEA LIFE Blackpool.
Ocean Tunnel
The walk-through Ocean Tunnel gives visitors the opportunity to experience life under the sea without getting wet. SEA LIFE Blackpool has a wide array of sharks, having bred and raised them for 25 years. In the ocean tank, you will see, Black Tip Sharks, White Tip Sharks, Stingrays, Bowmouth Guitar Sharks, Shovel Nose Sharks, Nurse Sharks, Grouper, Vampire Fish and lots more.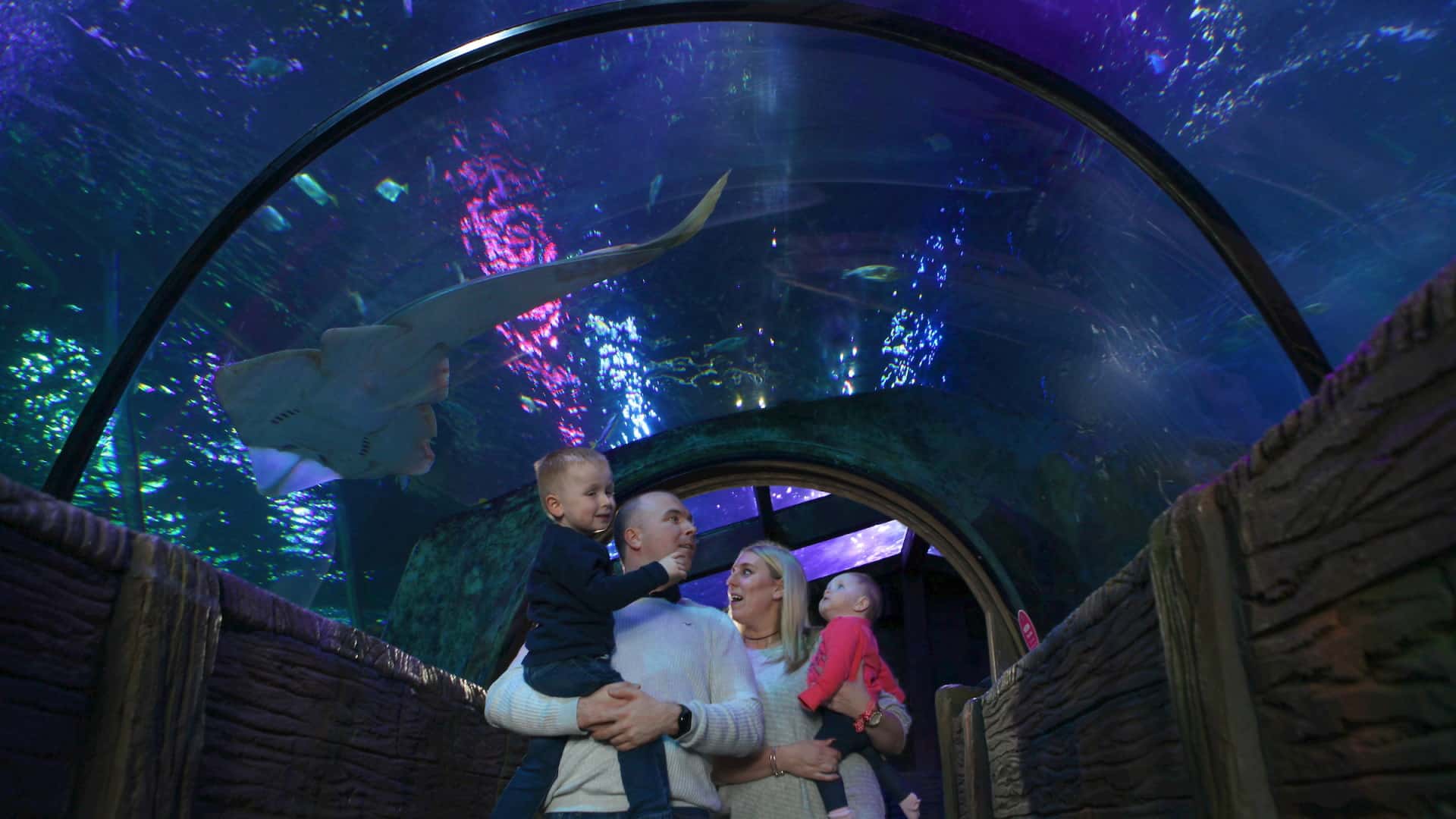 Jurassic Seas
Enter the graveyard of the great Prehistoric Beasts of the Ocean. Walk through the skeletal remains of the creatures which were once Masters of the Seas. See how their ancestors are still alive today and learn how they evolved and adapted through time. Discover how we can help them to survive.
Shark Experiences
Prepare to be amazed as you come face-to-fin with the awe-inspiring Sharks. You can come close to some of the most amazing creatures of the deep as you snorkel among an array of sharks in SEA LIFE Blackpool's dramatic Ocean display. Please note additional charges apply for this experience.
Admission Prices and Offers
SEA LIFE Blackpool is part of the Merlin Entertainments group of attractions, meaning that vouchers are regularly available offering 2 for 1 entry. Purchase your tickets from The Official Sealife Website or view our SEA LIFE offers page for the latest Discounts and Special offers. You can also pre-purchase your entry tickets using Tesco Clubcard points. Merlin Annual pass holders get free entry to all the Sea Life centres across the UK in addition to a number of other Merlin attractions.
Click Here to visit the SEA LIFE Blackpool Official Website.
Travelling to SEA LIFE Blackpool
SEA LIFE Blackpool is located on the main Promenade, a short walk from Madame Tussauds Blackpool near the Central Pier. There are a number of ways you can get to the attraction and there is also lots of accommodation available in Blackpool.
Travelling by Train
There are two railway stations in Blackpool. Blackpool North Station is closest, a 20 minute walk from SEA LIFE Blackpool. The attraction often has lots of awesome offers running with Virgin Trains. Search for your train tickets using Raileasy.
Travelling by Coach
If you would like to travel by coach we recommend that you try National Express.
Nearby Accommodation
There are loads of places to stay in Blackpool, if you are looking for accommodation then try Hotels.com or Travelodge and Britannia Hotels are always a good option for budget hotel accommodation.
Superbreak have some great offers on package tours to SEA LIFE Blackpool.
Attractions Near Me Offers
For the best deals and Discount Days Out visit our Offers page Attractions Near Me
Also like our Facebook page for notification of any new offers Facebook.com/AttractionsNearMe
SEA LIFE Blackpool
was last modified:
June 30th, 2023
by
Dan
Related Listings
Dive into a marine adventure at the Lakes Aquarium. The attraction is a great experience for children and is home to Britains largest collection of freshwater fish. It is a great day out for the whole family. Kids will love the daily talks and getting to know all of the fascinating residents. Lakes Aquarium Situated at the southern tip
Read more…