Situated in the heart of Trafford City, you can soar like a bird in the first 14ft diameter iFLY wind tunnel to be built in the UK. iFLY Manchester is the place where thrills and big smiles are guaranteed.
You Will Be Blown Away!
Pay a visit to iFLY and get ready to be blown away – literally. Experience the feeling of freefall as you float on a smooth cushion of air. There's no parachute, no jumping, and nothing attaching you to planet Earth. It's just you flying in the air. Super fun, super safe and super cool!
All ages and abilities are welcome from age 3 to 103. Live the dream of flight in a safe and super fun way.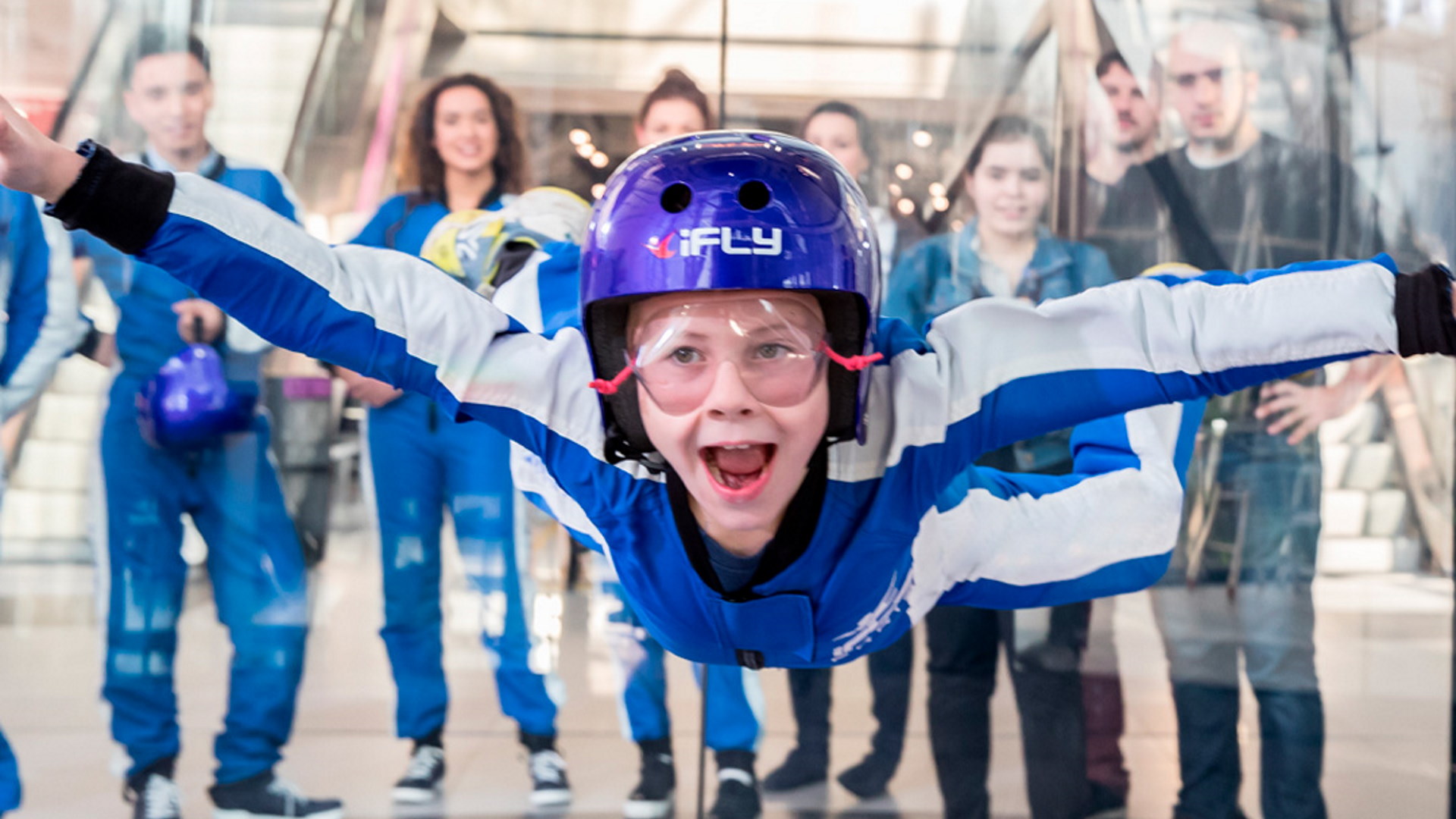 Expert Help
All first-time flights have two instructors – one to help you in the tunnel, and one to control the air speed. Your group will have other first-time flyers, but you are 1-to-1 in the tunnel. This means the instructor will move at your pace.
The Best Technology
The unforgettable sensation of flying awaits you at iFLY, a sensation that few people ever get to experience. But at iFLY everyone has the opportunity to experience flying. iFLY has worked to get the best design for the smoothest airflow in their incredible vertical wind tunnels. With three centres offering Indoor Skydiving, in Basingstoke, Manchester and Milton Keynes, wherever you are in the UK you're never too far away from the sheer joy of human flight.
Pre-Flight Briefing
iFLY operates state-of-the-art remote virtual training, meaning flyers learn all the essential Indoor Skydiving techniques before arrival. Of course, your instructor will recap everything you need to know (in person) before you take to the air. Flyers should arrive 45 minutes before their flight time to meet their instructor and gear up.
Earn Your Wings
Wings will guide you on your journey to mastering Indoor Skydiving. On the way, you'll learn to fly in all 3 directions of movement, flying with others, back flying, transitions, and then finally playing games and sit flying. At this point, your skills will be sufficiently advanced to take part in wind tunnel competitions and perform flips and ticks.
Earn Your Wings contains 6 simple levels. Starting at White Wings, flyers will demonstrate basic stable flying before they progress through Yellow, Blue, Green, Purple and Red Wings.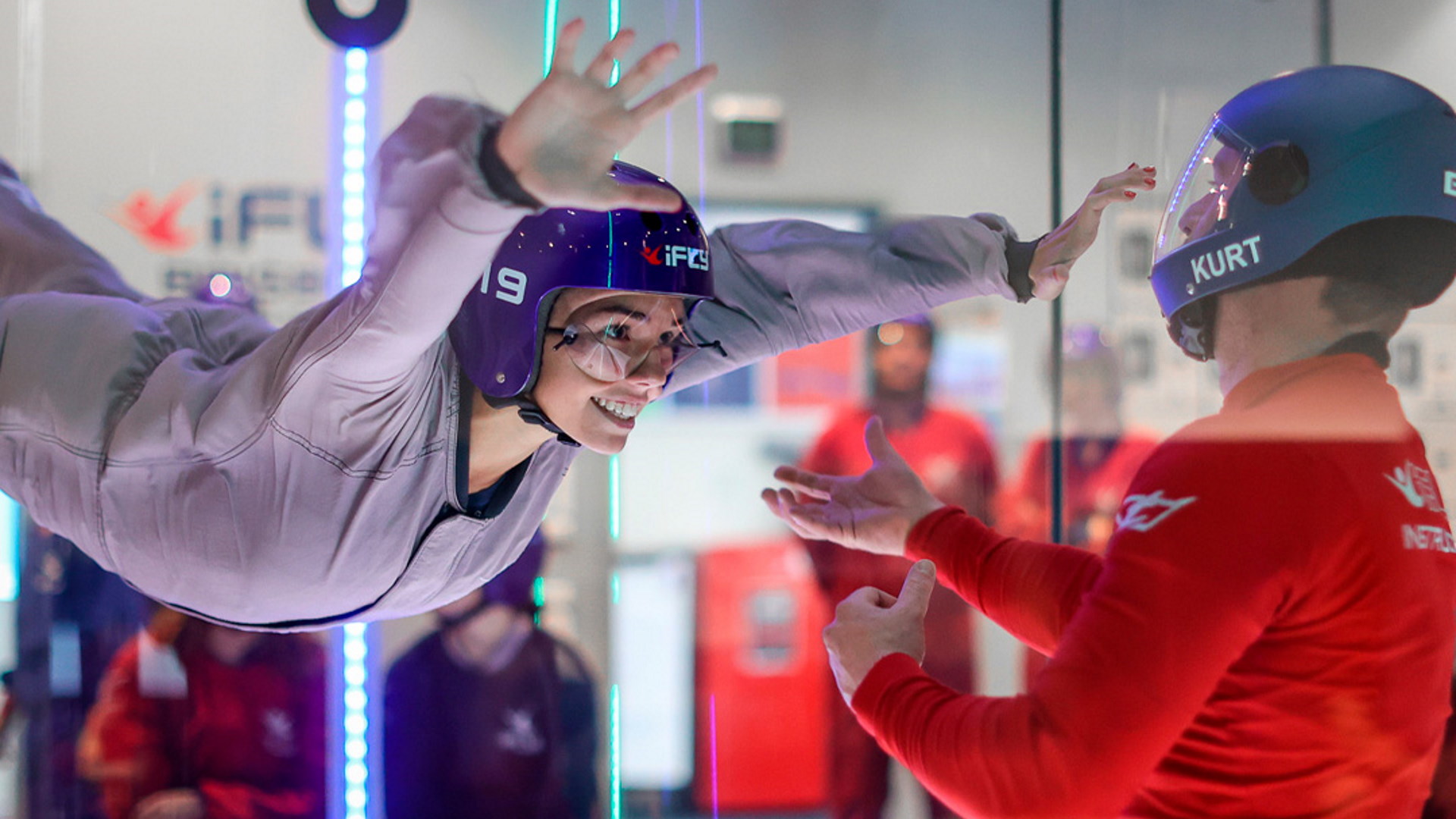 Travelling to iFLY Manchester
iFLY is located at Beyond within Trafford Quays Leisure Village and is less than four miles from Manchester City Centre. The attraction is located adjacent to the Chill Factore indoor ski slope, opposite the Trafford Centre and conveniently located just off the M60 motorway at junction 10. There are a number of ways you can get to the attraction. There is also lots of accommodation available nearby.
Travelling by Train
There are regular main-line trains into Manchester Piccadilly station, which is in the centre of Manchester. You can take a taxi from Manchester Piccadilly train station, which takes 15-20 minutes and costs approximately £15. There are also regular train services to local stations at Urmston, Eccles and Salford Crescent, both of which have regular onward bus connections to The Trafford Centre bus station. Search for your train tickets using Raileasy.
Nearby Accommodation
There are lots of places to stay in the vicinity of iFLY Manchester. If you only plan on visiting the attraction for one day and would like to explore some of the other attractions in the area, then take a look at the self-catering cottages available from Snaptrip.
Attractions Near Me Offers
View More Discount Days Out at Attractions Near Me
Also like our Facebook page for notification of any new offers Facebook.com/AttractionsNearMe
iFLY Manchester
was last modified:
September 6th, 2023
by
Dan
Related Listings
Feel as though you've just jumped into the world's biggest box of LEGO bricks at LEGOLAND Discovery Centre Manchester where there are over 2 million LEGO bricks all under one roof! Rides and Attractions at LEGOLAND Discovery Centre Manchester There are a number of Rides and Attractions on offer at LEGOLAND Discovery Centre Manchester. Buy Tickets from the Official
Read more…