Located on Blackpool's historic seafront, Peter Rabbit™: Explore and Play is a fun-filled adventure that takes children and their families into the world of Beatrix Potter's famous character, Peter Rabbit.
Encouraging Imaginative Play
Hop into a rabbit-sized adventure at Peter Rabbit™: Explore and Play, a 45-minute-long indoor attraction consisting of five fluffy-themed areas based on the hit CBeebies TV series. The attraction is designed for children up to age 8, making it perfect for families with young children. The activities are geared towards developing fine and gross motor skills, as well as encouraging imaginative play. Children can also learn about the natural world and the importance of caring for animals.
Visitors get to experience life as Jeremy Fisher, where they can "splash" in a sensory pond, play lily pad drums and strum musical reeds; then go on an adventure through Mr McGregor's Garden with its giant carrots, tunnels and slides. And venture into Mr Bouncer's Invention Workshop and prepare dinner for Peter Rabbit and his friends in The Burrow.
An Immersive Experience
The attraction provides an immersive experience for children to play, explore, and learn. Designed to resemble the world of Peter Rabbit, with a garden, a woodland, and a farmyard. The garden is filled with oversized vegetables and flowers, while the woodland is home to a treehouse, slides, and tunnels. In the farmyard, children can meet real-life rabbits, guinea pigs, and chickens, as well as explore a small indoor play area.
One of the highlights of Peter Rabbit™: Explore and Play is the interactive nature of the experience. Children can plant vegetables, dig for carrots, and water the plants in the garden. They can also climb up the treehouse, slide down the slide, and crawl through the tunnels in the woodland. In the farmyard, they can feed the animals and even hold a rabbit or guinea pig.
In addition to the play areas, the attraction also includes a small café, a gift shop, and a photo booth where families can take pictures with Peter Rabbit and his friends. The gift shop offers a variety of Peter Rabbit merchandise, including books, toys, and clothing.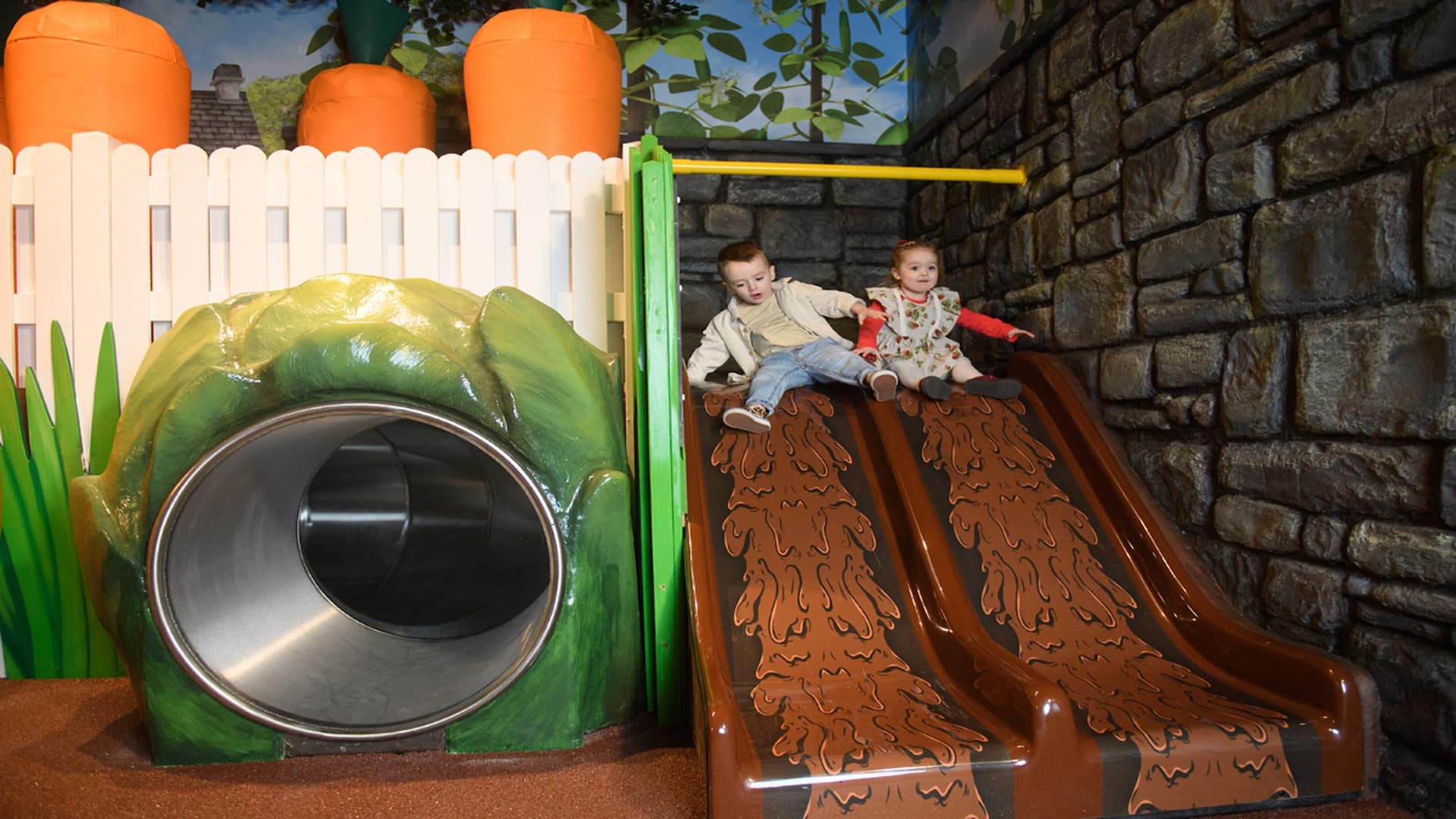 Experience the World of Peter Rabbit
Overall, Peter Rabbit™: Explore and Play in Blackpool is a wonderful attraction for families with young children. It offers an immersive experience into the world of Peter Rabbit, providing a fun and educational environment for children to play, explore, and learn. The interactive nature of the attraction makes it a great way to spend a day with the family, while also providing opportunities for children to develop important skills and knowledge.
Travelling to Peter Rabbit Explore and Play
The attraction is located on Blackpool's historic seafront. There are a number of ways you can get to the attraction and there is also lots of accommodation available in Blackpool.
Travelling by Train
There are two railway stations in Blackpool. Blackpool North Station is the closest, a 20-minute walk from the attraction. Visit the Raileasy website for details.
Travelling by Coach
If you would like to travel by coach we recommend that you try National Express.
Staying in Blackpool
There are loads of places to stay in Blackpool, if you are looking for accommodation then try Hotels.com or Britannia Hotels. Blackpool's Village Hotel is located in Stanley Park alongside Blackpool Zoo. The hotel offers a gym, Italian restaurant, pub, and spa on-site, as well as ample free parking. The hotel even features an 18-hole golf course, with a driving range and golf academy.
Attractions Near Me Offers
For the best deals and Discount Days Out visit our Offers page Attractions Near Me
Also, like our Facebook page for notifications of any new offers Facebook.com/AttractionsNearMe
Peter Rabbit™: Explore and Play Blackpool
was last modified:
September 15th, 2023
by
Dan
Related Listings
Step onto the red carpet and rub shoulders with the stars at Madame Tussauds Blackpool where you are guaranteed to feel more than a little star-struck! Madame Tussauds Blackpool Take to the floor and find out your score in the Strictly Experience and burst into the action with The Marvel Super Heroes where you can discover your power with
Read more…