Aimed at children aged between 6 and 12. Based on the fairytale movies Shrek's Adventure London is a one-of-a-kind, world-first attraction. During your adventure, you will meet many characters including princesses and donkeys and a witch or two.
A Fairytale Adventure
Play your part in 10 fairytale-themed shows including a magical 4D flying bus ride brought to you by DreamWorks Tours. The attraction features breathtaking animation, captivating story-telling and bonkers characters. There are also some unexpected surprises, smells and smiles from Shrek and all his DreamWorks pals as they bring Far Far Away closer than ever before.
Operated by Merlin Entertainments, Shrek's Adventure is located in County Hall adjacent to the London Eye, SEA LIFE London Aquarium and The London Dungeon.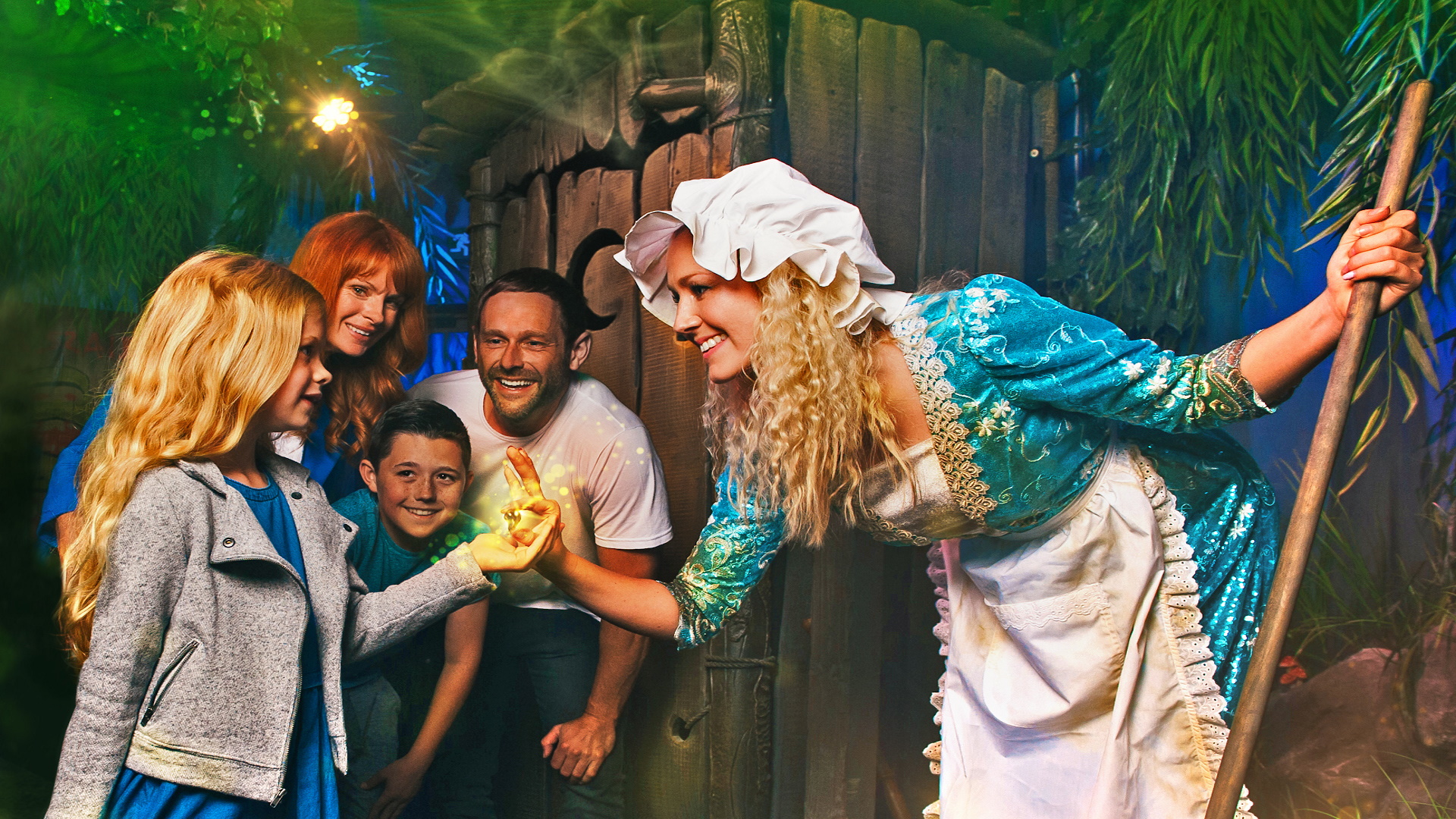 The Experience
Shrek's Adventure is a brilliantly bonkers interactive and immersive walkthrough experience. The whole family can step into and star in your own hilarious misadventure with Shrek and his DreamWorks friends.
The journey begins when you board the DreamWorks Tours magical flying 4D bus to Far Far Away. Visit Cinderella in Shrek's swamp, bump into Puss in Boots, rescue Pinocchio from the wheel of torture and cook up a magic spell with the Muffin Man. During your adventure, collect all of the special ingredients that you will need in order to find Shrek and make it back home safely.
The Shrek's Adventure experience lasts for approximately 75 minutes.
Magic Bus Depot
Grab your ticket and start your adventure to Far Far Away. Board the 4D magic bus with Donkey, as your tour guide. The 4D bus is a simulation experience that includes water spray, air blasts, fog and aroma. It's going to be an exciting ride.
Shrek's Swamp
The magic bus lands in an unexpected location, it's Shrek's Swamp. Maybe Donkey's aren't made to be bus drivers. Look out for Cinderella, as she may be able to help you find Shrek.
Rumpelstiltskin's Carriage
Cinderella has sent you on to visit a fortune-teller who may be able to help you to see where Shrek is. Take a look into Esmeralda's crystal ball. See Shrek and Rumpelstiltskin who's up to his old tricks.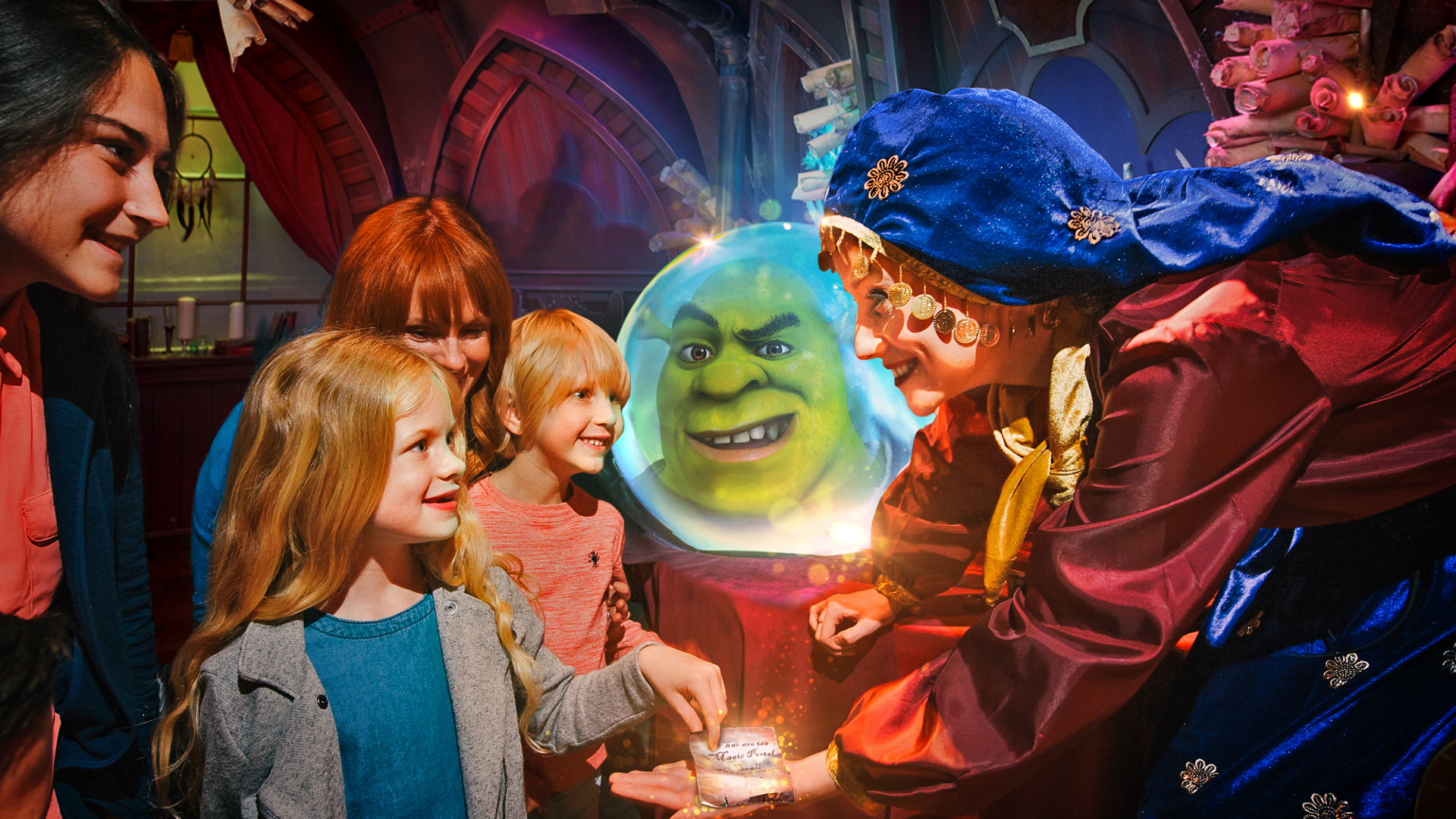 The Poison Apple Pub
Meet Puss in Boots at The Poison Apple Pub. He may help you get the secret ingredient for a magic spell to get you home.
Game Show
Answer a series of questions to help free Pinocchio! from The Wheel of Torture. The 'real' wooden boy is spinning around but he can help by giving you an explosive end to this Game Show.
Mirror Maze
Never trust a Magic Mirror to give you directions in the Mirror Maze of Insanity. Try and find your way out.
Muffin Man's House
Gingy's got a sugary plan up his sleeve. It's time to cook up that magic spell in the Muffin Man's bubbling cauldron.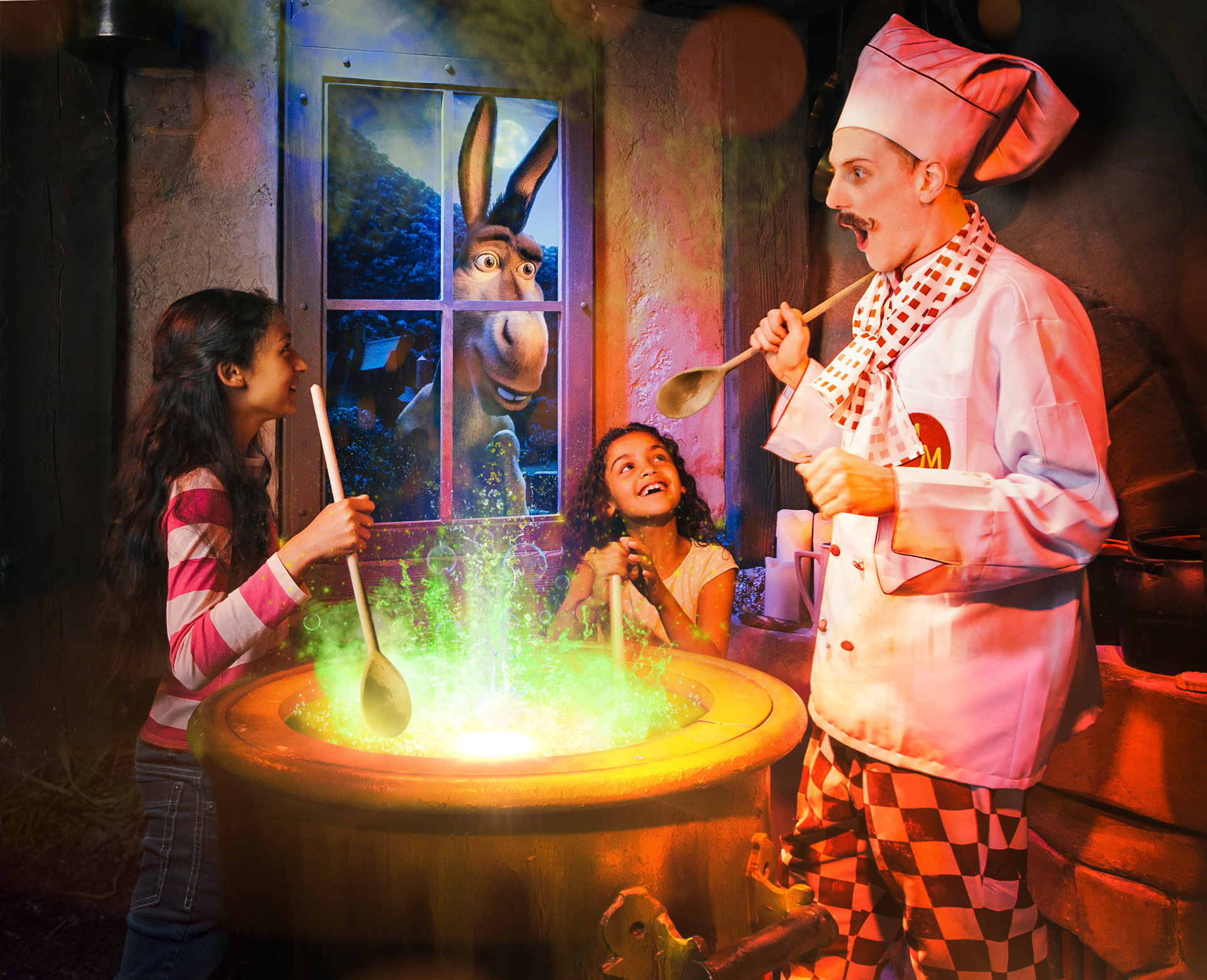 DreamWorks Arrivals Hall
Make sure you have your camera ready, Shrek is waiting to meet you along with his friends from Madagascar, Kung Fu Panda and How to Train Your Dragon.
Admission Prices and Offers
Shrek's Adventure is part of the Merlin Entertainments group of attractions, meaning that vouchers are regularly available offering 2 for 1 entry. You can also pre-purchase your entry tickets using Tesco Clubcard points.
Purchase tickets in advance from the official website.
Travelling to Shrek's Adventure
Shrek's Adventure is located on the South bank of the river Thames, within the County Hall building. The attraction is situated right next to The London Eye, just over Westminster Bridge from Big Ben and The Houses of Parliament. There are a variety of ways to get to Shrek's Adventure. Public Transport is recommended, but if travelling by car The Q-Park Westminster car park is located just a short distance from The London Dungeon. Please be aware of the central London Congestion Charge, which typically runs from Monday-Friday. The information line for the Congestion Charge is 0845 900 1234. Alternatively, visit the Congestion Charge Zone Website.
Travelling by Train
The nearest train station to Shrek's Adventure is Waterloo. From Waterloo Station follow the exit signs for the South Bank and walk towards The London Eye. Shrek's Adventure is located in County Hall, next to The London Eye.
Charing Cross train station is also near to Shrek's Adventure. From Charing Cross take the exit next to platform 1 for Hungerford Bridge. Go over the bridge and follow signs for Jubilee Gardens. Follow the river front past the Coca-Cola London Eye and the Attraction is on your left. Search for your train tickets using Raileasy.
London Underground
The nearest tube stations are Westminster and Waterloo. Westminster tube is on the Circle, Jubilee and District lines. From Westminster, exit onto Westminster Bridge (Exit 1) and then cross over the Bridge. Shrek's Adventure is visible from the bridge. Waterloo tube is on the Northern, Bakerloo, Waterloo & City lines. From Waterloo follow the exit signs for the South Bank (Exit 6) and walk towards The London Eye. Shrek's Adventure is located in County Hall, next to The London Eye.
Travelling by Coach
There are a large number of bus services which stop in the vicinity of Waterloo or Westminster Bridge Road (both accessible to the Shrek's Adventure.) and all the London sightseeing buses also pick up and drop off at these points.  Visit the official Website for details. Visit National Express if you want to travel by coach to London.
Nearby Accommodation
There are lots of places to stay in Central London. Find hotel accommodation at Hotels.com or Travelodge and Britannia Hotels are always a good option for budget hotel accommodation.
Attractions Near Me Offers
For the best deals and Discount Days Out visit our Offers page Attractions Near Me
Also like our Facebook page for notification of any new offers Facebook.com/AttractionsNearMe
Shrek's Adventure
was last modified:
August 5th, 2023
by
Dan
Related Listings
The London Dungeon uses a mixture of live actors, special effects, and thrilling rides. Featuring 18 shows, 20 actors and 2 rides you are taken on a journey through 1000 years of London's history. You will meet London's most infamous characters including Jack the Ripper and Sweeney Todd. The London Dungeon First Opened in 1974, the attraction was initially
Read more…