Yorks Chocolate Story is an entertaining and informative guided tour through the history of York's most famous chocolate-making families and their finest creations. Discover chocolate's origins, how to make it, how to taste it like an expert and even the sustainable future of chocolate.
Yorks Chocolate Story
Uncover a host of surprising secrets and fascinating facts behind York's greatest chocolate products, from the Chocolate Orange to the globally famous Kit Kat. Once you've explored chocolate-making and its history, you can even shop for and indulge in chocolate to your heart's content. There's so much for you to enjoy and discover at York's Chocolate Story in the UK's home of chocolate.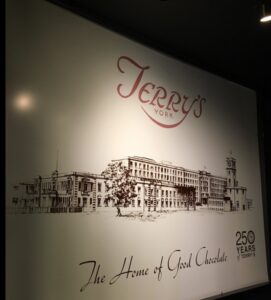 Discover The Story of Chocolate
Begin your journey thousands of years ago in the rainforests of Central America. Discover how ancient tribes discovered the power of the mighty cocoa bean. Continue through to the 18th century when the cocoa bean was embraced by York's great Quaker families, who opened their own cocoa houses and chocolate shops.
Over the next 300 years, the Tuke, Rowntree, Terry and Craven families made the city of York world-famous for its chocolate and sweets. Your expert guide will lead you through the history of chocolate's founding families and the fascinating facts behind their finest creations in the Story Zone.
Uncover the chocolatier's Secrets
Continues your journey into the Factory Zone. Here you will learn how a simple cocoa bean is transformed into the finest chocolate in the virtual chocolate factory. Also, discover the history of some of York's most iconic chocolate brands. Take a trip down memory lane and reminisce with some retro favourites from times gone by.
Learn the secrets of why chocolate makes us feel so good and why it has an ethical and sustainable future. Master the secrets of the chocolatier, as you create hand-made chocolates for yourself. Watch the Chocolatiers as they showcase the art of chocolate-making, before sampling the fresh hand-made chocolates.
The Home of Chocolate
York is the UK home of chocolate. While other northern centres made their wealth from wool, cotton and steel, York went its own sweet way and built a city from chocolate. This great tradition continues to this day, where all over the city there are echoes of York's chocolate past.
Travelling to Yorks Chocolate Story
York City centre is encompassed by its ancient walls and is accessible on foot. Follow the signs to Yorks Chocolate Story, which is located in the heart of York in King's Square, close to the Shambles and Newgate Market. It is only a short walk from one end of the city to the other.
Travelling by Train
Yorks Chocolate Story is a 15-minute walk from York Railway Station with great links to Leeds, Harrogate and the East Coast. Search for your train tickets using Raileasy. From York Railway Station, follow signs for the Minster then head down Petergate and Low Petergate towards the Shambles. Yorks Chocolate Story is located in King's Square.
Travelling by Coach
Visit National Holidays if you want to travel by coach to York.
Nearby Accommodation
There are lots of places to stay in and around the city of York. Find hotel accommodation at Hotels.com or Travelodge and Britannia Hotels are always a good option for budget hotel accommodation.
If you prefer self-catering, check out some of the lovely places to stay on the outskirts of the City of York on Snaptrip.
Attractions Near Me Offers
For the best deals and Discount Days Out visit our Offers page Attractions Near Me
Also, like our Facebook page for notification of any new offers Facebook.com/AttractionsNearMe
York's Chocolate Story
was last modified:
August 2nd, 2023
by
Dan
Related Listings
DIG – An Archaeological Adventure takes visitors back in time to discover the archaeological history of York. DIG is a hands-on archaeological adventure giving kids the chance to become trainee 'diggers' and discover the most exciting artefacts from 2000 years of York's history. The attraction features four special in-door excavation pits, all based on real-life digs in the city. The
Read more…