Pinpointing a single location on a map for Hadrian's Wall on a map is almost impossible because it is 73 miles long, stretching from the banks of the River Tyne on the East Coast to the Solway Firth on the West coast of the UK. Begun in 122 AD in the reign of the emperor Hadrian the wall was a defensive fortification in the Roman province of Britannia and was the northern limit of the Roman Empire.
Hadrian's Wall
A significant portion of the wall still stands and can be followed on foot along the adjoining Hadrian's Wall Path. Designated as a UNESCO World Heritage Site in 1987, it is the most popular tourist attraction in Northern England.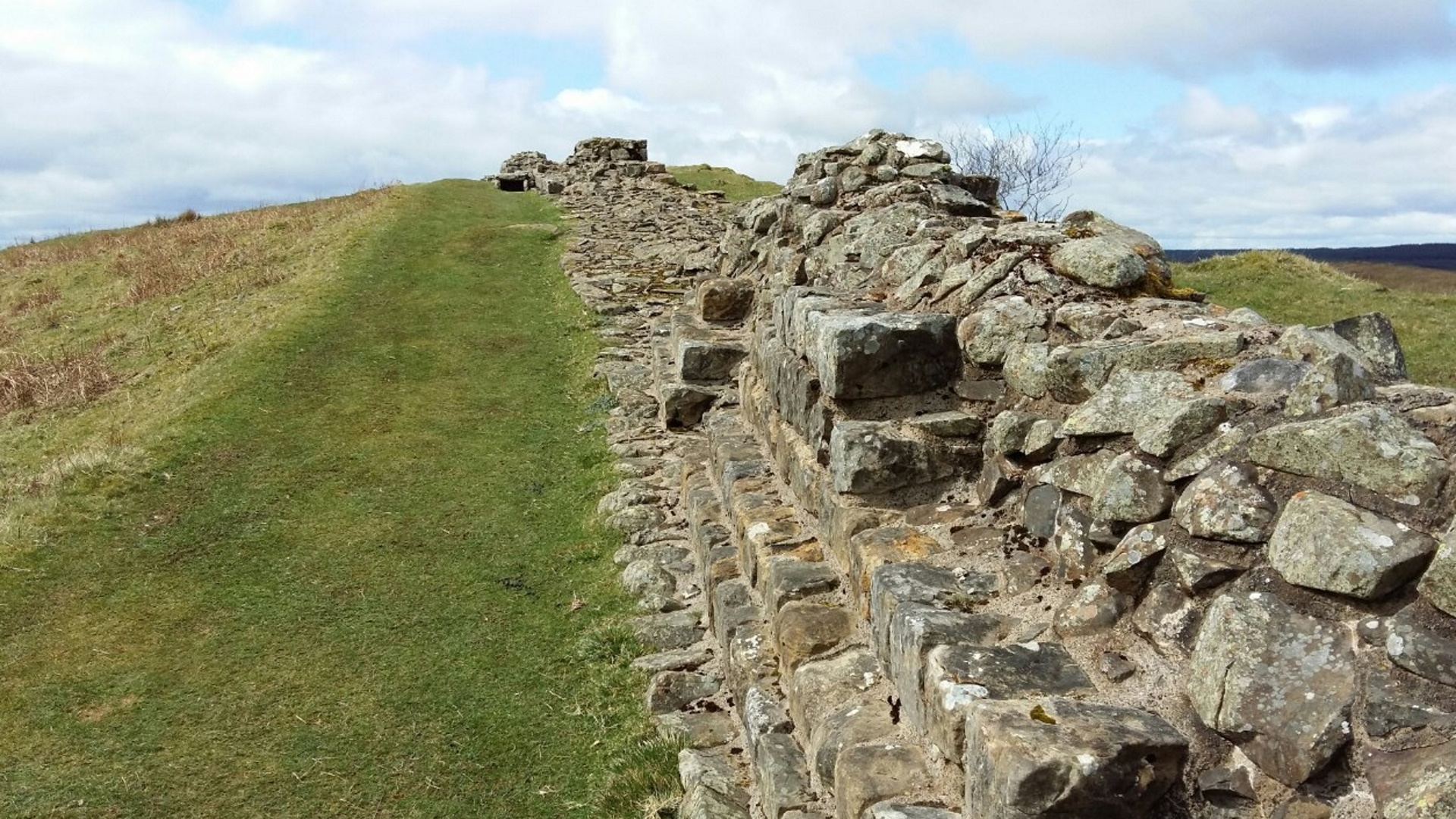 English Heritage Guidebook
Purchase a great value copy of theEnglish Heritage Guidebook to Hadrians Wall. This guidebook provides maps, plans and tours of the important sites, as well as a history of the Wall and its associated forts. It is illustrated throughout with colour reconstructions and photographs.
Milecastle Fortlets
The initial plan called for a ditch and wall with 80 small gated milecastle fortlets positioned every Roman mile. The milecastle fortlets would hold a few dozen troops each, and pairs of evenly spaced intermediate turrets would be used for observation and signalling. When you visit Hadrian's Wall you will discover that very few of the milecastles are actually sited at exact Roman mile divisions, they can be up to 200 yards east or west either due to features of the landscape or to improve signalling to the Stanegate forts to the south.
Local limestone was used in the construction of Hadrian's Wall, except for the section to the west of the River Irthing where turf was originally used instead, but was later rebuilt in stone. Milecastles in this area were also built from timber and earth rather than stone, but turrets were always made from stone. It is believed that the milecastles were staffed with static garrisons.
World-Famous Monument
Built by a force of 15,000 men in under six years, it's as astounding today for its sheer vision as it is for its engineering. It is a common misconception that Hadrian's Wall marks the boundary between England and Scotland. In fact Hadrian's Wall lies entirely within England, while it is less than 1 kilometre south of the border with Scotland in the west at Bowness-on-Solway, in the east it is as much as 110 kilometres away.
There is more to Hadrian's Wall Country than its world-famous monument. From West Coast to East Coast there are many towns and villages to discover and explore. From big cities on big rivers to tucked-away hamlets there is something for everyone to find and enjoy.
Family day out
Visitors to Hadrian's Wall can explore the forts, visit the galleries and museums and walk alongside the world-famous wall. On occasion, you can watch live excavations uncover fresh details of ancient Roman Britain before your eyes. Hadrian's Wall is a unique, must-see monument and a remarkable place to experience.
The attraction makes a great day out with lots to see and do. Families can walk and play alongside the wall. What better way for kids to step into England's history than exploring a World Heritage Site. The galleries and museums will entertain the most inquisitive of minds and there is plenty of outdoor space to work off extra energy, run and picnic.
Click Here to find out more about English Heritage Membership:
English Heritage – Membership
English Heritage
English Heritage is the custodian of over 400 historic monuments, buildings and sites. Through these they bring the story of England to life for over 10 million visitors each year.
Other Local Attractions
There are a wealth of associated attractions dotted along the length of Hadrian's Wall. The attractions range from Roman Forts and Roman Towns to Museums and Galleries.
Attractions Near Me Offers
For the best deals and Discount Days Out visit my Offers page Attractions Near Me
Also like my Facebook page for notification of any new offers Facebook.com/AttractionsNearMe
Hadrian's Wall
was last modified:
June 27th, 2023
by
Dan
Related Listings
Souter Lighthouse is a historic lighthouse overlooking nature-rich clifftop grasslands, a coastal park and a rugged coastline. A Marvel of its Age Discover why Souter Lighthouse truly was 'a Marvel of its age'. Climb the 76 steps to the top of the tower and take in the amazing view. Learn about the life of a Lighthouse Keeper and his
Read more…