Souter Lighthouse is a historic lighthouse overlooking nature-rich clifftop grasslands, a coastal park and a rugged coastline.
A Marvel of its Age
Discover why Souter Lighthouse truly was 'a Marvel of its age'. Climb the 76 steps to the top of the tower and take in the amazing view. Learn about the life of a Lighthouse Keeper and his family and discover a lost village and the ghosts of industry past on your visit.
Souter Lighthouse
The Engine Room is the heart of Souter Lighthouse. Discover how machinery here provided power for the whole station and the operation of the foghorn. As a working lighthouse, Souter had six cottages for staff and visitors. Visit Keeper's Cottage to see how a lighthouse keeper and his family lived during Souter's working life.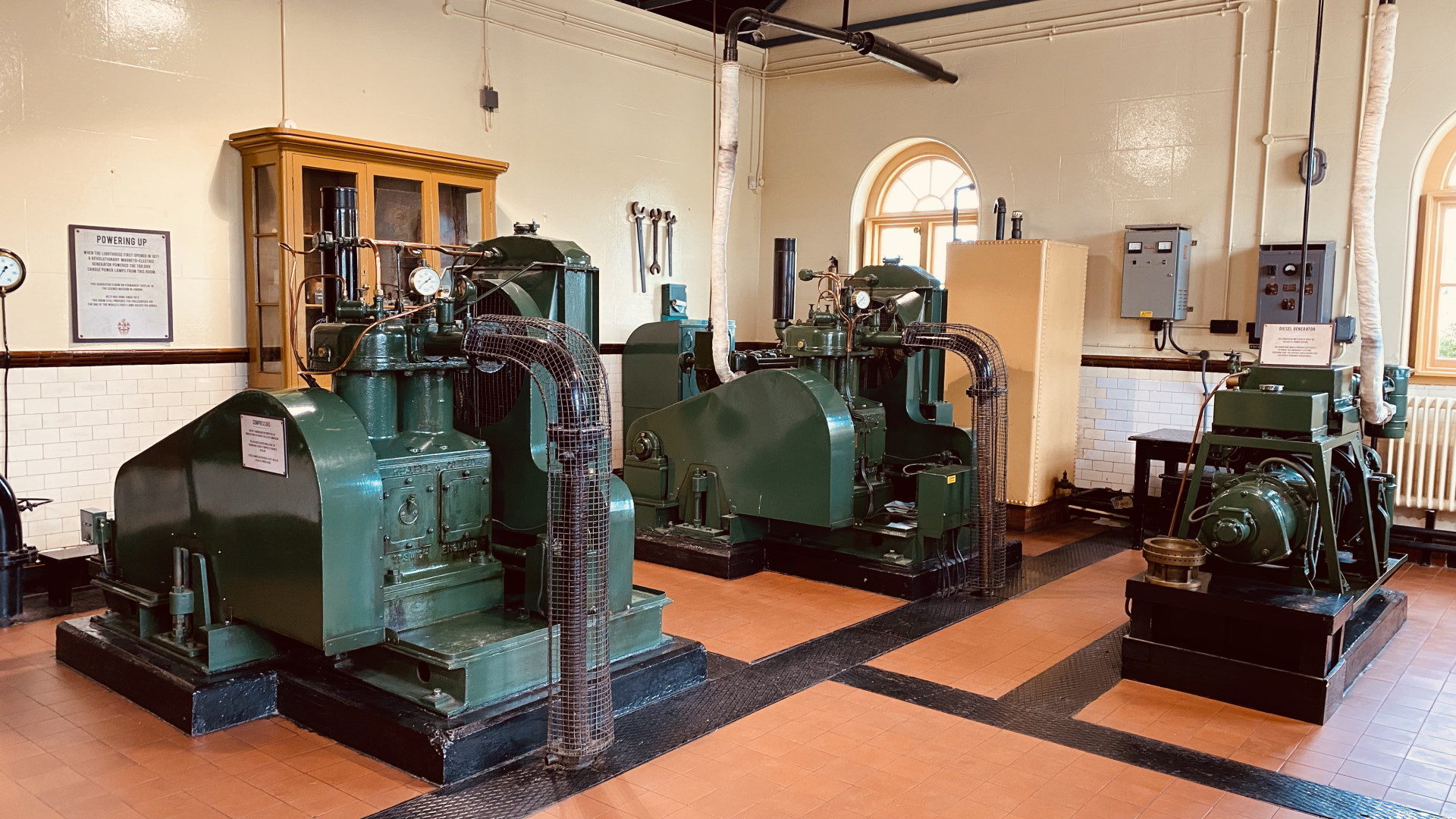 Historic Lighthouse
Built in 1871 to wardships from the dangerous rocks at Whitburn Steel, Souter was the first lighthouse in the world purpose-built to use electricity. Souter was a technological marvel in its day, but it was the development of new technology like GPS and satellite navigation which led to its decommission in 1988 after 117 years of service to shipping in the North East.
Spectacular Views
Climb the 76 steps to the very top of Souter Lighthouse for fantastic views of the rugged coastline below. There are 54 steps to the first landing and 22 more to the lantern room. Visitors venturing to the top are rewarded by sweeping coastal views and a close encounter with the huge lamp which floats on 1.5 tonnes of mercury.
Lizard Point
The lighthouse is actually built on Lizard point. This particularly rocky stretch of coastline lies roughly about halfway between South Shields and Sunderland. Although it's called Lizard Point, the lighthouse which stands sentinel on the clifftops nearby is named after Souter Point, just under a mile to the south. There was already a lighthouse in Cornwall named Lizard point so that is why this one was named Souter.
LEGO Lighthouse
Featuring a similar red and white striped design as Souter Lighthouse is this fantastic LEGO model lighthouse. The LEGO model includes a working light, rearrangeable modular parts and an opening lighthouse keeper's cottage with a detailed interior – plus a buildable orca!
The Leas
Stretching north from Souter Lighthouse, The Leas are two and a half miles of magnesian limestone cliffs, wave-cut foreshore and coastal grassland. The name 'Lea' means an area of farmland allowed to revert back to grassland and coastal formations. From the cliff top, you can take in the views of Marsden Rock and Trow Rocks.
Lighthouse Keepers Cottages
Two cosy cottages stand at the seaward end of Souter Lighthouse. Each one has a private garden and allocated car parking in the lighthouse grounds.
The holiday cottages also boast;
???? Beautiful sea views
???? Scenic coastal walks
???? Free lighthouse tour for holiday cottage guests
???? Children's play area
???? Fully equipped kitchen
???? Central heating
???? TV with DVD and Freeview
To book your unique holiday or short break experience visit the National Trust Holidays Website where you can check available dates, prices and book online.
Click Here for more details on short breaks at The Lighthouse Keepers Cottage.
Food and Drink
Souter Lighthouse cafe offers a welcoming pit stop for lighthouse visitors and anyone exploring The Leas or Whitburn Coastal Park. Eat in or, if the weather's being kind, opt for takeaway and find a picnic table in the lighthouse grounds or a sunny spot further afield.
Travelling to Souter Lighthouse and The Leas
Souter Lighthouse is located on the Coast Road in Whitburn. There are a number of ways you can get to the attraction and there is also lots of accommodation available in the surrounding area. If you are travelling by car then use the postcode SR6 7NH.
Travelling by Train
South Shields Metro station is 3 miles away. The Metro covers towns and cities across Tyne and Wear, view the map for further information.
Attractions Near Me Offers
View More Discount Days Out at Attractions Near Me
Also, like our Facebook page for notification of any new offers Facebook.com/AttractionsNearMe
Souter Lighthouse and The Leas
was last modified:
September 1st, 2023
by
Dan
Related Listings
Take a ride on Britain's oldest remaining water balanced cliff lift. The Saltburn Cliff Tramway links the Spa town of Saltburn-By-The-Sea to the pier and promenade. Saltburn-By-The-Sea is home to the only remaining pleasure pier on the entire North East and Yorkshire coast. History of Saltburn Cliff Tramway The Saltburn Cliff Tramway opened in 1884 to replace an earlier
Read more…