At 421 metres above sea level, The Coldstones Cut is Yorkshires biggest and highest public artwork. The major landmark offers an amazing view of the quarry hidden within the hill below. Coldstones quarry is the only remaining quarry in Nidderdale. Be prepared when visiting the Coldstones Cut as it can be very windy.
The role of the Coldstones Cut
The initial objective was to create a viewing platform where local schoolchildren could visit the Coldstones Quarry in a safe environment. It was thanks to this that the amazing Coldstones Cut was formed. The sculpture functions as an array of platforms from which visitors can view the spectacular quarry below. The artwork functions as an interpretive medium for the surrounding landscape, its industrial heritage and its relationship with the quarry. The attraction gives visitors a fantastic outlook over the landscape of the Nidderdale Area of Outstanding Beauty and beyond.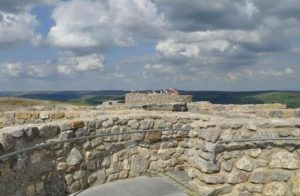 A Major Landmark
At a height of 1375 feet above sea level, the sculpture can be freely explored by visitors who can walk the various winding paths. Take the time to read the excellent information panels and check out the compass highlighting distant features and locations. When you experience some of the extraordinary vistas which the platforms expose it can take your breath away. The Coldstones Cut Combines a contemporary streetscape with the brute impressiveness of ancient stone block constructions.
Visiting The Coldstones Cut
Entrance to The Coldstones Cut is free of charge. A visit is highly recommended in order to understand the scale and splendour of the sculpture and its location. The Coldstones Cut is situated 2 miles from Pateley Bridge on the B6265. Parking is provided at the Toft Gate Lime Kiln car park from which the footpath climbs 40-metres over a 500-metre stretch leading up to the sculpture. Suitable footwear and clothing should be worn as the location is exposed to the elements and the weather can be harsh and change suddenly.
Local Landmarks
Located less than 5 miles from The Coldstones Cut is Brimham Rocks an amazing collection of balancing rock formations. Brimham Rocks is a great day out for families. Let your imagination run wild as you explore the unique landscape. Children love to climb the rock formations whilst adults take in the magnificent views over Nidderdale.
Travelling to The Coldstones Cut
The Coldstones Cut is located just off the B6265 between the picturesque towns of Pateley Bridge and Grassington. Due to its remote location, your best option may be to drive to the attraction. There are lots of accommodation options available in the Yorkshire Dales.
Staying near The Coldstones Cut
There are lots of places to stay in the Yorkshire Dales. The Coldstones Cut is surrounded by beautiful Yorkshire countryside.  If you would like to spend some time in the dales and explore some of the other attractions in the area then take a look at the self-catering cottages near The Coldstones Cut available from Snaptrip.
Attractions Near Me Offers
View More Discount Days Out at Attractions Near Me
Also like our Facebook page for notification of any new offers Facebook.com/AttractionsNearMe
The Coldstones Cut
was last modified:
July 18th, 2023
by
Dan
Related Listings
Brimham Rocks are an amazing collection of balancing rock formations. The rocks stand at a height of nearly 30 feet creating some weird and wonderful rock formations. There is a labyrinth of paths for you to explore weaving between the rocks. The rocks have been sculpted over centuries by ice, wind and rain. Family day out The attraction makes
Read more…