Offering over 40 rides and attractions from thrilling roller coasters to gentle children's rides, Brean Theme Park is the UK's largest free-admission theme park. Sooty, the hit CITV series used to be filmed at Brean Theme Park.
Brean Theme Park Rides and Attractions
Brean Theme Park has more than 40 attractions on offer including indoor and outdoor Roller Coasters, the Wild Water Log Flume, Dodgems, Crazy Boats, Waveswinger, and what is claimed to be the UK's best Ghost Train – Terror Castle. Children's rides include Fantasia, Looney Tunes, the Caterpillar Coaster, Bumpy Slide, Cups and Saucers and many more. There is something for all ages and all adrenaline levels.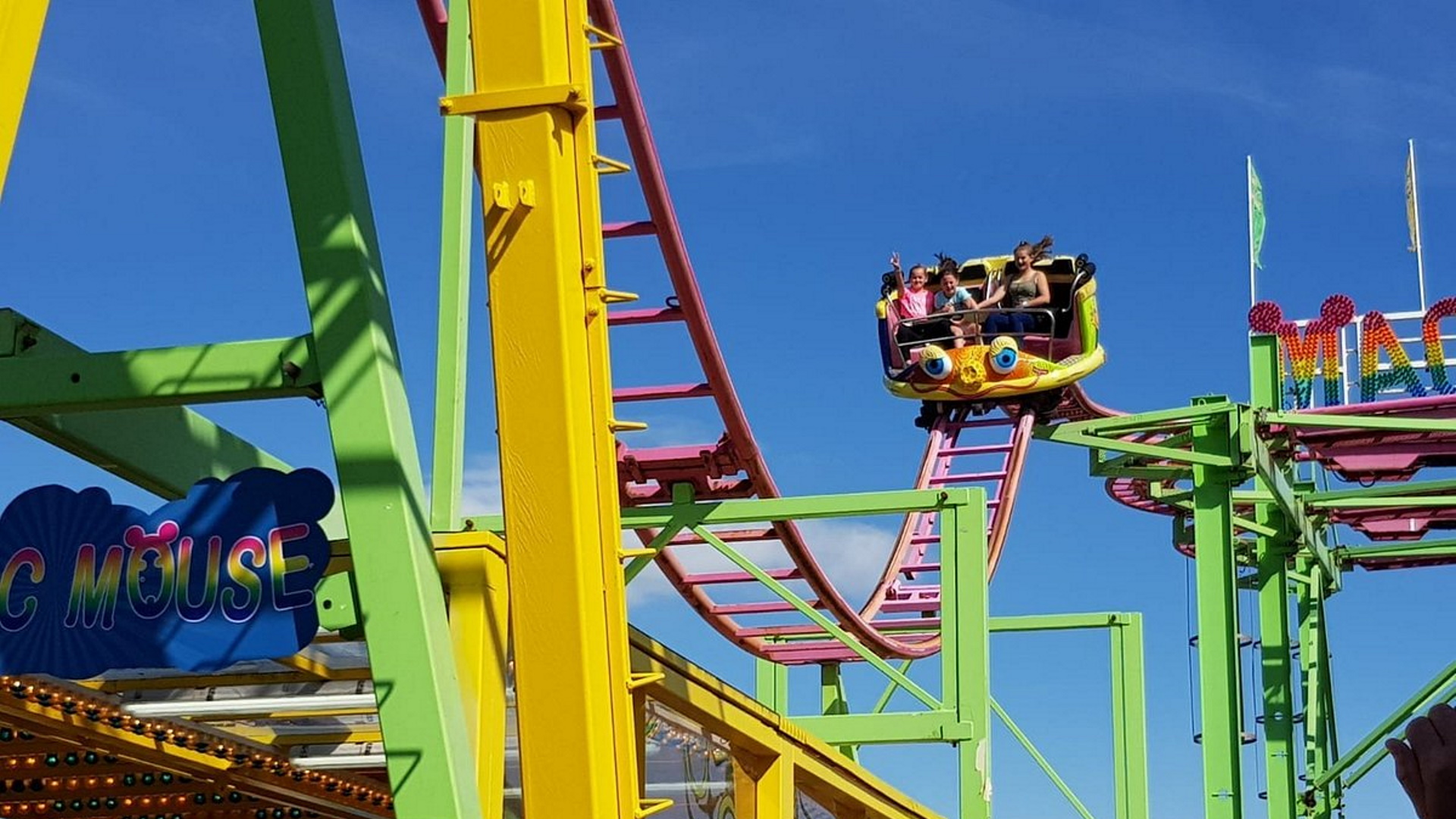 A fantastic day out for all the family!
In order to ride the attractions, you can either purchase Wristbands to ride all day or Fun Cards to pay as you go. Purchase either Tots wristbands for unlimited access to all children's rides, Junior wristbands or Mega wristbands for unlimited access to all rides.
Mega Wristbands
Amongst the rides and attractions included in the Mega wristband are Bulldog, a fun looping roller coaster ride which was formerly located at Flamingo Land Resort in North Yorkshire between 1986 and 1995. X-treme is the tallest ride in the park, offering a thrilling ride experience and panoramic views as riders are lifted hundreds of feet into the air. Astro Storm is an indoor three-man bob rollercoaster which previously Operated at Blackpool Pleasure Beach as Space Invader II. Wipeout is a swinging pendulum-type ride and Wild Water is a log flume ride. Magic Mouse is a wild mouse spinning rollercoaster and Jetspin is a spinning disc ride.
Junior Wristbands
The junior wristband features a selection of family-friendly rides, highlights include Twister, a classic twist ride and a fast-spinning ride named the Ultimate. Amongst the other attractions included in the Junior wristband are the Terror Castle ghost train ride, claimed to be the best in the UK and Sky Diver a drop tower ride.
Tots Wristband
The Tots wristband is for children between the height of 0.8m and 1m. Guests in the Tots category can enjoy the Caterpillar roller coaster, The Looney Toons and Fantasia car rides, the Pony Express and many more fun rides and attractions.
Brean Splash Waterpark
Adjacent to Brean Theme Park is Brean Splash Waterpark which offers a number of indoor slides and attractions. During the warmer summer months, there is a selection of outdoor attractions available too.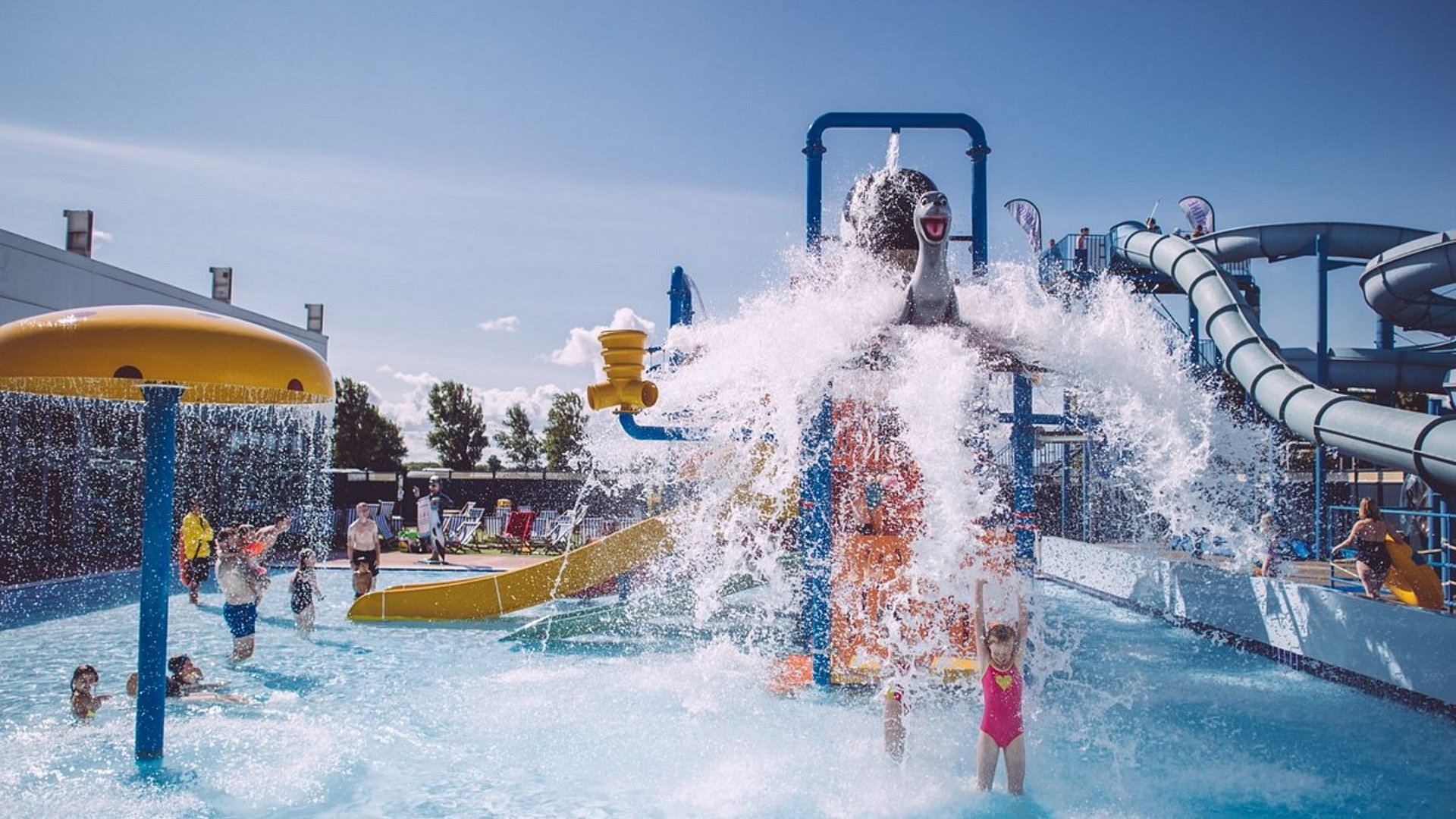 CITV Sooty Show
Brean Theme Park used to be the home of CITV's Scooty, the show was filmed there and children had the chance to meet Sooty daily with the Sooty meet and greet. Historically there were exhibitions featuring the actual props and sets used filming the show 60 years worth of Sooty memorabilia.
Food and Drink
With all the excitement that a day out at Brean Theme Park brings, you'll need to recharge your batteries. From a full meal to a simple snack and coffee, you'll find plenty of choices including burgers and hotdogs, tempting hot doughnuts, cooling ice-creams and sweeties galore.
Travelling to Brean Theme Park
Brean Theme Park is located in the coastal resort of Brean, near Burnham-on-Sea, Somerset. 15 minutes from junction 22 of the M5 motorway. From here, head towards Brean and follow the Brown Tourist Signs. There is also lots of accommodation available nearby.
Travelling by Train
The nearest railway station is at Western-super-Mare. From Western-super-Mare visitors can get either a taxi or the bus. Search for your train tickets using Raileasy.
Nearby Accommodation
There are lots of places to stay in Brean and the surrounding area.  If you only planning on visiting the park for one day and would like to explore some of the other attractions in the area then take a look at the self-catering cottages near Brean Theme Park available from Snaptrip.
Attractions Near Me Offers
For the best deals and Discount Days Out visit our Offers page Attractions Near Me
Also like our Facebook page for notification of any new offers Facebook.com/AttractionsNearMe
Brean Theme Park
was last modified:
December 5th, 2023
by
Dan
Roller Coasters
Astro Storm is an enclosed, sit down roller coaster at Brean Theme Park. The roller coaster ride plunges riders into the depths of space, experiencing 2Gs in pitch black drops while spinning through meteor storms in an intergalactic battle full of amazing special effects and surprises. Astro Storm at Brean Theme Park Astro Storm is the former Space Invader
Read more…
Year Opened:
2004 (as Shockwave) 2014 (as Crazy Loop) 2022 (as Bulldog)
Bulldog Coaster is located at Brean Theme Park in Somerset. The roller coaster thrill ride was relocated to Brean Theme Park in 2004 after spending a number of years at Flamingo Land Resort in North Yorkshire and Pleasure Island in Lincolnshire. Bulldog Coaster at Brean Theme Park The Bulldog Coaster dates back to 1981. Before arriving at Flamingo Land
Read more…
In 1946 Albert and Marie House bought Unity Farm, and for the next 30 years operated it primarily as a dairy farm with a herd of 140 cows. They supplied milk that was bottled on the farm to people in the local area. Two years later, permission was granted to change the use of a small section of the farmland to a caravan and campsite. In the 1950s and 1960s caravan and camping became a bigger part of Unity Farm and slowly the number of cows, pigs and sheep decreased.
During the 1970s and the 1980s, the beginnings of Brean Leisure Park were created along with the Mid Somerset Golf Centre which included Target Golf, driving range, pitch and putt and an 8-hole golf course. Throughout the year's additional recreational activities were created which included greyhound racing, a swimming pool, donkey derby's and open-air markets.
The Greyhound track was closed in 1984 and a significant landscaping project was undertaken across both Brean Leisure Park and Unity Farm (presently known as Holiday Resort Unity) to improve the look of the park.
Roller Coasters at Bream Theme Park
In 2004 Beam Theme Park installed the Crazy Loop Roller Coaster which had previously been based at Flamingo Land Resort in North Yorkshire. This was followed by the introduction of Sooty, Sweep and Soo when Richard Cadell bought the rights from HIT Entertainment in 2008. Astro Storm, an indoor Four Man Bob roller coaster was added in 2011. The ride had previously operated at Blackpool Pleasure Beach as Space Invader II. In July 2014 the park was sold to Phil Booth and his family from Barry Island in South Wales.
Related Listings
At Diggerland Devon guests of all ages can ride, drive and operate real diggers, all in a safe and family-friendly setting. The Ultimate UK Adventure Theme Park Experience If you're looking for fun-filled, action-packed family days out in Devon then look no further than Diggerland. Children and adults can ride, drive and operate real diggers, dumpers and other full-size
Read more…