Diggerland Durham is the perfect destination for a fun and thrilling action-packed family day out.
Fun for all the Family
At Diggerland Durham there are over 20 different rides and drives and tons of additional activities to experience. The popular North East attraction offers both indoor and outdoor play areas, sandpits, coin-operated rides and much more. Children can let off steam while their parents can either sit back and relax or join in the fun.
The Ultimate UK Adventure Theme Park Experience
Diggerland is the only place where both children and adults can ride, drive and operate real diggers, dumpers and other full-size construction machinery. It is the ideal destination for a thrilling action-packed family day out.
Rides and Attractions
There is a wide range of rides and attractions to appeal to visitors of all ages at Diggerland. with the majority being themed around diggers and construction machinery. Here are a few highlights.
Skyshuttle
Enjoy breathtaking, spectacular views from the Diggerland Skyshuttle. Riders are raised 50 feet up in the air offering a bird's eye view of the rural countryside surrounding the park. Have your camera at the ready to capture some superb scenic images.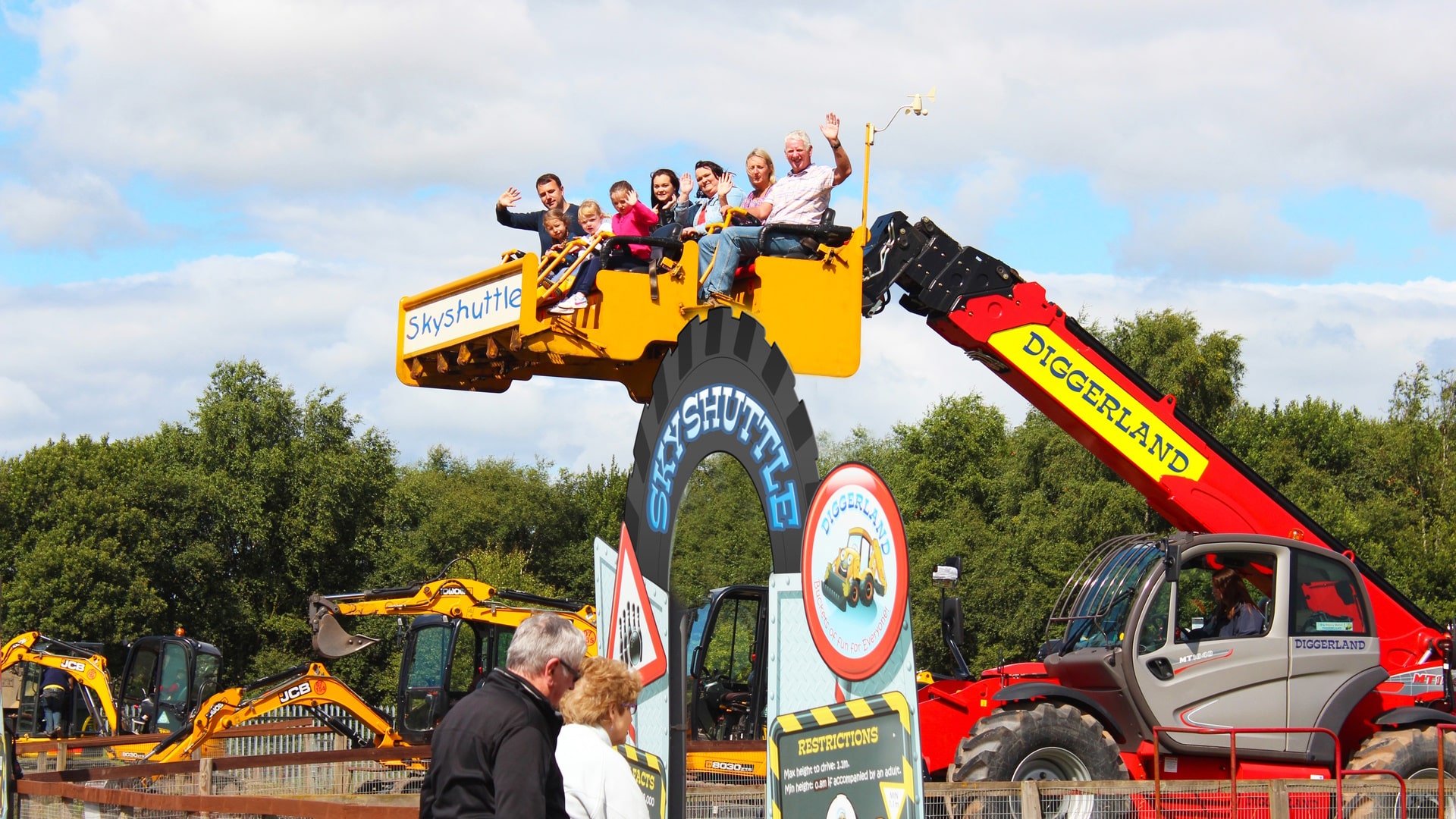 Spindizzy
One of the most well-known attractions is Spindizzy where riders climb into a specially constructed, super-sized digger bucket which gets hoisted up into the air and spins you around at a pretty rapid pace.
Stack Attack
Stack Attack is the ultimate challenge to test concentration, hand-eye coordination, patience and reflexes. Take the controls of a specially adapted, four-wheel-drive, AVANT 200 Series loader with a hydraulic boom fitted with a unique grapple that has been specifically designed for the ride. Working against the clock and within the confines of a 100 square metre fenced enclosure, the StackAttack challenge is to pick-up, move and stack giant digger and dumper tyres without dropping them or knocking over the stack!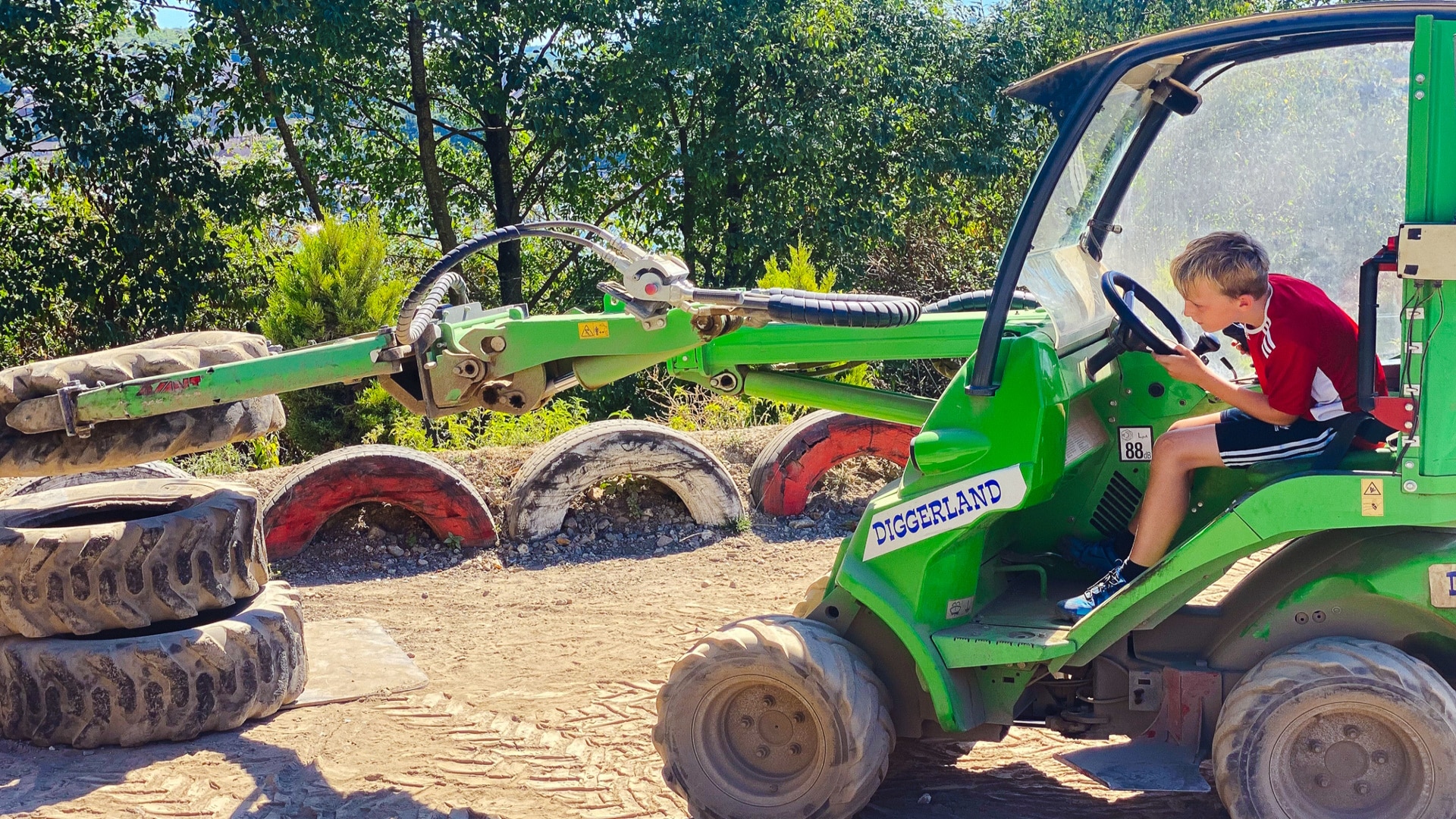 JCB Rides/Drives
Have you ever wanted to drive a real, full-size JCB 3CX, Backhoe Loader? Well, now you can! Accompanied by a specially trained, Diggerland marshall, up to four people can enjoy a trip around the course, with one of you actually driving the machine.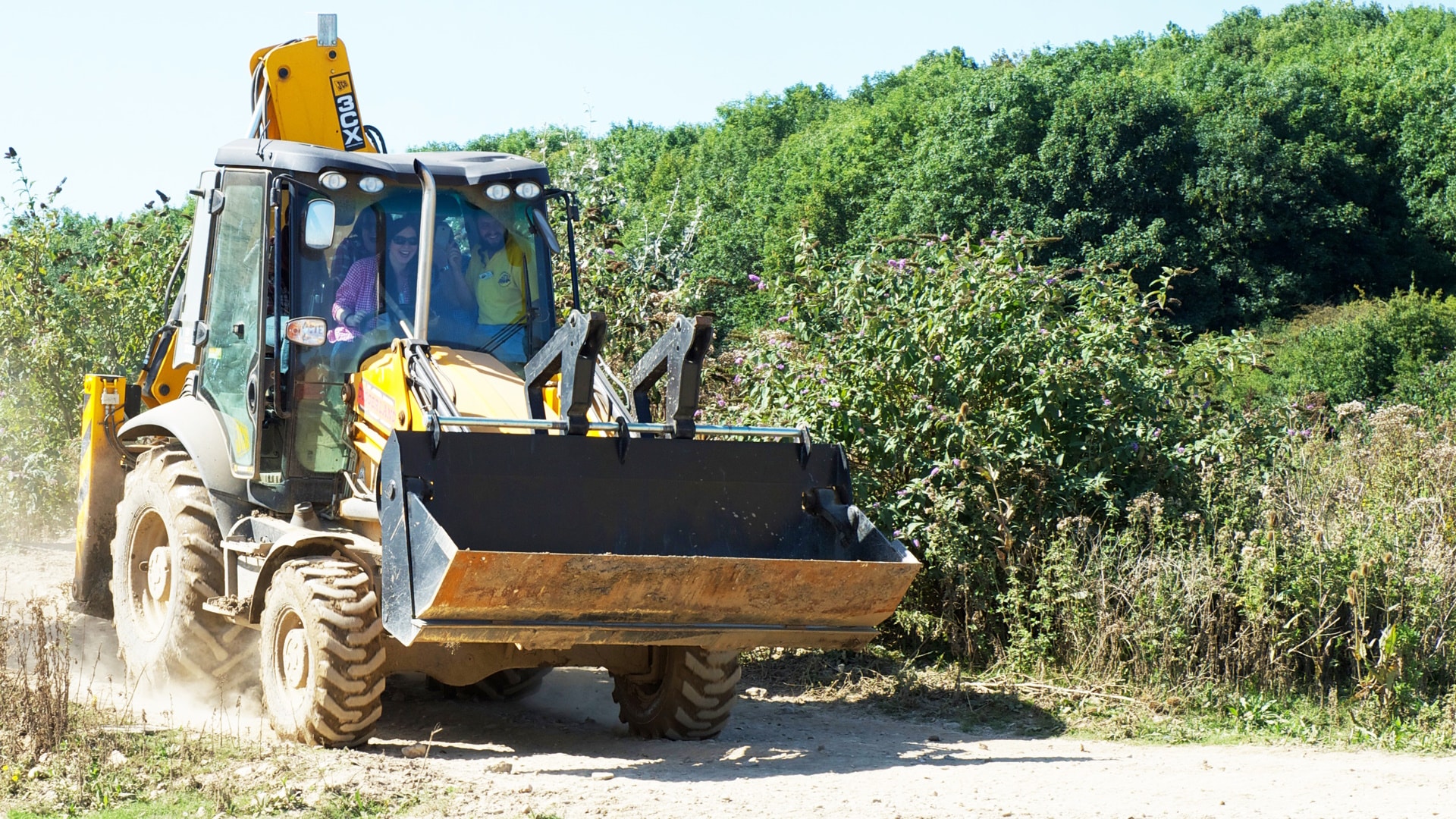 Dumper Trucks
These Thwaites 1-tonne dumpers are the real deal, children can climb aboard and take a spin around the purpose-built course.
JCB Robots
Drive a specially adapted JCB Skid Steer Loader around a purpose-designed course. They may not be super fast, but they are great fun to drive through the mud and large puddles!
Diggerland Offers
Diggerland Durham occasionally offers discounted tickets. Follow our Facebook Page to stay informed or view the current Diggerland Special offers.
Diggerland Parks
Diggerland Durham is not the only Diggerland Park, they also have parks in Yorkshire, Kent and Devon. All four Diggerland parks offer a similar line-up of rides and attractions. They are primarily aimed at children between 4 and 14 years of age, however, visitors of all ages will enjoy a great day out.
Adult Experience Days
For people over the age of 17, Diggerland also offers Adult Experience Days. Activities include JCB and Monster Digger Experiences. Additional activities are available at the other Diggerland Parks.
Food and Drink
There is a cafeteria at the park that offers a wide selection of hot and cold snacks, meals and beverages. Picnic tables are located within the grounds for those who prefer to bring their own packed lunches.
Travelling to Diggerland Durham
Diggerland Durham is located at Langley Park off the A691, 15 minutes from junction 62 of the A1M motorway. Use the postcode DH7 9TT.
Travelling by Train
The nearest railway station is at Durham. Search for your train tickets using the Raileasy website.
Nearby Accommodation
There are lots of places to stay in and around Durham. If you would like to explore some of the other attractions in the area then take a look at the self-catering cottages available from Snaptrip.
Attractions Near Me Offers
For the best deals and Discount Days Out visit our Offers page Attractions Near Me
Also, like our Facebook page for notifications of any new offers Facebook.com/AttractionsNearMe
Diggerland Durham
was last modified:
October 30th, 2023
by
Dan
Related Listings
Ocean Beach Pleasure Park is not a true theme park, more of a static fairground. They offer a good selection of rides and attractions, suitable for all ages which are reasonably priced. Located on the seafront in South Shields, Ocean Beach Pleasure Park is the North East's Biggest free admission Fun Park. Rides and Attractions at Ocean Beach Pleasure
Read more…