Drayton Manor Theme Park is home to a variety of exciting rides and attractions. It is a fantastic day out for all of the family with roller coasters, a 15-acre zoo and Thomas Land. The Theme Park Resort and Zoo are located on the grounds of the former Drayton Manor stately home at Drayton Bassett in Staffordshire.
Drayton Manor Theme Park
Drayton Manor Theme Park covers 280 acres and hosts approximately 1.5 million guests each year. There is a wide selection of rides on offer at the theme park including Shockwave, a stand-up roller coaster and Thor an exhilarating family thrill ride. Drayton Manor is also home to Thomas Land which draws inspiration from Thomas the Tank Engine and his friends.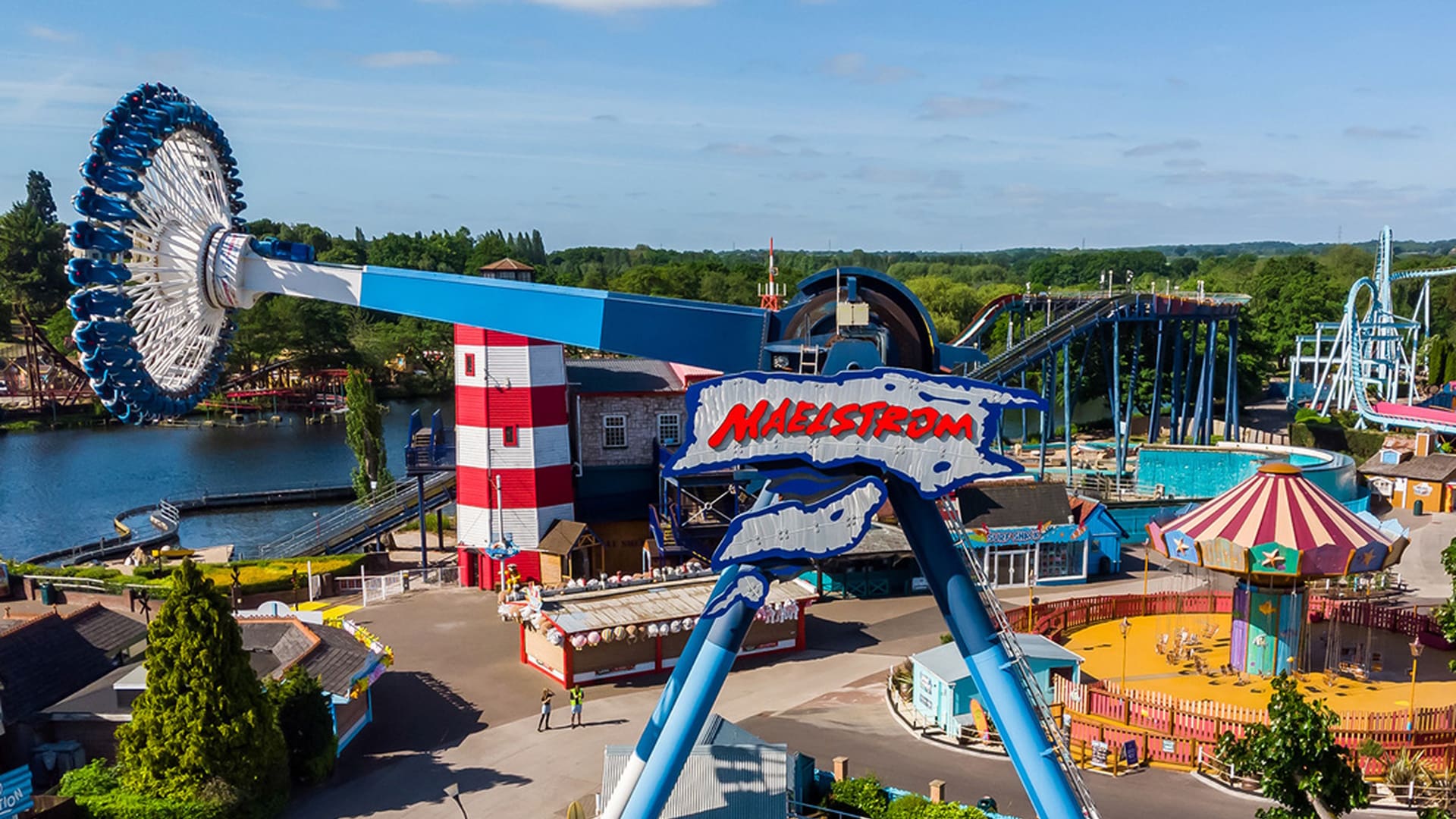 Thomas Land
For a fun-filled Thomas and Friends day out, visit Thomas Land at Drayton Manor. The unique multi-million-pound children's theme park is set in 6,000 square metres of beautiful parkland. This section of the theme park promises fun and adventure for the young and young at heart, boasting over twenty wonderful Thomas-themed rides and attractions. In addition to the rides, there is also a spectacular indoor play area and a special shop filled with fantastic Thomas & Friends merchandise.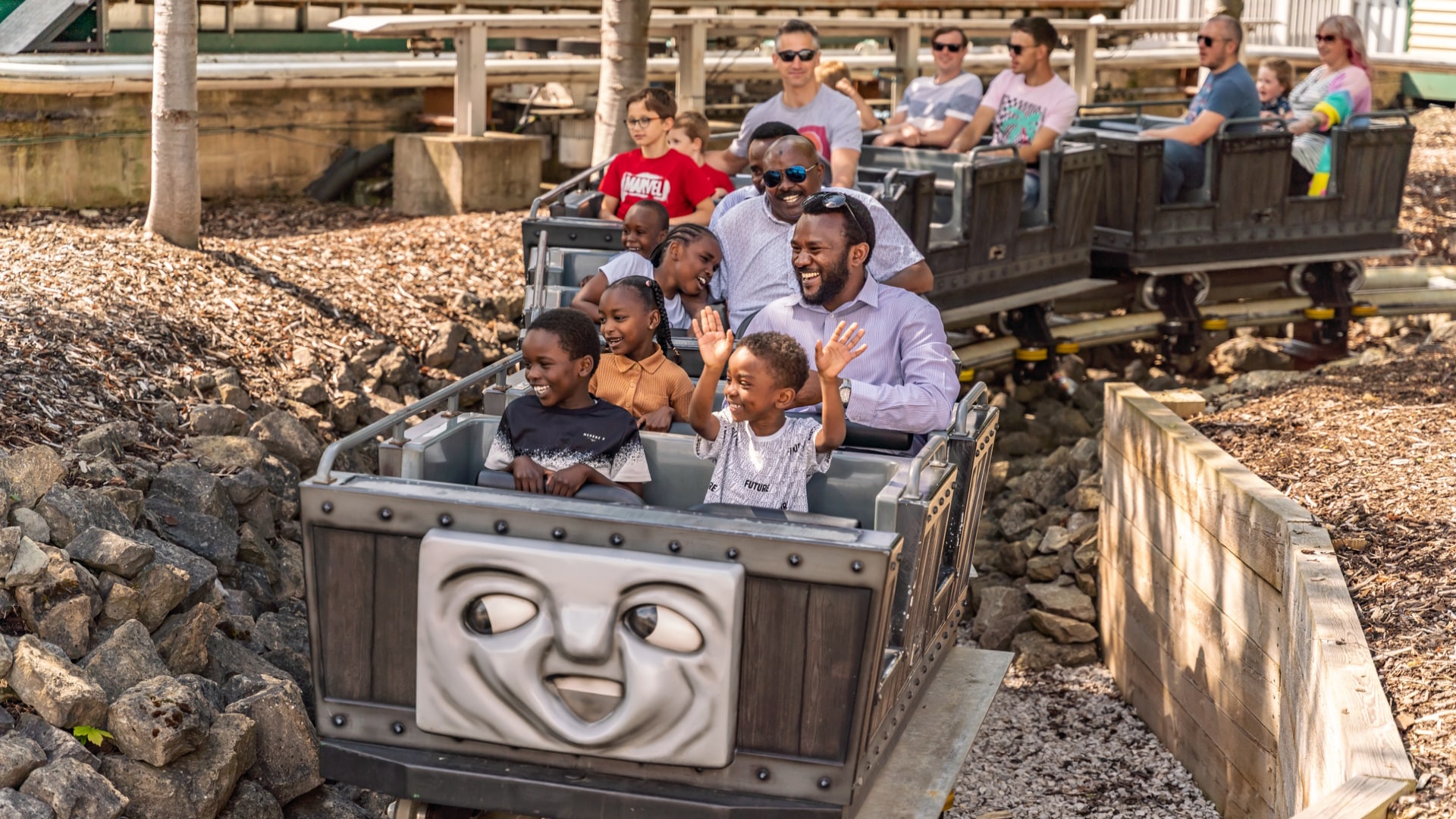 Take a ride on Thomas or go for a wild adventure on the Troublesome Trucks Runaway Roller Coaster. Thomas Land is packed full of exciting rides and attractions. With excellent theming, each ride features one of Thomas' friends, like Bertie Bus and Jeremy Jet, who are just waiting to share an adventure with you. From gentle rides for theme park first-timers to more adventurous ones for older Thomas fans, there's certainly something for everyone.
Vikings
Enjoy the exhilarating rides and attractions inspired by ancient gods and legends in the Vikings section of the Theme Park. Are you brave enough to board Thor where you will experience the ultimate weightless sensation? For the ultimate family thrills, take a ride on Loki, even spectators will be left mesmerised.
Little explorers can learn how to ride an ancient mythical horse and the entire family will love the Jormungandr which takes you on an epic voyage through Vikings onboard a rollercoaster.
Adventure Cove
The Adventure Cove section of the park features a vibrant maritime theme, and a bright and colourful coastal feel, with barrels, boats and steering wheels aplenty.
The whole family will enjoy the nautical-themed zone, with fun add-ons to some of the park's most-loved family favourites, and a selection of new rides and attractions which include River Rapids, Wave Swinger and Tidal Towers.
Drayton Manor Zoo
Drayton Manor Zoo is home to over 500 animals, including endangered species. Explore the fascinating world of wild animals from across the Continents, including numerous rare and endangered species. Drayton Manor Zoo is actively involved in breeding and conservation, with a unique Discovery Centre providing hands-on learning displays about the animals and their environment.
Some of the animals you can view at Drayton Manor Zoo include.
* Birds of Prey
* Big Cats
* Meerkats
* Parrots and Other Birds
* Primates
* Reptiles
* Arachnids and Insects
Drayton Manor Hotel
Located adjacent to the Theme Park is the Drayton Manor Hotel, a 4-star hotel set on 280 acres. The Drayton Manor Hotel offers a range of room types to suit all your requirements. Rooms include spacious executive rooms, interconnecting family rooms, majestic Presidential rooms, and the popular Thomas & Friends themed rooms.
All rooms include luxurious large beds, LCD flat-screen televisions, complimentary Wi-Fi, air conditioning, hairdryers and en-suite bathrooms, as well as Full English and continental breakfasts.
Website Links
Click Here to view the Drayton Manor Park Map:
https://www.draytonmanor.co.uk/map
Travelling to Drayton Manor
Drayton Manor is located in Drayton Bassett, a 10-minute drive from the town of Tamworth. There are a number of ways you can get to the attraction and there is also lots of accommodation available in the nearby town of Tamworth. If you want to do other activities in the area then the city of Birmingham is only 30 minutes away.
Travelling by Train
The nearest train station is Tamworth (approximately 3 miles away). Search for your train tickets using Raileasy.
Staying at Drayton Manor
Drayton Manor has an on-site hotel, which offers stay and play packages. They also have their own Camping and Caravan site which is operated by the Camping and Caravanning Club. The Travelodge in Tamworth is only a 10 minute drive away. The hotel offers free parking and is across the road from Tamworth town centre, with great value rooms, we have stayed here a number of times and would highly recommend it for visiting Drayton Manor. Try Hotels.com who have a wide selection of hotels to choose from.
If you want to spend more time in the area and like self-catering then Snaptrip offer a wide range of properties at great value prices.
Attractions Near Me Offers
For the best deals and Discount Days Out visit our Offers page Attractions Near Me
Also, like our Facebook page for notifications of any new offers Facebook.com/AttractionsNearMe
Drayton Manor
was last modified:
October 28th, 2023
by
Dan
Roller Coasters
Shockwave is located at Drayton Manor in Staffordshire. The £4m Thrill Ride is the UK's first and only Standup Roller Coaster. It is also the only stand-up roller coaster with a zero-gravity roll ever made. Shockwave at Drayton Manor Shockwave opened in 1994 and is Europe's only stand-up rollercoaster. Riders remain on their feet as they travel through four
Read more…
Top 10 Rides at Drayton Manor
1 - Storm Force 10
Stormforce 10 is a heart-stopping, three-drop water ride with a twist that will thrill any adrenaline junkie. Stormforce 10 is a ride that recreates the story of a lifeboat rescue, launched in association with the RNLI. The story is that you are out at sea and a huge storm is building on the horizon. The storm sends your boat on a wild, white-knuckle ride like no other. The ride begins with a drop that sends you into the heart of Stormforce 10. Hold tight as you take on the storm. Partway through the ride, your boat rotates and plunges backwards. The final drop 60-foot drop descends into the lake below.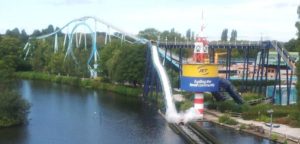 Stormforce 10 - Drayton Manor Theme Park
Beware you will get wet on this ride..!!
Be Prepared - Click Here to buy waterproof ponchos from eBay before your visit
Protect your Mobile - Click Here to view Waterproof Phone Covers
2 - Shockwave
Originally called the '7up Shockwave', Shockwave is Europe's first Intamin stand-up roller coaster and is still only one of two in Europe. This exhilarating, white-knuckle ride opened in 1994 and is the only stand-up roller coaster with a zero-gravity roll. Shockwave has been voted 'Best stand-up roller coaster in the world'. Still a firm favourite with thrill-seekers visiting Drayton Manor Park, Shockwave reaches heart-racing speeds of 53mph and delivers up to 4g. The ultimate ride for speed-demons and adrenaline junkies, Shockwave powers you through twisting corkscrews, loops and bends.
Shockwave - Drayton Manor Theme Park
3 - Apocalypse
When Apocalypse opened in the year 2000 it was the first stand up drop tower ride in the world. At 54 metres tall, it was once voted 'Britain's Scariest Ride'. Apocalypse is still a firm favourite for all thrill seekers who visit Drayton Manor Park. Riders can choose whether to sit down, stand up or stand for the duration with no floor beneath your feet. This ride is not for the faint-hearted. Riders reach speeds up to 50 miles per hour and fall 54 metres. Apocalypse free falls for 4 heart-racing seconds. Previously voted the 'Best Thrill Ride' in Europe, Apocalypse is one of the most exhilarating rides you will ever experience and will push you to your limits.
Apocalypse - Drayton Manor Theme Park
4 - Accelerator (formerly know as Ben 10 Ultimate Mission)
Climb aboard the Accelerator Roller Coaster and get ready for an incredible adventure. The Accelerator was formerly known as Ben 10 Ultimate Mission. The roller coaster train travels backwards out of the station before beginning with a big drop travelling back through the station. The ride then twists and turns around the high-speed track. Upon reaching the end of the track, you do the whole thing again backwards. The young and young-at-heart will enjoy this exciting, action-packed roller coaster adventure. First-time roller coaster riders and young thrillseekers will be thrilled by this smaller but seriously exciting ride.
5 - Air Race
One of Drayton Manors more recent additions, Air Race takes riders on a thrilling ride that will leave your head spinning. Climb into a plane and take off on a mind-bending journey through the skies as you swoop and plunge, fly and race.  Air-Race is not for the faint-hearted. As the ride spins, each plane performs its own white-knuckle loops. Riders who brave Air Race will experience nearly 4g as they accelerate in their planes, experiencing a number of full 360-degree loops.  Air Race is an unmissable ride that lets you experience fantastic G-force and thrilling tilts and turns.  The two simultaneous spinning motions produce a truly unique, mind-bending sensation that will disorientate the senses and delight the thrillseeker in everyone.  This ride is a favourite with the most adventurous riders.
Air Race - Drayton Manor Theme Park
6 - Maelstrom
Maelstrom is a stomach-churning, head-turning gyro swing that will have thrill seekers on the edge of their seats. Riders face outwards they are raised high into the sky. Maelstrom gains massive height with every arc before plunging back towards the ground. But that's not all as the ride also rotates a full 360 degrees as you fly, sending you into the heart of the maelstrom. Adrenaline junkies won't want to miss this one. Riders legs swing freely, giving the sensation of freedom and flight in this jaw-dropping thrill ride. This white-knuckle experience is like nothing you've experienced before. If you think you can handle the power of the storm, test your limits on Maelstrom.
Maelstrom - Drayton Manor Theme Park
7 - Pandemonium
You won't know which way is up as you fly in circles at heart-stopping speeds on Pandemonium. Two gondolas swing in opposite directions, hurtling past each other, getting higher and higher until riders are thrown into a full 360-degree turn. Feel the G-force as you reach new heights on this intense thrill ride. Push yourself to new limits on this thrilling adventure as you experience the intense speed and power of one of Drayton Manors scariest rides. This ride is not for the faint-hearted, even the most dedicated thrillseekers will be on the edge of their seats.
8 - Troublesome Trucks Runaway Rollercoaster
One of the highlights of Thomas Land is the Troublesome Trucks Runaway Rollercoaster. The Troublesome Trucks are up to their usual mischief again. The Troublesome Trucks Coaster is an exciting roller coaster ride that even the most adventurous Thomas fans will love. Join the Trucks as they race along the roller coaster tracks as fast as they can, taking you on a fun and fast-paced ride in Thomas Land. This junior roller coaster is brilliant for first-time roller coaster riders (and it's fun for the adults too). The Troublesome Trucks coaster twists and turns around the track, tilting as it speeds around corners.
9 - Drunken Barrels
Drunken Barrels is a teacup ride with an exciting twist. As with a regular tea cup ride, the barrels provide a fast-spinning adventure. As the ride reaches full speed the platform lifts giving riders a unique thrilling experience.
10 - The Haunting
The Haunting takes you on a journey through the long-abandoned vicarage with its terrifying reputation for ghostly apparitions and unexplained supernatural events. Eerie surprises will keep you on your toes, rooms will change around you, and petrifying noises will haunt your steps as you attempt to find your way out of the vicarage. To complete your experience you pay a visit to the haunted chapel, where nothing is quite as it seems. The Haunting is a thrilling, unforgettable experience.
Related Listings
Alton Towers theme park in Staffordshire is the UK's most popular Theme Park. It offers a great variety of rides and attractions including record-breaking roller coasters like The Smiler and Thi3teen. Alton Towers also caters for younger guests with the world's first CBeebies Land. Alton Towers Theme Park Alton Towers is home to some of the UK's most well-known
Read more…