Jam-packed with a wide selection of fun rides, Fantasy Island is the ultimate destination for the whole family. The amusement park is located only a stone's throw from the beach in Ingoldmells near Skegness on the sunny East Coast of Lincolnshire.
Fantasy Island Resort
The amusement park offers a great mix of Extreme, Family and Kids rides and is also home to Europe's largest seven-day market. The attraction is surrounded by camping and caravan sites and is a must-visit for anyone staying at Butlins in Skegness, located only a short walk along the promenade from the famous holiday resort.
Rides and Attractions
There are so many things to do at Fantasy Island including a number of exhilarating rides and roller coasters that will test even the bravest thrill-seeker's nerves. Families are also well catered for with a number of family-friendly rides and attractions to choose from. In addition to the great rides and attractions, Fantasy Island is also home to Europe's largest seven-day market.
Extreme Rides
Fantasy Island is the ideal day out for thrill-seekers with a range of extreme rides and roller coasters on offer. Experience for yourself the full force of a Volcanic Eruption when you board the Volcano shot tower. Feel the suspense building as you wait to be shot 183 ft into the air at 50mph providing the ultimate rush. Techno jump is an exciting, stomach-churning experience that will have you jumping for joy! As the ride spins, your car bounces frantically, lifting you up and out of your seat!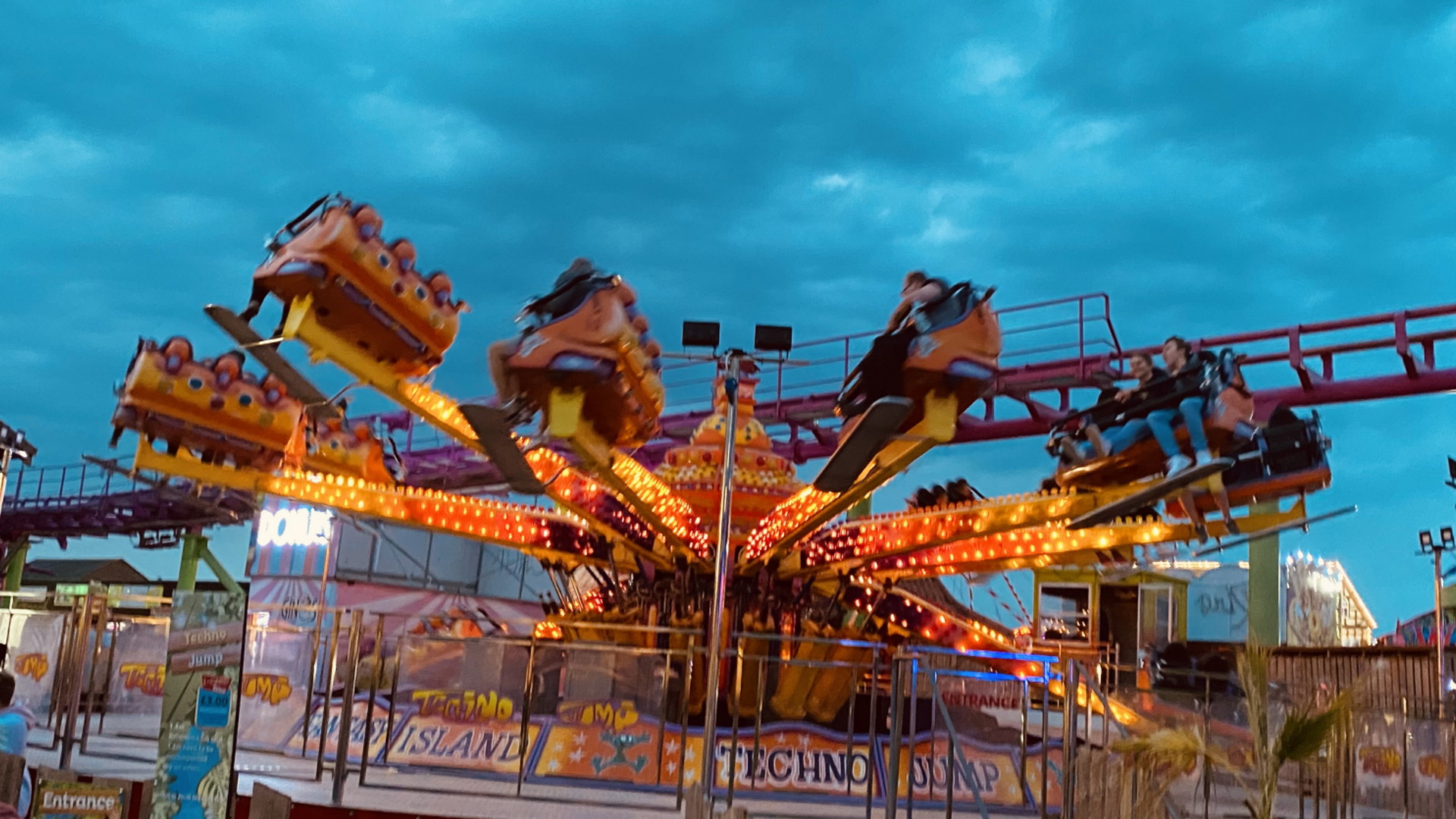 Roller Coasters
Fantasy Island features a number of roller coasters ranging from high octane thrill rides to the family friendly Rhombus Rocket and Jellikins rollercoaster rides.
Millennium
Reaching a height of 150 feet and a speed of 55.9mph the Millennium roller coaster travels around the whole of Fantasy Island offering some great views of the park below. The rides track is 2736 foot long featuring 2 vertical loops and a sidewinder.
The Odyssey
The Odyssey is a Suspended Looping Coaster (SLC). Hold tight as you soar through the sky at amazing heights, through a whirlwind of inversions at great speeds. The Odyssey is a truly terrifying experience, not for the faint-hearted!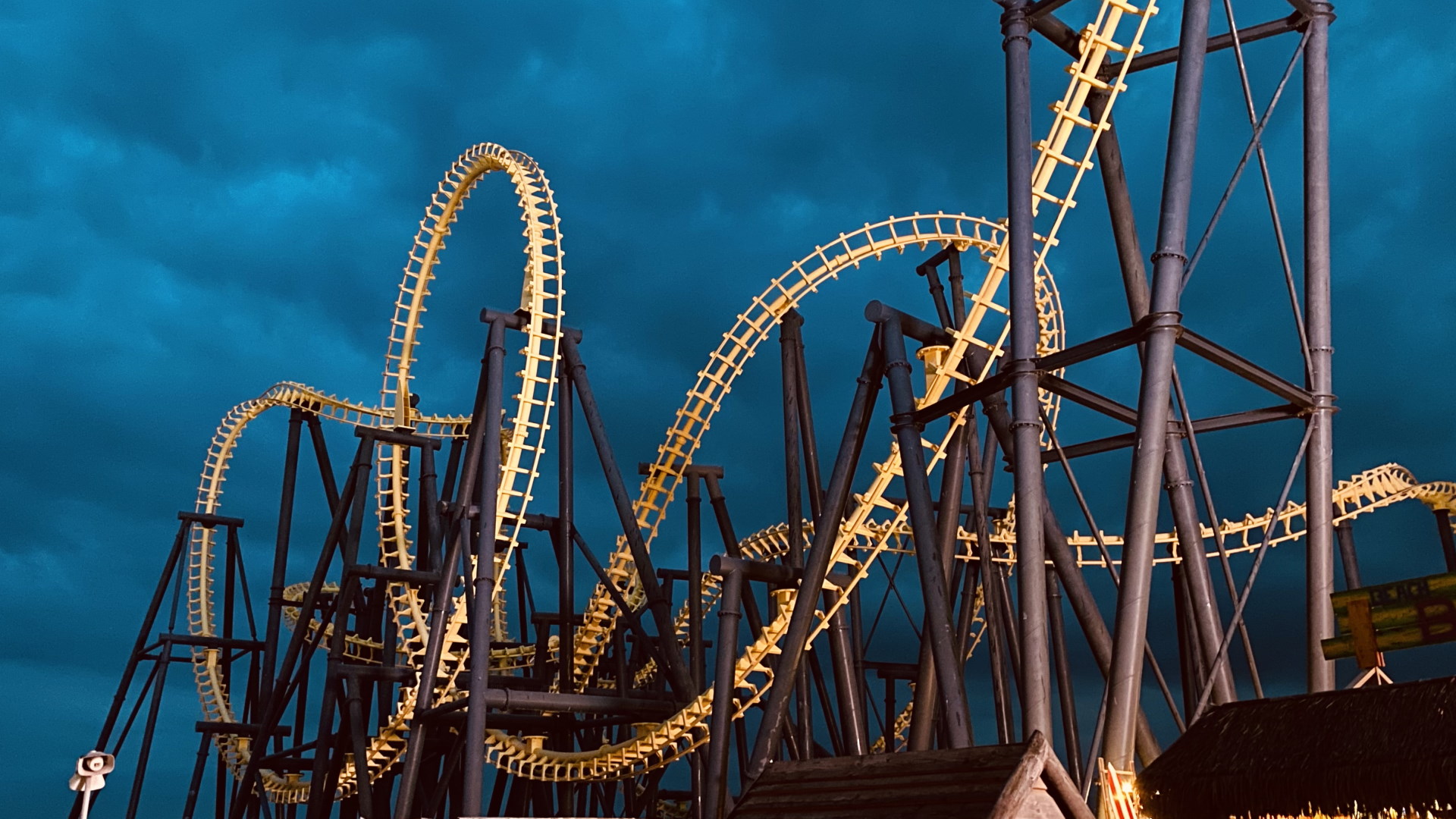 Family Rides
Fantasy Island offers a wide selection of rides and attractions suitable for all the family, including all-time family favourites such as the Dodgems and the Twister. On warm summer days, the log flume is the ideal way to cool off, securing its place as a firm favourite and a must ride for all the family!
Located inside the giant pyramid are a number of indoor rides and attractions ideal for rainy days.
Children's Rides
There is a wide selection of attractions for younger children, located both indoors and outdoors. Kids rides include Jets, Pony Express and the Carousel.
Harrington Flint's Island Adventure's
A new interactive dark ride named Harrington Flint's Island Adventure's opened at Fantasy Island in the summer of 2022. In this fantastic adventure ride, visitors embark on trackless vehicles which transport them into an immersive new world, travelling through portals, using their laser guns to shoot down Mayan zombies and putting themselves to the test as they fire away at Professor Crow. Click Here to read our in-depth review of the ride.
The Giant Pyramid
Harrington Flint's Island Adventure's ride is located inside a giant pyramid which also contains a number of other great rides and attractions all themed to fit in with their surroundings. In addition to Harrington Flint's Island Adventure's ride other highlight attractions inside the giant pyramid include 'The Guardian' an immersive theatre ride and Mystical Dragon Mountain waterslide.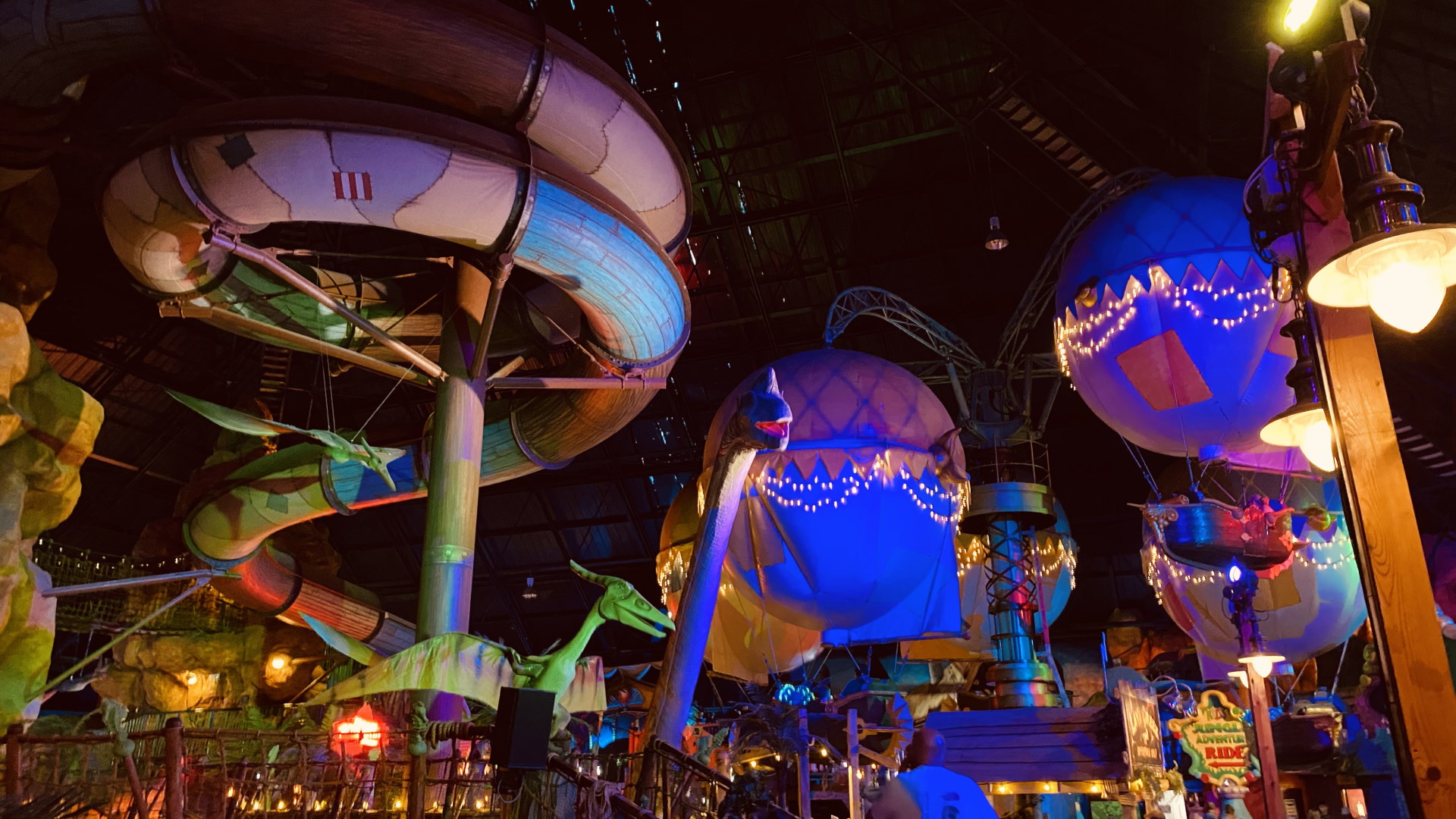 Fantasy Island Market
With over 320 stalls Fantasy Islands free to enter market is the largest 7-day market in Europe. The wide variety of products available includes fashion, gifts and toys, home and garden and much more.
Food and Drink
There are a wealth of places to take a well-needed break. With the wide range of restaurants, cafes and bars across the park you will be spoilt for choice.
Fantasy Island Review
Whilst on holiday camping at Grange Leisure Park in Mablethorpe we decided to pay a visit to Fantasy Island and try out their new ride for 2022 Harrington Flint's Island Adventure's. Click Here to read our review of the East Coast Amusement Park.
Fantasy Island Admission Prices
Admission to the park varies depending on the season. You can either purchase ride-all-day wristbands or if you prefer you can pay-as-you-ride.
Pay As You Go Card
If you're not planning on staying at the park all day, or you'd rather just pay-as-you-ride, pay-as-you-go cards are available onsite at Fantasy Island. The pay-as-you-go cards are ideal if you're an adrenaline junkie who just wants to ride the fast-paced roller coasters or if you're only looking to experience the tamer rides. The cards are available to purchase onsite at Fantasy Island and can be topped up at any one of the kiosks.
Travelling to Fantasy Island
Fantasy Island is located in Ingoldmells on the East Coast of England near Skegness. There are a number of ways you can get to the attraction and there is also lots of accommodation available in close proximity to the park. If you are travelling by car then use the postcode PE25 1RH. During the main season, there are regular bus services running from Skegness to Fantasy Island.
Travelling by Train
The nearest train station to Fantasy Island is Skegness. The East Midlands Trains service runs a Nottingham to Skegness service every hour from Monday to Saturday, and every two hours on a Sunday. You can connect to this train at Nottingham or Grantham.
For information on train times and tickets see the Raileasy website.
Staying in Ingoldmells
There are loads of places to stay in Ingoldmells, there are a number of holiday parks in close proximity to the Theme Park including Butlins Skegness.
Attractions Near Me Offers
View More Discount Days Out at Attractions Near Me
Also, like our Facebook page for notification of any new offers Facebook.com/AttractionsNearMe
Fantasy Island
was last modified:
June 25th, 2023
by
Dan
Roller Coasters
The Millennium is located at Fantasy Island in Lincolnshire. Standing at 46-metres tall it is one of the tallest roller coasters in the UK. Millennium at Fantasy Island Millennium was built to celebrate the arrival of the new millennium but despite its name, was opened in May 1999. It was Fantasy Island's first "Extreme Thrill Ride", and circles the
Read more…
The Odyssey is located at Fantasy Island in Lincolnshire. Formerly known as The Jubilee Odyssey, this large inverted steel roller coaster was originally planned to be 265 foot tall, which would have made it the tallest Inverted Coaster in the world. Unfortunately, these plans were scrapped due to complaints from local residents, limiting the height of the ride to 167
Read more…
Related Listings
Sundown Adventureland is a Theme Park designed exclusively for children under the age of 10. Whatever the weather, Sundown Adventureland offers a great mix of both indoor and outdoor attractions. There are lots of children's play areas and plenty of cafes where you can stop for a coffee or take the kids for a snack or a treat. Rides
Read more…