LEGOLAND® Windsor Resort is located in the beautiful Berkshire countryside, a visit to the Theme Park is a must for any LEGO® enthusiast. Children's dreams of becoming a knight, explorer, test driver or pilot all become a reality. With awesome rides, attractions and shows, the Resort has lots to offer for families with children between the ages of 2 and 12 looking for adventure.
Rides and Attractions at LEGOLAND® Windsor Resort
LEGOLAND® Windsor Resort is split into 12 Themed Lands offering awesome rides, attractions and shows. The experience continues even after the park closes at the on-site hotels, where guests can spend the night in the fully themed bedrooms.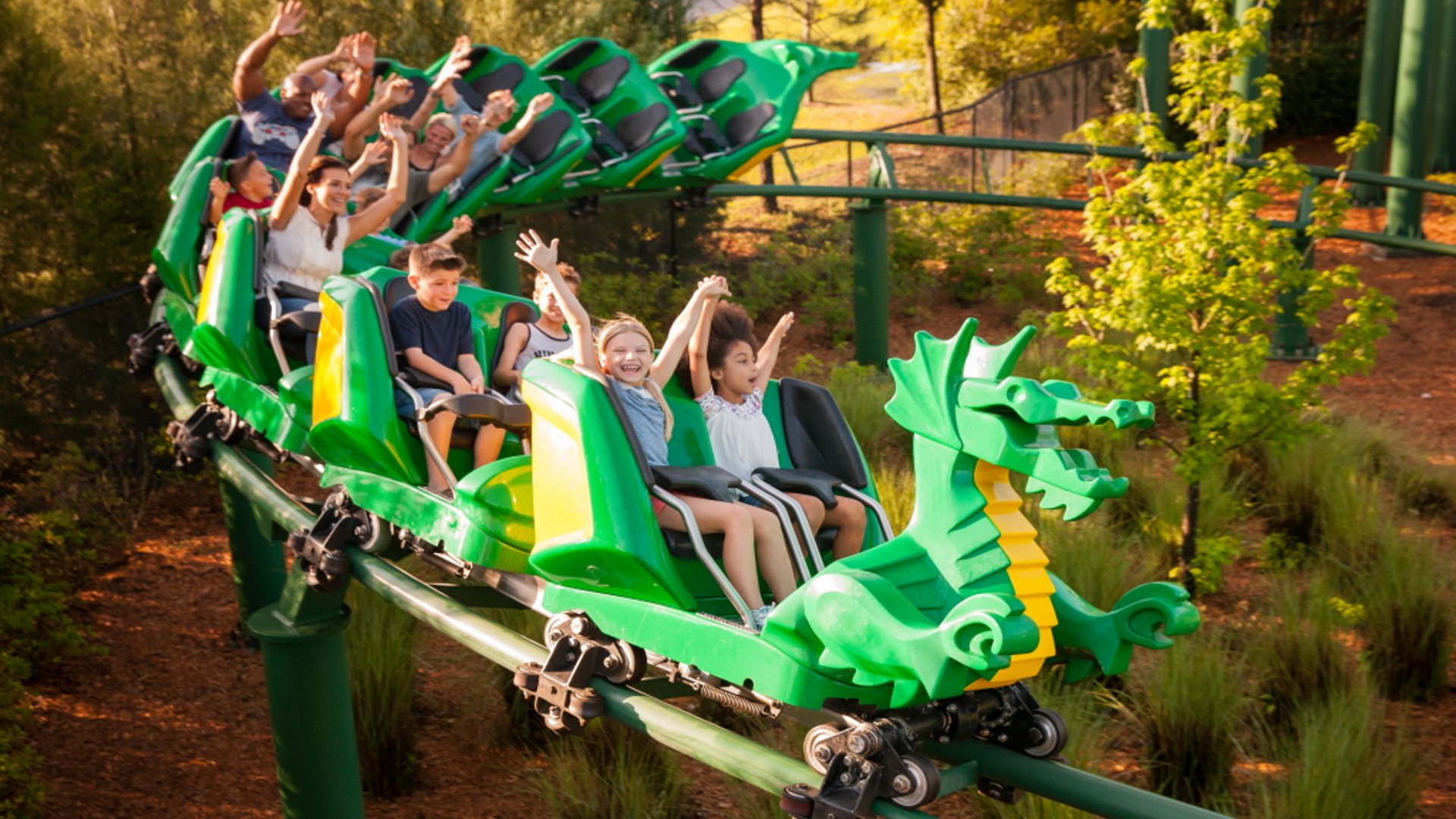 The largest LEGO® shop in the UK
The fun starts in a colourful area known as The Beginning. This section of the park plays host to the park entry, ticket and pass sales, guest services and much more. Here, you will also find shops, cafes and the largest LEGO® shop in the UK.
LEGO® NINJAGO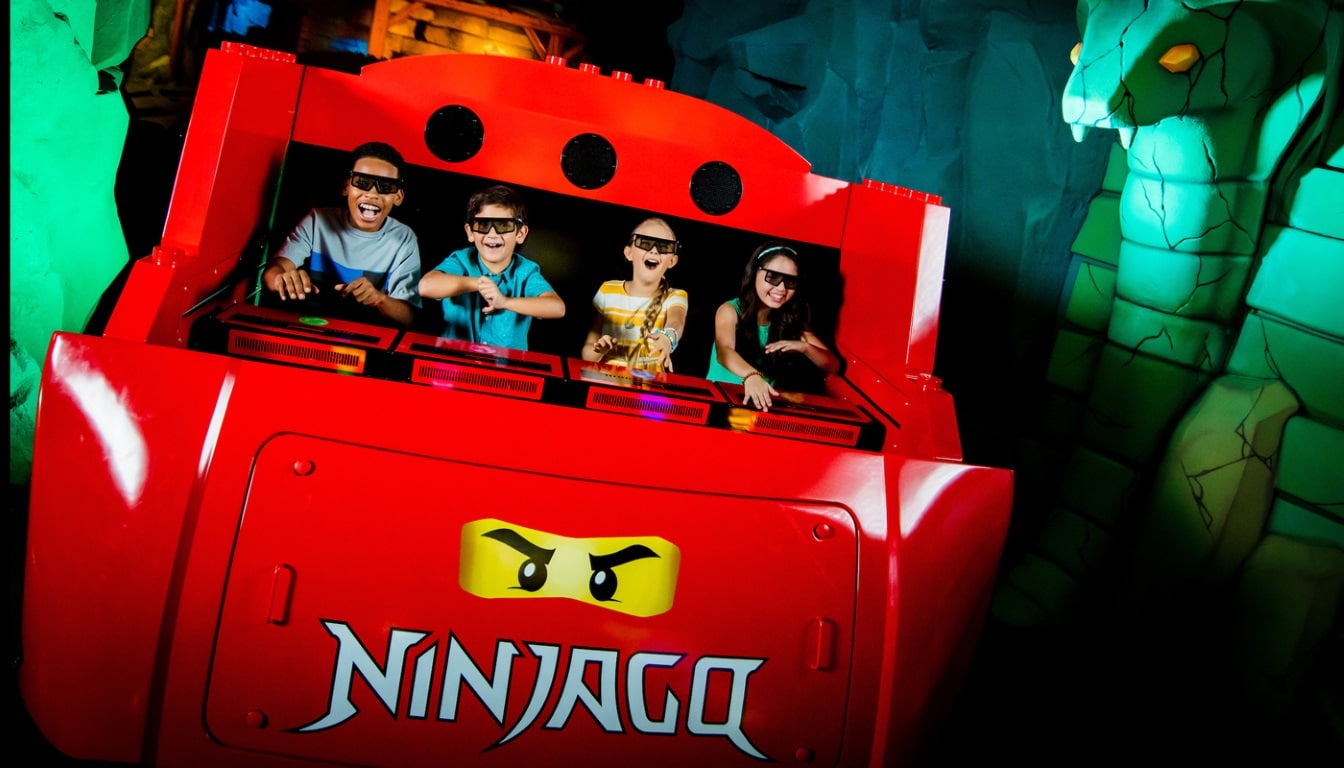 Become a master of Spinjitzu at the LEGO® NINJAGO World. Join your favourite heroes and take on awesome training activities as you prepare for the ultimate test of your ninja skills on LEGO® NINJAGO The Ride! All of your ninja skills will be put to the test as you battle through ice, wind and fire with the NINJAGO heroes in the 4D interactive family ride. At Zanes Temple build, use your LEGO® building skills to help Zane add parts to the frozen monastery rock. Take on Cole's Rock Climbing wall, which requires patience, agility and endurance to conquer.
LEGO® City
One of the most popular sections at LEGOLAND® Windsor Resort is LEGO® City as it features some of the most popular rides. A firm favourite with children young and old is LEGO® City Driving School and the adjacent attraction L-Drivers which is aimed at younger children. Balloon School is another popular ride where guests are seated in a LEGO® themed gondola and pull on the "gas valve" cable to increase the altitude of their hot air balloon. One of our personal favourites is Fire Academy, a ride where all members of the family are part of the action and teamwork is key to success. Firstly you have to power your LEGO® fire engine to the scene of the simulated fire and then power the pumps to help put the fire out. The final ride in LEGO® City is Coastguard HQ a boat ride where children take the wheel and steer a careful course around waterways avoiding various obstacles.
Miniland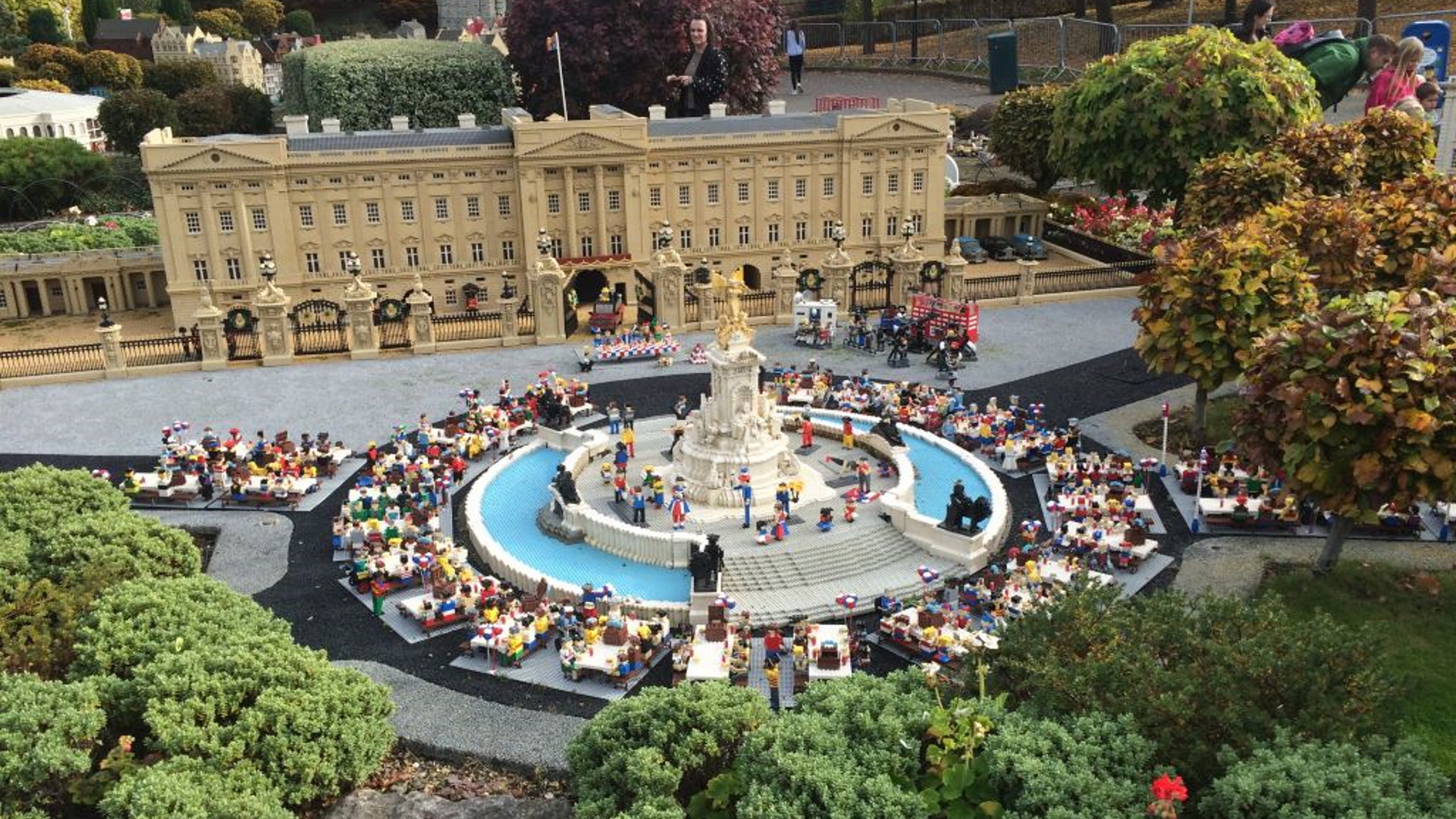 Probably the most well-known section of LEGOLAND® Windsor Resort is Miniland which showcases the most iconic landmarks from across the world all constructed from just over 42 million LEGO® bricks! Look out for famous London landmarks, including Tower Bridge, The Gherkin, and Buckingham Palace.
Land of the Vikings
In Land of the Vikings, you can take a ride on the spinning spider with the giant LEGO® spider hovering above. Following this, join the Viking fleet and prepare for a thrilling adventure on the Vikings' River Splash! This ride takes you through uncharted waters as you surge downstream into a fantasy Viking world created by millions of LEGO® bricks.
Knights Kingdom
Soar through the castle and over the moat as you explore the Knights Kingdom, home to LEGOLAND® Windsor Resorts main rollercoaster 'The Dragon'. This is a thrilling journey of twists and turns, as you travel through the heights and depths of the Castle, past animated LEGO® models including a giant red dragon before exiting the building and flying through the treetops. Other rides include Knights Quest, a fast-spinning carousel ride and Dragons Apprentice, a roller coaster for younger guests.
Pirate Shores

Pirate Shores features Castaway Camp Pirate play area with a towering forgotten fortress, fearsome battleships, high rope-walks, nets and slides. Rides include the Jolly Rocker Pirate ship and Pirate Falls Treasure Quest, a log flume ride with animated LEGO® pirates and interactive water elements.
Kingdom of the Pharaohs
Five rides are present in the Kingdom of the Pharaoh's area of the park. The rides are the Desert Chase carousel, Aero Nomad balloon ride, Scarab Bouncers tower drop rides, Thunder Blazer swing ride and Laser Raiders indoor shooting ride.
Heartlake City
Heartlake City offers places to eat, shops and the excellent Pirates of Skeleton Bay Stunt Show. Rides include the Heartlake City Express and Mias Riding Adventure, a spinning disc ride that travels backwards and forwards on a curved track.
DUPLO® Valley
One of the latest additions to the park is the DUPLO® Dino coaster located in DUPLO® Valley. Here you will also find DUPLO® Playtown, an interactive play village where children can fight fires at the Brickville Fire Station, stay safe in the DUPLO® Valley Police Station and bake cakes at the Clown's Cake Shop. Rides aimed at younger children in DUPLO® Valley include the DUPLO® Express and DUPLO® Airport, there is also Fairy Tale Brook, a gentle boat ride for all the family. As you travel through Fairy Tale Brook lookout for your favourite fairy tale characters all come to life through LEGO® magic.
Summer Fun

Major attractions ideal for summer months are Splash Safari and Drench Towers, the largest outdoor water play structure in the UK especially designed for maximum soaking. Older kids will love dodging the oversized tipping brick and whizzing down the splashtastic water slides. You will need to pack swimsuits for the children as they're guaranteed to get wet!
Food and Drink
Whatever your tastes, there is something to suit every palette with a variety of cuisines for you to experience. There is a wealth of food and drink locations throughout the park so you are never too far away from somewhere to sit down and refuel.
Website Links
LEGOLAND® Windsor Resort Park Map
Attractions Near Me – Merlin Entertainments
LEGOLAND® Windsor Resort Tickets
Purchase your tickets in advance to save time queuing at the entrance to the park and also save on the full-price admission. You can buy your tickets in advance from the following providers:
Make Big Savings on your LegoLand Tickets when you purchase them from Love to Visit.
You can also purchase your park tickets from the LEGOLAND Windsor Resort official Website.
LEGOLAND® Windsor Resort Offers
Offers are regularly available for LEGOLAND® Windsor Resort. Offers range from free tickets, 2-4-1 Entry, discount accommodation and many more. Click Here to view LEGOLAND® Windsor Resort Offers.
Travelling to LEGOLAND® Windsor Resort
LEGOLAND® Windsor Resort is located in the beautiful Berkshire countryside. There are a number of ways to get to the Theme Park. If you are travelling by car, LEGOLAND® Windsor Resort is on the B3022 Windsor/Ascot road just two miles from Windsor town centre.
If you are using a Sat Nav system to get to the Resort, it is recommended that you follow the local brown tourist information signs directing you to LEGOLAND®.
Travelling by Train
From London Paddington, catch a train to Windsor and Eton Central, via Slough on Great Western Railway. You can also travel direct from London Waterloo to Windsor and Eton Riverside on South West Trains. The approximate journey time from London Waterloo is less than 1 hour. There is a shuttle bus service to LEGOLAND® Windsor Resort from stops close to both railway stations, please note that this is a chargeable service and is not operated by the Theme Park.
Search for your train tickets using Raileasy.
On-Site Accommodation
If you want a really magical experience, why not stay on-site at LEGOLAND® Windsor Resort. These packages include a number of perks exclusive to hotel guests. You can book direct with LEGOLAND® Holidays who have great offers throughout the year and also offer accommodation near the resort with selected partner hotels.
Nearby Accommodation
There are lots of places to stay in the vicinity of LEGOLAND® Windsor Resort. The theme park offers on-site accommodation, which you can book direct with Legoland Holidays. If you only planning on visiting the park for one day and would like to explore some of the other attractions in the area then take a look at some of the wonderful self-catering cottages available from Snaptrip.
Attractions Near Me Offers
For the best deals and Discount Days Out visit our Offers page Attractions Near Me
Also like our Facebook page for notification of any new offers Facebook.com/AttractionsNearMe
LEGOLAND® Windsor Resort
was last modified:
November 29th, 2023
by
Dan
From 1969 to 1992, the site of today´s LEGOLAND Windsor Resort belonged to Windsor Safari Park, which had been founded by Billy Smart's Circus.
The Lego Group began research for the development of a second Legoland park after Legoland Billund in 1987, with over 1000 sites considered. In January 1992, Windsor Safari Park went into receivership and the 150-acre site was chosen. New homes were secured for all the safari animals and throughout 1992 and 1993, planning, design, site preparation and the construction of the LEGO models began. The services, foundations and infrastructures were installed in 1994. In 1995, one year prior to opening, buildings and attractions were becoming established. Final installations were completed by the beginning of 1996 and employees were recruited. LEGOLAND Windsor Resort opened on the 17 March 1996. During its first season, the park attracted over 1.4 million guests.
In April 2005, Lego decided to sell the Legoland parks, owing to rising losses across the company. On 13 July 2005, LEGOLAND was acquired by the Blackstone Group and control of the parks passed to Merlin Entertainments.
Related Listings
Located in Surrey near London, Thorpe Park boasts some of Europe's most extreme rides. The park is mainly geared towards teenagers due to the vast majority of signature attractions being roller coasters and thrill rides. Thorpe Park Rides and Attractions Experience over 30 thrill rides, family attractions and unique events on a day trip or short break at Thorpe
Read more…