Pleasurewood Hills Theme Park is set within 50 acres of enclosed coastal parkland, only 10 minutes from the popular seaside town of Great Yarmouth. With over 35 rides, shows and attractions, Pleasurewood Hills is the biggest Theme Park in the East of England. There is so much to do at Pleasurewood Hills, it is a great place for a day out for all the family.
Pleasurewood Hills Theme Park
Pleasurewood Hills is home to some great rides and attractions, including Wipeout, the tallest, fastest and most extreme roller coaster in the East of England. There's so much to explore and do at Pleasurewood Hills. Guests can get soaked on Timber Falls log flume, plummet 60ft per second on the Jolly Roger Drop Tower or simply relax and enjoy the fantastic shows.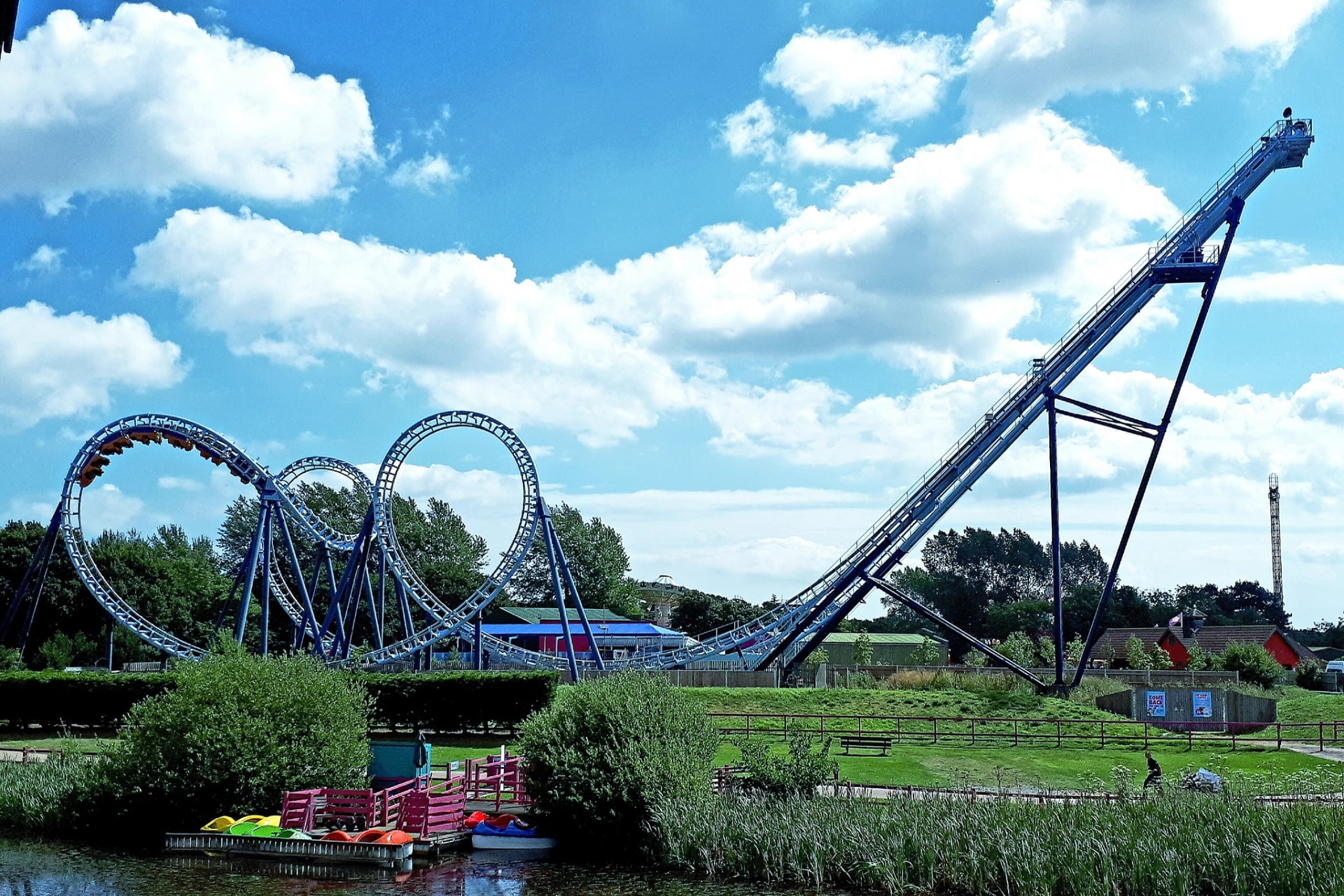 Attractions at Pleasurewood Hills Theme Park
There is a great mixture of attractions suitable for all ages on offer at Pleasurewood Hills.
Thrill Rides
Adrenaline junkies will have a great time on the Thrill Rides at Pleasurewood Hills. Enjoy a ride on Wipeout, the only Vekoma Boomerang coaster in the UK or shoot to the sky on The Jolly Roger. Pleasurewood Hills is also home to the Cannonball Express, a magnificent Schwartzkopf Jumbo V, the only roller coaster of its kind in the world.
Family Rides
There are rides suitable for the whole family at Pleasurewood Hills. Whether you like fast or more relaxing rides, they have it all. Have fun on the Marble Madness Rollercoaster formerly the Wild Mouse at Flamingo Land Resort. Race your friends on the Wave Breaker twin lane waterslide, or cool off at the Water Fun Factory. Don't miss the Rootin Tootin Target Trail on Main Street, an interactive laser game that all the family can enjoy.
Heart Kid's Zone
There is a great choice of rides to keep the younger members of the family happy in The Heart Kid's Zone. Children will love taking to the skies in the flying elephants and funky flyers. They can take a spin in the teacups and mini twister rides, or have a great time on the mini pirate ship. Kids can burn off their energy with a visit to the play area which can be found next to the lake and Woody's Cub House.
Woody's Cub House
Woody's Cub House is named after Pleasurewood Hills' mascot Woody Bear, who has been a 'resident' at the park for many of the 35 years it has been open. The indoor soft play area and the sensory room are great for keeping children active and engaging their imagination, whilst parents can relax with a drink and watch the kids have fun. Woody's Cub House is also open at weekends when the main Theme Park is closed.
Shows and Events
There are a number of family-friendly shows at Pleasurewood Hills Theme Park. One of the longest standing and most popular attractions at Pleasurewood Hills is the fun-packed parrot show. In the 15-minute show, the parrots showcase their balance, memory and much more. Visitors both old and young will love watching the majestic, energetic and unbelievably bright Sea Lions as they perform their daily shows.
Food and Drink
Pleasurewood Hills prides itself on offering good quality places to eat and drink, with the option to take your own picnic if you prefer to self-cater. Whenever possible the park uses locally sourced fresh and healthy ingredients providing guests with a delicious choice of food and drinks.
Whatever your tastes, there is something to suit every palette at Pleasurewood Hills. The Theme Park offers a variety of food outlets for you to experience. There is a good mix of fast-food favourites and you can eat unlimited fresh, Italian style Pizza, delicious pasta and crisp, fresh salad at Tony's all you can eat pizza and pasta restaurant. With a wealth of food and drink locations throughout the park, you're never too far away from somewhere to sit down and refuel.
Website Links
Pleasurewood Hills Official Website
Pleasurewood Hills Park Map
Opening Times
Travelling to Pleasurewood Hills
Pleasurewood Hills is conveniently situated off the A47 between Lowestoft and Great Yarmouth. There are a number of ways to get to Pleasurewood Hills, it takes approximately 40-minutes to reach the Theme Park by car from Norwich.
Travelling by Train
The nearest train station to Pleasurewood Hills is Lowestoft. Regular trains run from Norwich and London Liverpool Street to Lowestoft, See the Raileasy website for details.
Nearby Accommodation
There are lots of places to stay in Suffolk. If you only planning on visiting the park for one day and would like to explore some of the other attractions in the area then take a look at some of the wonderful self-catering cottages available from Snaptrip.
Attractions Near Me Offers
For the best deals and Discount Days Out visit our Offers page Attractions Near Me
Also like our Facebook page for notification of any new offers Facebook.com/AttractionsNearMe
Pleasurewood Hills
was last modified:
September 27th, 2023
by
Dan
Roller Coasters
Original Cost:
£1,000,000
Wipeout is located at Pleasurewood Hills in Suffolk. The Boomerang style Roller Coaster is the only ride of this type still operating in the UK following the Boomerang ride at Pleasure Island in Cleethorpes being moved to China when the Theme Park closed at the end of the 2016 season. Wipeout at Pleasurewood Hills Wipeout previously operated as The
Read more…
Related Listings
Situated at the South End of Great Yarmouth's famous Golden Mile, Pleasure Beach Great Yarmouth has rides and attractions to entertain the whole family. Pleasure Beach Rides Great Yarmouth Pleasure Beach is a historic pleasure park located on the town's seafront that offers a mixture of traditional and high-octane thrill rides. The fun park first opened in 1909 and
Read more…