Located in Surrey near London, Thorpe Park boasts some of Europe's most extreme rides. The park is mainly geared towards teenagers due to the vast majority of signature attractions being roller coasters and thrill rides.
Thorpe Park Rides and Attractions
Experience over 30 thrill rides, family attractions and unique events on a day trip or short break at Thorpe Park, one of the UK's best theme parks.
Extreme Rides
Renowned for its collection of Extreme Rides, Thorpe Park offers a great selection of Roller coasters, Water Rides and flat rides. In total there are over 30 rides and attractions.
Major attractions include Nemesis Inferno, Stealth, Tidal Wave, Colossus, SAW – The Ride, The Swarm and The Walking Dead: The Ride.
Thrilling Roller Coasters
Thorpe Park offers a number of roller coasters, ranging from the family-friendly Flying Fish to the 205ft tall Stealth which features the fastest acceleration of any roller coaster in Europe.
Colossus was the World's first ten-looping roller coaster and was the park's first major attraction. The record held by Colossus has now been equalled by Sik at Flamingo Land Resort and beaten by The Smiler at Alton Towers with 14 inversions.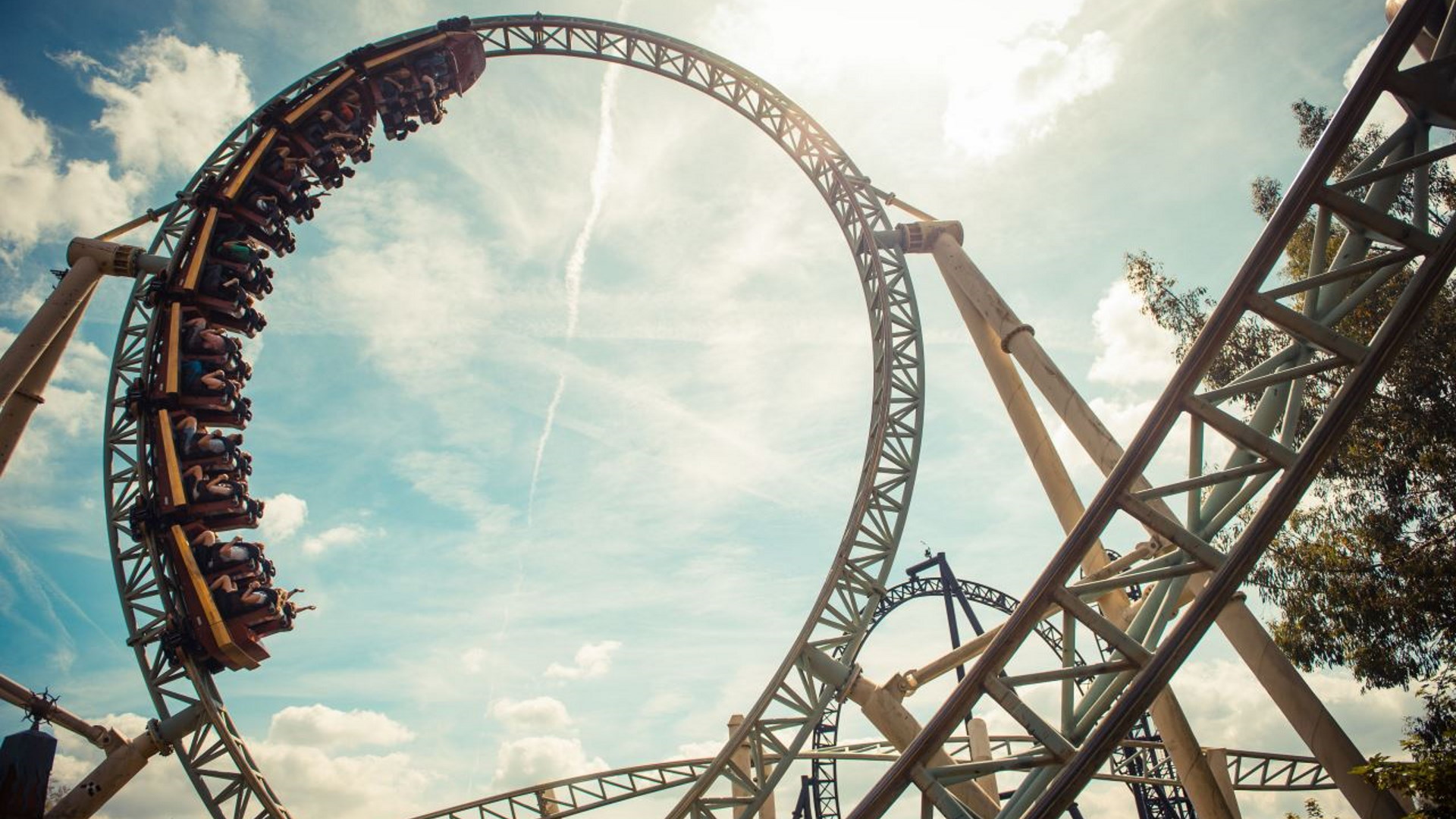 An indoor junior roller coaster named X once held the record for the World's first, theatre roller coaster in the dark. This ride has now been rethemed as The Walking Dead, a horror-themed roller coaster that mixes the theatrics of a Halloween-style scare attraction with the practical effects of a traditional ghost train.
Nemesis Inferno is themed around the eruption of a volcano and is the sequel ride to Nemesis at sister park Alton Towers.
Stealth is an Intamin launch coaster themed around 1950s drag racing. The ride accelerates from 0 – 80 mph in 1.8 seconds, sending its riders 205ft into the air. Stealth has the fastest acceleration of any roller coaster in Europe and is the tallest launched coaster in the UK.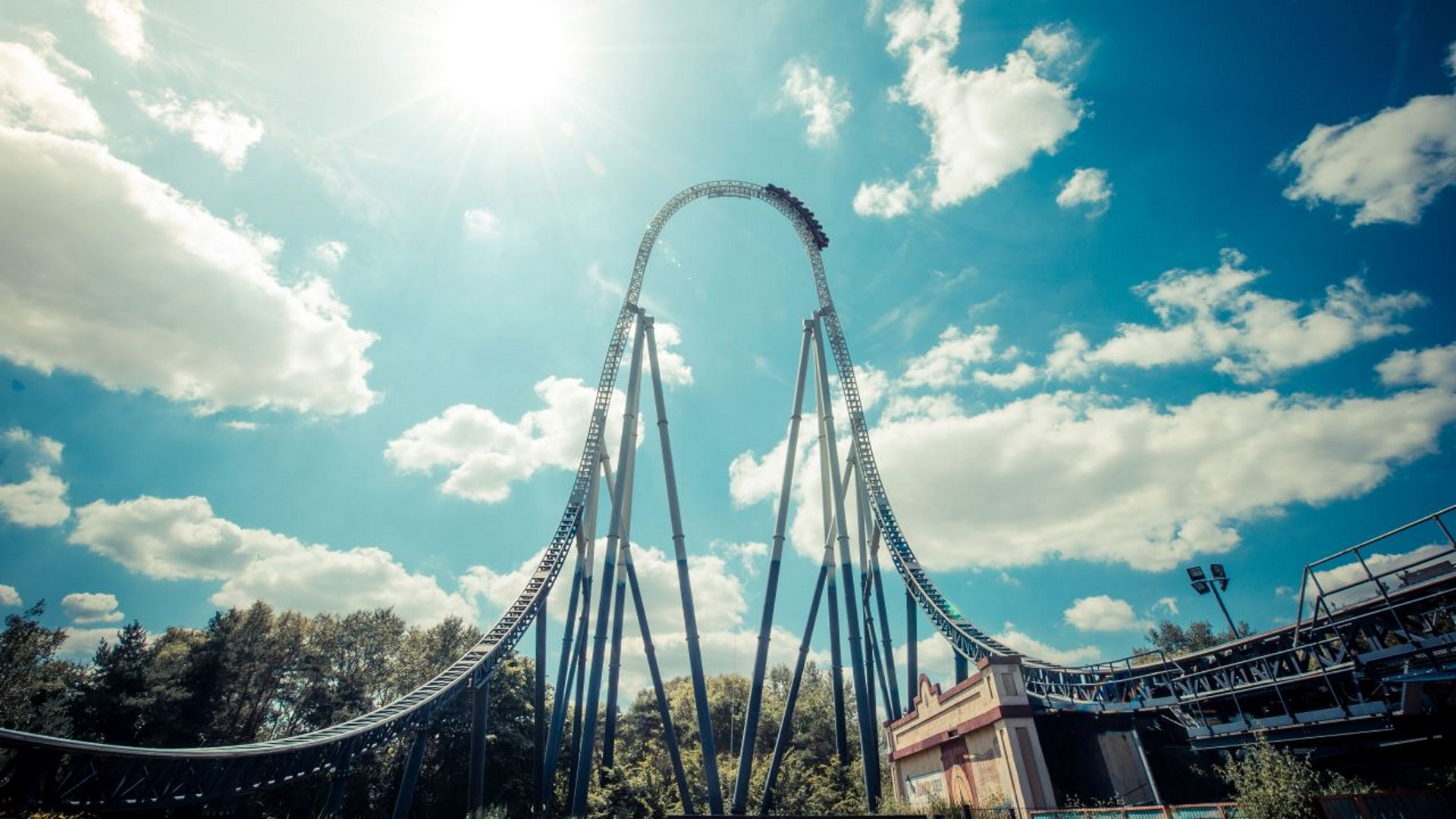 Themed around the SAW horror movie franchise, SAW – The Ride is dubbed as the world's scariest ride. It features a drop of 100 degrees and set pieces, including rotating saw blades, to accentuate the theme.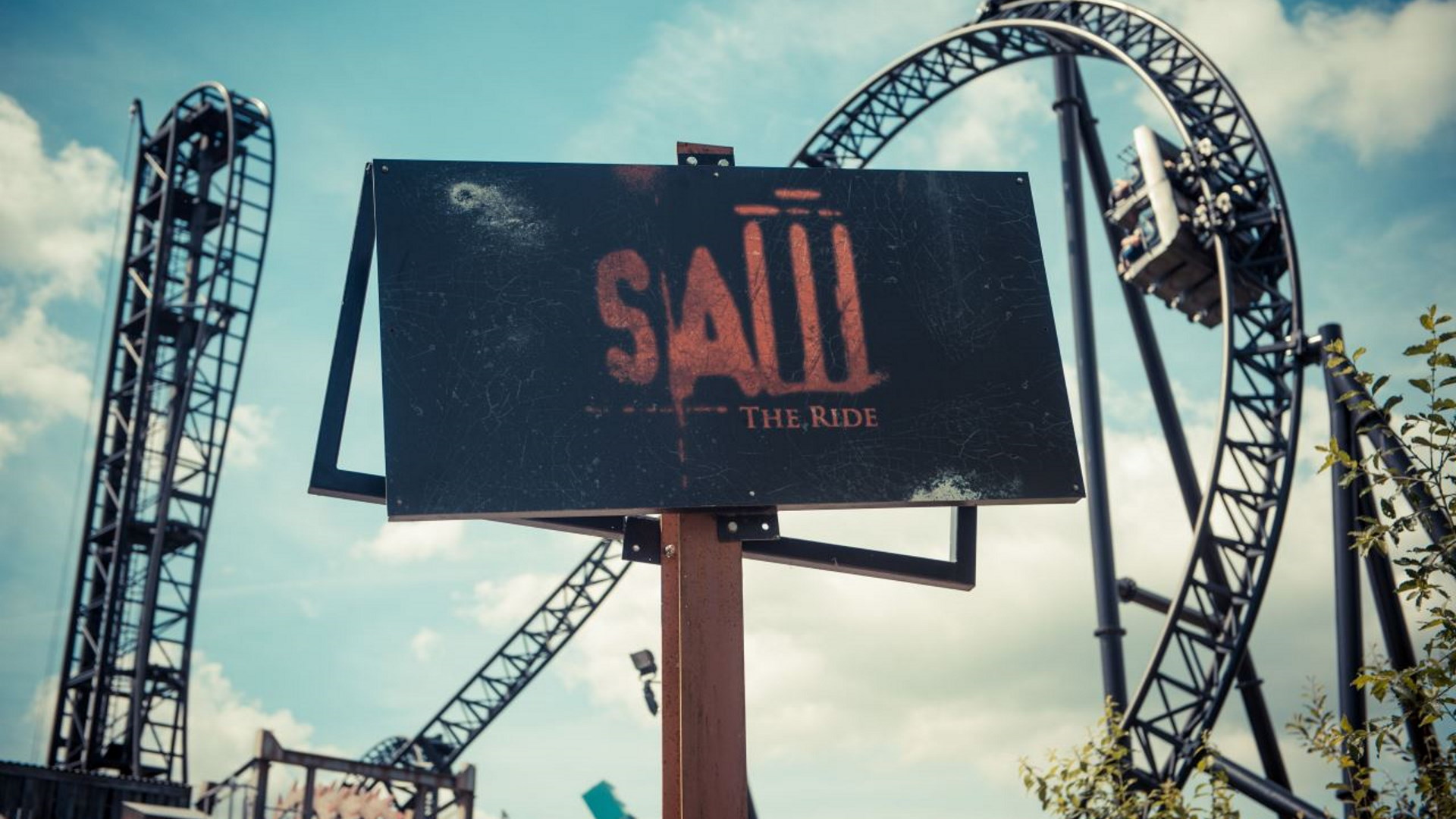 Featuring an inverted drop, the final roller coaster in the park at the time of writing is The Swarm. This ride is the UK's first winged roller coaster, meaning that the seats are positioned beyond the width of the roller coaster track. It has a total of 5 inversions and is 127 feet tall.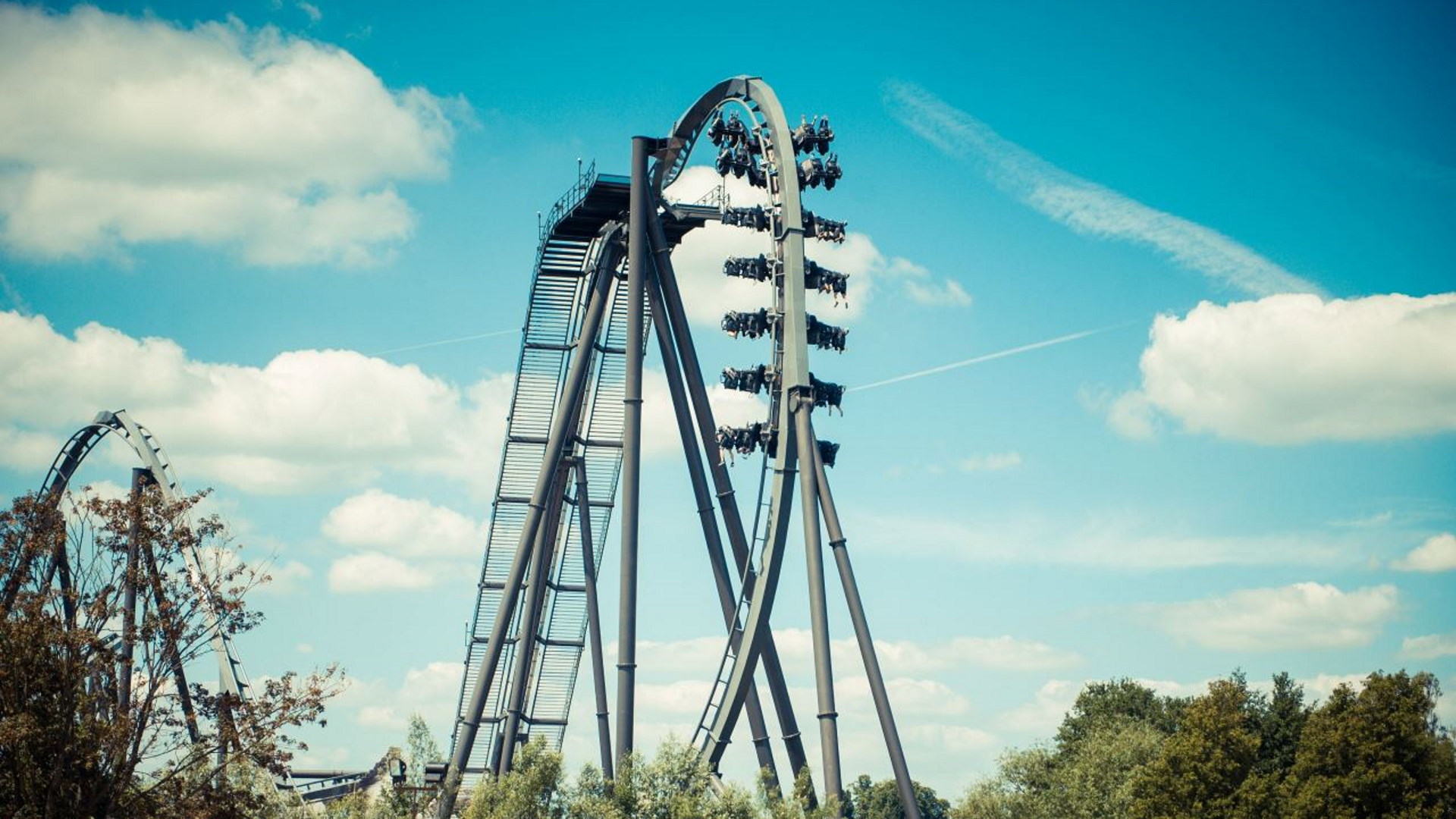 Water Rides
In the Amity Beach section of the park is Depth Charge, a four-lane waterslide. Also located in Amity Beach are Storm Surge and Tidal Wave. Climb aboard a life raft and get in a spin on Storm Surge, the sky-high spinning water ride. The ride twists and turn on a 64ft spiralling descent whilst you try to stay dry in the line of water cannon fire. Opened in 2000, Tidal Wave was the Tussauds Group first major investment in the park, at the time it was the tallest water ride in Europe.
Wet, Wet, Wet a small collection of water slides is one of Thorpe Park's original attractions. Rumba Rapids is a white water rapids ride, opened in 1987 it is one of the oldest rides still in operation at Thorpe Park.
Flat Rides
Rush is a giant air-powered swing. Swing high into the air to 75ft at speeds of up to 50mph and experience the feeling of up to 4G's. Spin 60ft above the ground and reach forces of up to 5G when you ride Samurai. Zodiac is a spinning Enterprise ride. Experience 15 high-speed rotations per minute on Vortex, a giant pendulum that spins and swings riders through the air. Reach 65ft and experience cyclonic forces on this mechanical giant.
Get a bird's eye view of the Resort from the top of Detonator Bombs Away. A 100ft drop tower that sends back to earth at 50mph, it is an exhilarating, faster-than-freefall ride experience.
Family-Friendly Rides
Suitable for all the family, The Rocky Express is a spinning train ride. Quantum is quite an intense Magic Carpet ride. The traditional swinging ship ride, Mr Monkeys Banana Ride is also more family-friendly.
Thorpe Park Offers
Thorpe Park Resort frequently offers discounted short breaks and some great deals on Theme Park Tickets. View our webpage listing of all Thorpe Park Offers.
Website Links
Attractions Near Me – Thorpe Park Resort
Thorpe Park Resort Official Website
Thorpe Park Resort Park Map
Thorpe Park Resort Ride Height Restrictions
Food and Drink
Whatever your tastes, there is something to suit every palette from simple pizza and pasta to oriental and Mexican dishes at Thorpe Park Resort.
Thorpe Park Resort Hotel
The Shark Hotel is situated within the Thorpe Park site, a short stroll away from the roller coasters. It makes an ideal base for thrill-seekers keen to get exclusive, early morning access to the rides. The hotel sits on the banks of a serene lake and it is surprisingly easy to forget that you are just metres from some of the UK's largest roller coasters. The hotel is close enough to the park to instil excitement, yet also offers a tranquil and secluded escape.
The on-site hotel often has some great package offers available including tickets to Thorpe Park, visit Thorpe Breaks for details.
Travelling to Thorpe Park
Thorpe Park is located 20 miles from Central London, with plenty of transport links between Junctions 11 and 13 of the M25. There are a number of ways you can get to the attraction. There is also lots of accommodation available nearby.
Travelling by Train
Regular South West Trains run from Waterloo direct to Staines, which is the recommended railway station for travelling to Thorpe Park Resort.
Approximately 5 trains run per hour to and from London Waterloo, with a journey time of between 30 to 50 minutes. Staines can also be reached directly via other mainline stations. Search for your train tickets using Raileasy.
Nearby Accommodation
There are lots of places to stay in the vicinity of Thorpe Park. The on-site hotel often has some great package offers available including tickets to Thorpe Park, visit Thorpe Breaks for details.
If you only planning on visiting the park for one day and would like to explore some of the other attractions in the area then take a look at the self-catering cottages near Thorpe Park available from Snaptrip.
Attractions Near Me Offers
For the best deals and Discount Days Out visit our Offers page Attractions Near Me
Also,like our Facebook page for notification of any new offers Facebook.com/AttractionsNearMe
Thorpe Park
was last modified:
December 2nd, 2023
by
Dan
Roller Coasters
Colossus is located at Thorpe Park in Surrey. The £13.5m Thrill Ride was the parks first major attraction and set the World Record for the most inversions. Colossus at Thorpe Park Colossus set the Record for being the first roller coaster in the World with ten inversions. An exact replica, called the 10 Inversion Roller Coaster, was later built
Read more…
Thorpe Park History
The Thorpe Park Estate was demolished in the 1930's, turning the site into a gravel pit. Ready Mix Concrete originally owned the site and in the late 1970s, they decided to flood part of the site and create an educational theme park. In recent times this is where the "island like no other" slogan originates from. Officially opening to the public by the late Lord Louis Mountbatten in 1979, the park opened as a small attraction, slowly building up to their first large installation of "X:No Way Out" in 1996. The Tussauds Group bought the park in 1998 and from the outset, the park started opening key attractions such as Tidal Wave in 2000, Colossus in 2002, Nemesis Inferno in 2003 and Stealth in 2006.
In 2007 Merlin Entertainments bought the Tussauds Group which included Thorpe Park. Merlin Entertainments already owned the nearby theme parks of Legoland Windsor and Chessington World of Adventures Resort. Legoland Windsor is mainly aimed at children and Chessington World of Adventures Resort offered a variety of attractions. In order to prevent competing with these nearby theme parks, Thorpe Parks target market was moved towards a teenage audience with a large investment in the form of thrill rides such as Saw:The Ride and The Swarm.
Top 10 Rides at Thorpe Park
1 - Saw - The Ride
SAW – The Ride is the world's first horror movie roller coaster. Riders experience a 'beyond vertical' drop of 100 degrees from a height of 100ft.
2 - Stealth
Stealth is one of Europe's fastest roller coasters. Riders are propelled from 0-80mph in under 2 seconds and experience the same brake horsepower of two Formula 1 cars.  The roller coaster train reaches a height of 205ft.
With a maximum speed of 80 mph, at the time of writing Stealth is the second-fastest roller coaster in the UK, behind The Big One at Blackpool Pleasure Beach.
3 - Swarm
Experience speeds of almost 100km/h and G-forces of up to 4.5 on the UK's first winged roller coaster, The Swarm.  Riders sit either side of the roller coaster track with nothing above or below you.  Experience the thrill of The Swarm at Thorpe Park.
4 - Colossus
Colossus has a massive ten exhilarating inversions. Riders will experience a vertical loop, cobra roll, double corkscrew and the UK's only quadruple barrel roll.
5 - Nemesis Inferno
Nemesis Inferno is the younger sibling of Nemesis at Alton Towers. The roller coaster was featured on an episode of The Inbetweeners. Nemesis Inferno spins, dives and swoops over 750 metres of twisting track at speeds of up to 50mph to escape the heat of a steaming volcano.
Protect your mobile phone with a screen protector:
Tempered Glass Screen Protector
6 - Rush
Rush swings you 75 foot into the air at speeds of up to 50-mph. Experience the feeling of up to 4G's as you swoop back towards the ground on this giant air powered speed swing.
7 - Tidal Wave
Tidal Wave is a wet and wild thrill ride. Passengers experience a super-soaking splash as they plunge 85-ft into the waters below. On Tidal Wave a drenching awaits you. Any spectators not quick enough to escape the wave will also get soaked.
Be Prepared - Click Here to buy waterproof ponchos from eBay before your visit
Protect your Mobile - Click Here to view Waterproof Phone Covers
8 - Samurai
Hold tight as the mighty mechanical arm of Samurai spins you through 360 degrees. Samurai offers forces of up to 5G while spinning 60ft above the ground.
9 - Depth Charge
Offerring fun for all the family, enjoy a race down this four lane super slide. Depth Charge is the ideal ride when it's time to cool off.
10 - Derren Brown's Ghost Train
Thorpe Park claims that Derren Brown's Ghost Train will blow your mind. Derren Brown's Ghost Train is a one of a kind theme park experience. Derren Brown has been heavily involved in the construction of the ride which is the world's only fully immersive psychological attraction designed to manipulate the human mind. The ride is set in a disused warehouse with a full-size Victorian train carriage suspended from the ceiling. Enter the seemingly innocent Victorian train carriage and prepare yourself to come face-to-face with what lies at the end of the line.
Related Listings
LEGOLAND® Windsor Resort is located in the beautiful Berkshire countryside, a visit to the Theme Park is a must for any LEGO® enthusiast. Children's dreams of becoming a knight, explorer, test driver or pilot all become a reality. With awesome rides, attractions and shows, the Resort has lots to offer for families with children between the ages of 2 and
Read more…