Alpamare Scarborough is a £14 million waterpark in North Yorkshire. It boasts some of the best and fastest slides you are likely to find anywhere in the UK.
Alpamare Scarborough
The alpine-themed waterpark boasts both indoor and outdoor sections. Inside you will discover adrenaline-inducing waterslides and a giant indoor wave pool whilst outside there is a heated outdoor infinity pool with views out to sea, alongside sunbeds, a pool bar and a restaurant.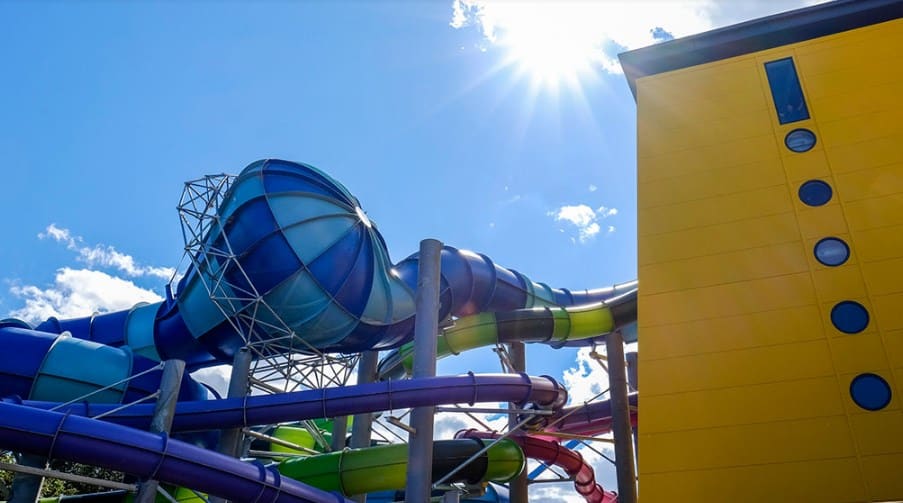 Top 10 UK Waterparks
Alpamare Waterpark is like nothing ever seen before in the UK and is listed in our Top 10 UK Waterparks. The North Yorkshire attraction features two outdoor infinity pools and four fantastic waterslides,
Water Slides at Alpamare Scarborough
There are currently 4 water slides at Alpamare Scarborough. Each slide has been inspired by ski-racing and recreates the thrill of winter sports such as skiing and bobsleigh but in deliciously warm water. The slides are rated according to skiing equivalents, from family-friendly Blue Runs to daring Black Runs. 35,000 litres of water per minute are pumped through the slides, which are built to optimise speed, to ensure a thrilling ride experience.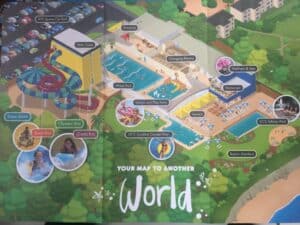 Black Run Rated Water Slides
Cresta Run
Based on the world-famous death-defying Cresta run in St Moritz, if you like speed, the Cresta Run is for you. Children need to be six years old and a minimum height of 1.1 metres to ride. This slide has a ski slope equivalent of Black Run with guests lying on a mat to ride this slide. This slide is located on the lower level alongside The Black Run slide.
The Black Run
Located alongside the Cresta Run is a slide named The Black Run, this slide is very similar to a Black Hole type slide. No flotation devices are required for this ride and it has an estimated top speed of 50km per hour. Children need to be eight years old and a minimum height of 1.2 metres to ride. This is the steepest and fastest slide with an 11-metre plunge, with large sections in complete darkness.
Blue Run Rated Water Slides
Olympic Run
The Olympic Run is a double tube slide, at 116 metres it is currently one of the longest slides in the UK. This slide is located on the top level alongside the Snow Storm. The Olympic Run is a very fast slide, children need to be six years old and have a minimum height of 1.2 metres to ride.
Snow Storm
The Snow Storm uses four-person inflatables shaped like a cloverleaf, this is Alpamare Scarborough's most sociable ride. Taller than three double-decker buses, it is a gravity-defying ride created by a sudden, heart-bursting drop of more than 14 metres. The slide includes some really fun elements like the funnel which is clearly visible in the image below. In order to go on this slide children need to be eight years old and have a minimum height of 1.2 metres.
Other Attractions at The Alpamare Scarborough
Inside the main building, there is a giant wave pool that erupts every 30 minutes with 1 metre-high wave. Next to this is the indoor AquaPlay area with 35 interactive features, including spray jets, tipping cones, water guns, a dual slide and a giant overhead tipping bucket. It is lovely and warm inside this massive indoor area so the little ones will happy for hours.
Outdoor Pools
Alpamare Scarborough features two outdoor infinity pools. Regardless of the outside air temperature, the outdoor pools are always lovely and warm (heated to 35 degrees). The pools feature bubble recliners and whirlpool baths, with seating areas around the edge of the pool. One of the pools is filled with healing iodine water. Whilst relaxing in the outdoor pools you can look out at the boats sailing by in the North Sea.
Food and Drink
Alpamare Scarborough has an Alpine-themed restaurant where you can dine in your swimwear. The restaurant offers fresh and healthy meal and snack choices as well as typical alpine and British favourites such as pizza and pasta. There is plenty of Bavarian-inspired food and drink, such as spicy sausages and beer. The licensed restaurant is free-flow and family-friendly.
Alpamare Waterpark Offers
We regularly feature some great offers for Alpamare Waterpark, Click Here for details.
Website Links
Review of Alpamare Scarborough
Alpamare Scarborough Official Website
Travelling to Alpamare Scarborough
If you're travelling by car, Alpamare Scarborough is easy to find. Arriving via the A171 from the north, the A170 from the west or the A64 or A165 from the south, join the A64 at the south end of the town. From there, Alpamare Scarborough and the North Bay area is clearly signposted. There 300 car parking spaces in the adjacent Pay & Display car park.
Travelling by Train
Scarborough is well connected by train from across the north of England including Huddersfield, Leeds, York, Manchester and Liverpool. Scarborough train station is just a mile away from Alpamare Scarborough, that's either a 20-minute walk or just 6 minutes in a taxi.
Search for your train tickets using Raileasy.
Travelling by Coach
If you would like to travel by coach we recommend that you try National Express, which drops off at York and from York you can catch the Yorkshire Coastliner.
Nearby Accommodation
There are loads of places to stay in Scarborough, if you are looking for accommodation then try Hotels.com or Travelodge.
If you only planning on visiting the water park for one day and would like to explore some of the other attractions in the area then take a look at the self-catering cottages near Alpamare Scarborough available from Snaptrip.
Attractions Near Me Offers
For the best deals and Discount Days Out visit our Offers page Attractions Near Me
Also like our Facebook page for notification of any new offers Facebook.com/AttractionsNearMe
Alpamare Scarborough
was last modified:
June 14th, 2023
by
Dan
Related Listings
Calypso Cove Waterpark is an island paradise. Located within Barnsley Metrodome just 5 minutes from Barnsley Interchange. Calypso Cove is home to fantastic flumes, sensational slides and wonderful waves. It's a great day out for the whole family. The waterpark is open all year round, with extended opening hours during school holidays. Calypso Cove Rides and Activities Guests at
Read more…