Coral Reef Waterworld is one of the largest interactive waterparks in England. The attraction offers a range of different ways to enjoy the water, as well as a host of other activities.
Coral Reef Waterworld
Coral Reef Waterworld is the perfect place to stay active and, most importantly, have fun. With five thrilling waterslides, an erupting volcano, a pirate ship and a variety of other features, there's something for everyone in the pool area. Meanwhile, the adults-only Coral Spa area is the ideal place to relax and get away from it all.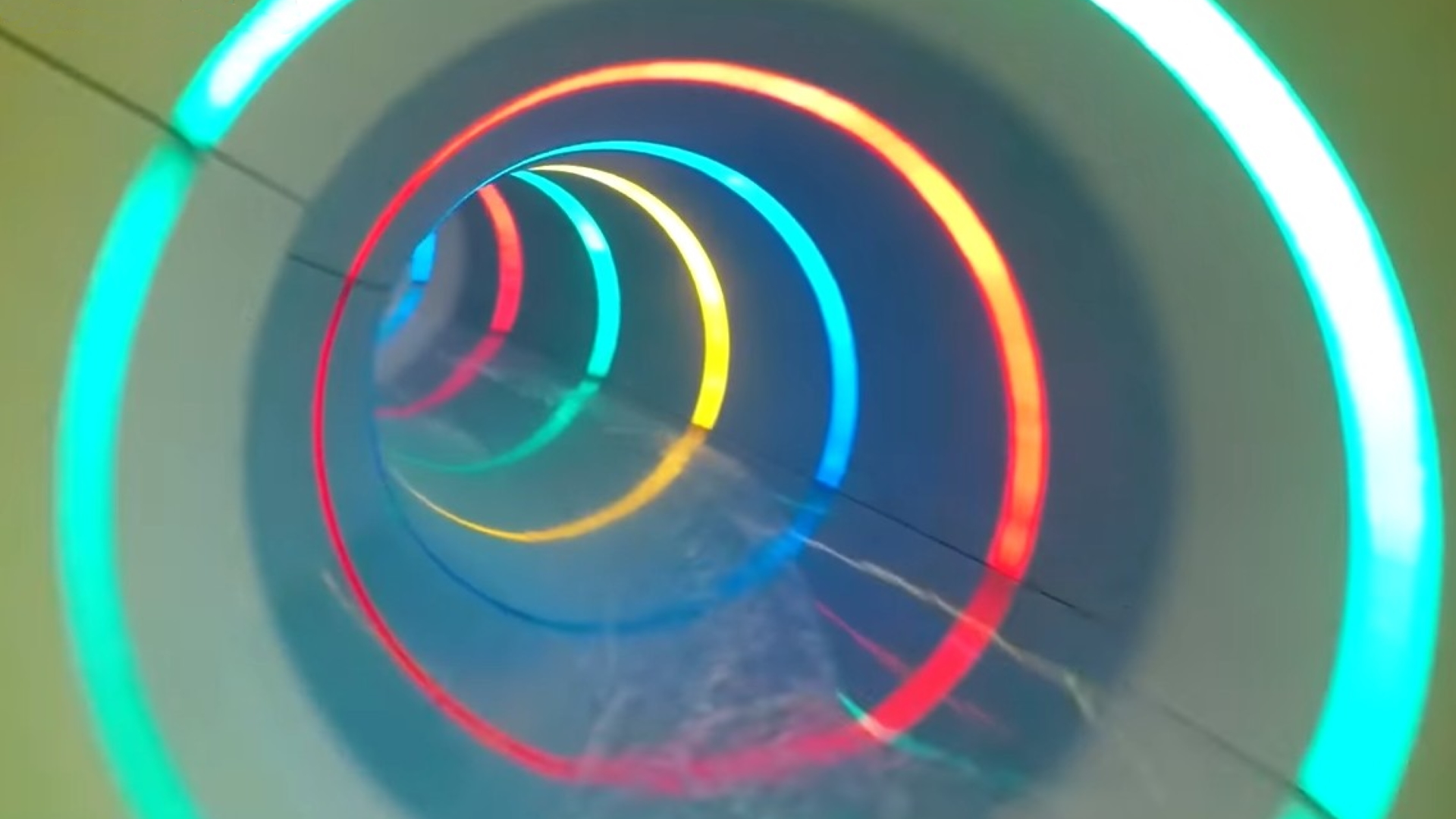 Coral Reef Waterworld features five interactive special effects water slides, a leisure pool, rapids, a bubble pool, little corals children's area, fountains and even a pirate ship.
Water Slides at Coral Reef Waterworld
There are five giant thrilling water slides at Coral Reef Waterworld featuring interactive special effects. Whatever your preference, there's a slide for you, from the gentler Aqua Splash, which is perfect for younger children and families to the more extreme Cannon, Storm Chaser and Maelstrom slides.
The Cannon
As its name suggests, The Cannon is a high-speed thrill ride that launches those brave enough to take it on down the 67m chute like a ball from a cannon. Watch as the timer counts you down to your launch time, and then launch yourself as fast as you dare. This will activate the sensors in the ride, which record how long it takes you to make it to the bottom. The fastest time of the day is displayed at the bottom of the ride, giving you a time to beat, if you dare…
Storm Chaser
The Storm Chaser's choppy waters rock riders from side to side, leaving you feeling like you're aboard a ship in rough waters. Perfect for thrill-seekers, those courageous enough can brave the slide alone, or take it on as a pair with a willing family member. It's a customisable experience, too, allowing sliders to choose a colour and sound combination to accompany them on their voyage.
Poseidon's Peril
Take on the Greek God of the sea, on the iconic Poseidon's Peril waterslide. Select your theme and race towards the ocean floor on an inflatable, two-person raft, with 20 individual light rings changing colour and rotating into the super crater. It's here that you swirl around the ocean floor, with images portraying your chosen theme all around you. An action image is taken of you during the ride, which you can then choose to email to yourself and share with friends and family.
Maelstrom
Maelstrom is a ride of two halves, it initially lulls riders into a false sense of security, with calm waters, soothing lights and music. However, you will soon be hurled into the first crazy cone, which churns up the water, turning the whole ride into an entirely new experience. Travel through the twists and turns as you descend towards the second crazy cone, before being ejected through the water cascade and towards the finish.
Aqua Splash
Aqua Splash is a gentler ride designed for young children and families who want to have fun. On this slide, children can ride with an adult. Before sliding, first, select the combination of soothing colours and sounds you desire. As you slide hit the illuminated touchpads as you pass them, scoring points for each one that's successfully triggered. The more you hit, the more you score.
Other Attractions at Coral Reef Waterworld
Coral Reef Water World is designed to make swimming as fun as possible, in addition to the slides listed above the attraction also features a free form leisure pool, rapids, bubble pool, little corals children's area, fountains and even a pirate ship all designed to make sure everyone enjoys themselves as much as possible.
Travelling to Coral Reef Waterworld
Coral Reef Waterworld is situated in Bracknell, near Reading. The full address is Nine Mile Ride, Bracknell, RG12 7JQ.
Travelling by Train
The nearest stations to Nine Mile Ride is Range Road, Search for your train tickets using Raileasy.
Attractions Near Me Offers
For the best deals and Discount Days Out visit our Offers page Attractions Near Me
Also like our Facebook page for notification of any new offers Facebook.com/AttractionsNearMe
Coral Reef Waterworld
was last modified:
November 13th, 2023
by
Dan
Related Listings
Splashdown Poole water park is home to 13 thrilling indoor and outdoor flume rides and 3 under 5's splash zones. Tumble on tyres and twist through the tubes! Each of the 13 slides offers a varying degree of difficulty. For the less adventurous, the Buccaneer Beach and Sun Terraces are the perfect place to relax in the sunshine before heading
Read more…