Sandcastle Waterpark is the UK's largest indoor waterpark, set in an 84-degree tropical climate located at South Beach in Blackpool. The waterpark opened in 1986 on the site of the former South Shore Open Air Baths. Sandcastle Waterpark plays host to 18 slides and attractions suitable for everyone. There is something to entertain the whole family.
Rides and Attractions at Sandcastle Waterpark
There are a great selection of waterslides and attractions at Sandcastle Waterpark ranging from big slides for thrill-seekers to dedicated play zones for younger guests to enjoy.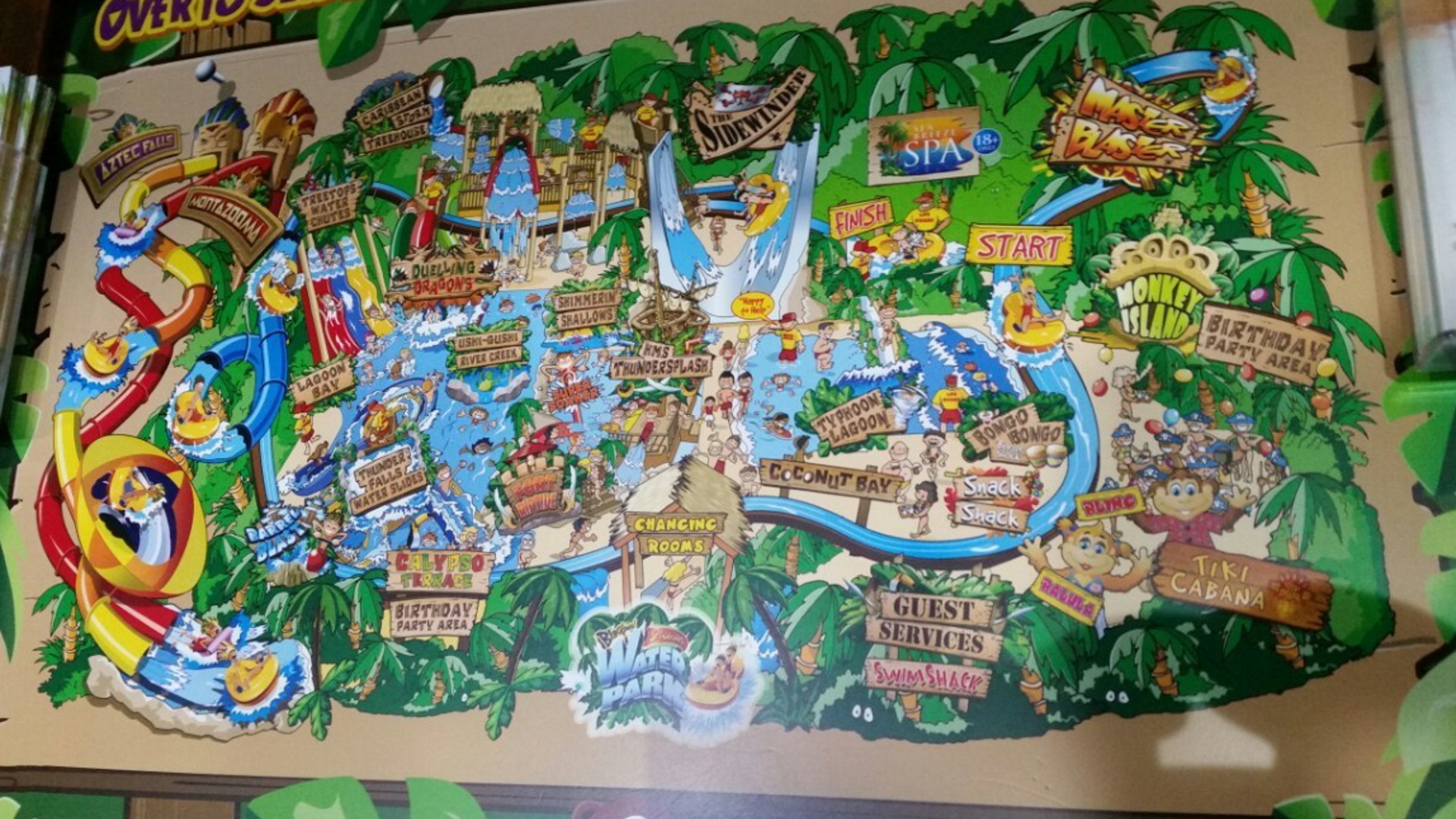 Sandcastle Waterpark Hyperzone
The Hyperzone consists of the four biggest and most thrilling attractions at Sandcastle Waterpark. In order to ride the slides located in the Hyperzone, guests must purchase a Hyperzone wristband which is available at an additional charge. The following slides are located in the Hyperzone, providing guests with four completely different and exciting experiences, perfect for thrill-seekers.
Master Blaster
Masterblaster is The World's longest indoor water coaster. A combination of rollercoaster and waterslide, totalling 250 metres in length. Water injection technology propels raft riders at high speeds up steep inclines and down big dips. The Master Blaster makes its way out onto the main Promenade before crashing back into the building again. The Masterblaster is also the World's first uphill water rollercoaster. In order to ride, guests must be 8 years of age or older.
Montazooma
Montazooma sends riders head-first through hairpin bends and 360-degree helixes at an amazing speed on a thrilling, white-knuckle water adventure. It is a single-person ride that guests ride head first whilst laid on a mat. In order to ride Montazooma, guests must be 8 years of age or older.
Sidewinder
The Worlds first Indoor white knuckle sidewinder. Take an almost vertical drop into this exciting half-pipe ride. The Sidewinder is suitable for anyone over the age of 6.
Aztec Falls
Also located in the Hyperzone is Aztec Falls a raft ride which you can either ride alone or in pairs. Climb to the top of the Aztec Falls temple and drop in complete darkness into the whirling chasm of the Aztec Bowl. Suitable for anyone over 8 years of age, this raft ride is an amazing experience, certain to delight thrill-seekers.
Rides and Attractions outside of the Hyperzone
There are plenty of great rides and attractions on offer for guest who choose to opt-out of the hyperzone.
Duelling Dragons
Duelling dragons are two adjacent waterslides, one red, one green, suitable for anyone over the age of 6. Race your friends to see who can reach the bottom first.
Thunderfalls Waterslides
Race your friends on either the blue or yellow slide. The Thunderfalls waterslides are great fun for all the family, twisting and turning for over 300 feet.
Treetops Water Chutes
This multi-lane slide is great fun for all the family, enjoy a race with mam and dad on this exciting slide.
Rides and Attractions for Younger Guests
Younger guests are also well catered for at Sandcastle Waterpark.
Fort Riptide
Offering a number of exciting slides, Fort Riptide is perfect for younger guests.
Shimmering Shallows
Younger children can enjoy this sleepy lagoon.
HMS Thundersplash
Packed with tunnels and treasure chests, slides and canons, younger visitors will love exploring everything that HMS Thundersplash has to offer.
Carribean Storm Treehouse
The Carribean Storm Treehouse offers a whole host of interactive water play elements waiting to be explored by younger guests. Watch out for the giant tipping coconut located at the top of the Caribbean Treehouse, once it's full it empties a tidal wave of water over everyone below.
Typhoon Lagoon
When the surfing tune sounds, head for the Typhoon Lagoon to enjoy the wildest waves around. This wave pool is great fun for all the family.
Ushi Gushi River Creek
Let the flowing waters of Ushi Gushi River take you on a journey through the action-packed river which is full of watery surprises along the way. This is not your regular lazy river, a real family favourite.
Sea Breeze Spa
Designed exclusively for adults aged 18+, Sea Breeze Spa is the place to relax. Guests will feel refreshed in this relaxing oasis. The Sea Breeze Spa features a Sauna, Steam Room, Ice feature, heated loungers, foot spa's and Aromatherapy and salt Inhalation rooms. Whilst younger guests enjoy the action-packed Waterpark adults can relax and re-energise in the Sea Breeze Spa.
Food and Drink
There are plenty of food and drink options available for when its time for a snack.
Waterfalls Cafe
Offering freshly prepared coffees, milkshakes and smoothies along with an extensive range of delicious hot or cold snacks, fresh cakes and meals.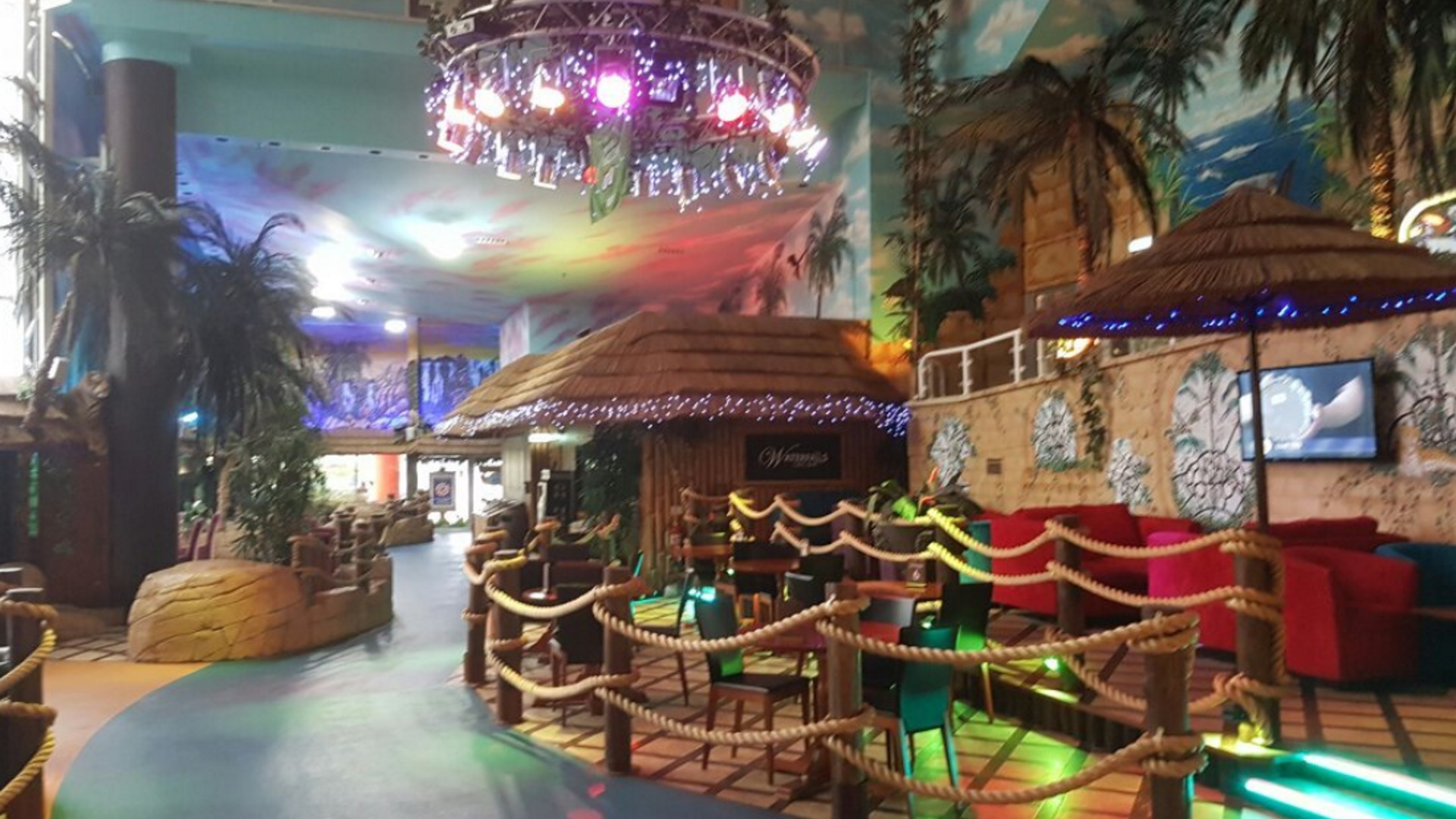 Bongo Bongo Burger Shack
There is something to satisfy all tastes at the Bongo Bongo Burger ShackServing a great selection of hot food from burgers and hot dogs to pizza and jacket potatoes.
Snack Shack
Located next to Bongo Bongo Burger Shack is Snack Shack, serving fresh sandwiches and salads, plus a range of grab and go snacks.
Travelling to Sandcastle Waterpark
Sandcastle Waterpark is located on Blackpool's historic seafront. There are a number of ways you can get to the attraction and there is also lots of accommodation available in Blackpool.
Travelling by Train
There are two railway stations in Blackpool. Blackpool South station is closest, just a short walk from the attraction. Visit Virgin Trains website for details.
Travelling by Coach
If you would like to travel by coach we recommend that you try National Express.
Staying in Blackpool
There are loads of places to stay in Blackpool, if you are looking for accommodation then try Hotels.com.
Attractions Near Me Offers
View More Discount Days Out at Attractions Near Me
Also like my Facebook page for notification of any new offers Facebook.com/AttractionsNearMe
Sandcastle Waterpark
was last modified:
June 23rd, 2023
by
Dan
Related Listings
SC2 Rhyl offers something for every visitor, whether you're a thrill-seeker, a paddler or just want to put your feet up and relax. The main waterpark area is suitable for all ages and abilities. Attractions at SC2 Rhyl There are a wide range of slides and attractions on offer at SC2 Rhyl appealing to all members of the family.
Read more…