Splashdown Poole water park is home to 13 thrilling indoor and outdoor flume rides and 3 under 5's splash zones. Tumble on tyres and twist through the tubes! Each of the 13 slides offers a varying degree of difficulty. For the less adventurous, the Buccaneer Beach and Sun Terraces are the perfect place to relax in the sunshine before heading to Captain's Cove to dip your toes in the water on the bubble bench and chill in the Jacuzzi.
Splashdown Poole Rides and Activities
Guests at Splashdown Poole can Splash their way through thirteen fantastic water flumes, fun slides, diving pool and the wave pool. Splashdown waterpark, Poole offers a great selection of facilities suitable for our younger visitors, under-confident or novice swimmers to enjoy. Whilst little ones aged 6 and under can enjoy Ricky's Reef toddler pool, under 7's can splash about in the interactive water play area, Buccaneer Splash and enjoy the seasonal outdoor splash area, Buccaneer Beach.
Waterslides at Splashdown Poole
The waterslides at Splashdown Poole range from Easy to Severe. Some of the outdoor slides are seasonal, there are 5 black hole style slides and 3 of the slides offer light and sound effects.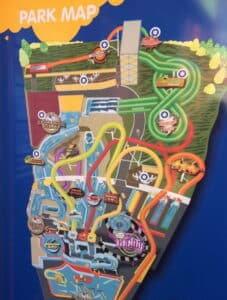 The Screamer
Strictly for adrenaline junkies. Descend like a bullet through 40 metres of slide in under 5 seconds. This is a high-speed seasonal water ride that is not for the faint-hearted!
Velocity
For those feeling brave, take on Velocity. This seasonal slide offers guests a thrilling plunge down a 30-foot steep drop. The slide reaches high speeds as you enter a long, almost flat run out. Not for the faint-hearted!
Barons Revenge
The Barons Revenge is an 8-metre (near vertical) drop in total darkness. This short, sharp, black hole style slide will take a lot more than just your breath away.
Infinity
Infinity is another black hole style ride, it commences with a high-speed drop, this is followed by funky laser lights which dance to the music as riders slide around the bowl before plunging into the pool below.
Zambezi Drop
On Zambezi Drop, riders reach speeds of over 25mph as they accelerate through the 50-metre waterslide. Perfect for speed freaks, the slide also features a steep drop!
Dragon's Lair
Twist through the tunnel and dip into the darkest recesses of the dragon's lair, a black hole style ride featuring lights and sounds effects. Hear the dragon roar as you come face to face before turning into the catch tray below.
Mississippi Drifter and Grand Canyon
The Mississippi Drifter, River Rapids style ride offers an opportunity to ride together with friends. Climb aboard your tyre and tumble and twist through a number of small slides and whirlpools. During the summer months, the Mississippi Drifter extends to into the Grand Canyon where guests drift outside before being sucked into a pitch-black twisting flume leaving you on the edge of rapids.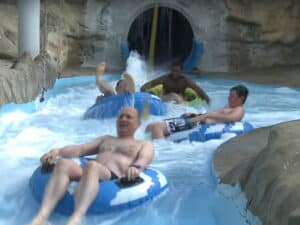 Tennessee Twister and Louisiana Leap
A seasonal pair of slides where you race your friends whilst sat on an inflatable tyre. The high-speed tube slides race their way through 91-metres of twists and turns.
Colorado Coaster
Don't be fooled by the shallow descent at the start. Slip and slide through bends and dips before one final drop into the main pool.
Black Thunder
This black hole style ride offers rides a number of heart-thumping twists and turns with thunder and lightning effects throughout the pitch-black spiral of darkness.
Red River Roller
Red River Roller is the perfect introduction to waterslides. Roll from side to side through 91-metres of twists and turns.
Other Attractions at Splashdown Poole
Splashdown Poole has more to offer than just waterslides.
Ricky's Reef
Have fun spotting corals, rays and more all lurking beneath the surface of the toddler pool on a 3D effect reef liner. Perfect for little landlubbers aged 6 and under.
Buccaneer Splash
Enjoy a bucket full of fun in the Buccaneer Splash interactive water play area, complete with water cannons and a starter flume. Perfect for little landlubbers aged 7 and under.
Buccaneer Beach
Take a wander outside to Buccaneer Beach outdoor splash pool, overlooking Grand Canyon. Buccaneer Beach is a seasonal play haven suitable for little landlubbers aged 8 and under.
Travelling to Splashdown Poole
Splashdown Waterpark is located on Tower Park Leisure Complex, just off Dorset Way (A3049), north of Poole town centre and approximately 20 minutes from the centre of Bournemouth. Follow the brown tourist signs from all approaches to Tower Park. SAT-NAV should use the postcode BH12 4NY.
Attractions Near Me Offers
For the best deals and Discount Days Out visit our Offers page Attractions Near Me
Also like our Facebook page for notification of any new offers Facebook.com/AttractionsNearMe
Splashdown Poole
was last modified:
August 12th, 2023
by
Dan
Related Listings
Brean Splash Waterpark is the South West's award-winning Waterpark, located at Brean Leisure Park near Burnham On Sea. Adjacent to the waterpark is Brean Theme Park, the UK's largest free-admission theme park. Attractions at Brean Splash Waterpark Brean Splash Waterpark features a number of indoor slides and attractions. During the warmer summer months, there is a selection of outdoor
Read more…