There are over 27,000 animals, more than 600 different species and 128 acres of zoological gardens to explore at Chester Zoo. The large collection of animals includes some of the most exotic and endangered species on the planet, there's no wonder we rate it the UK's number one zoo in our Top 10 zoos and wildlife parks listing.
Animals and Exhibits Chester Zoo
Chester Zoo plays a vital role in inspiring and educating people about the natural world and the impact humans have on it – creating and nurturing the conservationist in us all. The zoo supports field projects around the world and closer to home, preventing the extinction of endangered species. Below we give a snapshot of the many animals and exhibits you will encounter on your visit to Chester Zoo.
Sumatran Orangutans
Meet the Sumatran Orangutans, an animal that is surprisingly graceful and agile when it moves. In the wild, they sway from tree limb to tree limb.
Pregnant orangutans carry their baby for almost as long as a human – seven and a half to eight and half months. Twin births are unusual so it's normally a single baby which is born. From then on, it will be six or seven years before that baby will stop being nursed by its mother. That's the longest nursing period of any land-dwelling animal, including humans.
Asian Elephants
As you enter the attraction, one of the first exhibits you will see is the magnificent herd of Asian Elephants. An amazing start to your day out at Chester Zoo. Usually led by the oldest female, elephants are intelligent and sociable animals who live together in family groups. The elephant's most distinctive feature is their long trunks which can be very powerful, but also very delicate when needed to forage for food.
Sumatran Tigers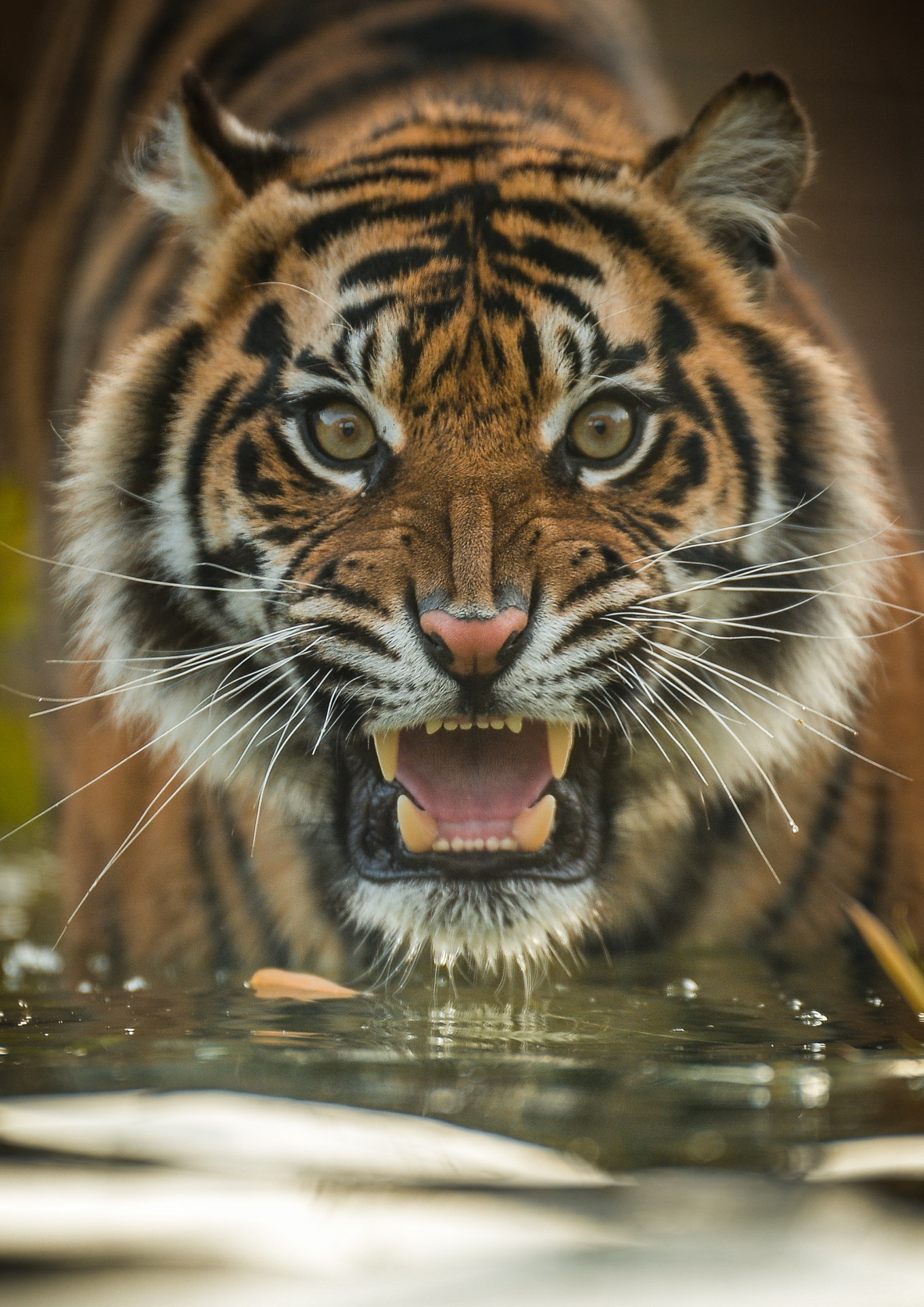 The beautiful Sumatran tigers are a magnificent sight. They're also incredibly precious as they're so rare. With only a few hundred of these precious animals left in the wild, Chester Zoo is doing all it can to stop them from becoming extinct.
Sumatran tigers are brilliant swimmers thanks to their webbed paws. In the summer months, they love splashing around in the pool and sunbathing on the rocks. Sumatran tigers are the smallest of all tigers and their low stance lets them creep up on prey unseen. Their stripes are narrower and closer together than those of other tigers.
Islands at Chester Zoo
Embark on an exploration of the amazing tropical environments of South East Asia which they have recreated at Chester Zoo. Head out on your wildlife expedition exploring six South East Asian islands and become real-life conservationists.
Find some of the world's most magnificent wildlife as you explore the island habitats of Panay, Papua, Bali, Sumatra, Sumba and Sulawesi. Look out for carnivorous plants, prehistoric-looking birds and the impressive Sunda gharial, a type of crocodile. You'll feel like a group of intrepid explorers learning real-life conservation skills.
As you make your way through the bamboo forest, watch out for tigers. Observe the macaques on Sulawesi and record the many different birds found in the Monsoon Forest. Cross the Dragon Bridge between Papua and Bali and then take the Lazy River Boat Trip from Sumba.
Jaguars
The Jaguar's camouflage coat blends in with their surroundings which helps them when they hunt for food.
The Jaguars at Chester Zoo are based in their own impressive exhibit called Spirit of the Jaguar, offering both indoor and outdoor areas designed to cater for their needs. The jaguars have poles to climb on, outside dens, sun spots, and outside pools to practice their excellent swimming skills. The exhibit also houses other South American species, including tropical fish, yellow-spotted Amazonian river turtles and a pair of two-toed sloths.
Two-toed sloths
sleeping for up to 15 hours a day to conserve their energy. Sloths move very slowly which is mostly down to their diet which is mainly made up of low-energy food like leaves and fruit. The two-toed sloth does everything while hanging upside down from trees, including eating, sleeping, mating and even giving birth!
The sloths have a very powerful grip which is handy when you spend a lot of time hanging in trees. Their long claws curve around tree branches like a safety harness. Despite their powerful grip, sloths actually have a relatively low muscle mass of around 25% – mammals usually have around twice as much. View the sloths clinging to trees or exploring their aerial habitat right above your head inside Spirit of the Jaguar.
Humboldt Penguins
One of the most recognisable birds in the world are Penguins. Their black and white colours are designed to help camouflage them in the water, their black backs blend in with the water from above and their white front mixes with the sunlight from below.
Humboldt Penguins are astonishingly good swimmers and can fly through the water at up to 25mph! You can great view of the penguins at Chester Zoo's underwater viewing area. Humboldt penguins are very curious birds and may well pause mid-flight to watch you watching them!
Humboldt penguins are social animals, in the wild, they live in relatively large colonies along the coast of Chile and Peru. There are approximately 50 Humboldt penguins at Chester Zoo which are part of a European breeding programme, so they're extremely important. Their colony has an excellent breeding record and many of the zoo's youngsters have gone on to join breeding groups in other zoos.
Rothschild Giraffes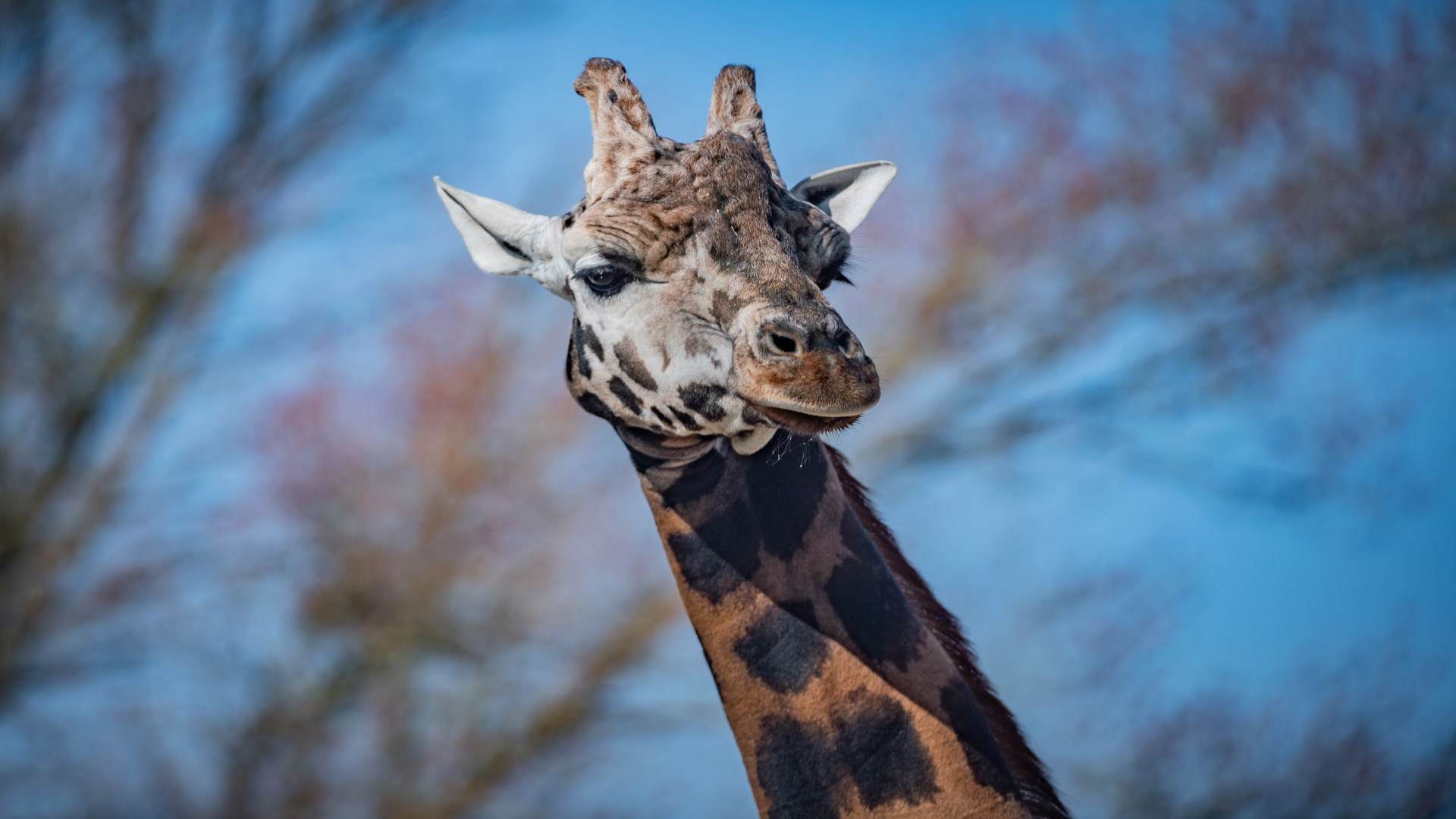 There is a good collection of Giraffes at Chester Zoo with many of them bred on-site. Rothschild Giraffes can grow to six metres high so you'll easily see their long necks and giant-sized legs. Their tongues are a whopping length too measuring up to 45cm in length. Ideal for helping them pull down leaves, shoots, bark and flowers off tree branches to eat. Rothschild giraffes are the world's second rarest with only a few hundred left in the wild.
The blotchy pattern of each giraffe's coat is different from any other. You can tell Rothschilds Giraffes apart from other types of giraffes because they have no markings on their lower legs, it's as if they're wearing white socks!
Giraffes spend 16-20 hours a day feeding. Males feed with their necks and head stretched upwards, while females tend to put their heads down, feeding off ground-level grasses and shrubs. They have a special valve in their neck that stops the blood from rushing to their head when they bend down.
George Mottershead The Founder of Chester Zoo
Back at the turn of the twentieth century, a boy named George Mottershead was taken to a zoo in Manchester. What George saw that day inspired him to do something different.
Determinedly he told his father: 'When I have a zoo, it won't have any bars.'
George never forgot that day or the vow he made. In 1930, George Mottershead and his family bought Oakfield House and seven acres of land for £3,500. He brought a group of animals from a zoo at Shavington, near Crewe with him. This group of animals were the first animals to be based at Chester Zoo.
The zoo opened in 1931, and in 1934, the North of England Zoological Society was born. Despite being a challenge, George kept the zoo open through the Second World War. Once the war was over, the zoo expanded rapidly. One of the zoo's slogans back then was, 'Always building'.
When George died in 1978, aged 84, his dream of a 'zoo without bars' was well and truly flourishing at Chester.
Present Day Chester Zoo
The original Oakfield House and stable block, are now Grade II listed. Chester Zoo is the most-visited wildlife attraction in Britain, holding the title of the UK's most popular zoo, and is one of the Top 15 zoos in the world.
How amazed and proud George Mottershead would be today, to see the huge 500-acre estate that Chester Zoo now occupies. The zoo itself occupies a massive 125 acres which is more than ten times the size of the first bit of land that George bought in 1930.
Travelling to Chester Zoo
There are a number of ways to get to Chester Zoo. If you are travelling by car, the zoo is not far from the M56 or Chester city centre. Follow the motorway signs towards Chester and you'll see the brown zoo signs as you approach the city.
Travelling by Train
Catch a train to either Chester or Bache station, there are easy transport links from either station to Chester Zoo. See the Raileasy website for details.
Nearby Accommodation
There are lots of places to stay in Cheshire. If you only planning on visiting the zoo for one day and would like to explore some of the other attractions in the area then take a look at some of the wonderful self-catering cottages available from Snaptrip.
Attractions Near Me Offers
View More Discount Days Out at Attractions Near Me
Also like my Facebook page for notification of any new offers Facebook.com/AttractionsNearMe
Photo credits Chester Zoo.
Chester Zoo
was last modified:
December 3rd, 2023
by
Dan
Related Listings
Knowsley Safari Park is one of Merseyside's premier leisure attractions, winning several awards for tourism and it's animal husbandry. A Grand Family Day Out With its array of entertaining animals, rides and attractions, Knowsley Safari Park makes for a grand family day out. Having achieved a worldwide reputation as a premier conservation and zoological facility it's just the ticket
Read more…