Edinburgh Zoo is a world-renowned family attraction, conservation and breeding centre. The penguin is the emblem of Edinburgh Zoo because it was the world's first zoo to house and breed them.
Edinburgh Zoo
Edinburgh Zoo is the most extensive and exciting wildlife attraction in Scotland, located on a hillside in 82 acres of parkland on the outskirts of the capital offering extensive views of the city. A day out at Edinburgh Zoo offers guests a fascinating and fun insight into one of Europe's premier centres of animal conservation, education and research.
Attractions at Edinburgh Zoo
Founded on Corstorphine Hill in 1913, Edinburgh Zoo welcomes over 650,000 visitors a year. As well as the breeding of endangered species, the enticing family attraction where penguins first went on show in January 1914 has a wide range of animals for you to discover.
Penguins at Edinburgh Zoo
Edinburgh Zoo became the world's first zoo to house and breed penguins after Christian Salvesen's whaling expedition docked in Leith in January 1913 with three king penguins. They subsequently had the first successful hatching of a king penguin chick in 1919. These were the first penguins ever to be seen anywhere outside of the South Atlantic, and Edinburgh Zoo has pioneered the care and science of penguins ever since. This is why the king penguin is featured on the zoos logo.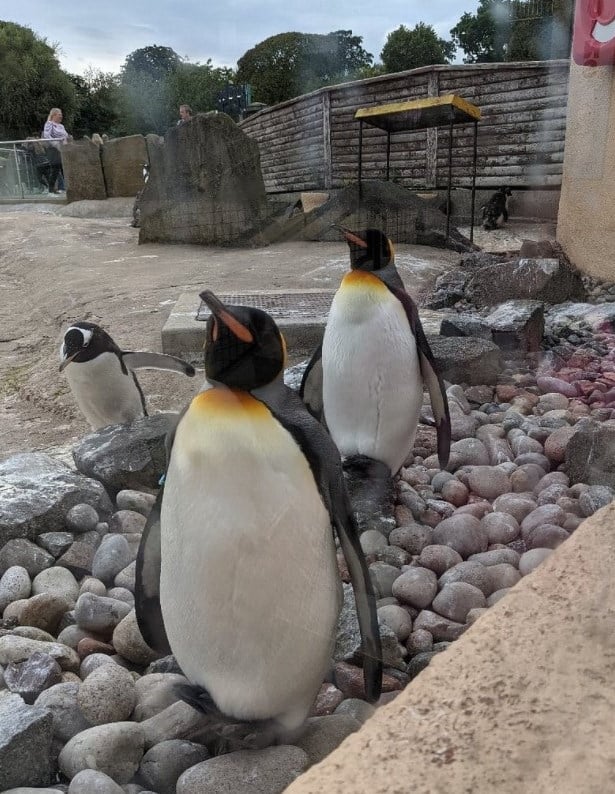 Giant Pandas
There are two giant pandas at Edinburgh Zoo, Yang Guang and Tian Tian.
Yang Guang is a male panda whose name means Sunshine in Mandarin and Tian Tian is a female panda whose name means Sweetie. Both pandas were born in August 2003 and turned 18 years old in 2021. These two are the only giant pandas in the UK and arrived at Edinburgh Zoo in 2011 as part of a 10-year agreement that includes donations from the zoos charity to support giant panda conservation, welfare and research in China.
Monkeys
Don't miss the titi monkeys, gelada baboons and the star-turn of the primate section, a large group of inquisitive and playful Chimpanzees, who regularly entertain their human cousins, especially at feeding time. Their antics amid the climbing frames and vegetation are just the ticket for a fun family day out.
Horticultural Heritage
Edinburgh Zoo has a rich horticultural heritage. Before its inception in 1913, the site was a nursery, once owned by Thomas Blaikie, who planted many of the great French parks such as 'La Bagatelle'. It was on this site that two nurserymen raised the famous apple cultivars 'John Downie' and 'James Grieve'.
Edinburgh Zoo inherited one of the most diverse tree collections in the Lothians with some 120 species. The unique south-facing aspect offers a micro-climate that allows bananas to grow, although they do get wrapped up in winter. Increasingly, Zoo horticulture is seen as a discipline in its own right, with the focus on habitat creation within enclosures, foodstuffs for the animals, and enrichment for both the animals and the visiting public. The gardens team aims to provide interesting displays throughout the year, from summer tubs with Regal and scented pelargoniums to winter displays of alpines.
Admission Prices and Offers
You can purchase tickets in advance from the official website and also keep an eye on our offers page for great savings on Edinburgh Zoo Tickets.
Travelling to Edinburgh Zoo
Edinburgh Zoo is situated three miles to the west of Edinburgh city centre on the south-facing slopes of Corstorphine Hill, from which it provides extensive views of the city. The zoo has its own on-site car park and there are also parking spaces within the vicinity of the zoo but please note these spaces are limited due to the residential nature of the zoo's location.
Travelling by Train
If you are travelling by train, there are two stations in the city centre, Edinburgh Waverley Station and Edinburgh Haymarket Station. Train timetables and ticket information are available from the ScotRail website. From Waverley and Haymarket stations, it is a short bus ride to Edinburgh Zoo.
Alternatively, if you are coming from further afield please see the National Rail website for timetables and ticket information.
Search for your train tickets using Raileasy.
Travelling by Bus
Edinburgh Zoo can be easily accessed via public transport with high-frequency bus services from Edinburgh city centre. The 100 Airlink Service also stops regularly outside the front entrance and operates between Edinburgh Airport and the city centre.
Nearby Accommodation
Check our dedicated accommodation page for more ideas on places to stay or view self-catering cottages available from Snaptrip.
Attractions Near Me Offers
For the best deals and Discount Days Out visit our Offers page Attractions Near Me
Also, like our Facebook page for notification of any new offers Facebook.com/AttractionsNearMe
Edinburgh Zoo
was last modified:
June 22nd, 2023
by
Dan
Related Listings
Located in the beautiful southern end of the Lake District, South Lakes Safari Zoo is home to over 1,000 of the rarest and most endangered animals, all in authentic and unique natural environments. View the Animals in Unique Natural Environments Wander amongst kangaroos, wallabies, and emus. South Lakes Safari Zoo features unique natural environments which enable you to get
Read more…