Flamingo Land Review
We were looking for a fun day out on Fathers Day and having acquired our Flamingoland 2-4-1 vouchers with free lunch included we decided to visit the North Yorkshire Theme Park. We are regular visitors to Flamingo Land with it being our local theme park. The park has lots of onsite accommodation but living less than an hour away, there was no need for us to stay overnight. The weather was forecast to be very hot so we were expecting the park to be really busy but we were pleasantly surprised.
Flamingo Land 2-4-1 Vouchers
We got up early on Sunday morning and arrived at the park just as it was opening at 10.00am. We parked our car a short distance from the park entrance and headed for the ticket kiosks. There were five people in our party but our youngest son was eligible for free entry with his fourth birthday in a couple of weeks time. Children under four years old get free entry to Flamingo Land, we just needed to present his passport to prove his age. The remainder of our party purchased our entry tickets using our 2-4-1 vouchers meaning all five us got entry to the Theme Park for the price of two regular admissions. It cost us £76 in total and we were also kindly handed 4 free meal vouchers even though we only expected to receive 2.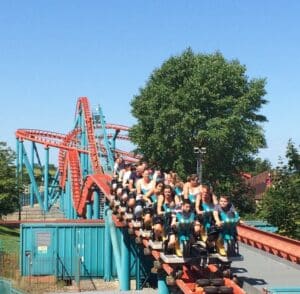 Velocity at Flamingo Land
On the day we visited Flamingo Land the weather was unbelievable, beautiful sunshine with temperatures reaching 30-degrees. On entering the park we headed straight for Velocity, the UK's first and only motorbike launch rollercoaster. Velocity is an adrenaline fuelled ride which simulates the experience of superbike racing. The ride accelerates from 0-60mph in just 2.8 seconds and races around a number of tight corners at a breathtaking pace. Due to our youngest child being too small to ride we took advantage of parent switch meaning that we all got an opportunity to ride without needing to queue multiple times.
Attractions Near Me – Featured Offers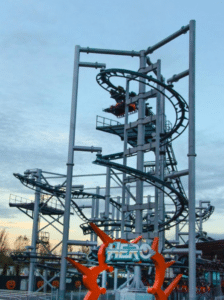 Hero at Flamingo Land
Throughout the day in between the big rides, we took it in turns to take our youngest son on some of the children's rides located around the park. It is great that the theme park has rides suitable for all the family located close to one another allowing us to all spend the day together.  After Velocity, we rode Hero, a suspended roller coaster which simulates the experience of flying. The ride uses a unique corkscrew system to transport the carriages to the top of the ride. Upon reaching the top of the lift hill, riders then experience swooping turns breathtaking drops and two heart-line inversions. Sadly we found the ride more uncomfortable than we did enjoyable.
Mumbo Jumbo
Following our ride on Hero we headed for some of Flamingo Lands other major rides, Mumbo Jumbo and Kumali. Whilst making our way to these rides we rode a selection of the smaller childrens rides. Mumbo Jumbo is one of our eldest son's favourite rides, but it often has long queues. This certainly wasn't the case on the day we visited with the queues for the rides being unbelievably short. With its 112° vertical drop, Mumbo Jumbo once held the World Record of 'world's steepest roller coaster made of steel'. Riders experience over 4g as Mumbo Jumbo performs a high-speed trip packed with twists, turns and 2 full inversions.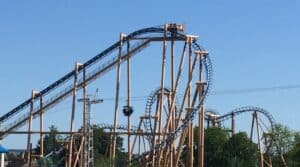 Kumali
One of my personal favourite rides across all UK Theme Parks is Kumali at Flamingo Land. Kumali is a suspended looping roller coaster. With the park being so quiet I got to ride the front seat on Kumali a number of times. The great thing about the front seat on this ride is there is nothing in front of you apart from open space. If you like roller coasters then this is a must do experience as it is great fun. Reaching a speed of 56 miles per hour, Kumali is a fast, smooth roller coaster ride with a unique custom layout. The ride features four inversions, starting with an 87-foot tall loop, followed by a 55-foot Zero-G roll and the Cobra Roll, which suspends you 75 foot over a lake. Personally, I would describe Kumali as Awesome.
Flip Flop and Pterodactyl
Following Mumbo Jumbo and Kumali, we rode Flip Flop and Pterodactyl. Personally, I found both of these rides to be quite intense but our eldest son (age 7) loved them. Flip Flop is a swinging disc ride where riders face outwards, whilst swinging it also rotates which adds to the intensity. Pterodactyl is a swing ride which raises to a height of 151-feet. I find this ride scary enough on a calm day, I certainly wouldn't like to ride it on a windy day.
Flamingo Land Rides suitable for all the Family
In order to keep the entire family entertained, in between the extreme rides, we rode a selection of family friendly rides too. These included Twistosaurus, a dinosaur egg themed spinning roller coaster. Zooom, which is a child-friendly suspended coaster, recreating the sensation of powered flight. Cyclosoar an interactive ride where you pedal your hang glider in order to go higher.
Flamingo Land Junior Rollercoasters
Both our boys enjoyed the selection of junior roller coasters, with our eldest taking responsibility for his younger brother. In addition to Zooom and Twistosaurus, the park also offers Dino Roller, a reptile themed coaster. This ride has a very low height restriction making it an ideal first-time roller coaster experience. Go Gator is a historic dragon type roller coaster. Kids love this ride, because it travels across the roof of the station, passing the people waiting to ride below. The most impressive of the three junior coasters on offer is the family friendly Runaway Train although we found that this ride can be a little rough.
Flamingo Land Free Lunch
It was now approaching lunchtime so we headed for Muddy Duck Farm where one of the Jolly Sailor 2 Go fish and chip takeaways is located. On our way, we rode the monster ghost train ride at Mischief Mansion. Free lunch consisted of a small portion of fish and chips. Sides and drinks were available for an additional charge. Thanks to the vouchers lunch worked out at a very reasonable £15 for the five of us.
Flamingo Land Zoo
Following lunch, we had a walk around the Zoo at Flamingo Land. Having already watched the Sea Lion Show and Bird Show a number of times on previous visits we decided to skip them on this occasion. Whilst in the zoo, we took a ride on the Zoo Monorail which offers an elevated view of the monkeys. We had a wander through the Wallaby Walkway and visited the newly added Black Rhino exhibit. It was great to watch the Rhino cooling off in his large pond. Next, we took the Treetop Walkway across to the Penguin Coast exhibit and watched the Penguins playing in their swimming pool.