Safety is the Amusement Park Industry's Number 1 Priority. We outline some of the measures that are in place to help ensure that theme park rides can be operated safely.
Training
Ride operators require hundreds of hours of supervised training before they can operate any rides. Park Management will often take part in safety leadership courses, to help ensure that they have the necessary skills and knowledge to help oversee safety standards correctly and effectively.
Preparation
Every morning before theme parks open, the ride engineers spend hours carrying out pre-operation checks. This can include walking the tracks, checking the trains and their components and ensuring that all mechanical parts are functioning correctly. For example, at Alton Towers Theme Park they spend 8 man hours preparing each of their big coasters ready for opening every morning. In one theme park season, that equates to over 9,000 hours of pre-opening preparation and that's before any guests enter the park.
Control Systems
Rollercoasters and theme park rides are controlled by sophisticated systems that monitor the safe operation at all times. Park personnel use central control units and numerous high-tech sensors to constantly monitor all aspects of a ride. allowing for automatic system shutdowns if any faults are detected.
Independent Inspections
Every year all amusement rides must pass a thorough inspection by an independently certified ride inspection body under the Amusement Device Inspection Procedures Scheme (ADIPS). Independent inspectors spend thousands of hours checking rides to make sure they are safe for guests.
Restraints
On every theme park ride, you will always find a restraint designed to keep you inside of the train, rather than out of it. Restraints come in a huge of shapes and sizes, each using different methods to keep guests secure. Restraints vary according to both their design and ride type, thus allowing a significant level of specialisation, including the widespread use of individually-adjustable restraints.
Restraint design is typically based upon a 95th percentile physical profile to comfortably accommodate the vast majority of a ride's population segment. Manufacturer guidelines help parks address guests whose physical attributes are outside the design parameter due to size, disability, or other factors. Such actions can include adjusting the seating location of certain guests. Many parks provide information regarding the issues of size and disability through signage, printed or web materials, and "test yourself" seats, as a courtesy, at the start of queue lines.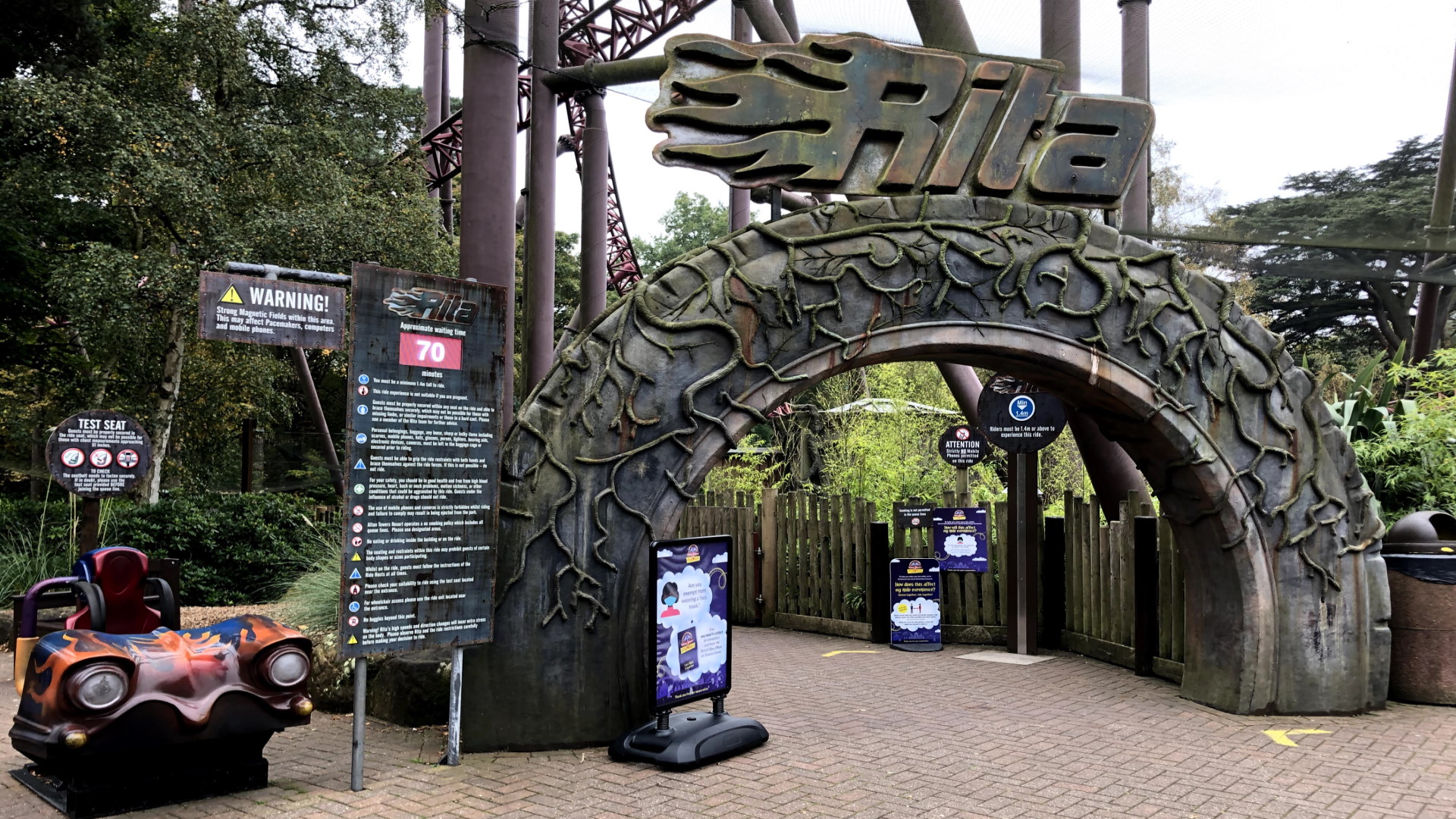 Restraints undergo rigorous testing in the design phase, and industry guidelines are continuously reviewed. Restraints are tailored to handle the intended forces of a ride and the reasonably foreseeable actions of its riders. There are often at least two restraint devices on a ride, and any restraint is just one part of a ride's overall safety measures.
Air Gates
A commonly used phrase by roller coaster enthusiasts is Air Gate. These are the gates in roller coaster stations that prevent riders from walking in front of the roller coaster train when its not stationery at the ride station. The name is based on the fact that the gates are often controlled using air pressure.
Click Here to learn more about Air Gates.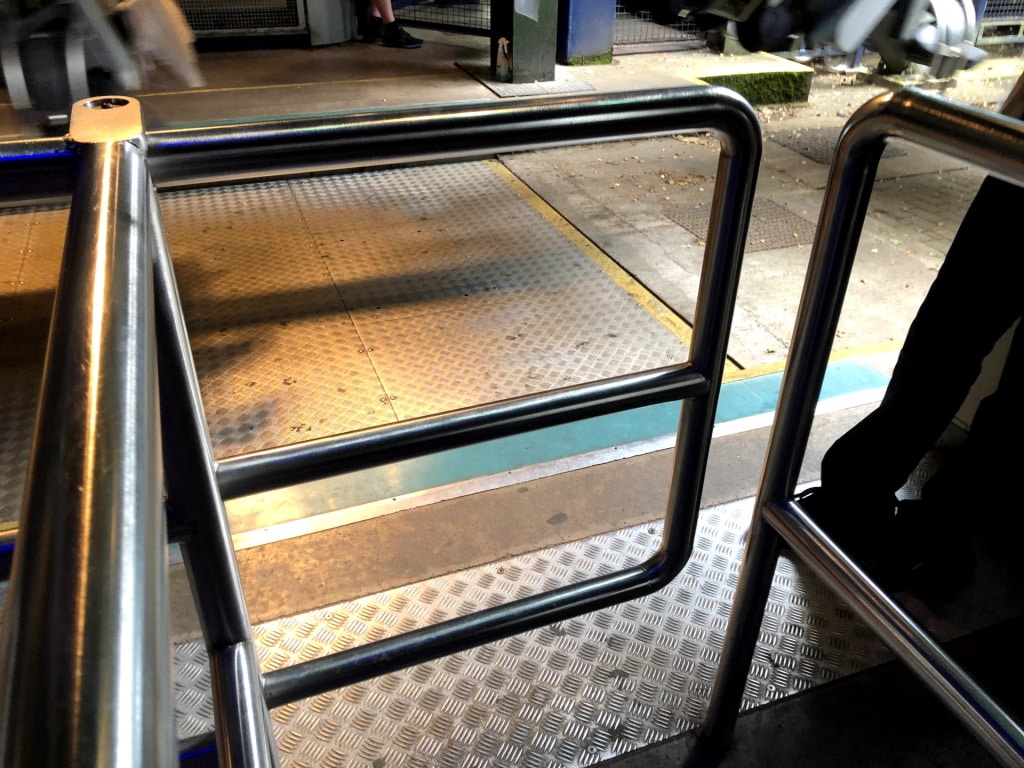 Wheels
When it comes to Roller coaster wheels, safety, reliability and wear resistance are key which is why they are engineered to exacting standards. The same rules apply for any wheel design, but none more so than in the amusement park industry!
There are a number of different wheels found on a roller coaster.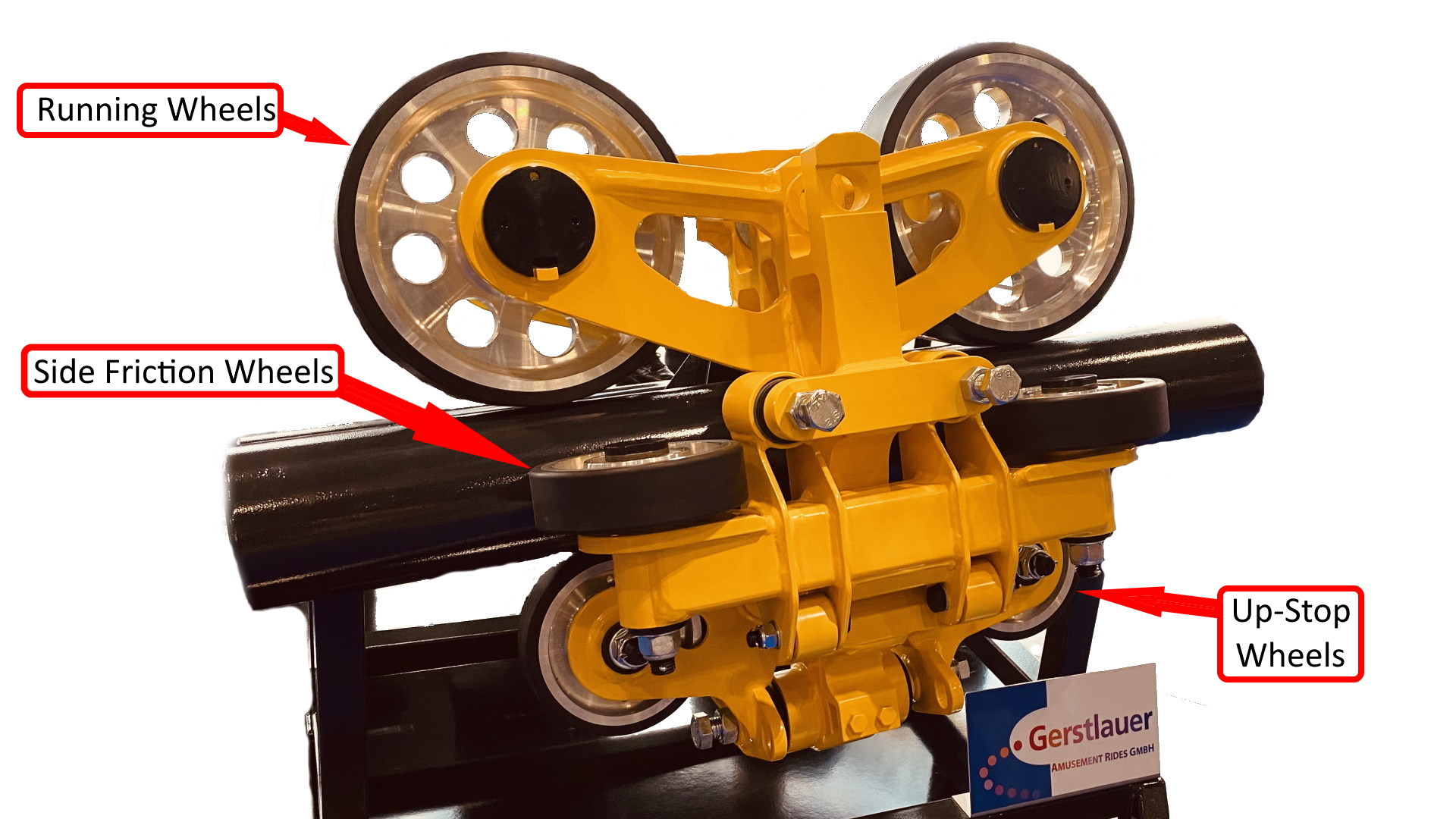 Click Here to learn more about Roller Coaster Wheels.
Braking Systems
The majority of roller coasters do not have any form of braking on the train itself and use braking systems integrated with the roller coaster track to control the trains speed. Various types of braking systems exist with new systems been developed thanks to technological advancements in design. Braking Systems may be located anywhere along a roller coasters circuit and are sometimes hidden from view.
Click Here to learn more about Braking Systems.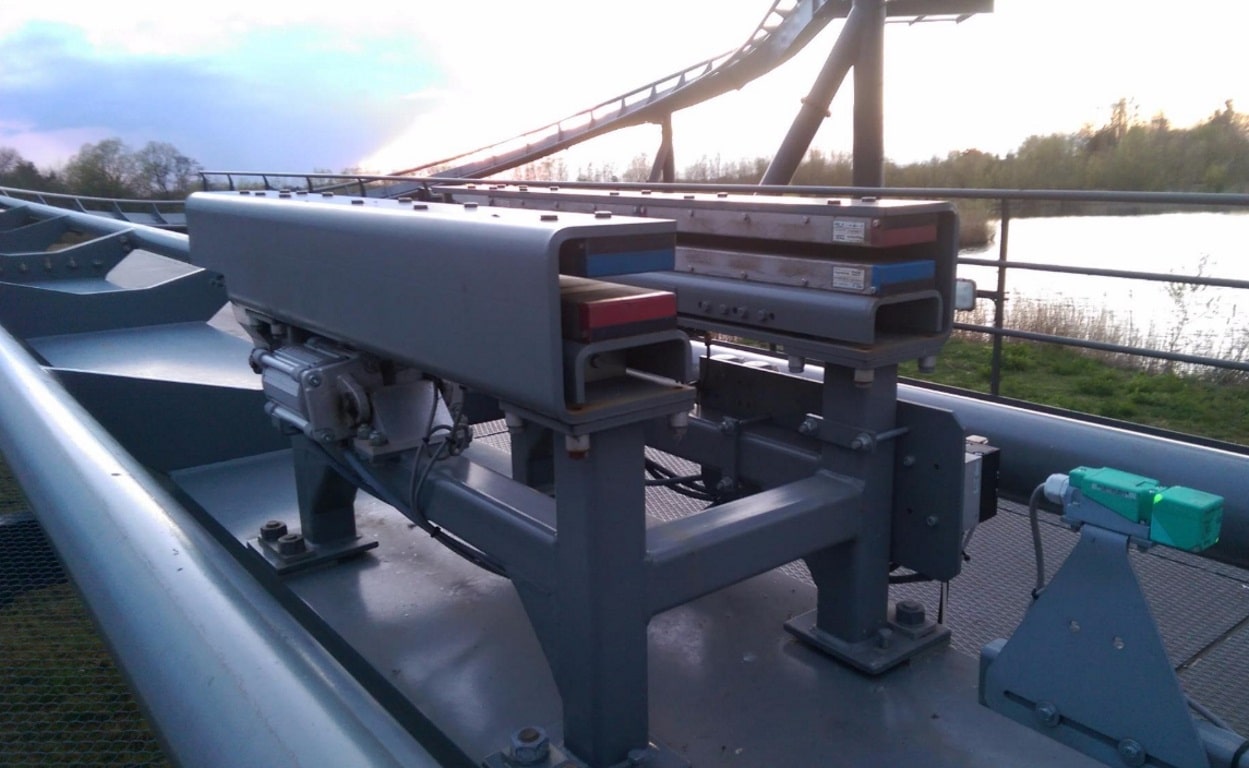 G-Forces
Several forces are felt when riding a coaster, and keeping these within safe values is vital for roller coaster designers. These forces are known as G-Forces or "G's". G stands for Gravity and the number in front of it represents how many times the force of gravity is felt at a particular point. Everybody experiences 1G in everyday life, the regular force of gravity when still. If a theme park says a coaster rider will experience, for example, 4G, the rider will briefly experience four times the force of gravity.
G-forces experienced in everyday life:
Sneezing – 2.9g
Coughing – 3.5g
Slap on the Back – 4.1g
Hop off a step – 8.1g
Plop down in a chair – 10.1g
While technological gains have led to the development of bigger and faster rides, overall g-force levels have generally remained the same because riders' tolerance levels have not changed. When it comes to the higher–g sections of amusement rides, exposure often lasts fractions of a second. Therefore, the rider does not experience any adverse effects. Blackouts and other health issues associated with Gs require exposure to g-forces which are either greater in magnitude or of much longer duration than those achieved by today's amusement rides.
Advancements in Technology
The design and development of amusement rides require a mastery of physics, engineering, and mathematics. As technology has improved to include computers, advanced materials, and certain design innovations, the result has been an increasingly rigorous, complex, and precise creative process. This process has contributed to an extraordinary safety record proving amusement rides are one of the safest forms of recreation available to the public.
The amusement park industry's tradition of continual improvement greatly enhances ride safety. For example, the introduction of force reactive supports, headrests, comfort padding, seat dividers, ratcheted restraints, computer controls, and magnetic braking systems.
Modern-day ride designers employ a steady stream of advances to create new, unique, and safe amusement rides and attractions.
Amusement ride manufacturers apply the industry's biodynamic knowledge as it relates to G-forces to the design and construction of rides to ensure a safe experience. While technological gains have led to the development of bigger and faster rides, overall G-force levels have generally remained the same because riders' tolerance levels have not changed.
Ride Fail Safes
Fail-safe defaults ensure that in the case of a power outage or other external event, vehicles come to rest in a safe position and remain there until passengers are evacuated according to a pre-arranged plan or the ride is re-started. Redundant safety mechanisms in critical areas provide backup in case the primary system malfunctions.
Ride Design
Modern ride designers utilise computer modelling software to manipulate a large number of elements quickly and easily, optimizing a ride's final layout, and providing a complete analysis of its performance, structural integrity, and g-force parameters. The fabrication of various ride and attraction components are now even more technically precise.
Ride Stoppages
A ride will automatically stop if any of the sensors on the track are obstructed, even if it's just by heavy rain or leaves.
Common reasons why rides stop include…
⛔ Guests using cameras and mobile phones during rides
⛔ Guest illness
⛔ Lost property within a ride area
⛔ Poor Weather conditions
Park Guests
Guests can play an important role in the safe operation of theme park rides and attractions by following the guidelines set out below:
???? Obey listed age, height, weight, and health restrictions.
???? Observe all posted ride safety rules, and follow all verbal instructions given by ride operators or provided by recorded announcements.
???? Keep hands, arms, legs and feet inside the ride at all times.
???? Secure all loose articles, including wallets, change, sunglasses, mobile phones, and hats.
???? Do not board a ride impaired.
???? Remain seated until the ride comes to a complete stop and you are instructed to exit.
???? Always use the safety equipment provided and never attempt to wriggle free of or loosen restraints or other safety devices.
???? Parents should ensure their children understand and follow safe and appropriate ride behaviour.
???? Never force anyone, especially children, to ride attractions they don't want to ride.
???? If you see any unsafe behaviour or condition on a ride, report it to a supervisor or manager immediately.
Ride Safety Measures
was last modified:
November 26th, 2023
by