Corkscrews are a common element found on lots of roller coasters, often in pairs. A Corkscrew occurs when the roller coaster track winds uniformly. Riders are rotated 360° perpendicular to the track with the element looking very similar to a corkscrew tool used to remove corks from bottles. Different roller coaster manufacturers shape and name their corkscrews differently, but they're all very similar.
The Corkscrew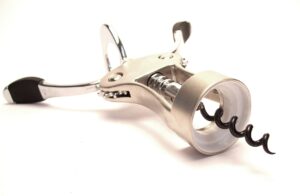 In the 1960s Arrow, who employed noted roller coaster designer Ron Toomer, introduced a successful product line of rides, such as the first log flume ride and the runaway mine train ride. Toomer, who designed some 80 rides for Arrow, worked on the company's helix-shaped corkscrew coaster, which first appeared at Knott's Berry Farm (Buena Park, California.) in 1975. Adding 360-degree rolls to the coaster design, the corkscrew was the first modern-day inversion element to be featured on a roller coaster. Rides named after the Corkscrew element were installed at both Flamingo Land Resort in North Yorkshire and Alton Towers Resort in Staffordshire. The Corkscrew ride at Alton Towers was Europe's first double-helix roller coaster, taking riders through two corkscrews. Due to the rides iconic status, you can still view the section of track that formed the two corkscrew inversions. This section of track was saved when the ride at Alton Towers was dismantled and is now displayed at the main entrance.
The Corkscrew – Flamingo Land Resort
On ride video of the Corkscrew at Flamingo Land Resort which featured a Double Corkscrew element.
Other Roller Coaster Elements
B&M Bolliger and Mabillard Terminology
Camelback
Immelmann
Dive Loop
Cobra Roll
Batwing
Pretzel Loop
Zero-G Roll
Flat Spin
Arrow Terminology
Raven Turn
Bowtie
Interlocking Loops
Corkscrew
Spiro Loop
Boomerang
Cutback
RMC Terminology
Corked Roll
Step Up
Quad Down
Top Gun Stall
Twist & Shout
Trick Hill
Wave Turn
Corkscrew
was last modified:
November 27th, 2023
by