The Cú Chulainn Coaster is located at Tayto Park in Ashbourne, County Meath, Ireland. The £8.5m ride manufactured by The Gravity Group opened on 6 June 2015. The wooden roller coaster was part of a €26 million investment at Tayto Park, which also included 7 other new attractions for the 2015 season.
The Cú Chulainn Coaster at Tayto Park
The Cú Chulainn Coaster is themed on the mythological lore surrounding Irish hero Cú Chulainn, whom the ride is named after. The figure of Ireland's greatest mythological warrior is emblazoned across the front of the rollercoaster, Cú Chulainn leads his passengers through an epic and thrilling experience like no other. It is Ireland's first roller coaster and Europe's largest wooden rollercoaster to feature an inversion.
The Cú Chulainn Coaster Statistics
Click the Compare Button below to compare the statistics of up to 5 roller coasters. Click Here to see a listing of all UK Roller Coasters available for comparison.

Top Speed – 90km/h 56mph
Cost – £8m
Length – 3583ft 1092m
Height – 105ft 32m
Manufacturer – The Gravity Group
Type – Wooden
Lift/Launch – Chain Lift
Inversions – 0
G-Force – Unknown
Trains – 2
Passengers per Train – 24
Ride Duration – 2m 45s
Theme Park – Tayto Park
Year Opened – 2015
Ride Elements: Chain Lift Hill, 2 Tunnels, 115.0° Over-Banked Curve
Does Cú Chulainn Feature an Inversion?
On Tayto Parks official website they state that Cú Chulainn is Europe's largest wooden roller coaster with an inversion. This contradicts many other roller coaster websites whose statistics state that the ride has zero inversions as we have above. In order to clarify this, it is due to one of the outstanding features of the ride being a banked turn which reaches an angle of 115 degrees. As the roller coaster train passes through this section of track, the riders will technically be upside down. This is a first for a wooden roller-coaster in Europe.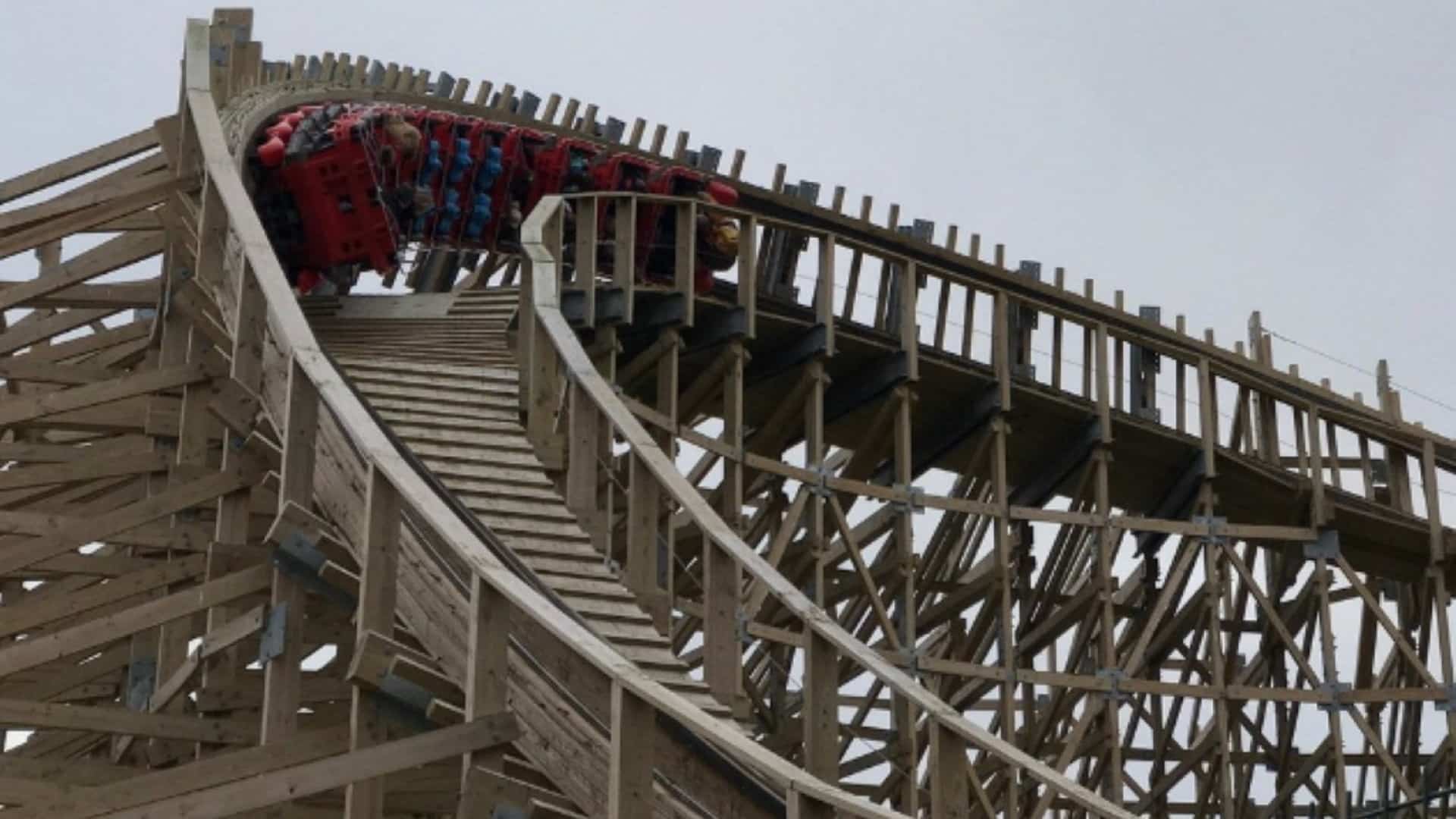 Construction of Cú Chulainn
A team of 70 engineers and builders from the Globally renowned roller coaster manufacturer The Gravity Group worked on the ride. The manufacturing company from Cincinnati, Ohio have created over 50 wooden rollercoasters around the world.
Cú Chulainn is constructed from over 800,000 kgs of yellow pine wood transported from Southern USA. The impressive structure also incorporates more than 100 tonnes of steel and collectively over 700,000 nails and bolts.
Rollercoaster builder Jeff Mason and engineer Korey T. Kiepert from The Gravity Group have over 40 years collective experience both designing and constructing some of the worlds most adrenaline-fuelled rollercoasters. Between them, they have worked on over 73 rollercoasters around the world. Korey said "We always try to make each ride the best ride possible for its size. When we have the chance to break a record – we go for it! When this ride opens to the public, its overbanked turn will give people a taste of going upside down – a first for a wooden coaster in Europe, so we are pretty excited about this."
The Legend of Cú Chulainn
Cú Chulainn is named after one of the great eternal heroes of Irish history, with the figure of the great Irish warrior Cú Chulainn emblazoned across the front of the roller coaster train. The Irish warrior who defended the province of Ulster against the great army, mustered by Queen Medb of Connacht. Great was his rage as he went into battle, that the 'warrior light' rose from his brow. All feared to engage in single combat with Cú Chulainn as his javelin would tear you apart.
A €26 million Investment
In addition to the €8.5m rollercoaster (£8m), 2015 also saw the addition of seven extra heart-racing attractions to Tayto Park. Taking its cue from world-renowned theme parks, the 'Air Race' will set your heart pounding. The new ride is the perfect way for adrenaline junkies to ease their way into the park clocking up some pulse-racing speeds. Another thrilling addition was 'Rotator', one of only 4 rides of this type in the world, it offers thrill-seekers an incredible high-speed spinning sensation.
Little ones also benefitted with the addition of 'Super Hero Training Wall', a 10-metre vertical climbing wall. Other new attractions included a three carriage road train which transports visitors from one end of the park to the other, a steam train ride which circles around Tayto Park and the only 5D cinema in Ireland.
In addition to the new rides, a 'Dinosaurs Alive' attraction was also added. This awe-inspiring, life-like animatronic dinosaur spectacular features the mighty Tyrannosaurus Rex, Stegosaurus, Apatosaurus, Dilophosaurous, and Baryonyx.
UK Roller Coaster Rides
If you enjoyed reading about Cú Chulainn at Tayto Park, you may also be interested in these other Roller Coasters located at Theme Parks across the UK.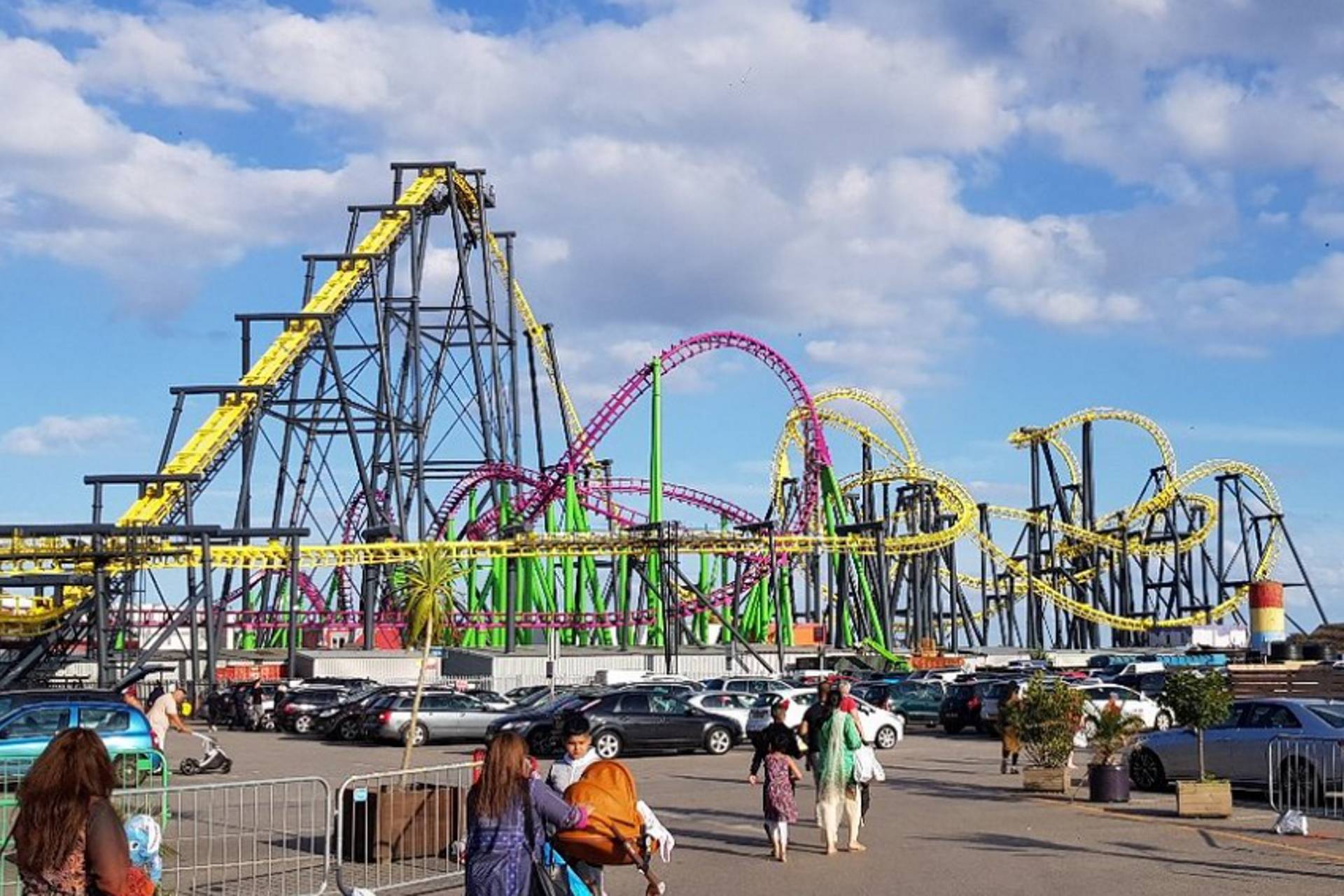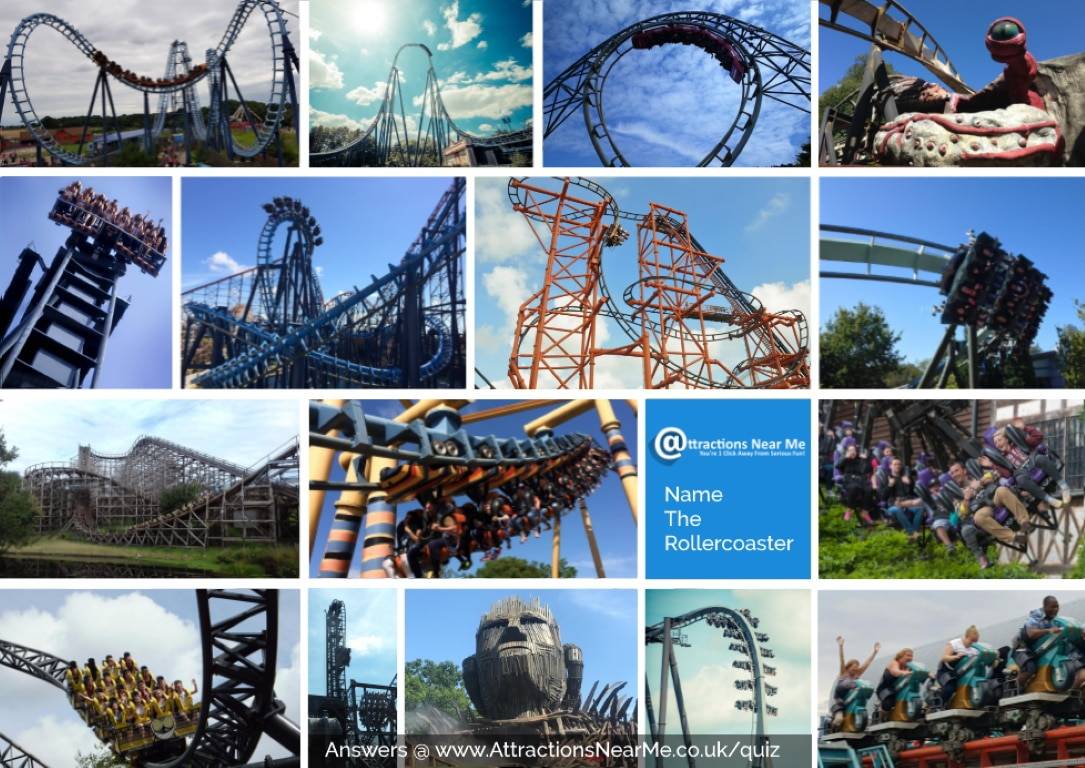 Attractions Near Me Offers
View More Discount Days Out at Attractions Near Me
Also, like our Facebook page for notification of any new offers Facebook.com/AttractionsNearMe
The Cú Chulainn Coaster
was last modified:
August 4th, 2023
by
Dan
Theme Park
Previously known as Tayto Park, Emerald Park is a Theme Park and Zoo in Meath, Ireland which has over 100 rides and attractions on offer for you to experience. With such a wide variety of things to see and do, Emerald Park caters for all ages. Attractions at Emerald Park Emerald Park is Ireland's only Theme Park, located adjacent
Read more…
Roller Coasters Nearby
Manufacturer:
WGH Transportation
The Green Dragon is located at Greenwood Family Park in North Wales. Constructed in early 2004, the Green Dragon utilises people power and is the only rollercoaster of its kind in the world, combining a traditional roller coaster with funicular technology that was developed and used 200 years ago in the slate quarries of North Wales. The Green Dragon roller
Read more…