SEA LIFE Loch Lomond is a family attraction boasting all manner of Scottish sea and freshwater species, with more than 25 exhibits containing inhabitants of the Clyde Estuary and the North Sea. Guests can also view creatures from farther-flung shores, including the Pacific and Atlantic Oceans. SEA LIFE Loch Lomond is, without a doubt, a superb family day out.
SEA LIFE Loch Lomond Exhibits and Attractions
Journey through SEA LIFE Loch Lomond and discover a magical underwater world. As you pass through the interactive themed zones, you will encounter some of the world's most incredible animals, including huge sharks, sassy seals, mysterious stingrays, playful penguins, seahorses, thousands of tropical fish, and much more.
Bay of Rays
Be enchanted by the assortment of amazing rays. Here you will find an assortment of amazing creatures swimming around in their tank including Scotland's only Cownose rays.
Lochs of Scotland
Look out for the rare albino dogfish as you explore the Lochs of Scotland and see some of the amazing creatures that can be found in our native waters.
Deep Water Loch
The Deep Water Loch exhibit is home to native species of sharks and rays that can be found in UK waters.
Otters
The Asian Short Clawed Otters that reside at the attraction are a highlight of a family day out with their amazing territory featuring a cascading waterfall and full-flood stream. Asian Short Clawed Otters are the smallest of all species of Otter. Take a sneaky peek into the otter's den and meet the troublesome Otter trio, Lily Pickle and Cubvia. Watch as they splash about in the Otter River and snack on their favourite treats – peanuts!
Seahorse Cove
SEA LIFE Loch Lomond was the first Aquarium in Scotland to successfully rear Big Bellied Seahorses to adulthood. View them at Seahorse Cove.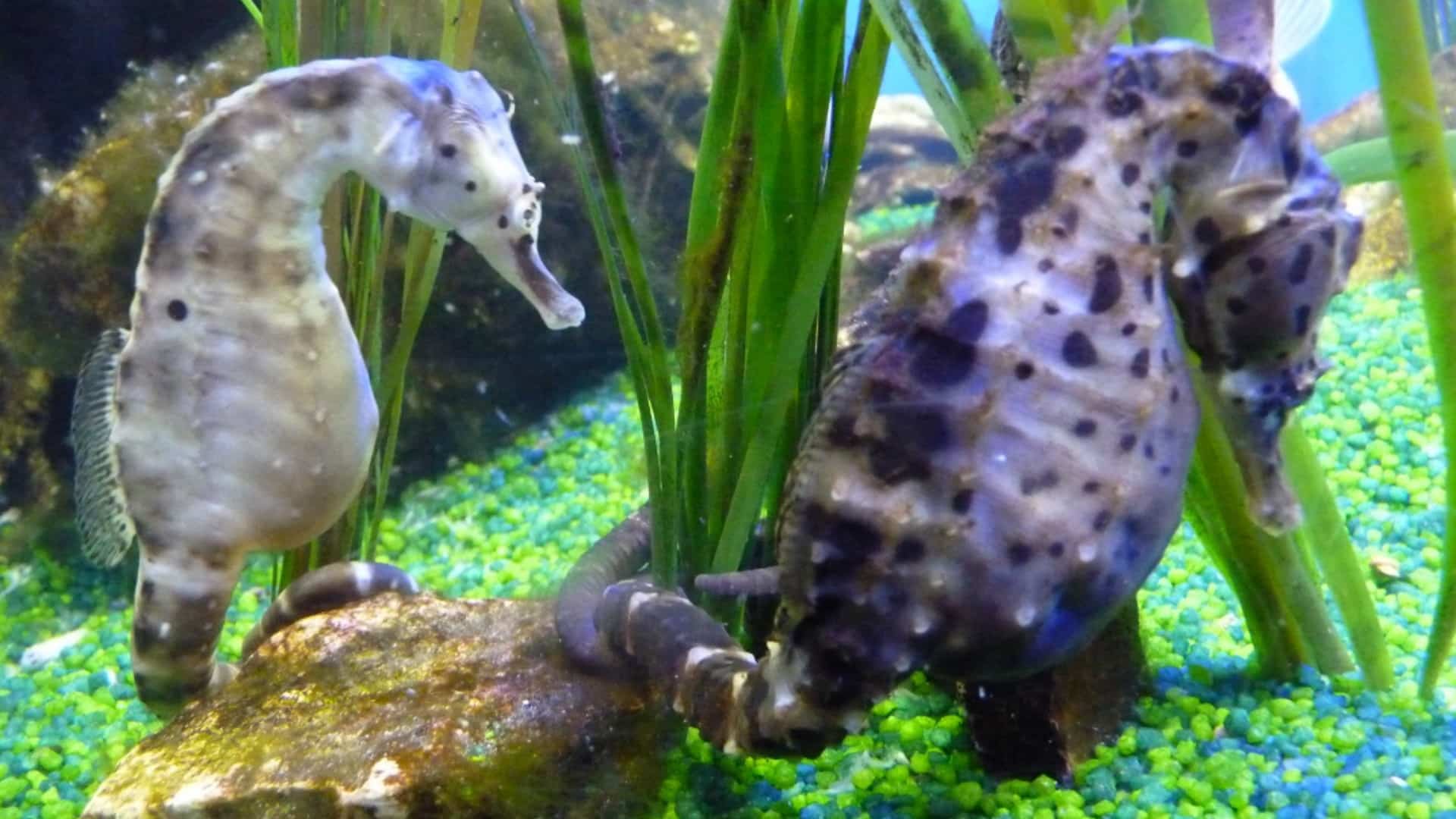 Tropical Ocean Tunnel
Journey through the Tropical Ocean Tunnel, where you can come face-to-fin with Blacktip sharks, rays and other critters of the seas.
The Tropical Ocean Display contains a re-created submerged wreck – the SS Sea King – which was put together not far away on the river Clyde, and its observation tank teems with tropical fish and sharks, not to mention the eye-catching wreckfish, all of which can be viewed from a transparent tunnel.
Rockpool
Rockpools are amazing micro-habitats full of incredible creatures, here you can stroke a Starfish, or tickle a Sea Anemone. Experts are on hand to guide you through this unique opportunity to learn more about these fascinating micro-habitats and the incredible creatures that thrive in them.
Breed, Rescue, Protect
In this area, you will find out more about what SEA LIFE and the SEA LIFE Trust are doing to help threatened marine life.
Conservation is at the heart of what they do at SEA LIFE Loch Lomond. There are plenty of opportunities to learn about the threats facing marine life and what you can do to help as you explore with them.
Food and Drink
Relax in the coffee shop and take in the breathtaking views of Loch Lomond. The cafe serves soup, sandwiches, wraps and kid's lunch boxes. They also offer a great range of cold drinks and confectionery. Enjoy a Costa Coffee as well as delicious cakes, it's the perfect place to refuel. There is also outdoor seating available and a picnic area which is the perfect setting to enjoy the beautiful view of Ben Lomond.
Admission Prices and Offers
SEA LIFE Loch Lomond is part of the Merlin Entertainments group of attractions, meaning that vouchers are regularly available offering 2 for 1 entry. Purchase your tickets from The Official Sealife Website or view our SEA LIFE offers page for the latest Discounts and Special offers. You can also pre-purchase your entry tickets using Tesco Clubcard points. Merlin Annual pass holders get free entry to all the Sea Life centres across the UK in addition to a number of other Merlin attractions.
Click Here to visit the SEA LIFE Loch Lomond Official Website.
Travelling to SEA LIFE Loch Lomond
SEA LIFE Loch Lomond Aquarium is just 30 minutes from Glasgow, situated beside the Loch Lomond Shores shopping and leisure complex on the stunning banks of Loch Lomond. There are a variety of ways to get there if you are travelling by car follow the brown tourist signs.
Travelling by Train
SEA LIFE Loch Lomond is a short walk from Balloch train station – trains directly from Glasgow Queen Street Monday to Saturday or from Glasgow Central on a Sunday.
Search for your train tickets using Raileasy.
Nearby Accommodation
There are loads of places to stay near Loch Lomond, if you are looking for accommodation then try Hotels.com or Travelodge and Britannia Hotels are always a good option for budget hotel accommodation.
Click Here to view our Accommodation Offers Pages for some great deals on short breaks.
Attractions Near Me Offers
For the best deals and Discount Days Out visit our Offers page Attractions Near Me
Also like our Facebook page for notification of any new offers Facebook.com/AttractionsNearMe
SEA LIFE Loch Lomond
was last modified:
June 16th, 2023
by
Dan
Related Listings
Dive into a marine adventure at the Lakes Aquarium. The attraction is a great experience for children and is home to Britains largest collection of freshwater fish. It is a great day out for the whole family. Kids will love the daily talks and getting to know all of the fascinating residents. Lakes Aquarium Situated at the southern tip
Read more…
Journey beneath the sea at SEA LIFE Blackpool. There are over 2000 Amazing Creatures at Blackpool SEA LIFE centre ranging from starfish to sharks and stingrays. You'll be able to get closer to them than ever before. Many of the creatures at SEA LIFE Blackpool are on the endangered list, have been rescued and cannot be released into the wild
Read more…
SEA LIFE Manchester Aquarium transports you into the amazing underwater world. Prepare for astonishingly close views of everything from humble starfish and seahorses to graceful rays, powerful sharks and the resident green sea turtle. Attractions and Exhibits at SEA LIFE Manchester Dive into a marine adventure at the SEA LIFE Manchester Aquarium. The attraction is a great experience for
Read more…
Journey beneath the sea at SEA LIFE Scarborough. Offering a unique mix of indoor and outdoor displays, you can see many creatures from starfish to sharks and pipefish to penguins. Exhibits and Attractions at SEA LIFE Scarborough There's lots to do and see at SEA LIFE Scarborough, with one of the highlights being the Ocean Tunnel. Bay of
Read more…
SEA LIFE Bray is a family attraction boasting over 1000 Freshwater and Marine animals from Ireland and around the world. Guests can also view creatures from farther-flung shores, including the Pacific and Atlantic Oceans. SEA LIFE Bray is, without doubt, a superb family day out. SEA LIFE Bray Exhibits and Attractions Journey through SEA LIFE Bray and discover a
Read more…