Wicker Man is located at Alton Towers Resort in the beautiful Staffordshire countryside. The £16m ride has set several milestones among wooden roller coasters, including the first to be built in the UK in over 20 years, the last one being Megafobia at Oakwood Theme Park in Wales. Wicker Man was also the first to incorporate fire. Initially codenamed "Secret Weapon 8", a traditional naming scheme for upcoming projects at Alton Towers, its official name was revealed in January 2018.
Wicker Man at Alton Towers
Wicker Man is the UK's first new wooden coaster built in over 20 years, a globally unique experience that will reconnect riders with the primal essence of rollercoasters. Wicker Man is potentially the best roller coaster in the UK, although it faces tough competition from ICON at Blackpool Pleasure Beach.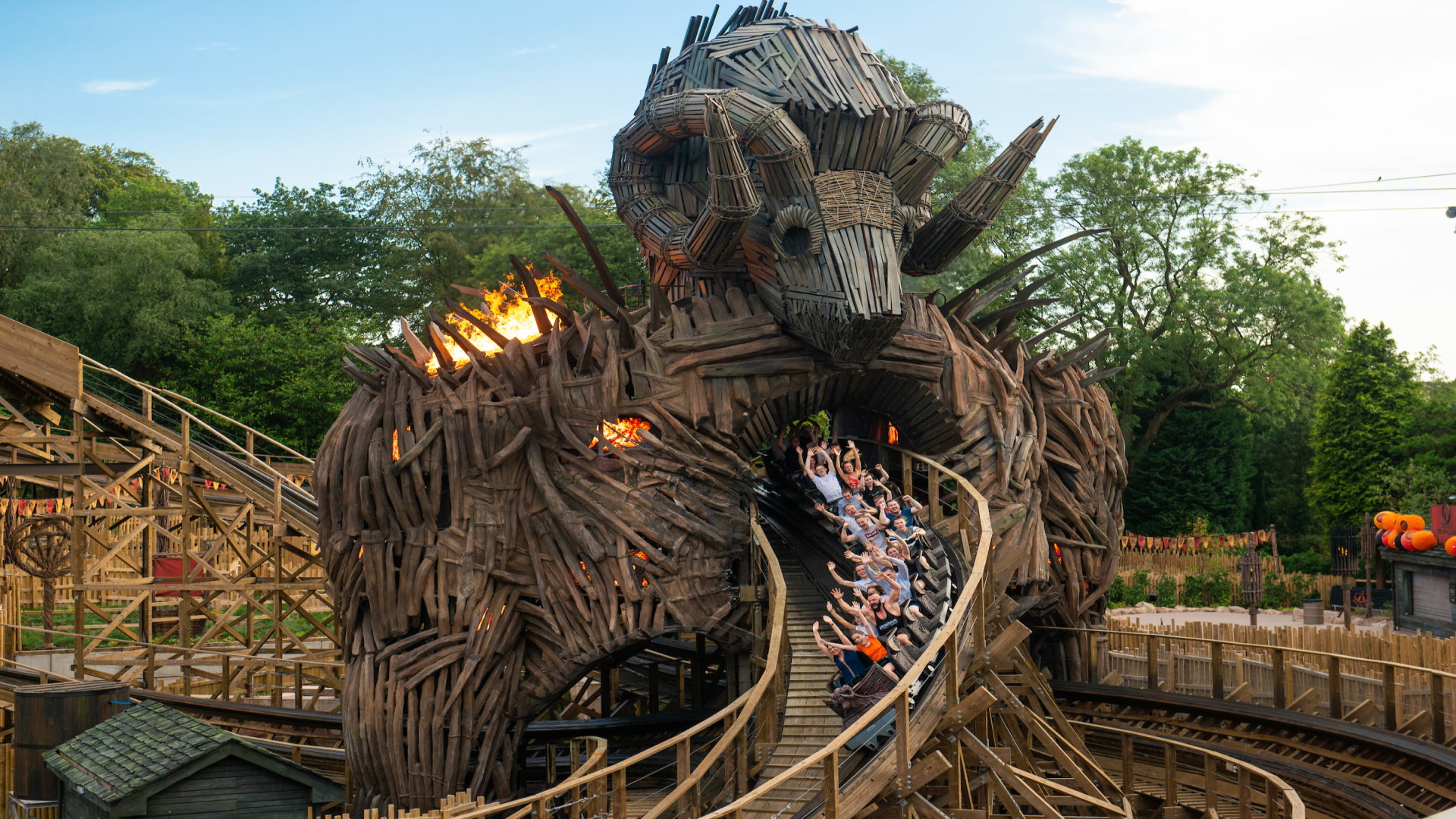 The Wicker Man Experience
Guests are 'chosen' to take part in a celebratory 'rite of passage' as they race through the flaming Wicker Man." The £16m thrill ride is one of the world's most immersive rollercoaster experiences to date, unifying cutting-edge special effects with classic wooden coaster technology for the first time. The chosen ones can climb on board the Beornen's train passing further into their secretive world, splintering around a labyrinth of twisted track. The burning embers light the path as the train hurtles towards the six-storey-high flaming effigy. Speeding towards the Wicker Man, he spectacularly ignites into flames as the train bursts through his chest three times.
Wicker Man Statistics
Click the Compare Button below to compare the statistics of up to 5 roller coasters. Click Here to see a listing of all UK Roller Coasters available for comparison.

Top Speed – 70km/h 44mph
Original Cost – £16m
Est Cost Today – £17.5m
Length – 2608ft 795m
Height – 65ft 20m
Manufacturer – Great Coasters International
Type – Wooden
Lift/Launch – Chain Lift
Inversions – 0
G-Force – 2.7 estimated
Trains – 3
Passengers per Train – 24
Ride Duration – 3m 30s
Theme Park – Alton Towers Resort
Year Opened – 2018
Construction of the Wicker Man
Before work commenced on the Wicker Man, Alton Towers initially explored options to open a new attraction in the Forbidden Valley section of the Theme Park alongside Nemesis and Galactica. In 2015, the plans were eventually dropped in favour of developing the former site of The Flume, which closed that same year.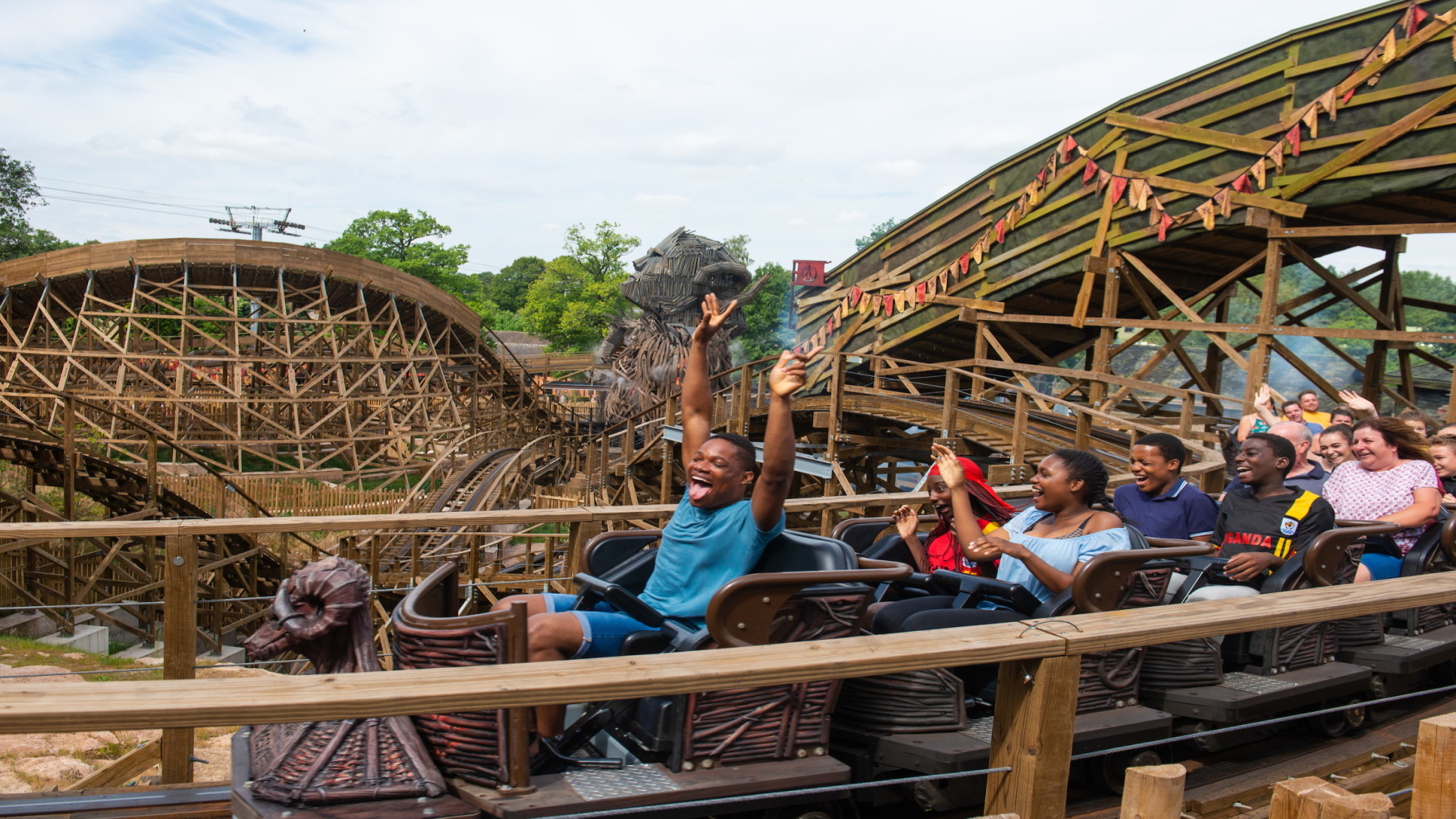 Secret Weapon 8
Wicker Man was designed by Merlin Entertainments. John Wardley, who has been involved in a number of Alton Towers Secret Weapons was brought in at a late stage to improve the ride's first drops, describing the original profile as "atrocious" with the planned drops "lacking major thrill". He added, however, that he was "sure the Wicker Man will be a huge success". Construction on the new ride, which was initially named "Secret Weapon 8" (SW8), commenced on 28 November 2016 following the demolition of The Flume.
The first timber for the coaster arrived at Alton Towers on 4 May 2017. The lift hill's construction reached its highest point in early July, and by October 2017, sections of track were installed.
Wicker Man opened to the general public on 20 March 2018, three days behind schedule due to inclement weather.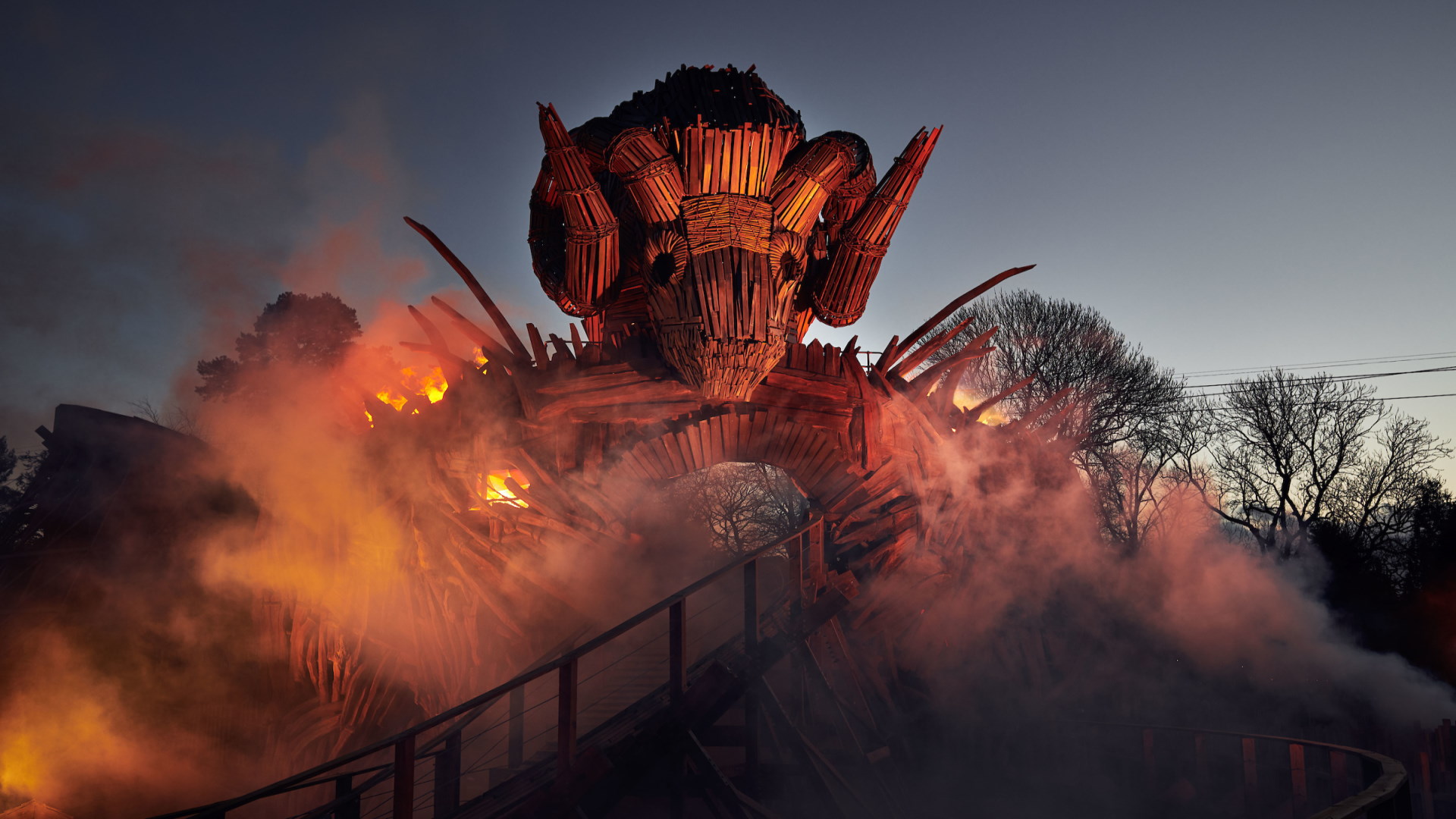 Wicker Man Ride Theming
Wicker Man features a pre-show using video, sound and projection mapping developed by Holovis, to introduce the backstory for the ride. This explains to guests how the Beornen is a secret community living in the woods around Alton, who worship the Wicker Man and every year they gather and provide a sacrifice. That sacrifice is you!
Giant Flaming Wicker Man
The main piece of theming is a giant flaming Wicker Man standing 6-stories high. The spectacular centrepiece uses a clever combination of video screens, lighting, smoke, mist and real fire. The coaster train passes through the 58ft effigy three times, each time it bursts into flames as you plunge in and out of it at high speed.
John Wardley – Ride Designer
For anyone who would like to learn more about John Wardley, the man who designed AIR, Nemesis and a number of other Alton Towers rides, we recommend this book. The autobiography of the man who brought the theme park concept to Britain, and created some of the world's most thrilling rides and attractions.
Purchase a copy of John Wardley's book on Amazon – 'Creating my own Nemesis'
Alton Towers Secret Weapons
The roller coasters at Alton Towers Resort often claim title to World's First elements. Alton Towers Resort often give as little away as they can when building these new rides, giving them Secret Weapon codenames. As the construction of the ride progresses marketing campaigns are launched giving thrill seekers little insights into what is to come, this always leads to lots of speculation on Social Media. During construction, Nemesis was referred to as Secret Weapon 3.
Alton Towers Secret Weapons Timeline
Secret Weapon 1: 1991 – Arrow Pipeline Rollercoaster (Never Built)
Secret Weapon 2: 1992 – Arrow Pipeline Rollercoaster (Never Built)
Secret Weapon 3: 1994 – Nemesis in Forbidden Valley
Secret Weapon 4: 1998 – Oblivion in X-Sector
Secret Weapon 5: 2002 – Galactica in Forbidden Valley (originally named AIR)
Secret Weapon 6: 2009 – Th13teen in Dark Forest
Secret Weapon 7: 2013 – The Smiler in X-Sector
Secret Weapon 8: 2016 – The Wicker Man
UK Roller Coaster Rides
Click Here to view and compare stats on all roller coasters here in the UK.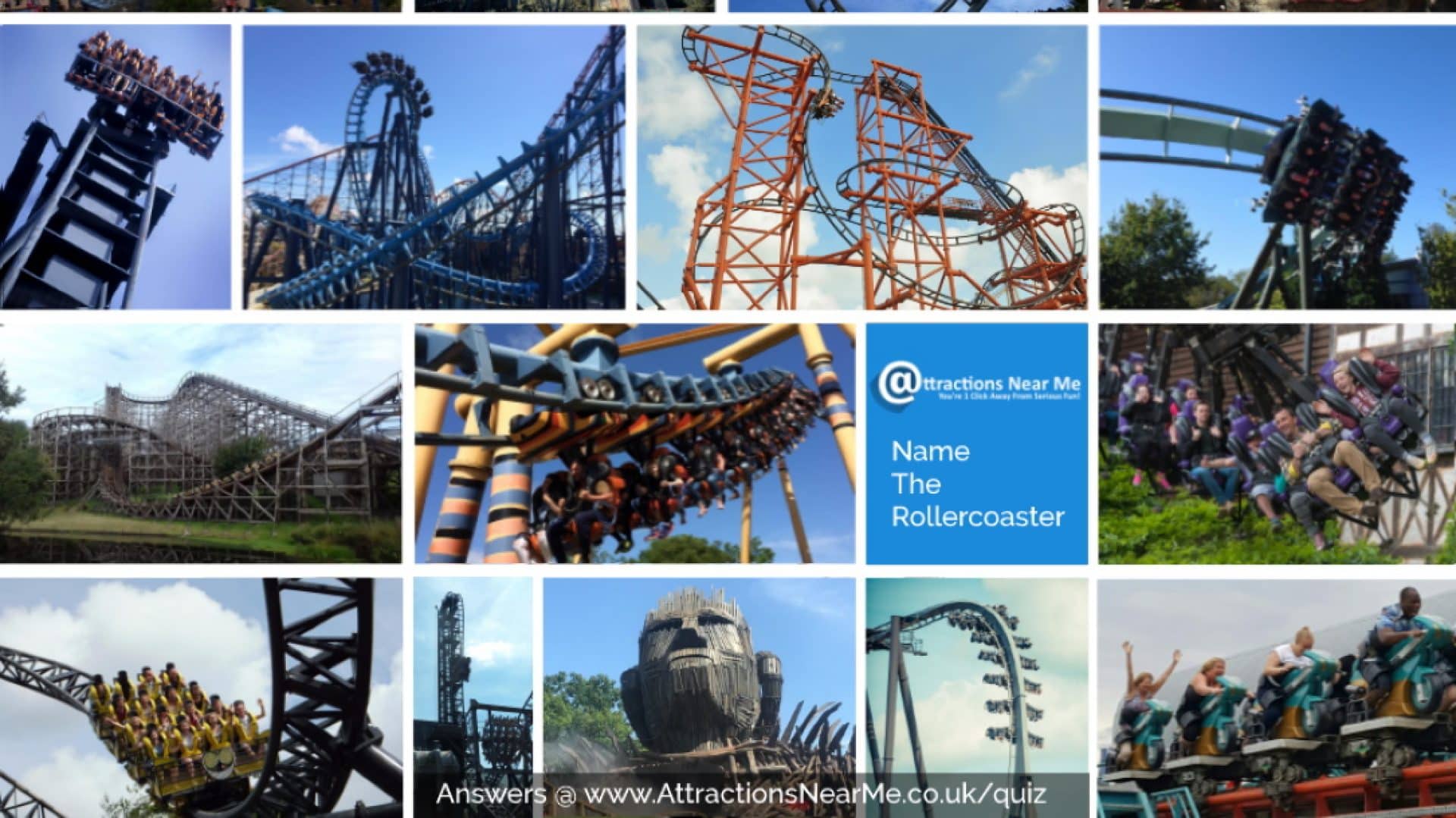 UK Roller Coasters
Roller Coaster Quiz
Alton Towers Roller Coasters
There are seven thrilling roller coasters on offer at Alton Towers.
Wicker Man is the UK's first new wooden coaster built in over 20 years, a globally unique experience that will reconnect riders with the primal essence of rollercoasters. Wicker Man was also the first to incorporate fire.
Galactica is a flying roller coaster located in the Forbidden Valley area of the Theme Park. The £12m thrill ride was the first-ever flying coaster manufactured by Bolliger & Mabillard (B&M) and features a dual-platform loading station, permitting three trains to operate simultaneously.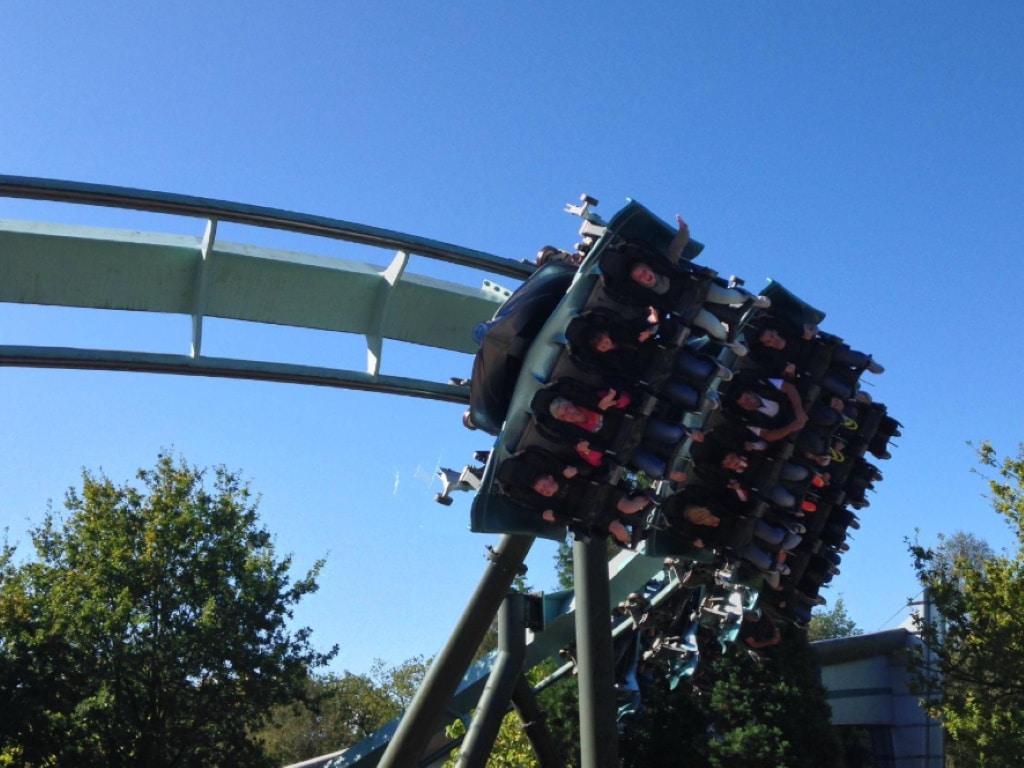 One of the best roller coasters here in the UK, Nemesis is an angry alien creature trying to rip its way out of the ground. It was Europe's first inverted roller coaster and features a truly thrilling storyline.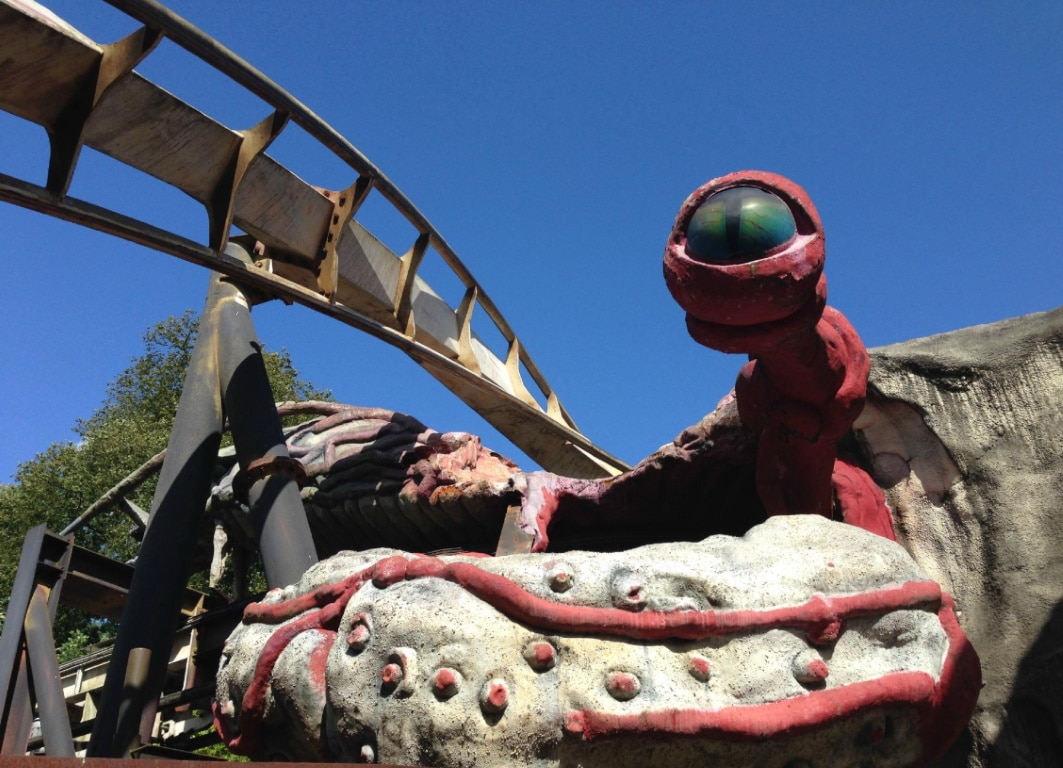 Oblivion was the world's first vertical drop roller coaster featuring a 180ft drop at 87-degrees. As each car reaches the drop it is held by a holding chain for a maximum of five seconds, giving the rider a clear view of the long drop, before a brake is released allowing the car to drop into the tunnel. Each car features two rows, with the back row being slightly raised in order to give passengers a clear view of what lies ahead.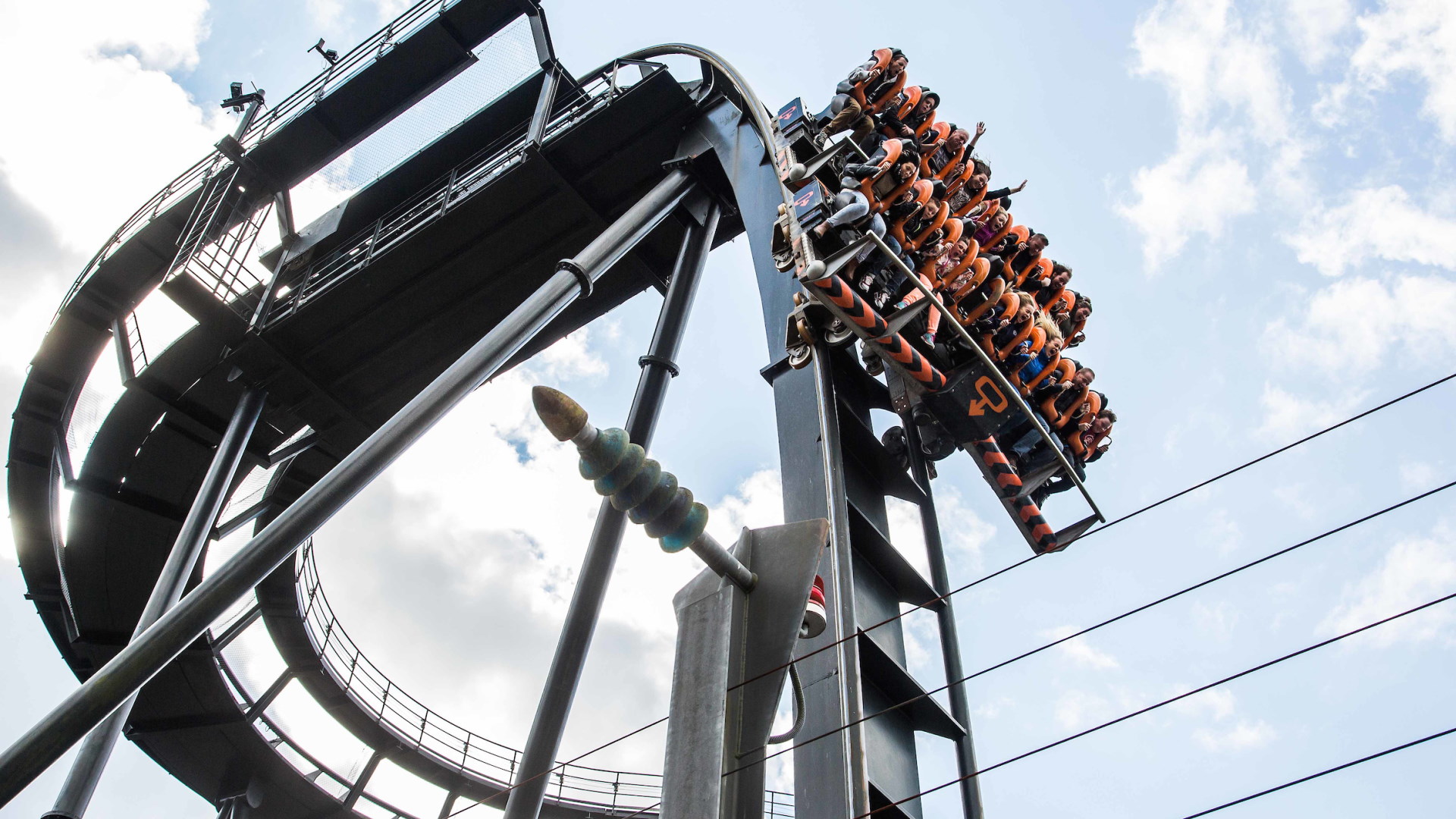 Rita starts with the train racing forward from the station area, accelerating from 0 to 98.3 km/h (61.1 mph) in 2.5 seconds. The ride negotiates high-speed corners and air-time hills. It was the first hydraulic Launch roller coaster of its kind in the whole of Europe.
The Smiler is the world's first and only 14 loop roller coaster. When viewed from off the ride, The Smilers batwing element resembles the Smiler logo. The roller coaster's twisting track combines the world-beating 14 loops with a speed of 85kph.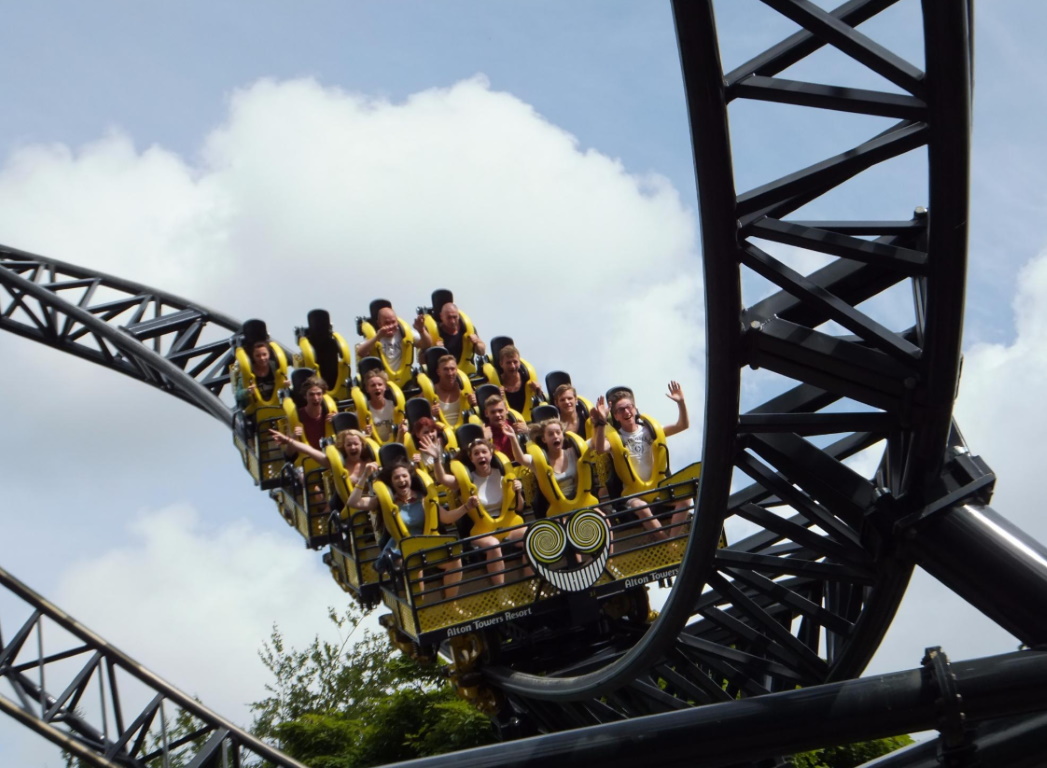 The £15m Th13teen ride was the world's first vertical freefall drop roller coaster, on which the track and train freefall in darkness.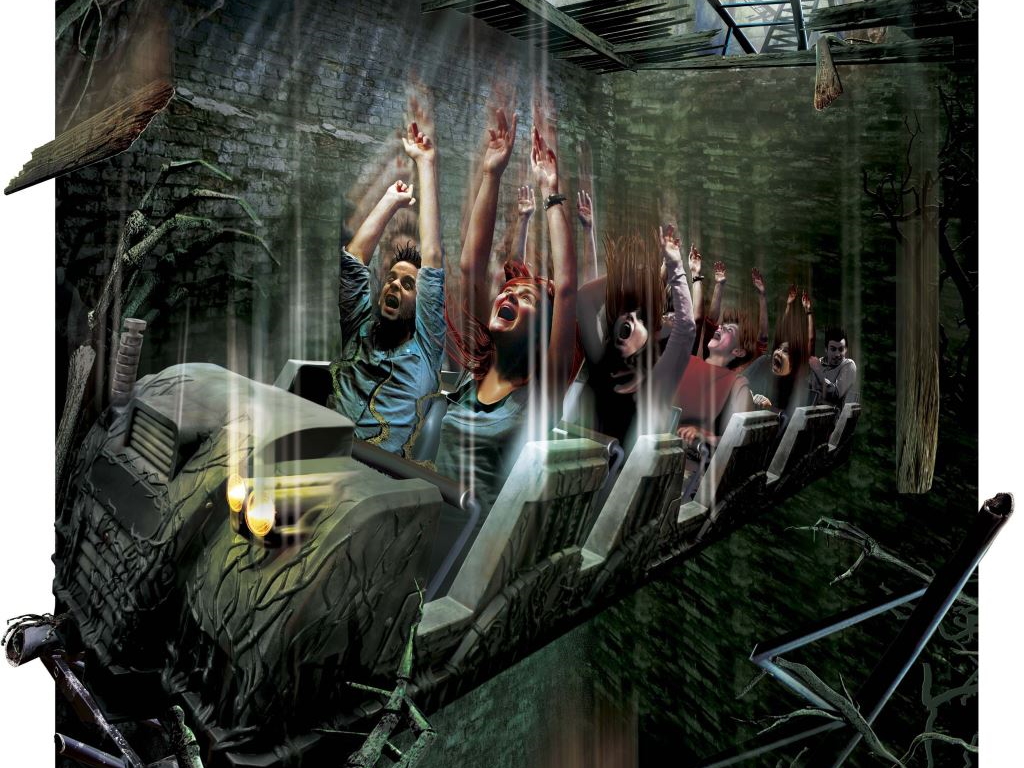 Attractions at the Alton Towers Resort
In addition to the famous Theme Park, you will also find a wide range of other Attractions at Alton Towers Resort.
Website Links
Alton Towers Resort Maps
Ride Height Restrictions
Attractions Near Me – Alton Towers Waterpark
Attractions Near Me – Merlin Entertainments
Alton Towers Resort Tickets
Purchase your tickets in advance to save time queuing at the entrance to the park and also save on the full-price admission. View our Alton Towers Resort Special Offers Page for the best discounts on your Tickets and Accommodation.
You can buy your tickets in advance direct from Alton Towers Official Website.
Travelling to Alton Towers Resort
Alton Towers is located in the beautiful Staffordshire countryside. There are a number of ways to get to Alton Towers. If you are travelling by car, Alton Towers Resort is between the M1 and the M6. When driving to any of Alton Towers Resorts Attractions use the postcode ST10 4DB. Please follow the signs for the final part of your journey, as your Sat Nav may attempt to take you down a local farm track, especially if you're coming down the B5417.
Please drive with care when you're in the area. There are many walkers, cyclists and horse riders, and the roads can be very narrow in places.
Travelling by Train
The nearest train station to Alton Towers is Uttoxeter, which is accessible from a large number of UK train stations including London, Birmingham and Newcastle upon Tyne, where trains depart every hour. Search for your train tickets using Raileasy. From Uttoxeter, the remainder of the journey can be made by taxi or bus (there is one daily bus service which takes approximately 40 minutes). Visitors also catch trains to Alton Towers via Stoke-on-Trent (four bus departures daily) and Nottingham and Derby (both one bus service daily).
Nearby Accommodation
There are lots of places to stay in the Peak District. Alton Towers is surrounded by beautiful countryside.  The theme park offers on-site accommodation. If you only planning on visiting the park for one day and would like to explore some of the other attractions in the area then take a look at some of the wonderful self-catering cottages available from Snaptrip.
Attractions Near Me Offers
For the best deals and Discount Days Out visit our Offers page Attractions Near Me
Also, like our Facebook page for notifications of any new offers Facebook.com/AttractionsNearMe
Wicker Man
was last modified:
October 22nd, 2023
by
Dan
Theme Park
Alton Towers theme park in Staffordshire is the UK's most popular Theme Park. It offers a great variety of rides and attractions including record-breaking roller coasters like The Smiler and Thi3teen. Alton Towers also caters for younger guests with the world's first CBeebies Land. Alton Towers Theme Park Alton Towers is home to some of the UK's most well-known
Read more…
Roller Coasters Nearby
Manufacturer:
Maurer Sohne
Year Opened:
2004 (as Spinball Whizzer) 2010 (as Sonic Spinball) 2016 (as Spinball Whizzer)
Spinball Whizzer is located at Alton Towers Resort in the beautiful Staffordshire countryside. The spinning roller coaster ride is loosely themed on a pinball machine and the name was a pun on the song "Pinball Wizard" by The Who. Between 2010 and 2016, the ride was named Sonic Spinball as part of a sponsorship deal with Sega. Spinball Whizzer at
Read more…