Planning a trip to Alton Towers, read our insider tips to help you get the most from your visit.
Visiting Alton Towers
We are regular visitors to Alton Towers Resort, one of the UK's most popular theme parks. Visiting Alton Towers can be an expensive experience so spare 10 minutes to have a read through our insider tips in order to ensure that you get the maximum value from your visit.
We live over 2 hour's drive away from the park so we always stay at least one night as a minimum, our ideal itinerary is to drive to the park on a Friday night, visit the theme park on the Saturday and then, if we are staying on-site play Extraordinary Golf (which is included) and visit the Waterpark before our drive home on the Sunday.
We also try to ensure that we visit the Theme Park on days when it is open until 6.00pm or later despite the park normally being busier on these days. It is our personal opinion that leaving the park at 4.00pm does not justify the time and expense incurred.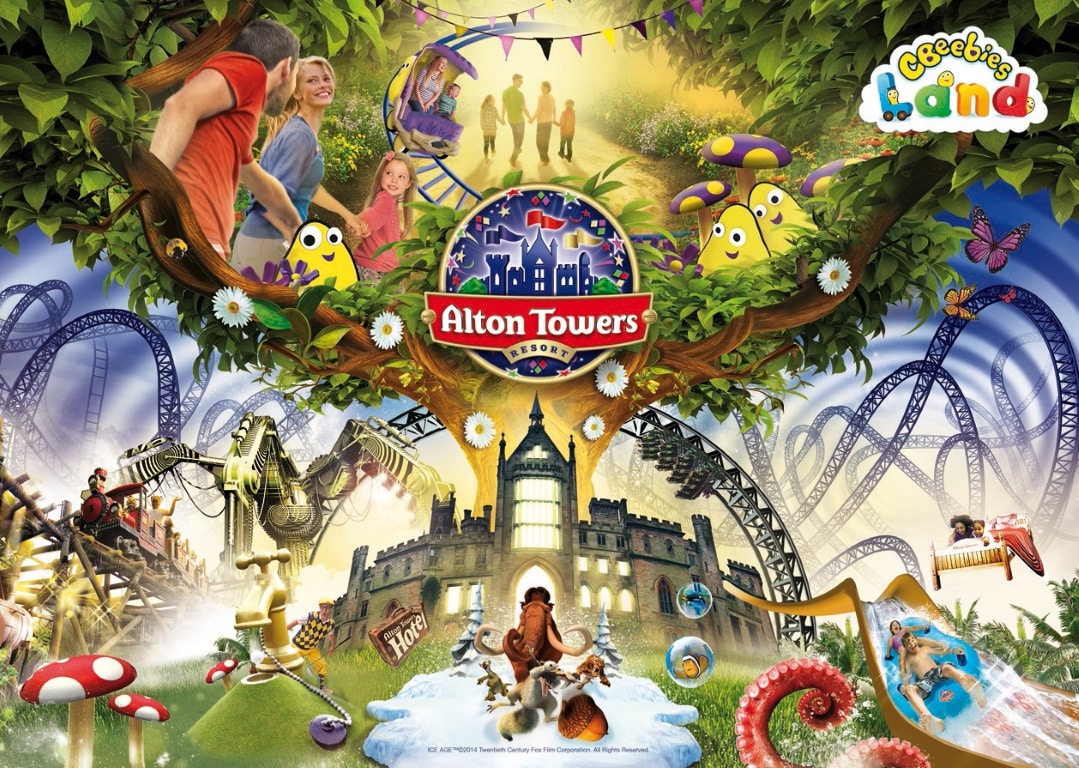 Alton Towers Tips and Tricks
In this post, you will find lots of tips and tricks to help you save both time and money on your next trip to Alton Towers Resort. Below are shortcuts to the different topics included in this article.
Main Season
Plan Ahead
Order Tickets Online
Short Breaks
Familiarise Yourself
Arrive Early
Height Restrictions
Lunch Time
Busy Times
Ride Queue Times
Car Parking
Park Closing Time
Accessibility
Fastrack
Rainy Day Guarantee
Discount Tickets
Alton Towers Waterpark
Thrilling Roller Coasters
CBeebies Land
Alton Towers Main Season
Alton Towers Theme Park is open from March until November every year, with the park then closing for Winter maintenance. Throughout selected dates, in November and December, you can enjoy a Festive Short Break or a Magical Christmas Day Out where a selection of the parks smaller rides and attractions will be in operation.
What's more, guests can enjoy the fantastic indoor Waterpark almost all year round, whatever the weather.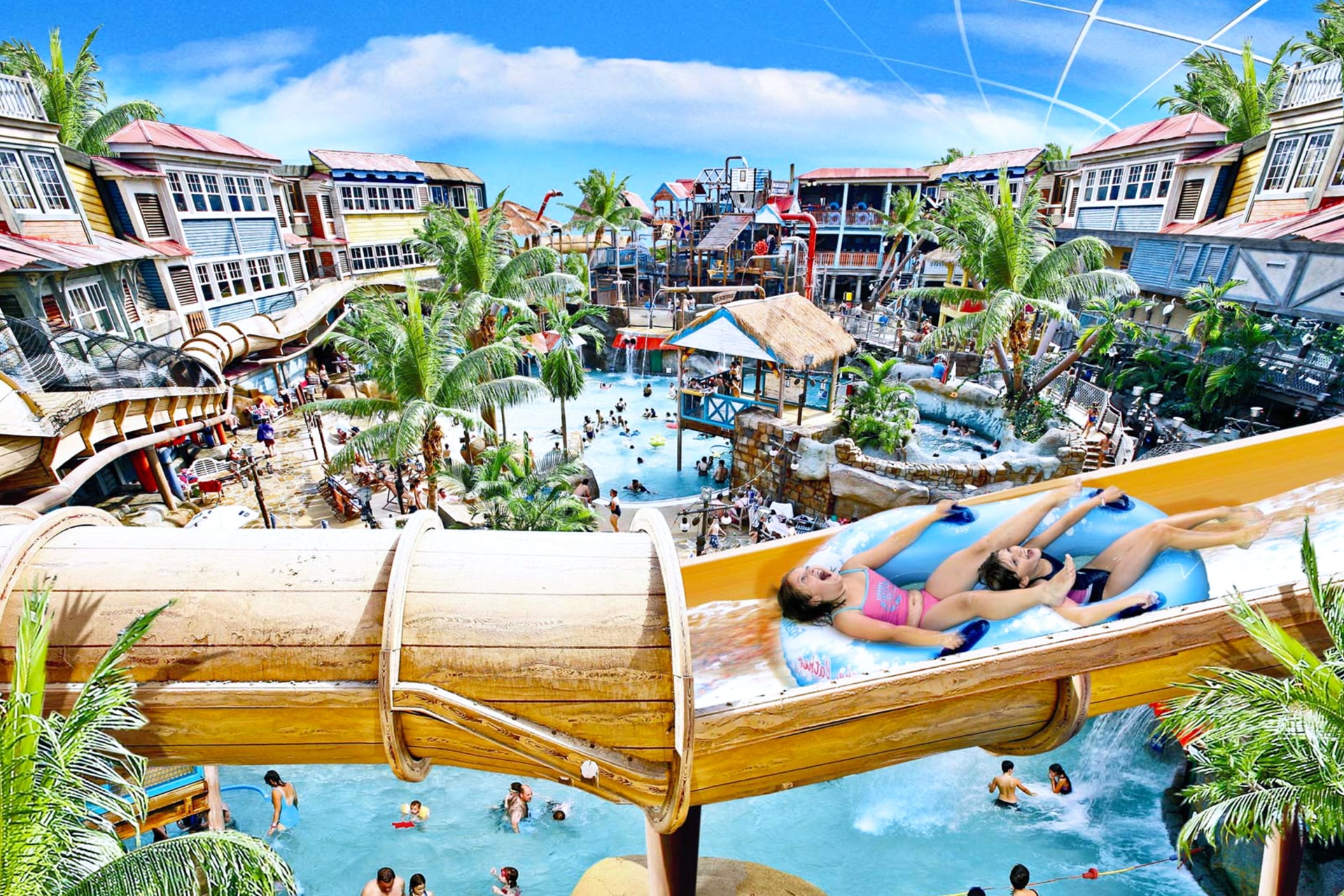 Plan Ahead
If you haven't visited the theme park before then take a look at the Theme Park Map and familiarise yourself with the park layout. Most guests start at the front of the park and make their way to the back so we would recommend that you do the opposite starting your day in either the Forbidden Valley or Dark Forest.
Click Here to view the Theme Park map.
Order Tickets Online
Keep a lookout for 2-4-1 vouchers which you will often find on Cereal Boxes, Crisp Packets and various other products found in your local supermarket.
Book your tickets online in advance as this will save you money and means that you can head straight to the turnstiles and don't have to worry about buying your tickets when you arrive at the park.
Buy your tickets from the Alton Towers Official Website or check our dedicated Alton Towers Special Offers page.
Short Breaks at Alton Towers Resort
Consider staying on-site at the resort where there is a wide range of accommodation to choose from. The park regularly run great deals on short stays which often include:
⭐ An unforgettable overnight stay with breakfast
⭐ Fantabulous evening entertainment
⭐ A 9-hole round of Extraordinary Golf
⭐ Free car parking

In addition to the Theme Park, additional activities include the fantastic Alton Towers Water Park, Extraordinary Golf, Alton Towers Spa and Rollercoaster Restaurant.
Accommodation options range from great value Stargazing Pods to the luxurious Enchanted Village Treehouses. See the full list of accommodation below.
Stargazing Pods
Alton Towers Hotel
CBeebies Land Hotel
Splash Landings Hotel
Woodland Lodges
Luxury Treehouses
Click Here for more details.
Familiarise Yourself
A lot of people don't realise just how big Alton Towers Resort is, there is not only the theme park, there are 3 on-site hotels and additional on-site accommodation options.
The attractions within the park are very spread apart, we would not recommend the walk from Forbidden Valley to the Dark Forest as it involves heading down into the valley and back up the other side, although the gardens on the route are very beautiful. It is much easier to use the Skyride but be warned this is very high so not ideal if you are scared of heights.
The park can be confusing for first-time attendees, especially if you attend on a busy day. Checking out the Theme Park Map on the Alton Towers Official Website can help you prepare for your visit. We would recommend that you also download the Alton Towers Resort Official App which includes an electronic version of the park map, tips on your visit and ride queue times.
Arrive Early
Alton Towers closes at different times in different seasons, depending on the light and weather but they nearly always open for fun at 10.00am. Check the Official Website for the Opening Times on the day you plan to visit.
Arriving at the park in advance of the advertised opening time will allow you to be amongst the first to enter the park and experience some of the rides before the park gets too busy. The car park is approximately a 20-minute walk from the theme park entrance with a monorail system used to transport guests but if you arrive at the advertised opening time then the queue for the monorail can get quite long. The Monorail and theme park entrance open 1 hour before the rides at 9.00am!
Check Ride Heights
Prior to your visit be sure to check the ride height restrictions and establish which rides you and your family are eligible to ride. If a member of your party is only just over the minimum height, once they have been measured you can ask for a wristband which they can wear for the rest of your day eliminating the need to get measured for future rides.
Click Here for an insight into each of the thrilling roller coasters on offer at Alton Towers Resort.
Lunch Time
Alton Towers offers a wide range of food and drink options with our favourite being the Explorers Pizza Pasta Buffet. If you want to experience something a little different then pay a visit to the Rollercoaster Restaurant (Click Here to pre-book). If you want to save some money, you can pack a lunch or picnic, and bring plenty of refreshments.
There are benches at various locations around the Theme Park that are suitable for picnics. For those with young children, the Big Time Showtime area in Cbeebies Land is the perfect place to sit down and have a picnic while you can also meet and interact with some of CBeebies biggest stars including Duggee, Tree Fu Tom and In The Night Garden.
If you bring your own water bottle, you are welcome to refill it for free at any of the Hydration Stations around the park or any of the Restaurants. You can add ice too and if you want to add some flavour then we recommend the Robinsons Mini fruit shots which can carry in your pocket. Alternatively, you can buy a smart refillable drinks vessel to keep and re-use during future visits.
On busy days you can often enjoy a slight reduction in ride queue times whilst guests stop for lunch.
Avoid Busy Times
Whilst some parts of Alton Towers Resort are open for events all year round, the main Theme Park opening times define the peak season.
The largest crowds are normally during school holidays and event days. Weekends are busier than weekdays but the park may stay open longer to allow guests time to experience the attractions. During Scarefest the rides stay open much later allowing guests to experience rides in the dark which is an unforgettable experience.

Ride Queue Times
When at the park Keep an eye on the Information Screens or refer to the Alton Towers Resort Official App which also provides up to date ride queue times.
Car Parking
If you are not staying on-site then you will need to purchase a car park token before returning to your car. The best time to purchase the car park token is at the start of the day since the token machines are much busier at the end of the day.
Park Closing Time
On occasions, theme park opening times may be extended on the day. Check the information screens located throughout the park for the latest information.
Make the last ride count and squeeze in one last ride at the ride close time. Each ride has an advertised close time, but be aware that this is when the queue closes, not the ride itself! There's always time for one more!
Accessibility
Alton Towers Resort strives to make sure that the Theme Park, Hotels, Waterpark and other extraordinary attractions are easily accessible to all their guests.
The Theme Park offers a Ride Access Pass to guests who may find it difficult or cannot stand for long periods of time either due to a physical disability or a learning/emotional impairment. Please Note, all Ride Access Pass applications must be completed online, at least 7 days before your visit.
Fastrack
At a price, you can get Fastrack passes which will reduce your waiting time allowing you to enjoy the most popular attractions.
Click Here for more details.
Rainy Day Guarantee
If it rains continuously for more than an hour during your visit to Alton Towers Theme Park, you can return for Free on a like for like visit. Pre-booking a reservation ticket is essential.
Click Here for more details.
Discount Theme Park Tickets
There are lots of ways to save on your Alton Towers Tickets, you can get 2-4-1 entry from cereal boxes and each year the Sun Newspaper run a promotion where they give away Free Theme Park Tickets including Alton Towers.
Visit our dedicated Alton Towers Offers Page for the best ways to save on your Alton Towers Theme Park Tickets.
Purchase your tickets in advance to save time queuing at the entrance to the park and also save on the full-price admission. View our Alton Towers Resort Special Offers Page for the best discounts on your Tickets and Accommodation.
You can buy tickets in advance directly from the Alton Towers Resort Official Website.
Enjoy discounted entry to Alton Towers Theme Park when you join Kids Pass. Click Here to take advantage of trial membership for only £1.
Alton Towers Waterpark
Our number one choice for Top 10 UK Waterparks, Splash Landings is a large indoor water park at Alton Towers Resort. A highlight of the water park is the Master Blaster Water Coaster which takes you around the whole Waterpark at breath-taking speed. This amazing water slide will have you screaming with joy.
Thrilling Roller Coasters
There are seven thrilling roller coasters on offer at Alton Towers.
Wicker Man is the UK's first new wooden coaster built in over 20 years, a globally unique experience that will reconnect riders with the primal essence of rollercoasters. Wicker Man was also the first to incorporate fire.
Galactica is a flying roller coaster located in the Forbidden Valley area of the Theme Park. The £12m thrill ride was the first-ever flying coaster manufactured by Bolliger & Mabillard (B&M) and features a dual-platform loading station, permitting three trains to operate simultaneously.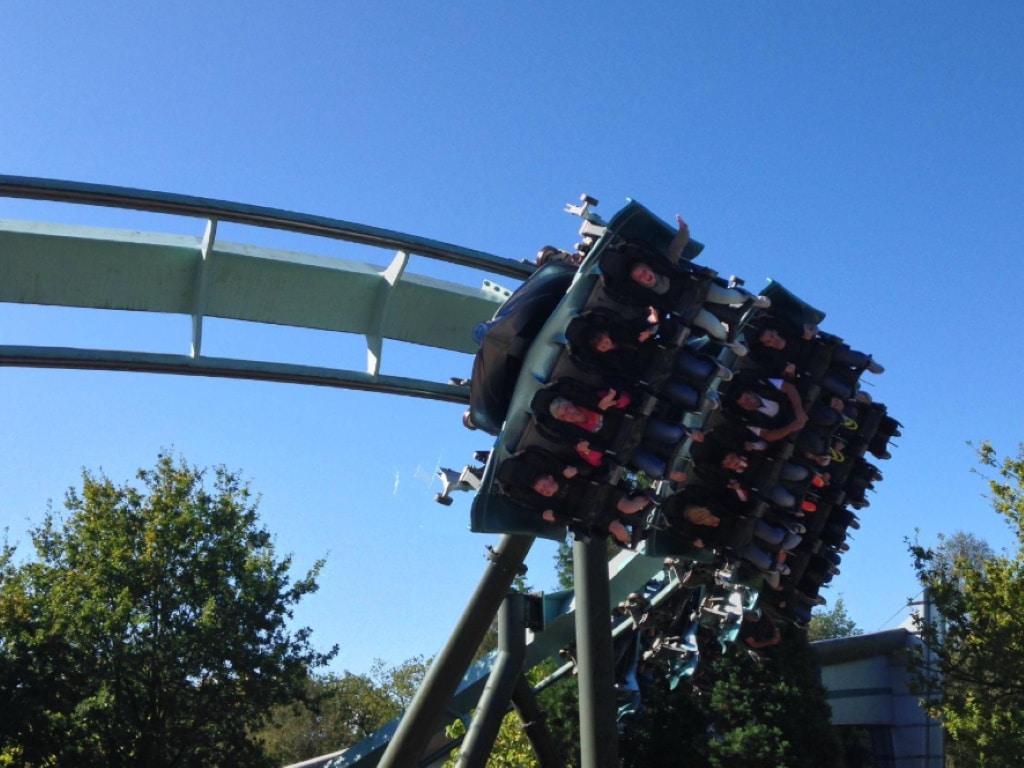 One of the best roller coasters here in the UK, Nemesis is an angry alien creature trying to rip its way out of the ground. It was Europe's first inverted roller coaster and features a truly thrilling storyline.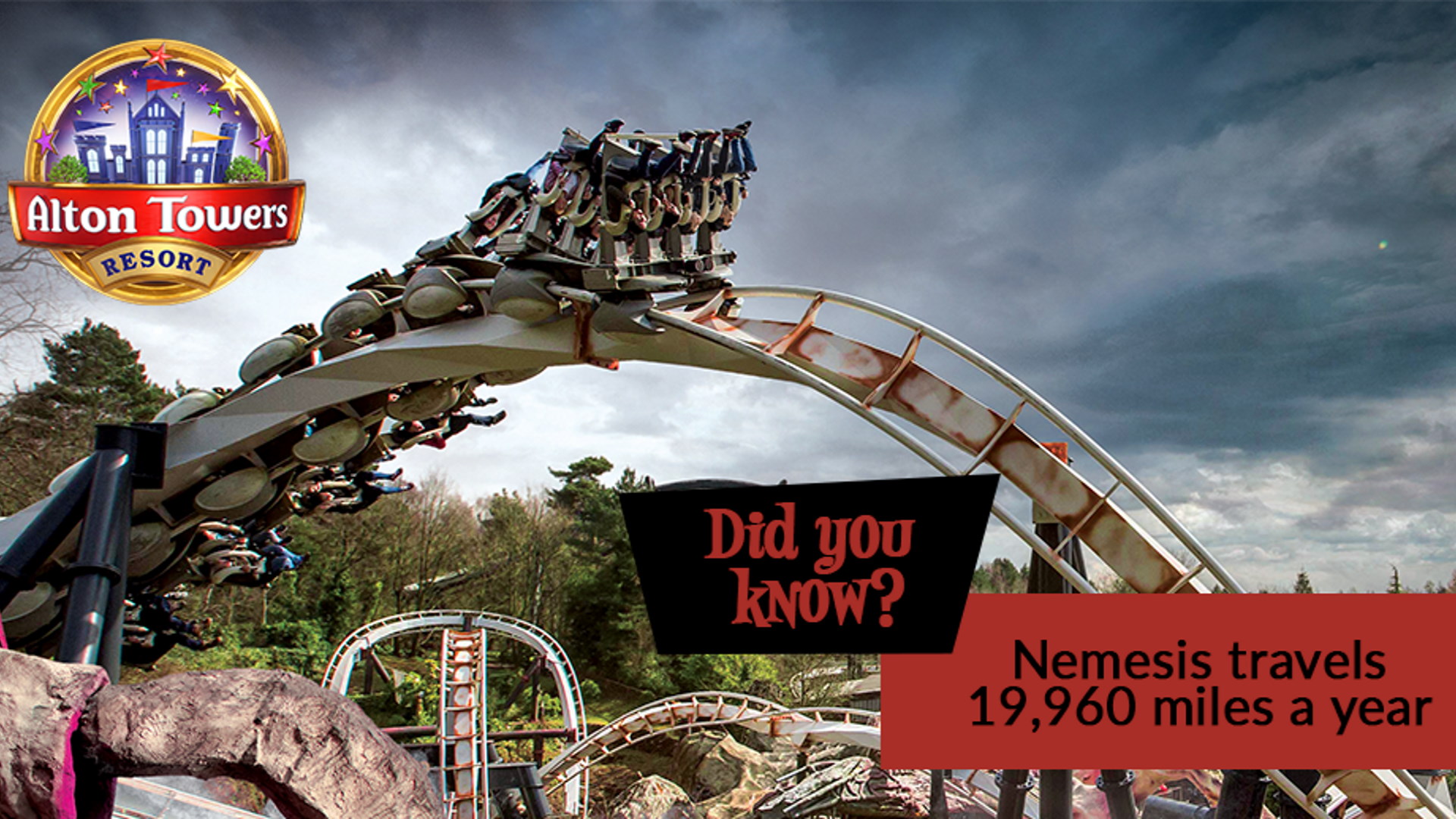 Oblivion was the world's first vertical drop roller coaster featuring a 180ft drop at 87-degrees. As each car reaches the drop it is held by a holding chain for a maximum of five seconds, giving the rider a clear view of the long drop, before a brake is released allowing the car to drop into the tunnel. Each car features two rows, with the back row being slightly raised in order to give passengers a clear view of what lies ahead.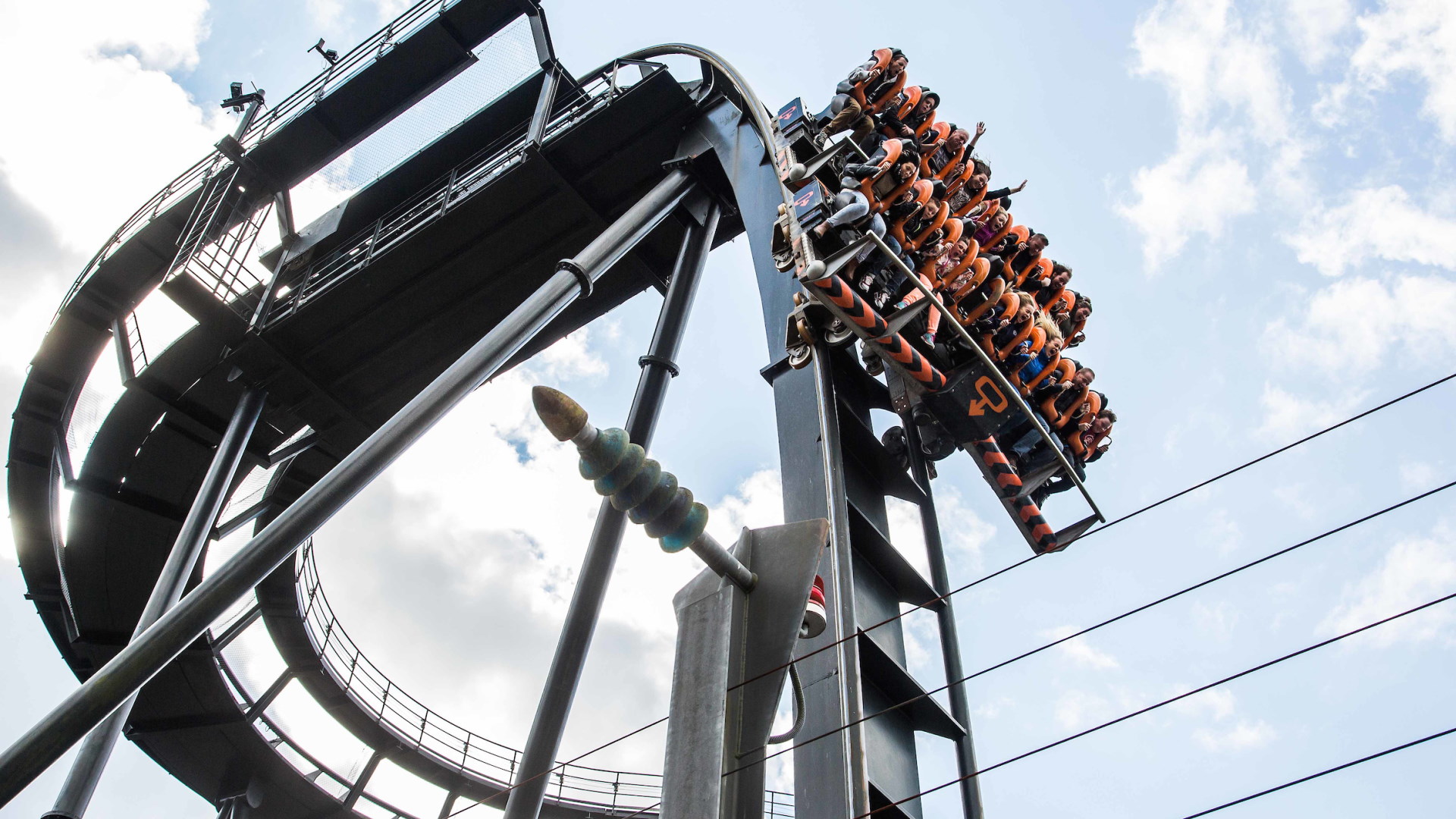 Rita starts with the train racing forward from the station area, accelerating from 0 to 98.3 km/h (61.1 mph) in 2.5 seconds. The ride negotiates high-speed corners and air-time hills. It was the first hydraulic Launch roller coaster of its kind in the whole of Europe.
The Smiler is the world's first and only 14 loop roller coaster. When viewed from off the ride, The Smilers batwing element resembles the Smiler logo. The roller coaster's twisting track combines the world-beating 14 loops with a speed of 85kph.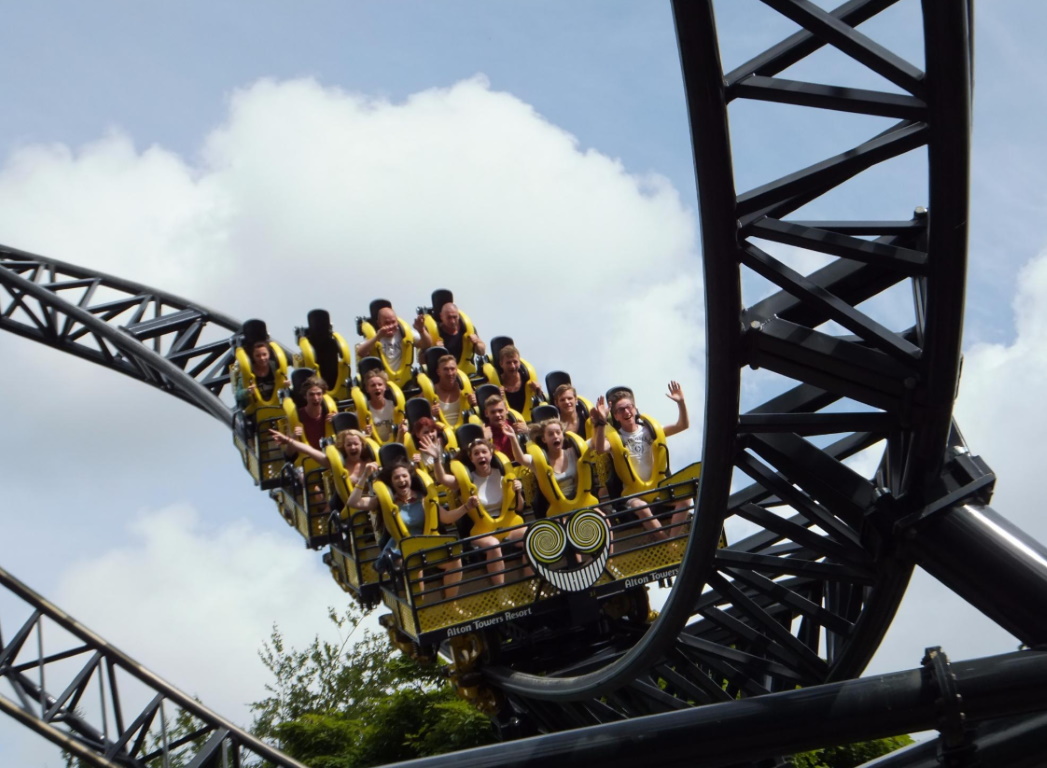 The £15m Th13teen ride was the world's first vertical freefall drop roller coaster, on which the track and train freefall in darkness.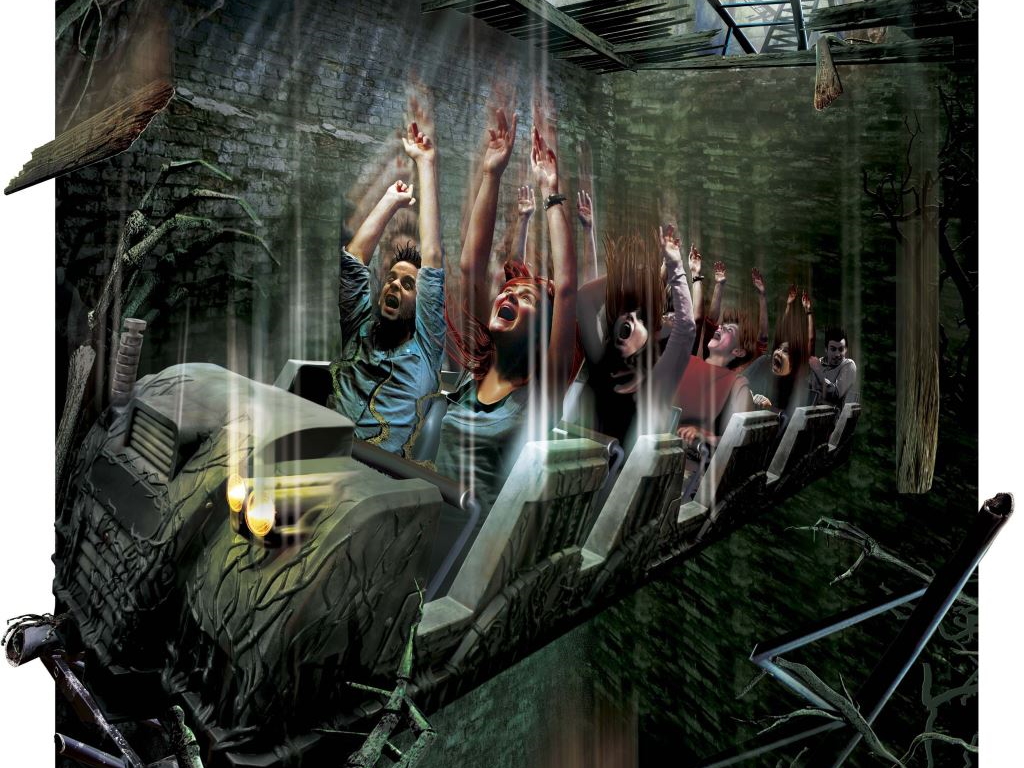 CBeebies Land
Little ones can meet their favourite characters from children's television at the world's first CBeebies Land. Attractions in this section of the park include Postman Pat's Parcel Post and In The Night Garden Magical Boat Ride. A recent addition is the Octonauts Roller Coaster Adventure a roller coaster designed specifically for your little one!
Mr Bloom's Allotment offers hands-on fun. Guests venture down the garden path to Mr Bloom's Allotment. Mr Bloom is on holiday and he has left his neighbour Mr Blossom in charge who requires the help of willing Tiddlers!
Travelling to Alton Towers Resort
Alton Towers is located in the beautiful Staffordshire countryside. There are a number of ways to get to Alton Towers. If you are travelling by car, Alton Towers Resort is between the M1 and the M6. When driving to any of Alton Towers Resorts Attractions use the postcode ST10 4DB. Please follow the signs for the final part of your journey, as your Sat Nav may attempt to take you down a local farm track, especially if you're coming down the B5417.
Please drive with care when you're in the area. There are many walkers, cyclists and horse riders, and the roads can be very narrow in places.
Travelling by Train
The nearest train station to Alton Towers is Uttoxeter, which is accessible from a large number of UK train stations including London, Birmingham and Newcastle upon Tyne, where trains depart every hour. Search for your train tickets using Raileasy. From Uttoxeter, the remainder of the journey can be made by taxi or bus (there is one daily bus service which takes approximately 40 minutes). Visitors also catch trains to Alton Towers via Stoke-on-Trent (four bus departures daily) and Nottingham and Derby (both one bus service daily).
Nearby Accommodation
There are lots of places to stay in the Peak District. Alton Towers is surrounded by beautiful countryside. The theme park offers on-site accommodation. If you only planning on visiting the park for one day and would like to explore some of the other attractions in the area then take a look at some of the wonderful self-catering cottages available from Snaptrip.

Attractions Near Me Offers
For the best deals and Discount Days Out visit our Offers page Attractions Near Me
Also, like our Facebook page for notifications of any new offers Facebook.com/AttractionsNearMe
Alton Towers Insider Tips
was last modified:
October 22nd, 2023
by