Vampire is located at Chessington World of Adventures Resort in the beautiful Surrey countryside, it is the only Arrow Dynamics suspended roller coaster left outside of North America. During the 2001 season, Vampire was closed whilst it was modified to use new trains manufactured by Vekoma.
Vampire at Chessington World of Adventures Resort
When the Vampire roller coaster was first constructed, it was heavily themed in Gothic style. Theming included guests entering through castle gates, a fog-filled underpass beneath the coaster track, a graveyard canopy with Gothic tombs and a dark passageway leading into the station. The ride station is dressed as a castle ballroom with flaming chandeliers, Gothic murals and a large pipe organ stage piece, with dramatic lighting and audio. Some of the original theming has now been removed but the ride still proves very popular, especially during the Halloween season.
Vampire Statistics
Click the Compare Button below to compare the statistics of up to 5 roller coasters. Click Here to see a listing of all UK Roller Coasters available for comparison.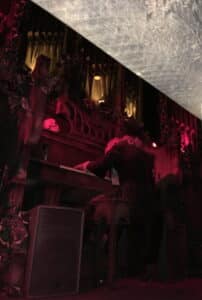 Top Speed – 72km/h 45mph
Original Cost – £5m Est
Est Cost Today – £12m
Length – 2200ft 670m
Height – 70ft 21m
Manufacturer – Arrow Dynamics
Type – Steel Suspended
Lift/Launch – 2 x Chain Lift
Inversions – 0
G-Force – 4.0
Trains – 2
Passengers per Train – 24
Ride Duration – 2m 30s
Theme Park – Chessington World of Adventures Resort
Year Opened – 1990
Attractions Near Me – Chessington World of Adventures Resort
Chessington World of Adventures Resort Review
Chessington World of Adventures Resort Official Website
Refurbishment of The Vampire
As the Vampire roller coaster aged, it suffered from a number of breakdowns and maintenance problems. Unfortunately, the manufacturer, Arrow Dynamics, had gone bankrupt, meaning little could be done to rectify these issues. The Vampire was closed for the 2001 season, and at the time this was thought to be permanent. However, instead of removal, the decision was taken to modify the ride so that it could use a new type of suspended coaster train. Modifying the track itself would require planning permission, which was unlikely to be granted, so the track remains unchanged. Since the ride consisted of the suspended swinging model, with tight corners, any new trains would also have to be able to swing (reducing lateral Gs). This led to the development of swinging suspended floorless coaster trains, manufactured by Vekoma, which are still in use today. Following the modifications, the ride reopened in 2002.
Creating my own Nemesis – John Wardley
The Vampire ride layout was designed by John Wardley, notorious for his involvement with a number of the Secret Weapon rides at Alton Towers Resort. He was instrumental in the master planning and detailed design of Chessington World of Adventures in Surrey, the considerable success of which led to its owners, the Tussauds Group (of which he became a director) subsequently acquiring Alton Towers in Staffordshire. He was then involved in the Group's major expansion program at this attraction, and at Thorpe Park (also in Surrey), Heide Park (Germany) and Gardaland (Italy).
John Wardley's early background in the film industry (he created the special effects for five of the James Bond films) equips him with a deep understanding of what entertains the British public.
For anyone who would like to learn more about John Wardley, we recommend this book. The autobiography of the man who brought the theme park concept to Britain, and created some of the world's most thrilling rides and attractions.
Purchase a copy of John Wardley's book on Amazon – 'Creating my own Nemesis'
Chessington World of Adventures Resort Hotels
Go on a quest to find some treasure at the Azteca Hotel. At the Safari Hotel travel into the African Savannah or go on the wildest of adventures in the great outdoors at Explorer Glamping. Both hotels provide guests with access to the indoor swimming pool, savannah splash pool and gym.

UK Roller Coaster Rides
If you enjoyed reading about Vampire at Chessington World of Adventures Resort, you may also be interested in these other Roller Coasters located at Theme Parks across the UK.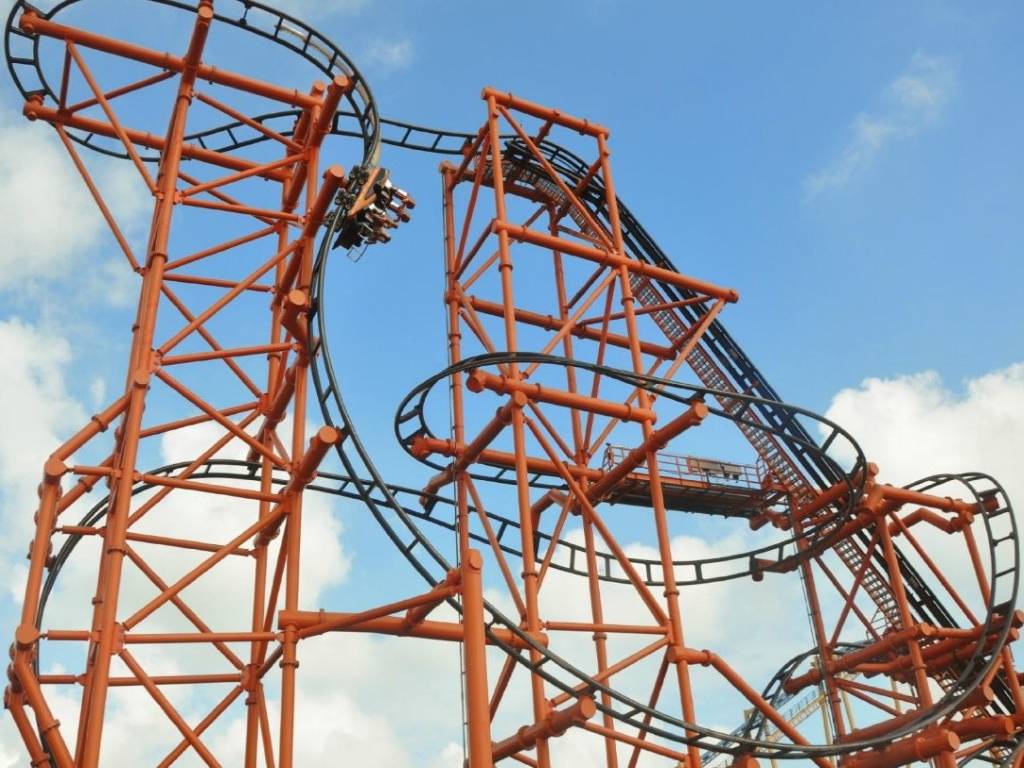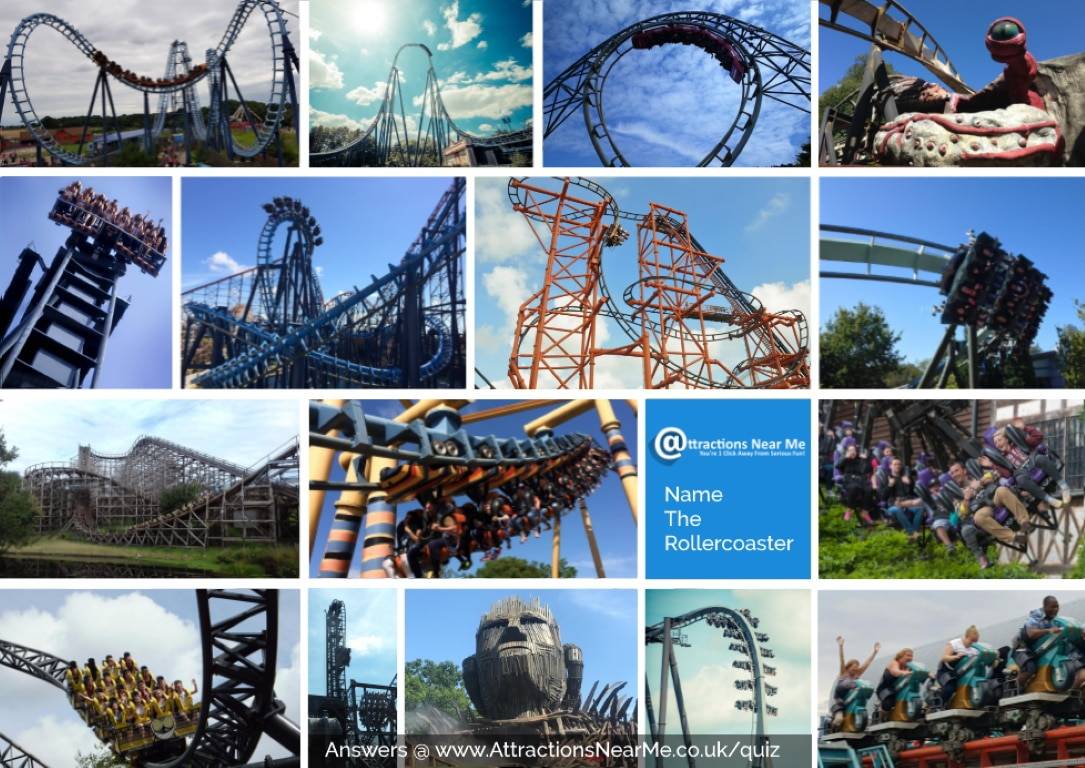 Attractions Near Me Offers
View More Discount Days Out at Attractions Near Me
Also, like our Facebook page for notification of any new offers Facebook.com/AttractionsNearMe
Vampire
was last modified:
November 17th, 2023
by
Dan
Theme Park
Chessington World of Adventures Resort in Surrey has over 40 rides and attractions and over 1,000 incredible animals. The park is billed as Britain's Wildest Adventure with a wide range of animals in the resort's zoo and Sealife centre. There is plenty of on-site accommodation to choose from with two hotels and Explorer Glamping. Britain's Wildest Adventure Chessington World
Read more…
Roller Coasters Nearby
Manufacturer:
Bolliger & Mabillard (B&M)
Experience the world's only Jumanji-themed rollercoaster at Chessington World of Adventures Resort. Mandrill Mayhem at Chessington World of Adventures Resort Mandrill Mayhem sweeps up riders in the long arms of a mandrill, as the horde whisks adventurers around the sites of Jumanji, dodging the hazards of the jungle. Spiralling to the summit of the 55ft tall Jaguar Shrine, riders
Read more…