Journey beneath the sea at SEA LIFE Weymouth where there are over 1000 Amazing Creatures to discover ranging from starfish to sharks. You'll be able to get closer to them than ever before. Also included with your admission ticket is the Caribbean Cove Playground and Castaway Bay Splash Zone and Pool.
SEA LIFE Weymouth Exhibits and Attractions
Many of the creatures at SEA LIFE Weymouth are on the endangered list, have been rescued and cannot be released into the wild or have been born and bred as part of their conservation projects. It is a great day out for the whole family. Kids will love feeding times and getting to know all of the fascinating rescued residents. Below is a rundown of whats on offer at SEA LIFE Weymouth.
Harbourside
Start your visit by heading to Harbourside, home to native species to the UK. If you are lucky, you may be able to see a newborn creature hatch. You will learn all about the Undulate Ray Breeding programme. This exhibit includes the work of the Community Seagrass Initiative Project, explaining the importance of seagrass habitats and how the Community Seagrass Initiative Project is helping protect wild seagrass beds.
Turtle Sanctuary
Meet the resident Terrapins and Freshwater Turtles at Turtle Sanctuary.
Ray Lagoon
Visit the mysterious and graceful world of stingrays. Meet the beautiful Cownose Rays as they glide along the seabed. Stingrays get their name from the stinging barb at the base of their tail. When they feel threatened Stingrays can whip up their tail to puncture their pursuer with their spiny, venomous barb. Once they have done this it takes a while for a new one to grow back, so they only use it as a last resort.
Rainforest
Rainforest is a jungle-themed area filled with exciting walkthroughs, but beware, not all the creatures here are friendly. In the depths of the rainforest, you will meet, Piranha, Poison Dart Frogs, Dragonfish and Archerfish.
Nursery
View Seahorses and Pipefish up close at SEA LIFE Weymouth. Seahorses and Pipefish are a curious group of creatures that all belong to the Syngnathidae family. As members of the same family, they share some interesting traits.
Rockpool
At the Rockpool exhibit, you will find creatures native to the UK including starfish, shore crabs, anemones and sea urchins. For some extra fun, make your way over the bridge at the back and wait for the tide to wash in.
Shipwreck
Visit Shipwreck for colourful creatures with lots of character. The Shipwreck exhibit includes a Coral Reef, one of the most beautiful and important habitats on Earth. Coral Reefs cover less than 1% of the ocean floor, yet over 25% (that's 1 quarter) of marine species depend on this habitat in some way for survival.
The Coral itself might look like rock or plant but it is actually a type of animal, from the same family as Jellyfish and Sea Anemones. Corals are made up of millions of individual polyps all growing on top of each other. Each of these polyps lives within a shell but sticks out little stinging tentacles to catch plankton in the current. Coral polyps share their shell with algae which provides them with most of their food using photosynthesis. In exchange, the Coral offers the algae a safe house so they both get a good deal.
Look out for the Clownfish swimming amongst the Coral, one of the ocean's best known and loved fish.
Penguin Beach
Meet the comical Humboldt Penguins on Penguin Beach at SEA LIFE Weymouth. Don't miss the Penguin Talk and Feed to learn more about the threats they face in the wild and what you can do to help.
Ocean Tunnel
The walk-through Ocean Tunnel gives visitors the opportunity to experience life under the sea without getting wet. Watch sharks and rays gliding effortlessly through the tropical ocean tunnel, surrounded by hundreds of colourful ocean fish. Don't miss the daily feed when sea turtles, sharks, moray eels, tropical fish and stingrays tuck into their lunch.
Caribbean Cove Playground
Caribbean Cove is a fantastic children's adventure playground. Children can burn off their energy as they climb aboard the Caribbean Cove Galleon and sail away to the seven seas on a magical adventure. Watch as they climb to the top of the lookout point to spot rays, jellyfish and turtles swimming around Caribbean Cove.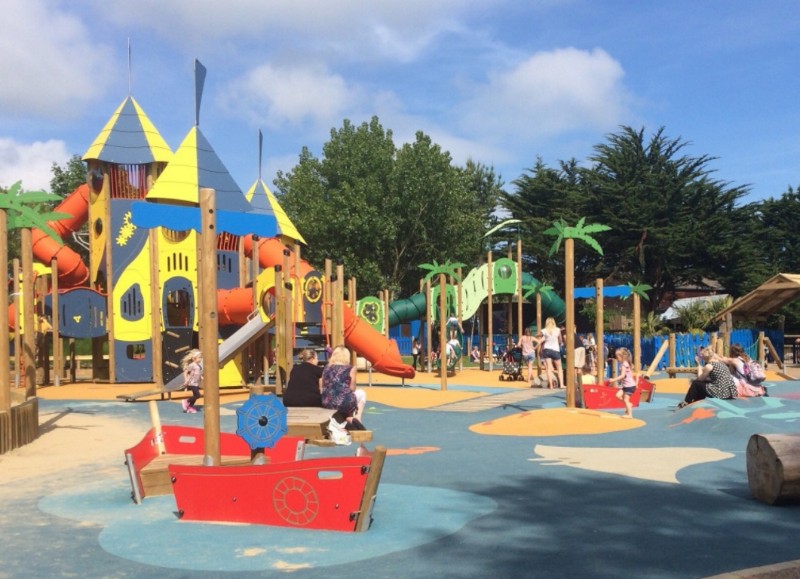 Trek through Calypso Heights, which consists of nine remarkable towers and five fun slides. Children can get up close and personal with jaws and venture through Caribbean Cove's very own shark tunnel. Visit the Official Webpage to learn more.
Castaway Bay Splash Zone and Pool
A unique feature at Weymouth SEA LIFE Adventure Park is The Castaway Bay Splash Zone and Pool providing hours of fun. Dive in and out of the water play jets or take a dip and cool down in the Pool. Visit the Castaway Bay Official Webpage for more details.
Admission Prices and Offers
SEA LIFE Weymouth is part of the Merlin Entertainments group of attractions, meaning that vouchers are regularly available offering 2 for 1 entry. Purchase your tickets from the Official Sealife Website or view our SEA LIFE offers page for the latest Discounts and Special offers. You can also pre-purchase your entry tickets using Tesco Clubcard points. Merlin Annual pass holders get free entry to all the Sea Life centres across the UK in addition to a number of other Merlin attractions.
Travelling to SEA LIFE Weymouth
SEA LIFE Weymouth is located on the main Promenade, follow the brown tourist signs to the Lodmoor Country Park where there is a large car park. There are a number of ways you can get to the attraction and there is also lots of accommodation available in Weymouth and the surrounding area.
Travelling by Train
SEA LIFE Weymouth is approximately a 20-minute walk from Weymouth train station or you can get the No. 4 Bus. Search for your train tickets using the Raileasy website.
Travelling by Coach
If you would like to travel by coach we recommend that you try National Express.
Nearby Accommodation
There are loads of places to stay in Weymouth, if you are looking for accommodation then try Hotels.com or Travelodge and Britannia Hotels are always a good option for budget hotel accommodation.
If you like self-catering then Haven Holidays have a holiday park in Weymouth or Snaptrip offer some lovely properties to rent at very reasonable prices.
Attractions Near Me Offers
For the best deals and Discount Days Out visit our Offers page Attractions Near Me
Also, like our Facebook page for notification of any new offers Facebook.com/AttractionsNearMe
SEA LIFE Weymouth
was last modified:
September 2nd, 2023
by
Dan
Related Listings
Welcome to the enchanting world of Bournemouth Oceanarium, where the wonders of the deep blue sea come to life! Nestled on the stunning coast of Bournemouth, this magnificent aquarium is a haven for marine enthusiasts and adventure seekers alike. Welcome to Oceanarium! As you step through the doors of the Oceanarium, you will be transported to a magical realm
Read more…