SEA LIFE Manchester Aquarium transports you into the amazing underwater world. Prepare for astonishingly close views of everything from humble starfish and seahorses to graceful rays, powerful sharks and the resident green sea turtle.
Attractions and Exhibits at SEA LIFE Manchester
Dive into a marine adventure at the SEA LIFE Manchester Aquarium. The attraction is a great experience for children and is an ideal place to visit on a rainy day. SEA LIFE Manchester features an amazing ocean tunnel, 30 display tanks and more than 5,000 sea creatures.
The attraction is a great day out for the whole family. Kids will love feeding times and getting to know all of the fascinating residents. Below is a rundown of what's on offer at SEA LIFE Manchester.
Coral Reef
The Coral Reef is a kaleidoscope of colour, bustling with activity. These cities of the sea are teeming with fish which come in every shape, colour and pattern you can imagine. This is where you'll find cute clownfish hiding in the tentacles of sea anemones and watch out for the prickly sea urchins.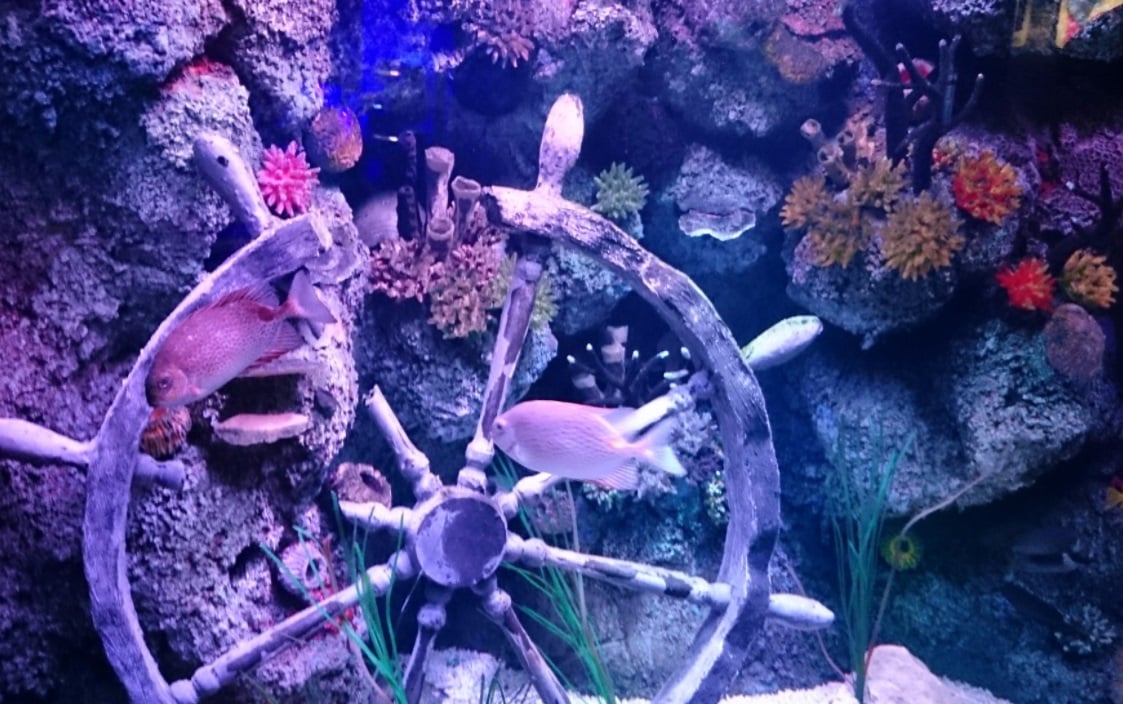 Shoaling Ring
Continue your journey of discovery into a sea of tranquillity as you encounter the magical shoaling ring. View the flagtail fish swimming peacefully around the 360-degree circular tank.
Rocky Hideout
Find some of the oddest and scariest-looking creatures as you venture, deep into the world's underwater cave systems. Come face-to-face with spiny lionfish and see the poisonous and deadly porcupine fish, better known as the pufferfish.
Shark Shipwreck
Meet the Sharks at SEA LIFE Manchester where you will be transported to a world of deep-sea creatures that would be hidden away in a shipwreck. Sadly Sharks are the most misunderstood creatures in the Ocean. Far from being predators, they face extinction from being preyed upon by humans. Sharks are not as fearsome as they look. If you watch carefully you might see a cheeky little fish use a shark's rough skin to scratch an itch or rub off a parasite. Try and spot the juvenile common octopus, Octopus Prime, who loves hiding in the nooks and crannies of her tank. Step under the viewing tank and see the blacktip reef sharks swim overhead.
Jellyfish Seas
View the amazing Jellyfish and be enchanted by the beautiful moon Jellyfish. Choose a colour for their interactive colour-changing tank. See these unique creatures from a new perspective as they float gracefully and mysteriously around the tank. Look out for the frilled upside-down jellyfish who have their tentacles going upwards.
Turtle Beach
Start your visit by stepping into the interactive Turtle Beach experience. The unique 3D projection experience navigates you through the life of a sea turtle. Follow these incredible creatures through their life cycle from the egg to the sea.
Ocean Tunnel
Travel into the underwater world and meet the incredible creatures as you pass through the amazing glass tunnel. Look out for the enormous Green Sea turtles gliding slowly over your head whilst Shoals of glittering fish flutter along beside you.
Turtle World
Be transported to Turtle World, where you can find fascinating facts about one of the world's most amazing creatures. Get hands-on with our interactive zones and discover some cool facts with Tyler, the talking turtle.
Tropical Ocean
A breathtaking scene awaits you at the Open Tropical Ocean exhibit. Watch sharks and rays gliding effortlessly through our tropical ocean tank, surrounded by hundreds of colourful ocean fish. Ernie and Cammy the green sea turtles love to come and say hello to you here and see if you can spot Tessa, the Brownbanded bamboo shark!
Seahorse Nursery
Seahorses may sound like mythical creatures but here you can see just how real they are. In this kingdom, Seahorses grip at seagrass with their curly tails and suck up tiny shrimp with their straw-like snouts. Lucky visitors may even hear their unique "finger-clicking" sounds as they feed.
Stingray Bay
Be mesmerised by the happy and smiley rays at Stingray Bay. Let their upbeat nature take your cares away in this relaxing and magical space. Follow the Rays around the tank and appreciate how swiftly they move. A friendly rescued baby leopard shark called Cal shares the tank with the rays. Look for a Mermaids Purse (Ray's egg) hidden in the sand.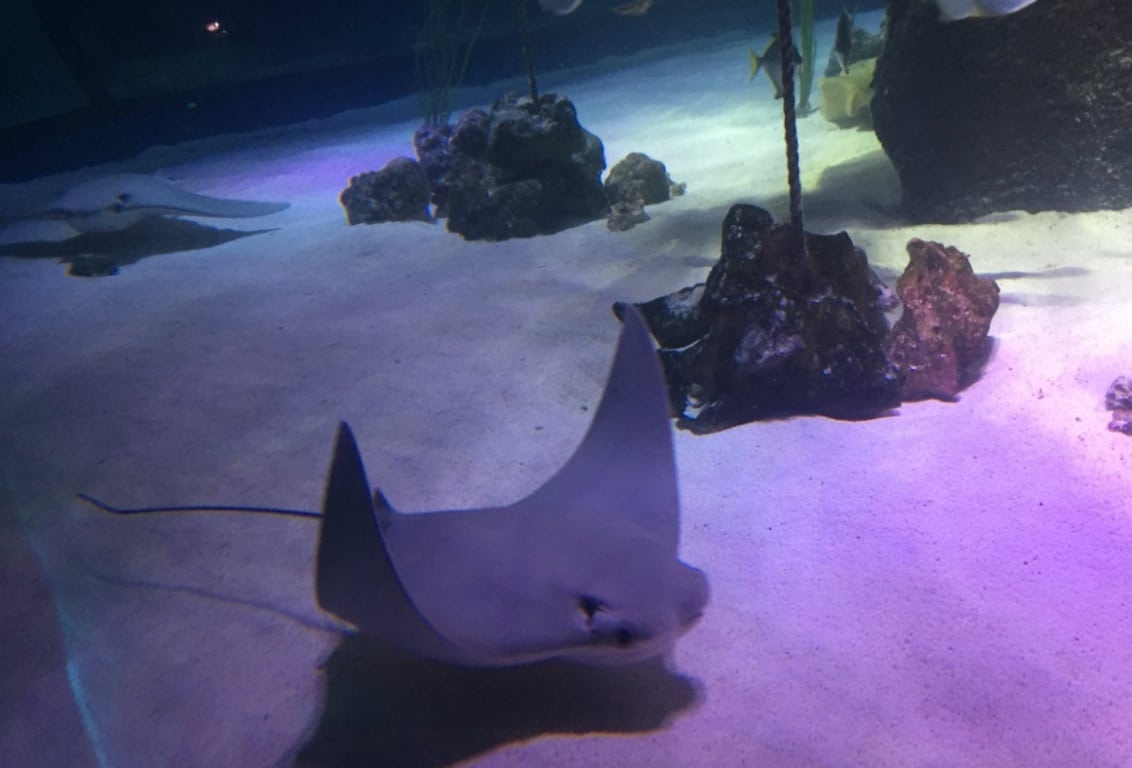 Jurassic Ranger
A recent addition to SEA LIFE Manchester is Jurassic Ranger! Discover what it takes to become a Jurassic Ranger and be part of a journey back in time! Dive into the depths of the ocean and travel back in time to the ages of the dinosaurs.
Rockpool
At the Rockpool exhibit, visitors to SEA LIFE Manchester Aquarium can stroke a Starfish or tickle a Sea Anemone. Experts are on hand throughout this unique opportunity to learn more about these fascinating micro-habitats and the incredible creatures that thrive in them.
Breed Rescue Protect
Conservation is at the heart of what goes on at SEA LIFE Manchester. There are plenty of opportunities to learn about the threats facing marine life and what you can do to help as you explore. In this exhibit, you can learn more about what SEA LIFE and the SEA LIFE Trust are doing to help threatened marine life.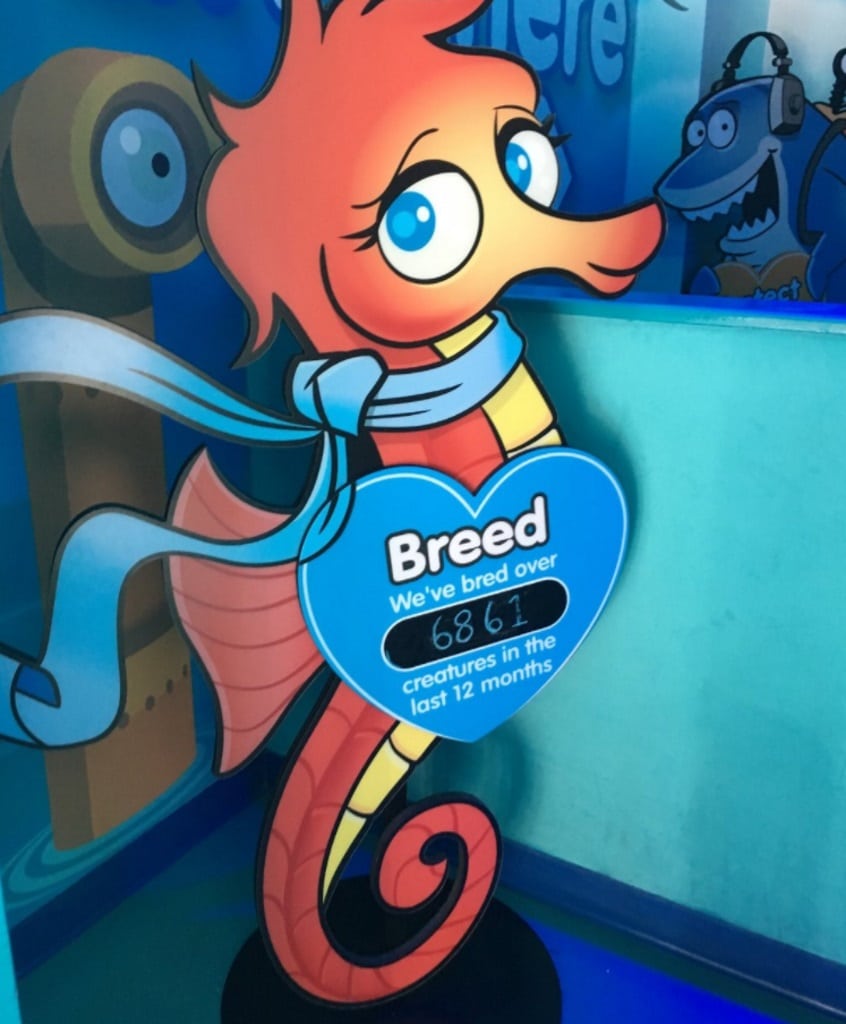 Conservation Cove
Around 75% (that's three-quarters) of the world's coral reefs are threatened by human activity. Conservation is at the heart of what SEA LIFE Manchester do. Learn about the threats facing marine life and what you can do to help as you explore with them.
Learn more about SEA LIFE Manchester's Conservation efforts and their partnership with the SEA LIFE Trust. Let your little ones take part in the interactive turtle game where they can help save the baby turtles get to the sea. Dig in the sandbox to discover mysterious dangers that you may find at the beach.
Admission Prices and Offers
SEA LIFE Manchester is part of the Merlin Entertainments group of attractions, meaning that vouchers are regularly available offering 2 for 1 entry. Purchase your tickets from The Official Sealife Website or view our SEA LIFE offers page for the latest Discounts and Special offers. You can also pre-purchase your entry tickets using Tesco Clubcard points. Merlin Annual pass holders get free entry to all the Sea Life centres across the UK in addition to a number of other Merlin attractions.
Travelling to SEA LIFE Manchester
SEA LIFE Manchester is located in Barton Square, within intu Trafford Centre. The attraction is situated right next to the LEGOLAND Discovery Centre and Homesense, just next to the Barton Square Car Park. There are a variety of ways to get to SEA LIFE Manchester.
Travelling by Train
You can access SEA LIFE Manchester via a bus connection from Manchester's biggest train station, Manchester Piccadilly. From the railway station catch the express X50 or 250 bus from Piccadilly Gardens, a few minutes walk away.
There is a bus stop right outside Barton Square from where you can walk to SEA LIFE Manchester. Search for your train tickets using the Raileasy website.
Travelling by Coach
Buses run regularly from all over the Greater Manchester region to the on-site Bus Station. If you are travelling from further afield then we recommend that you try National Express.
Nearby Accommodation
There are lots of places to stay in Manchester. Find hotel accommodation at Hotels.com or Travelodge and Britannia Hotels are always a good option for budget hotel accommodation.
Attractions Near Me Offers
For the best deals and Discount Days Out visit our Offers page Attractions Near Me
Also, like our Facebook page for notification of any new offers Facebook.com/AttractionsNearMe
SEA LIFE Manchester
was last modified:
September 7th, 2023
by
Dan
Related Listings
Journey beneath the sea at SEA LIFE Blackpool. There are over 2000 Amazing Creatures at Blackpool SEA LIFE centre ranging from starfish to sharks and stingrays. You'll be able to get closer to them than ever before. Many of the creatures at SEA LIFE Blackpool are on the endangered list, have been rescued and cannot be released into the wild
Read more…