Woburn Safari Park is a drive-through safari park nestled in over 300 acres of beautiful Bedfordshire parkland. Drive through numerous naturalistic animal enclosures as part of a fascinating family day out at one of the country's leading conservation parks.
Woburn Safari Park
After the Second World War, the 11th Duke of Bedford, President of the Zoological Society, introduced bison, Muntjac, Wapiti, Antelope, Lion and Tiger to the estate, and Woburn Safari Park was opened to the public by the 13th Duke of Bedford in 1970. It was the first 'captive' breeding facility to rescue a species from extinction in the wild – the Pere David deer.
A Wild Driving Experience
Start your adventure with a Road Safari drive through sweeping parkland reserves, where you'll see wonderful wild animals with the freedom to roam in acres and acres of beautiful countryside. Observe the rare White Rhino, as well as the big cats, Lions and Tigers. Additionally, the open plains reserve feature Giraffes, Addax, Eland, Oryx, Sable Antelope, Gemsbok, Ankole cattle and lots more.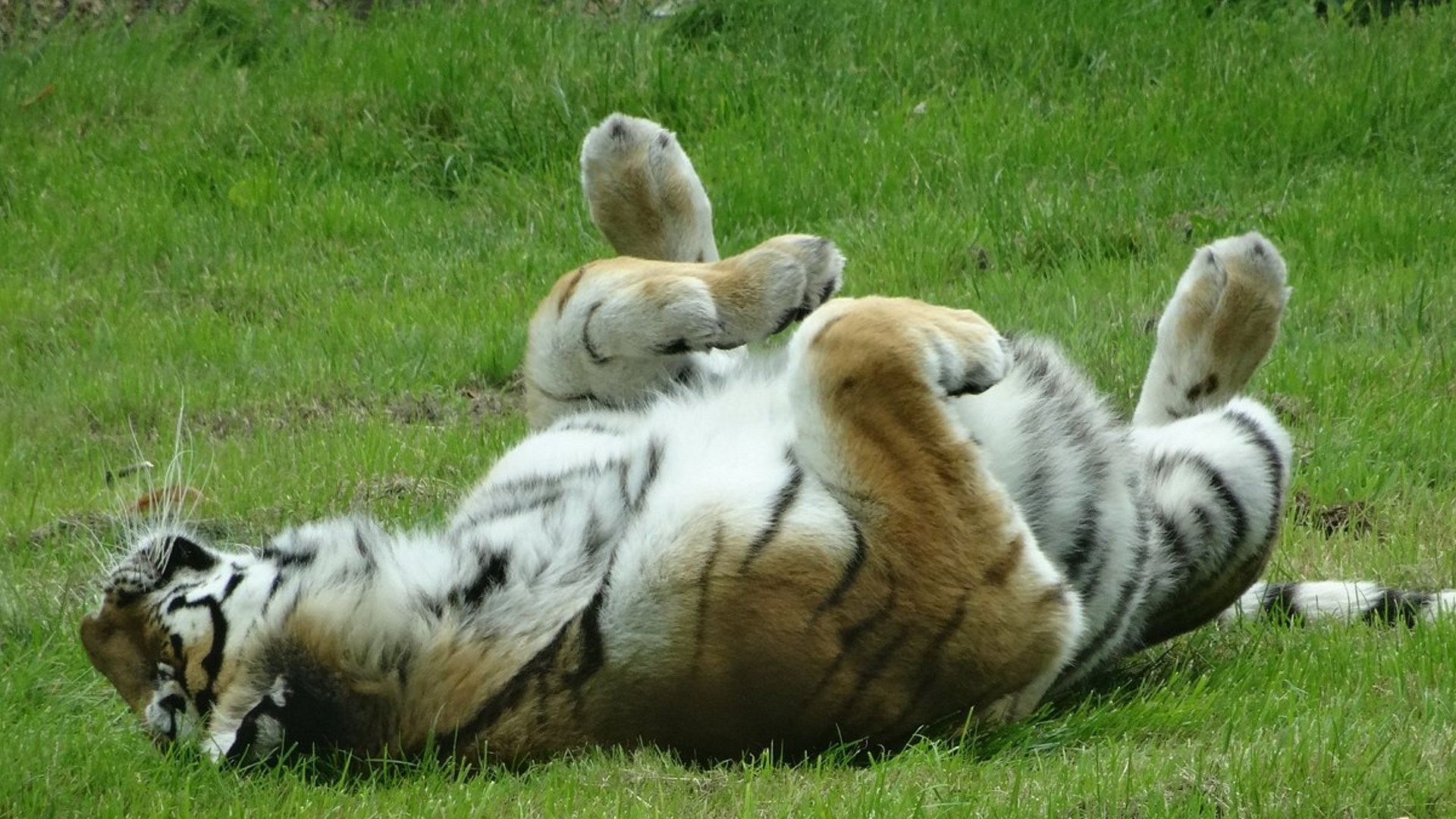 The Road Safari takes approximately 60-90 minutes and each circuit is a new experience and a new opportunity to get up close to some of the most endangered animals on the planet!
Northern Plains
Drive through wide-open paddocks containing a diverse mix of animals, giving you a taste of the adventures to come. Spot the 'Lions of the Empire', two fearsome statues guarding the entrance to the Safari Park reserves. These are two of the six original lions which stood in front of the H.M Govt Pavilion at the British Empire Exhibition in London, in 1924.
The Northern Plains are home to Przewalski's horse, North American bison, brindled wildebeest and Bactrian camel.
Savannah Grasslands
Drive through the home of a herd of Ankole cattle with their impressive horns, see the extraordinary Southern white rhinos grazing, and enjoy the vistas of the African savannah – teeming with antelope and buffalo.
The Savannah Grasslands is home to Southern white rhino, Grevy's zebra, ostrich, Ankole Cattle, dwarf forest buffalo and antelope.
Kingdom of the Carnivores
Enter through the security gates into the domain of tigers, wolves, bears and lions. You will want to ensure that your windows are closed in this section of the safari drive. As you arrive in the Kingdom of Carnivores you enter an eight-acre enclosure, home to the Amur Tiger, before continuing the journey on through the homes of bears and lions.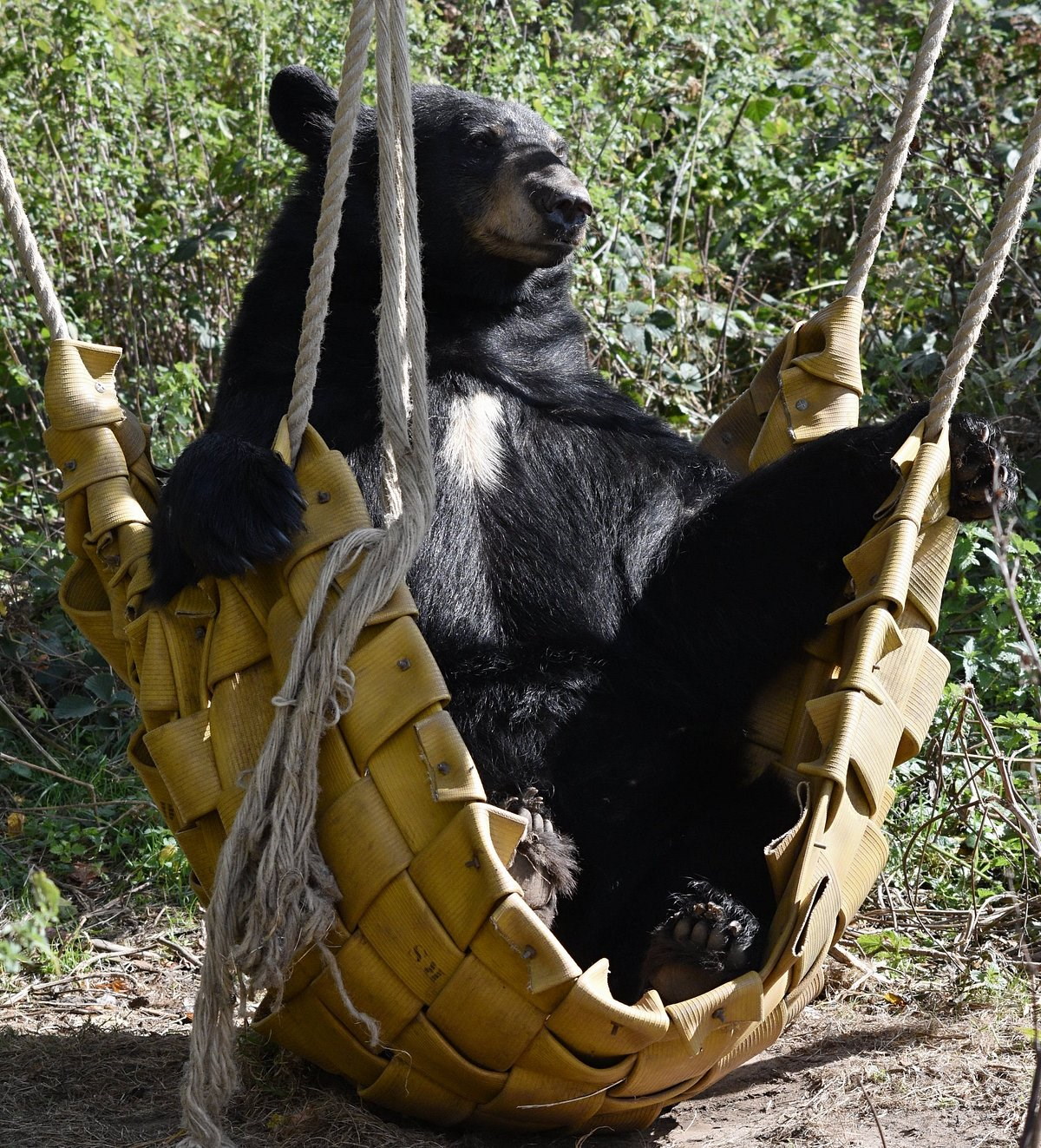 The Kingdom of the Carnivores is home to Amur tigers, North American black bears, Canadian timber wolves and African lions.
Giraffe Junction
Woburn Safari Park is home to a large herd of Rothschild's giraffe, drive through their nine acres of open parkland and in the warmer months watch the rare Baringo giraffe herd grazing and browsing for their favourite leaves. Spot the youngest calves as they enjoy their grassy playground.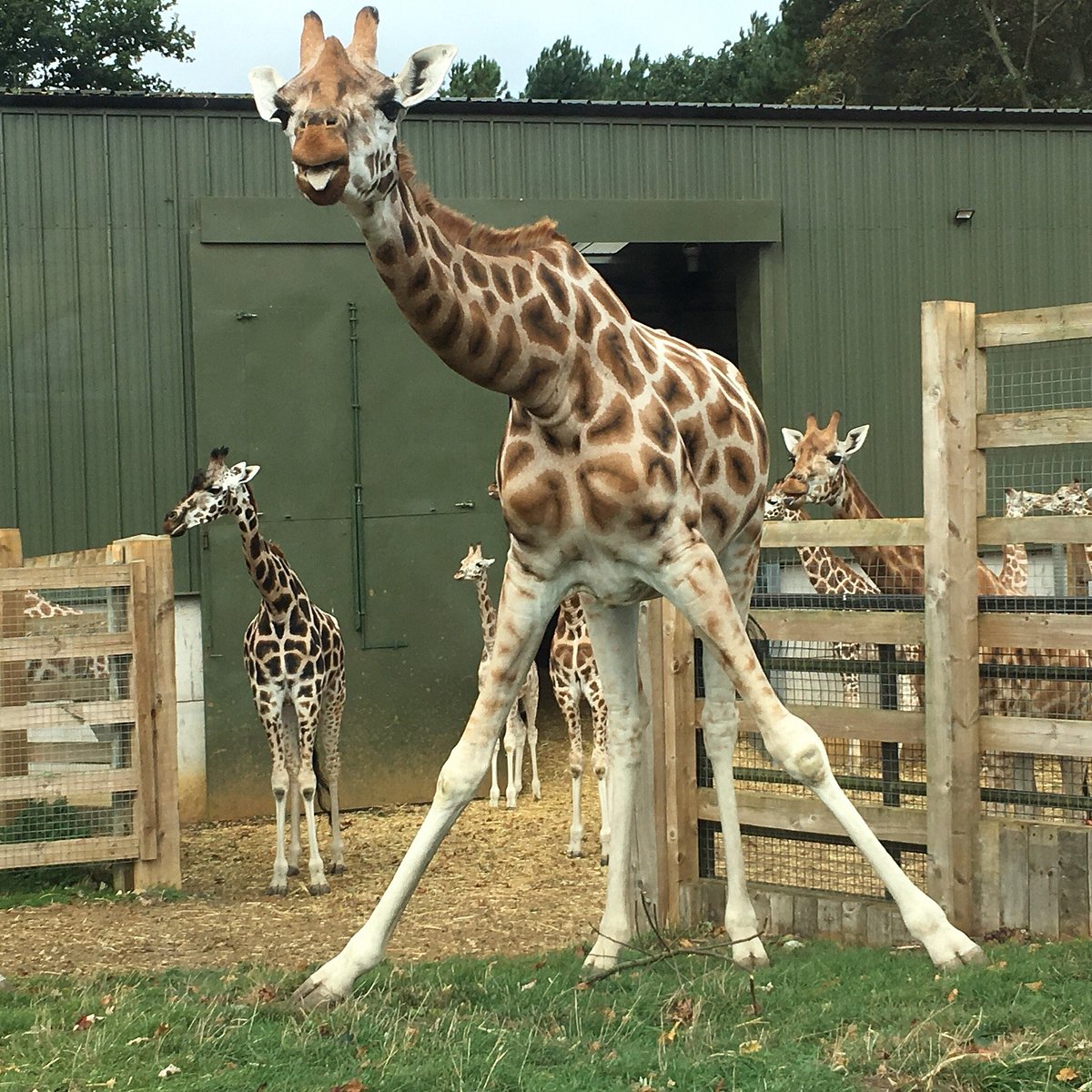 In colder months you'll pass the giraffe in their yard or peeking over the doors of the Giraffe House. The custom-built facility affords the giraffe every possible luxury with a large indoor space, providing the tallest animals at the park the perfect environment to eat, sleep and socialise together.
The herd of Rothschild's Giraffe live happily alongside endangered Somali wild ass and scimitar-horned oryx.
African Forest
Discover a troop of mischievous Barbary macaque monkeys, as they browse for food on the woodland floor, climb and play in the trees and roam free in their home. The monkeys share their home with the East African Mountain Bongo, one of the most critically endangered mammals on the planet. The park advises that there's no need to worry about taking your car into the 'jungle' as the monkeys rarely damage cars, and there is a bypass if you don't wish to drive through this section.
African Forest is home to a troop of Barbary macaques and East African mountain bongo.
Foot Safari Walk Through
Continue your adventure on two feet through the Foot Safari, where you'll explore the walk-through habitats of a host of smaller mammals and birds. Catch a daily programme of keeper talks and demonstrations with many of the animals, including red pandas, birds of prey, otters and sea lions.
Exhibits at Woburn Safari Park
There are a wide range of exhibits for you to view on the foot safari.
Himalayan Heights
View the red pandas at the Himalayan Heights exhibit. The red panda's house features large viewing windows for visitors, with an overhead tunnel leading out into their spacious enclosure, filled with rope ladders, nest boxes and bushes for them to hide in.
Monkey Mayhem
Watch as the monkeys show off their climbing skills at Monkey Mayhem. Observe as they move along the ropes, trees, and vantage points in their new home, just as they would in the wild.
Humboldt Harbour
Humboldt Harbour is home to a large colony of Humboldt penguins. The viewing windows provide a unique insight into the complex system of burrows that the penguins make each year. While on the other side of the enclosure, you can watch the penguins diving and playing below the surface of the water.
Rainbow Landing
Discover coconut lorikeets and dusky lories at the Rainbow Landing exhibit. These brightly feathered parrots are specially equipped for their diet of nectar, with a brush-like tongue.
Sea Lion Beach
Watch the sea lions demonstrate their natural swimming talents at Sea Lion Beach, enjoy feeding and see them relaxing in and out of the water.
Land of Lemurs
Land of Lemurs is home to three species of these endangered mammals – ring-tailed lemurs, red-bellied lemurs, and black and white ruffed lemurs. Enter the lemur's woodland home and see if you can spot them foraging, snoozing, and climbing through the trees above your head.
Otter Falls
Watch the family group of Asian short-clawed otters play at Otter Falls. Witness them playing in and around their cascading waterfall in their purpose-built enclosure.
Birds in Action
In the heart of the leisure area, you will find the Birds in Action amphitheatre, home to blue and gold macaw, military macaw, green-winged macaw, greater sulphur-crested cockatoo, and the lesser cockatoo.
Australian Walkabout
Wander with the red-necked wallabies in the Australian Walkabout. Each Spring you'll be able to spot the precious baby joeys, snugly protected in their mother's pouch.
Cachorro Range
Cachorro Range is home to a pack of bush dogs. They are a tight-knit group but can be quite shy animals, so visitors may hear their high-pitched calling noises as they communicate with each other before they see them. Bush dogs are small, stocky carnivores that are native to South America.
Desert Springs
The sandy Desert Springs sanctuary mimics the animals' natural desert environment, with rocky areas and artificial termite mounds. Keepers will spread feeds around the area, encouraging the animals' natural curiosity to forage for food. Each species has its own special house, where it can retreat into a burrow or den, suited to its natural preferences for sleeping. Desert Springs is home to yellow mongoose, meerkats and cape porcupines.
Farmyard Friends
Meet all your favourite farmyard animals here in the walk-through enclosure. It is home to Anglo-Nubian goats, pygmy goats, Kunekune pigs, Somali black-headed sheep, one Abyssinian donkey and a friendly Shetland pony.
Chelonia Pathways
Chelonia Pathways is an outdoor habitat, home to a group of Aldabra giant tortoises. Their enclosure enables visitors to see the tortoises' outdoor and indoor home, thanks to a specially designed bridge and viewing windows.
Elephant Meadow
Elephant Meadow is a large paddock enclosure where visitors can view the Asian elephants wallowing, grazing, and browsing from the trees. Sometimes the elephants may be in their main Road Safari paddock or out on a walk with their keepers in the private 500-acre woodland where they can enjoy grazing on a huge variety of trees and grasses, dust bathing, or swimming in the huge private lake.
Leisure Activities
If you're looking for a wild, fun and educational day, you've come to the right place. Fearless young adventurers can take on the Giraffe Trail High Ropes, an amazing junior high ropes course. The Mammoth Play Ark is one of Bedfordshire's biggest soft play centres, where kids can let off steam with slides, cargo nets, bridges and obstacles.
Food and Drink
Hot food is served daily at The Safari Restaurant.
Woburn Safari Park Tickets
Purchase your tickets from Woburn Safari Parks Official website, check our Offers Page for any discounts or promotions.
Travelling to Woburn Safari Park
Woburn Safari Park is only accessible in your own vehicle. The attraction is situated only one hour's drive from London, Oxford, Cambridge, and Birmingham. Head for Milton Keynes and follow the brown tourist signs to Woburn Safari Park. Use the postcode MK43 0TU for your satnav which will take you to the entrance gate on High Street in Ridgmont.
Nearby Accommodation
There are lots of places to stay in and around Milton Keynes. If you are only planning on visiting the Safari Park for one day and would like to explore some of the other attractions in the area then take a look at some of the wonderful self-catering cottages available from Snaptrip.
Attractions Near Me Offers
For the best deals and Discount Days Out visit our Offers page Attractions Near Me
Also like our Facebook page for notification of any new offers Facebook.com/AttractionsNearMe
Woburn Safari Park
was last modified:
November 27th, 2023
by
Dan
Related Listings
Explore a world of wildlife like never before at the largest zoo in the UK. ZSL Whipsnade Zoo, a place where the magic of the animal kingdom comes alive! A Truly Enchanting Experience Nestled in the picturesque countryside of Bedfordshire, this zoo offers a truly enchanting experience for visitors of all ages. With its vast open spaces and diverse
Read more…