It appears that after many years of trying there will be a New Wooden Rollercoaster for Alton Towers. The Staffordshire Theme Park may finally be installing the wooden roller coaster that fans of the park have been hoping for.
The new roller coaster, codenamed Secret Weapon 8 will replace the log flume which was removed earlier in 2016.
It is rumoured that the new roller coaster may be called 'Wicker Man' following an application for a European Trademark submitted by Line IP.  The application covers many categories including Theme Park rides.
The wooden roller coaster is scheduled to open in 2018. Documents submitted to Staffordshire Moorlands Council state that the timber ride will have a maximum height of around 33 feet above the existing ground level.
Early indications are that this ride will target a family audience. The New Wooden Rollercoaster for Alton Towers will border Mutiny Bay and Katanga Canyon. The new ride will also feature a shop, games unit and a new food kiosk.
In order to comply with strict noise regulations, the new ride will feature themed sound tunnels. One of these themed sound tunnels will cover the entire first drop as well as an area at the entrance to the ride which will include a 140-second pre-show.
The ride will be built by American ride manufacturers Great Coasters International (GCI).
It is likely that a section of the lift hill will be magnetic. This has the advantage of speed and is also very quiet.
Preview Video
Click Here to find out more about Alton Towers:
Alton Towers Theme Park

Planning Application
Planning documents state: "To enhance the offer at the resort, it is proposed to remove the now dated log flume attraction and install a new roller coaster to the west of the Congo River Rapids ride. The proposed new coaster will be contained outside of the woodland area (located to the south of the application site) in a previously developed area."
"As part of the proposals, the log flume and associated theming will be removed; however its footings will be retained in order to not adversely affect the existing trees which are now well established in this area. Following the removal of the log flume structures, this area will be returned to natural woodland."
A design and access statement adds: "Alton Towers has discussed the proposed development with planning officers at Staffordshire Moorlands District Council, including a site visit with the tree officer. The key objective has been to provide a roller coaster within the existing developed area of the Park that will have a minimum impact on its surroundings."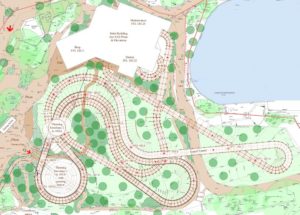 Click Here to view the complete Planning Application:
Staffordshire Moorlands District Council
If the New Wooden Rollercoaster for Alton Towers goes ahead, it will be the first wooden roller coaster built in the UK since Megafobia at Oakwood theme park in 1996.
Click Here to find out more about Alton Towers:
Alton Towers Theme Park
Other current developments at Alton Towers include a new CBeebies themed hotel
Find out more about Alton Towers newest hotel
Attractions Near Me Offers
View More Discount Days Out at Attractions Near Me
Also like my Facebook page for notification of any new offers Facebook.com/AttractionsNearMe
New Wooden Rollercoaster for Alton Towers
was last modified:
July 4th, 2018
by